After more than two years of fundraising, a planned multimillion-dollar renovation of Lompoc's Huyck Stadium is close to becoming a reality.
Leaders within Lompoc Unified School District and the independent Campaign for the Lompoc Community Track and Sports Field, which are jointly funding the planned $3.3 million project, announced this month they have reached their fundraising goal for the first phase of work and are looking to begin construction at the midtown venue as early as this November.
That timeline would have the work completed by April 2020.
"I am truly excited and honored to be a part of this monumental project," LUSD Superintendent Trevor McDonald said Tuesday. "This will allow the great students of LUSD and the community to use this fine facility. I am thrilled to have been a small part of making this dream happen. This is a huge victory for everyone in Lompoc."
The renovations, which were first proposed by Lompoc Valley Community Healthcare Organization Executive Director Ashley Costa in February 2017, will primarily include converting the natural grass field at the stadium to synthetic turf, switching the track from its loose red clay to a synthetic polyurethane surface, and reconfiguring the track to the modern accepted standard of 400 meters with nine lanes.
The planned renovation of Lompoc's Huyck Stadium is nearing its funding goal, and the remodel could involve more immediate upgrades than origi…
The plans also call for new track and field event sites, as well as the addition of an all-new community exercise zone.
The cost for the renovations was initially projected to be $2.4 million, but that figure since grew by about $900,000.
The updated $3.3 million estimate includes work on electrical infrastructure, civil-engineered drainage, soil stabilization, and grading and installation of the rubberized track and artificial turf, according to Doug Sorum, LUSD's director of maintenance and operations.
The Campaign for the Lompoc Community Track and Sports Field, which is being run by the Lompoc Valley Community Healthcare Organization, has raised about $1.6 million that is set to be apportioned over a three-year period. LUSD has committed to contribute the remaining costs.
About $800,000 of LUSD's contribution is slated to come from a nearly $1.15 million rebate the district is set to receive as part of a Self Insured Public Employees, or SIPE, rate restructuring.
The move to allocate the SIPE funds for the stadium remodel — which district staff reported would be necessary for construction to begin this year — was approved with a 4-1 vote by the LUSD board at its May 14 meeting.
Board member Bill Heath provided the lone vote of dissent. Heath said he felt it was "irresponsible" to put the money toward the stadium and that some of the district's other needs, including several that were highlighted in recent bond measure campaigns, should be higher priority.
The Lompoc Valley Community Healthcare Organization's campaign kicked off with a $450,000 donation from the Chumash Foundation in February 2018 and was recently boosted with a $25,000 donation from the Lompoc Rotary Club to sponsor the stadium's memorial flagpole.
The Rotary Club donation was announced at the May 14 LUSD board meeting.
Almost exactly a year after addressing the Lompoc Unified School District board to propose a multimillion-dollar renovation to Huyck Stadium, …
The 56-year-old Huyck Stadium serves as the home venue for the Lompoc and Cabrillo high school football teams.
It also hosts middle and high school track competitions, soccer games and Lompoc High School physical education classes.
The construction work is planned to start as early as Nov. 25 so as not to disrupt the high school football schedule.
That could change, however, if the Lompoc or Cabrillo high football teams extend their respective seasons with home playoff games.
"With a successful year, it's possible that the season is not over by the end of November," said John Karbula, an LUSD assistant superintendent. "If this is the case, construction will be postponed until the season concludes.
"This would mean both football teams would be able to play their home schedules for 2019 and, hopefully, we are ready for the 2020 track season."
Other winter and spring sports teams that normally utilize the stadium will be displaced to other venues during the construction, according to LUSD.
Tom Blanco, who has worked as a PE teacher and trainer at Lompoc High School for more than 30 years, likened the proposed stadium upgrades to the benefits that athletes and community members experienced when the Lompoc Aquatic Center opened nearly 13 years ago.
"The Lompoc community deserves to have this resource," said Blanco, for whom the Lompoc High training room was renamed last year. "We have a state-of-the-art aquatic facility and now we will have a high-quality track and field venue to match."
Lompoc High Principal Paul Bommersbach also expressed optimism about what the project could bring.
"After many years of planning for this community track and field, I am excited to say we are getting closer and closer to seeing this vision become a reality," he said. "I can't thank enough the core group for their support — the district, the school board and the community members — for this project that will be used by countless youth and adults in Lompoc to stay healthy."
For more information on the campaign and project, or to donate to the effort, visit http://lompoctrackandfield.com, call 805-736-5985, or email lompoctrkfld@gmail.com.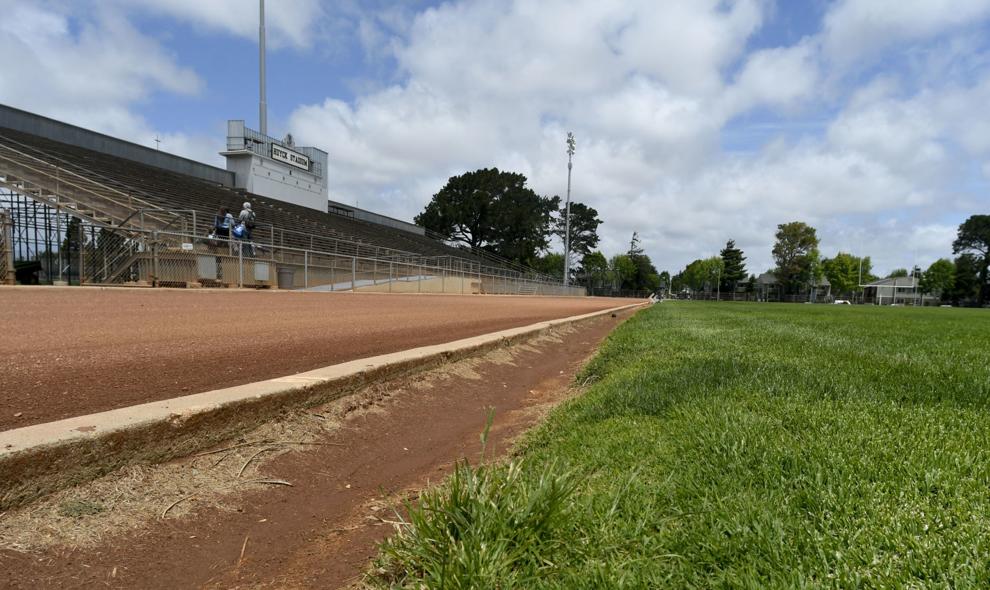 When CoastHills Credit Union announced last month that it would be accepting donations — and matching them up to $25,000 — for the Lompoc Comm…