With a steady rain falling outside, many tears were shed inside a packed Lompoc City Hall on Tuesday night as the city welcomed its newest chief of police and also dealt with the aftermath of a jarring tragedy that had occurred less than 24 hours earlier.
Police Chief Joe Mariani ceremonially took his oath of office early in a City Council meeting that opened with a moment of silence for the 17-year-old girl who was killed in a drive-by shooting Monday night, and also included a public prayer that touched on the act of violence. The girl, whose name has not been publicly released, is believed to have been an innocent bystander in what police described as a gang-related incident.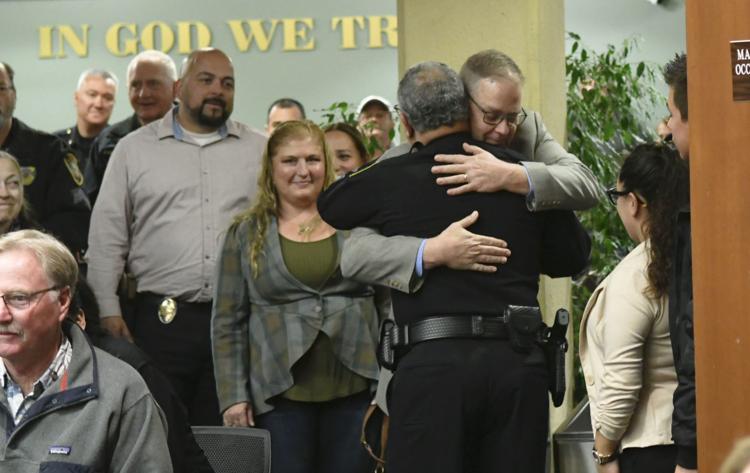 Addressing a standing room-only audience that included nearly the entire Lompoc Police force, Mariani fought back tears as he talked about the victim, whom he described as "full of promise; whose life was ended way too soon."
He said the painful incident reinforced to him why he accepted the job as Lompoc's chief of police.
"While at the scene, I saw members of our police department and fire department working diligently and tenaciously to conduct a thorough investigation in one of those situations that reflects the worst of humanity," he said. "But at the same time, they reflected the best."
Several officers, he said, left their homes and families to respond to the tragedy, including some who had just finished long shifts.
"That's why I want to lead the Lompoc Police Department," Mariani said, "because every day I get reminded of what it means to serve."
A man described by police as a known gang member was also shot in Monday's drive-by, but he survived his injuries. That man, whom police said was taken outside the city for treatment, is suspected to have been the target of the attack, according to police.
The girl who died was not associated with the man who was shot, according to police, who reported that she was simply outside babysitting her younger siblings when she was struck and killed by one of the bullets fired from the vehicle.
Police have not made any arrests or publicly identified any suspects in the case. The Lompoc Police Department is asking for assistance from community members who may have information.
Mariani, who received a standing ovation after wrapping up his remarks, said Tuesday night that he would commit himself to making Lompoc "the safest city possible."
CLICK HERE TO WATCH LOMPOC POLICE CHIEF JOE MIRIANI'S STATEMENT AFTER BEING SWORN IN, ON THE CITY OF LOMPOC'S YOUTUBE PAGE.
"Today it rained, and rightfully so, because many tears have been shed in the last 24 hours, including mine," he said. "I grieve and I pray for that family. No one else should have to suffer that kind of loss."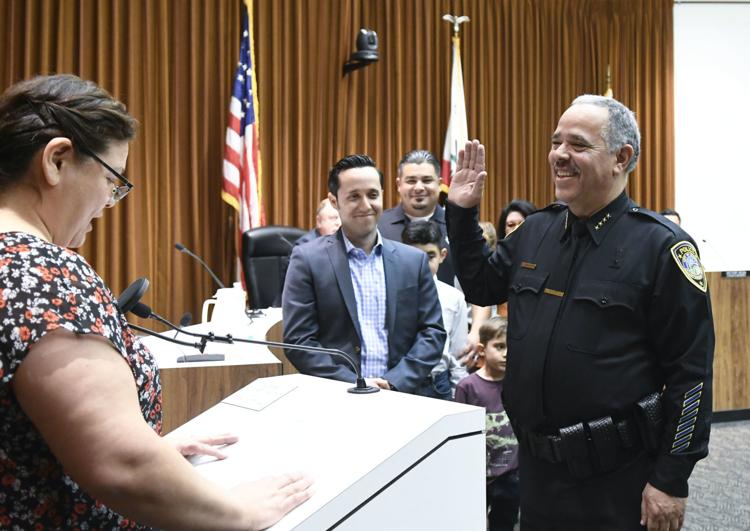 Lompoc Mayor Jenelle Osborne announced at the end of Tuesday's City Council meeting that she was working with Mariani to schedule a town hall meeting sometime this month that will focus on public safety. She said the event, which has not yet been finalized, will include English and Spanish translation and will allow the community to "have a discussion about citizen's concerns, opportunities to get involved, opportunities to volunteer, forming (neighborhood) watches, those types of things."
"As we finish formulating the date and time for that, I will make sure the community is aware of it and encourage you to attend," she said.
Monday's homicide was the first reported in Lompoc this year.
Anyone with information about Monday's shooting is encouraged by the Lompoc Police Department to contact Sgt. Agustin Arias at 805-736-2341 or to submit information through the Lompoc Police Department's smartphone app.
Willis Jacobson covers the city of Lompoc for Lee Central Coast Newspapers. Follow him on Twitter @WJacobsonLR.
Get local news delivered to your inbox!
Subscribe to our Daily Headlines newsletter.