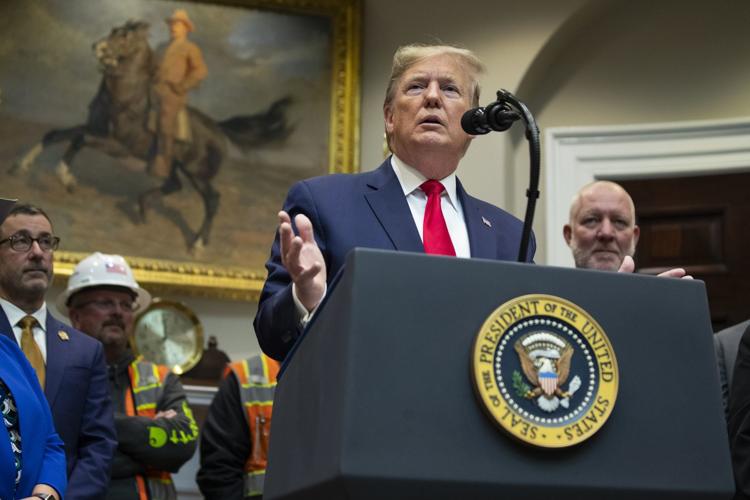 TRUMP: "Where have the Radical Left, Do Nothing Democrats gone when they have spent the last 3 days defending the life of Qassem Soleimani." — tweet Saturday.
Where have the Radical Left, Do Nothing Democrats gone when they have spent the last 3 days defending the life of Qassem Soleimani, one of the worst terrorists in history and the father of the roadside bomb? He was also looking to do big future damage! Dems are "unhinged."

— Donald J. Trump (@realDonaldTrump) January 11, 2020
TRUMP: "You know what bothers me? When I see a Nancy Pelosi trying to defend this monster from Iran ... When Nancy Pelosi and the Democrats want to defend him, I think that's a very bad thing for this country." — remarks Thursday at event on environmental regulations.
THE FACTS: That's a misrepresentation.
Pelosi and other Democrats have questioned the strategy behind Trump's order to kill Iran's general, which was made without prior approval from Congress, pointing to potential consequences of heightened tensions that could endanger U.S. troops and lead to war with Iran. The Democrats haven't defended Soleimani or spoken positively about him.
Following the military strike, Pelosi, for instance, called it a "dangerous escalation of violence" that put U.S. troops and diplomats at risk "by engaging in provocative and disproportionate actions." She also criticized Trump's "lack of strategy." But Pelosi also made it clear at her news conference last Thursday that Democrats had "no illusions about Iran, no illusions about Soleimani."
"He was a terrible person, did bad things," she said.
Similarly, there is no evidence the Democratic presidential candidates defended Soleimani.
Former Vice President Joe Biden said that "no Americans will mourn Qassem Soleimani's passing." Sen. Elizabeth Warren, D-Mass., who questioned the timing of the military strike, called Soleimani a "a murderer, responsible for the deaths of thousands, including hundreds of Americans." Pete Buttigieg, a former mayor of South Bend, Ind., said if the U.S. has no plan, "taking out a bad guy is not necessarily a good idea."
Last week, Rep. Doug Collins, R-Ga., was forced to apologize after he made a similar assertion as Trump, claiming that Democrats were "in love with terrorists."
"I left parts of my body in Iraq fighting terrorists," Democratic Sen. Tammy Duckworth, a former Army pilot who lost both her legs while serving in Iraq, told CNN after hearing Collins' initial remarks. "I don't need to justify myself to anyone."
---
TRUMP: "Iran's hostility substantially increased after the foolish Iran nuclear deal was signed in 2013. And they were given $150 billion, not to mention $1.8 billion in cash." — address Wednesday.
TRUMP: "Iran now is not wealthy like it was when President Obama handed him $150 billion.." — remarks Thursday.
TRUMP: "They gave around $150 billion including $1.7 billion in the hard cold cash, can you imagine? No, no, can you imagine? $1.7 billion, $1.8 billion in cash." — Toledo rally.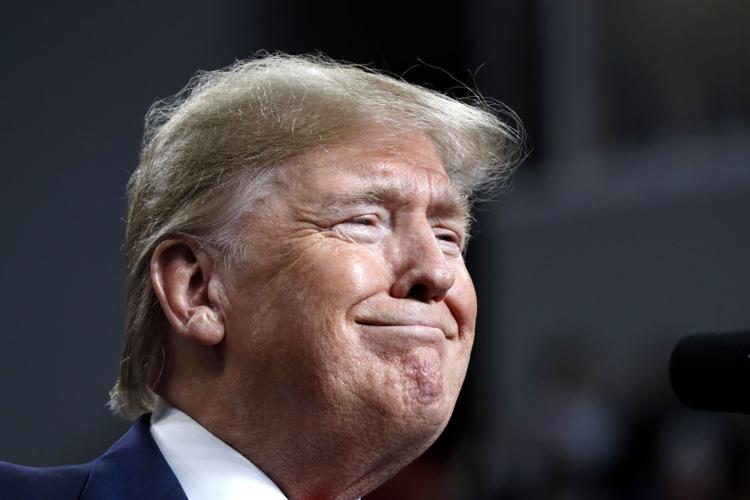 THE FACTS: There was no $150 billion payout from the U.S. treasury or other countries. The U.S. made a separate payment of roughly $1.8 billion to cover a decades-old IOU.
When Iran signed the multinational deal to restrain its nuclear development in return for being freed from sanctions, it regained access to its own assets, which had been frozen abroad. Iran was allowed to get its money back. The deal actually was signed in 2015, after a 2013 preliminary agreement. Trump has taken the U.S. out of it.
As for the $1.8 billion: In the 1970s, Iran paid the U.S. $400 million for military equipment that was never delivered because the Iranian government was overthrown and diplomatic relations ruptured. After the nuclear deal, the U.S. and Iran announced they had settled the matter, with the U.S. agreeing to pay the $400 million principal along with about $1.3 billion in interest.
The $400 million was paid in cash and flown to Tehran on a cargo plane, which gave rise to Trump's previous dramatic accounts of money stuffed in barrels or boxes and delivered in the dead of night. The arrangement provided for the interest to be paid later, not crammed into containers.
---
TRUMP: "The foolish Iran nuclear deal financed Iranian aggression while allowing a quick path to nuclear breakout. That is what it did. And by the way it expires so soon. They can have nuclear weapons." — Toledo, Ohio, rally Thursday.
TRUMP: "It's close to expiring. In other words, if I didn't terminate it, it expires in a very short period of time." — remarks at White House on Thursday.
THE FACTS: The 2015 agreement is not about to expire. It imposes limits on Iran's nuclear development for 15 years.
---
TRUMP: "The missiles fired last night at us and our allies were paid for with the funds made available by the last administration." — address Wednesday.
THE FACTS: That accusation comes without corroboration. The administration has offered no information supporting the contention that in regaining access to $150 billion of its assets that had been frozen abroad, Iran steered a chunk of that money to the missiles that hit the U.S. bases in Iraq.
"I doubt anyone has the insight into Iran's budgetary mechanisms to say that this money was used for this purpose," said Gerald Feierstein, a career U.S. diplomat who retired in 2016 as the principal deputy assistant secretary of state for Near Eastern Affairs.
"It's a funds-are-fungible kind of argument," he said. "I mean, if they have money, can you say that dollar went directly to buy a missile, as opposed to freeing up another dollar that went to buy a missile?"
Joseph Votel, who retired from the U.S. Army in March as the top military commander for the Middle East, said he was not aware of any specific intelligence on this question. "I don't have anything that would particularly support that," he said. "I'm not saying it did or it didn't, but I don't have details to demonstrate it one way or the other."
As President Barack Obama's secretary of state, John Kerry said it was possible Iran would use some of the money being returned to it for malign activities. Whether it did in this case has not been established.
Iran has many sources of revenue, despite the severe pinch of sanctions. Oil sales to China and other countries dominate its exports. It also sells chemicals, plastics, fruits and more abroad.