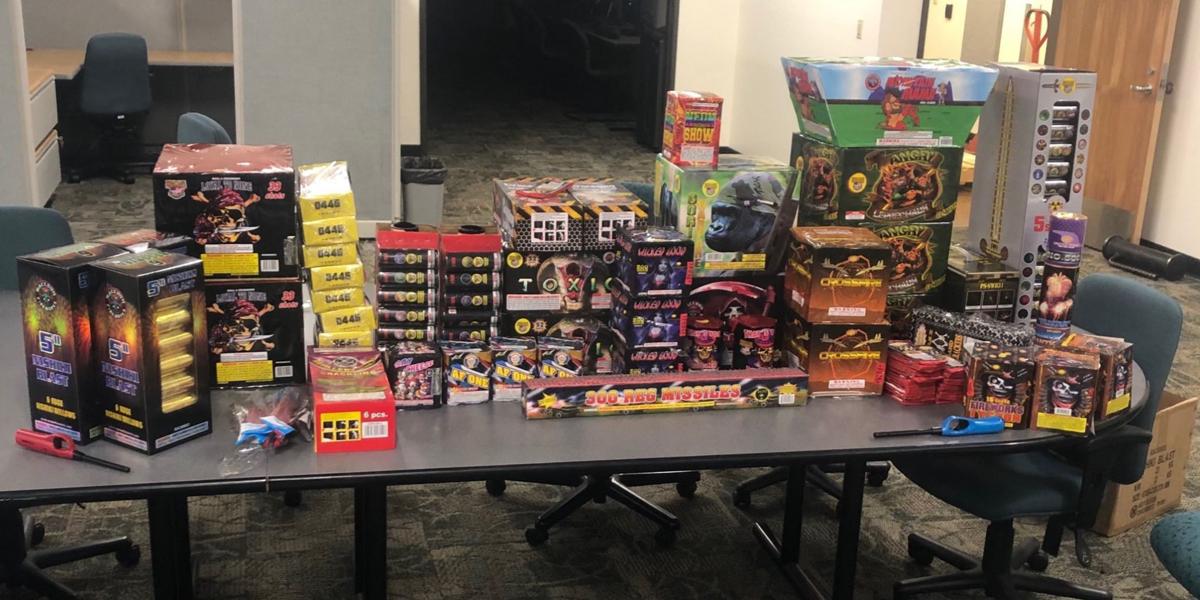 Santa Maria Police Department task force officers on Monday issued two citations related to illegal fireworks and seized several boxes of the contraband at a residence as calls for the prohibited activity continue to rise.
Police responded to a call for illegal fireworks shortly before 9 p.m. in the area of North Curryer and Taft streets and issued a citation to an individual, according to Sgt. Eligio Lara. 
As police officers investigated that incident, they were called to a residence at an unspecified address on Barrington Drive about a half an hour later and allegedly observed an individual lighting fireworks in the road. 
Officers issued a second citation and seized 28 boxes of illegal fireworks, Lara said. 
The citations and seizure were the work of a 12-officer task force that patrols the city each night until July 5 looking for illegal fireworks, said Lara, who expects more citations as complaints continue to occur. 
Santa Maria Police received a sudden influx of calls for illegal fireworks in late May, according to logs, and they've continued to escalate. 
Police received 93 calls for illegal fireworks from May 28 to June 3, 120 from June 4 to 10, 182 from June 11 to 17 and 212 from June 18 to 24, according to police logs. 
So-called safe-and-sane fireworks are the only kind permitted in the city and can only be used within a 12-hour period from 11 a.m. to 11 p.m. July 4.
Anyone caught using the fireworks outside that time frame or using illegal fireworks during any period of time faces a citation and a maximum fine of $1,000. 
Four illegal fireworks citations have been issued so far in 2020, while 32 were issued in 2019, Lara said. 
The first one was issued June 8 after several anonymous tips led to a seizure of fireworks in the 1300 block of East Cox Lane, while the second one came June 13. 
Residents can report illegal fireworks by calling the city's hotline at 805-925-0951, ext. 3473, with callers having the option to remain anonymous, Lara said. 
A citation also can be requested by filling out an electronic form on the city's website.
Documentation, including photos or videos, is required and may be submitted as physical copies or uploaded to a city Dropbox link that is provided after the form is submitted, spokesman Mark van de Kamp said. 
Physical copies of documentation, like a DVD or a USB thumb drive, may be mailed  to the City Attorney's Office at 204 E. Cook St.
Additionally, complainants may be required to sign an affidavit under the penalty of perjury verifying they personally observed the fireworks violations, van de Kamp said. 
Be the first to know
Get local news delivered to your inbox!