It's hard to feel bad for Dodger fans right now, but if you take a moment and think about it that's kind of understandable.
I mean, here we are, shortly after LA ended a 32-year drought by beating Tampa Bay in a remarkable World Series, and we're not talking baseball.  
The Dodgers not only ended that drought, but they finally got over the hump after two World Series losses in the three years prior and so much recent heartbreak. And yet almost all the talk about the World Series is geared toward Justin Turner and the coronavirus.
Even the baseball talk isn't about what the Dodgers did right, but what the Rays did wrong. 
Update: Voting is now closed in our Player of the Decade semifinal round. Tatiana Dunlap upset top seed Ashlyn Hurlihy with a big push from th…
How did we get here?
Ok. Let's get into the Justin Turner debacle. 
It's Peak 2020 that the Fall Classic is marred by COVID-19. Of course Turner is going to break protocol and end up on the field during the celebration, sans mask. Of course.
I think Turner ranks third in my 'Who's To Blame' rankings. The No. 1 spot is taken up by Major League Baseball and commissioner Rob Manfred. Like, bro, you're there at the same venue. You can literally keep an eye on Turner and make sure this does not happen and ruin your game's crowning moment. 
MLB knew this was developing and a possibility hours before we did and still didn't do enough to contain either the (possible) spread of the virus or the bad optics of a maskless, confirmed positive player on the field at this moment. 
I think the Dodgers are also to blame. Like, come on, keep him off the field and out of view. 
And it totally is a bummer that Turner, one of the faces of the franchise and one of the most beloved Dodgers of this era, had this happen to him in this moment. I don't blame Turner, a SoCal native, for getting the virus and I don't blame him for wanting to be on the field, but he has to share some responsibility for how this all played out. MLB and the club needed to find a way to placate him and keep him off the field.
At this point I'm not even mad or surprised this happened. I'm just exhausted.
Epley blossomed into a 6-foot-2, 240-pound wrecking ball by his senior season with the Pirates. He played on the defensive line and fullback and was a First Team All-Los Padres League player in back-to-back seasons (2014 and 2015).
Cash's move wasn't on the money
The biggest in-game flash-point from this World Series series clincher came when Rays manager Kevin Cash pulled ace Blake Snell, the 2019 Cy Young winner, in the sixth inning Tuesday. Snell had gone 5 1/3 innings, struck out nine and allowed just two hits, one of which was a single to Austin Barnes, the No. 9 hitter, with one out in the sixth. 
The Rays were up 1-0 and the Nos. 1-3 hitters for LA had gone 0-for-6 with 6 Ks against the lefty. 
I'm not going to act like I've got a handle on any of the analytics you can point to in that situation. Cash had a plan and had the information to feel confident he was making the right move, but this is a clear case of thinking too much with your head and not your gut.
Austin Hayes is what you may call a sleeper. 
There's so much statistical information in the game of baseball and most organizations are finding ways to beautifully employ that information. But the game is played by people and every move is connected and not every situation is the same. You have to factor the moment in.
People in general, and athletes in particular, have consistently shown an ability to overcome just about any statistical disadvantage. Snell does lose effectiveness deep in games, but this is the World Series. 
You can't be 100-percent analytically minded or 100-percent player focused. I think Cash was way too analytical in this spot. 
Just think if Cash leaves Snell in and they get an inning-ended double play there. How much momentum does that create? Your players can feed off that confidence and belief instead of just relegating their fates to a numbers game. 
If Cash left Snell in there and he gets out of that "jam", the Rays win that game and we're playing a Game 7 (hopefully).
Congrats, Dodgers!
With all that said, congratulations to the Dodgers and ending their drought. They've definitely earned it. I know how hard these droughts can be on a fan. My Yankees haven't won a World Series since 2009! And I've only had five titles in my 33 years! Maybe my drought will end next year.
GBB: Player of the Decade Semifinals
No. 1 Ashlyn Herlihy vs. No. 4 Tatiana Dunlap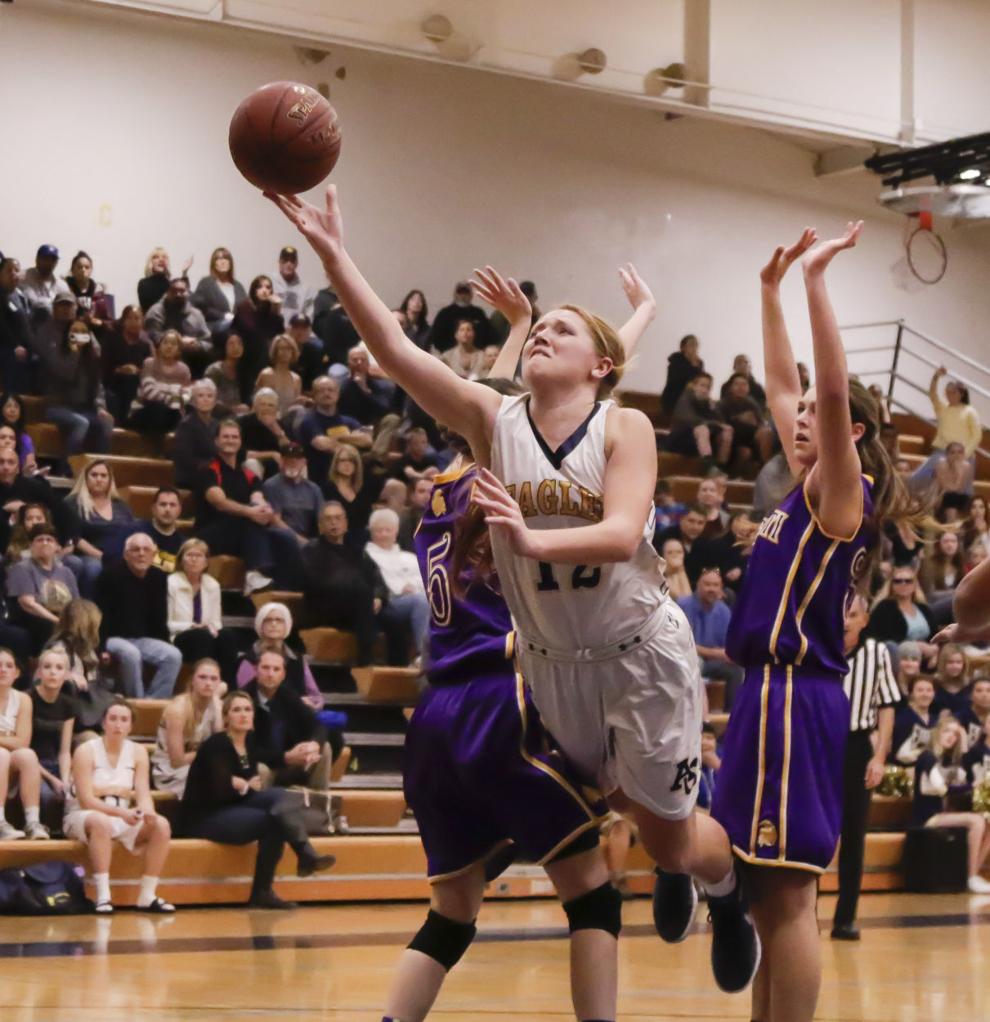 No. 1 Ashlyn Herlihy, Arroyo Grande High
Currently playing at Santa Clara University
Herlihy, a 6-foot-1 forward, averaged 19.9 points and 12 rebounds a game throughout the 2014-15 season at Arroyo Grande, which was Herlihy's junior year.  She led the team to a 24-3 overall record, which included a 21-game win streak and an undefeated and untested run through the PAC 8 League. She was named the league MVP, the Times' All-Area MVP and the SLO County Player of the Year.
Herlihy was even better as a senior, averaging 22 points, 9.7 rebounds, 1.4 steals and 5.5 blocks per game. (The Eagles went 20-8 that year and split the league title with Righetti and Herlihy was named the All-Area Offensive Player of the Year).
Herlihy has gone on to play at Santa Clara University. She redshirted there in 2016-17 and has grown into a starting role the last two seasons, averaging over 10 points and 7 rebounds a game. She earned All-West Coast Conference honors the last two years. She's started 61 games the last two seasons. 
No. 4 Tatiana Dunlap, Cabrillo/St. Joseph
Played at CSU San Bernardino and Cal Lutheran
Going up against Herlihy is Dunlap, a standout two-way guard who starred at St. Joseph High before playing in college. 
Dunlap won a CIF state title in her sophomore season with the Knights. In her three seasons at St. Joseph, Dunlap scored 1,300 points and the 5-foot-8 guard averaged 23.7 points, 3.0 assists, 9.2 rebounds and 2.6 steals per game as a senior.
Like Herlihy, Dunlap also earned one All-Area MVP award, during her senior season. Dunlap averaged 15.1 points over 87 games with the Knights. As a junior in 2011-12, Dunlap averaged a double-double for the season, with 15.3 points and 10.3 rebounds per game, while also dishing out 3.0 assists and swiping 2.4 steals per game. 
No. 2 Kaitlyn Flowers vs. No. 3 Heather Madrigal
No. 2 Kaitlyn Flowers, St. Joseph
A 2014 St. Joseph graduate was a freshman on the Knights' 2011 CIF State championship team. (Flowers played a key role in the Knights' state title win over Oakland's Bishop O'Dowd, eating up 28 minutes and leading the team in rebounding while playing effective defense against the Dragons).
Flowers eventually scored over 1,400 points in her St. Joseph career. As a senior in the 2013-14 season, Flowers averaged 17.9 points, 7.3 rebounds, 3.7 assists and 4.8 steals per game. 
As a junior, Flowers averaged 18.1 points, 4.5 rebounds, 4.9 assists and 4.7 steals. As a sophomore, she scored 18 points a game, adding 4.3 rebounds, 3.2 assists and 4.4 steals per game.
She finished her St. Joseph career with 1,448 total points, 503 total rebounds, 326 assists and 391 steals in 110 games. She averaged 18 points a game over the 75 games she played in her sophomore, junior and senior seasons. She also averaged nearly five steals a game in that span.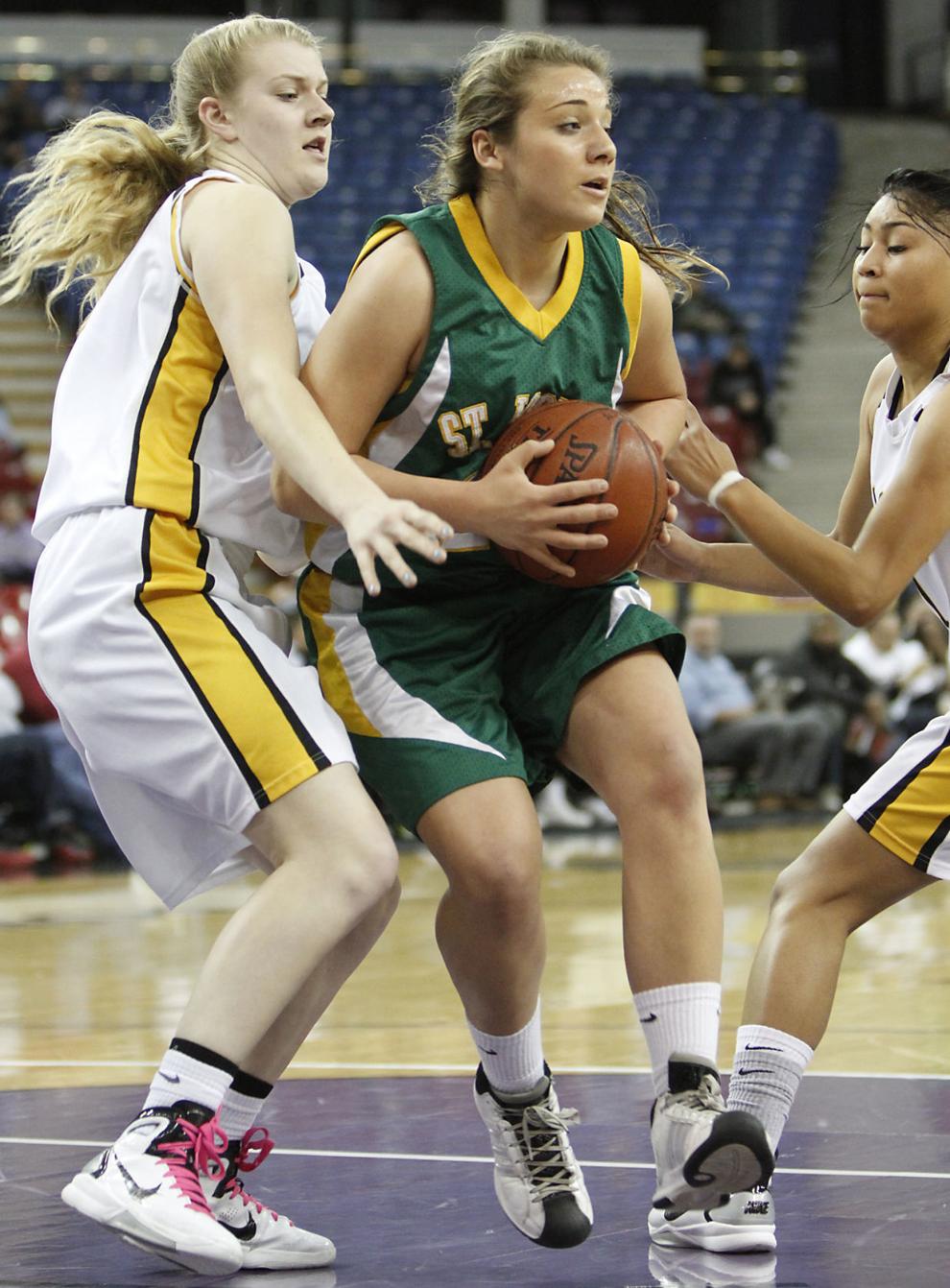 No. 3 Heather Madrigal, St. Joseph/Arroyo Grande
Madrigal was also on that 2011 state title team at St. Joseph. After that season, she transferred to Arroyo Grande and went on to win her fourth CIF championship in 2012. 
Madrigal won three CIF Southern Section titles and one state championship. That's four more titles than the total league games she lost during her career. (Madrigal's teams went 48-0 in league in high school).
Madrigal went 113-20 in her four-year varsity career. The 5-foot-8 forward scored more than 900 points at St. Joseph and, during her lone season at Arroyo Grande, she topped 500 points.
Madrigal averaged 16.2 points, 8.7 rebounds, 2.8 assists and 1.5 steals per game as the Eagles went 27-6 that year. She played 98 games with the Knights and averaged 9.4 points, 4.5 rebounds, 2.4 assists and 1.8 steals per game. 
Madrigal was named the Times' All-Area MVP after her lone season in Arroyo Grande.
Be the first to know
Get local news delivered to your inbox!