About 2,500 Lompocans traveled to Anaheim Stadium for a June 1, 1970 baseball game.
But it wasn't a major league game or even a collegiate contest the large crowd was excited for.
No, the Lompoc supporters were there to see the Lompoc High baseball team play for a CIF championship. 
They all came home happy. 
Now that 1970 team is meeting up again. And the former players and coaches are hoping another large group of Lompocans will be on hand to see them get together one last time. 
A 50th-anniversary celebration is scheduled for Saturday at 3 p.m. at the Schuyler Riverbottom Ranch in Lompoc to celebrate Lompoc High's first and, perhaps, most impressive CIF baseball title. 
The Braves beat El Segundo for the CIF AAA title on that Monday night in June of 1970. 
There were five future major league players on the field that night: Lompoc's Roy Howell, Roy Thomas and Dave Stegman, who squared off against El Segundo's George Brett and Scott McGregor. Brett went on to a Hall of Fame career with the Kansas City Royals. McGregor was an All-Star in 1981 and won a World Series with the Orioles in '83.
Howell played 11 seasons in the major leagues. Thomas went on to pitch in the majors for eight seasons and had his jersey retired at Lompoc High last year.
Howell was taken with the fourth overall pick of the 1972 major league draft while Thomas was selected No. 6 overall in the first round of the 1971 draft. 
Howell will have his jersey retired on Saturday. 
Jim McKaskle was an assistant coach on that Lompoc High team that won the CIF title in 1970 and has had a large hand in organizing the reunion, which will be open to the public starting at 3 p.m. 
"That was an event that literally transformed Lompoc High athletics," said McKaskle, who now lives in Arizona. "It changed the town. After that, Lompoc became a power in football and in baseball. They had done well in track and cross country a little before that, but from that time on Lompoc was the power.
"I attribute that to what those kids did. The town changed."
McKaskle remembers what it was like to see the Braves play in front of an electric crowd at Anaheim Stadium in 1970 and come home with a championship.
"They introduced El Segundo first and there were so many people, I couldn't believe how loud it was," McKaskle said. "Then they announced (Lompoc leadoff batter) Bobby Grossini's name and the noise drowned out the cheers from the El Segundo fans. I turned back to look at the stands and virtually three-fourths of the people were standing and yelling.
"They all had blue on."
The party didn't end after Lompoc beat El Segundo 8-5 in the championship game. McKaskle remembers arriving to the outskirts of Lompoc and being met with a police escort.
Ozzie Andrade's job is to make sure the ball doesn't find the back of the net.
"We got into town early in the morning, it must've been 2 or 2:30, and the police met us out at the edge of town and escorted us to the high school," McKaskle said. "They did that because we had no stoplight where the highway met the road and there were so many people lining the streets. The whole town was up."
"They followed us from Jalama Road all the way to the high school."
The team's head coach was Dan Bodary, who has also helped organize the reunion. The Lompoc High baseball diamond is named Bodary Field.
"All season long, we've felt we're a part of the community and they've been behind us all along," Bodary said after the CIF win according to a report in the Lompoc Record from June 2, 1970. "Earlier this evening they introduced the teams; El Segundo got a few cheers when they were introduced. But our fans were there too — it was about five times louder. To me, that was the turning point. We knew we had our fans behind us."
The captain of that team was Monte Bollinger, who was also drafted by a major league club. 
The Braves' roster featured Howell, Thomas, Bollinger, Grossini, Stegman, Robert Aguilar, Jeff Bratz, Joe Brooks, Kelly Candeale, Steve Glover, Carlos Gonzalez, Tom Harmon, Ruben Heredia, Marc Landry, Paul Ortiz, Neal Porter, Rueben Terrones Ted Torres and managers Bruce Williams, Charles Hilley and Randy Shaw. Torres and Bratz are no longer living. 
The Braves went 27-1 in 1970 and gave Bodary, who was 30 at the time and taught American History at LHS, his first CIF title. Bodary went on to win four CIF titles at Lompoc.
1970Baseball_edited.jpg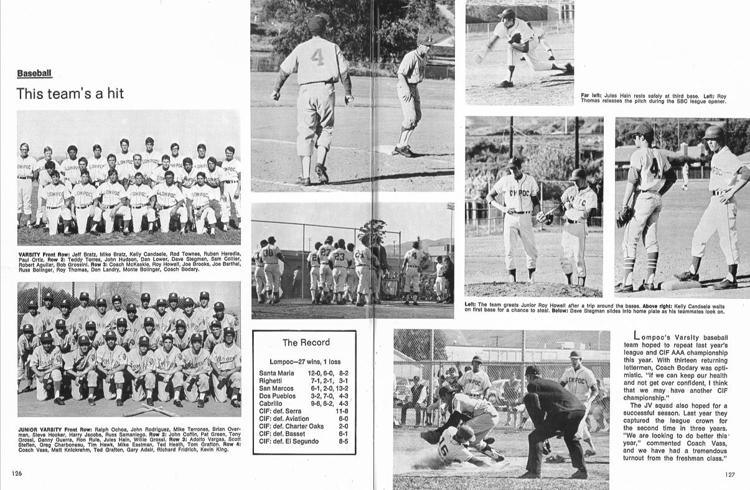 The_Lompoc_Record_Fri__Jun_18__1971_.jpg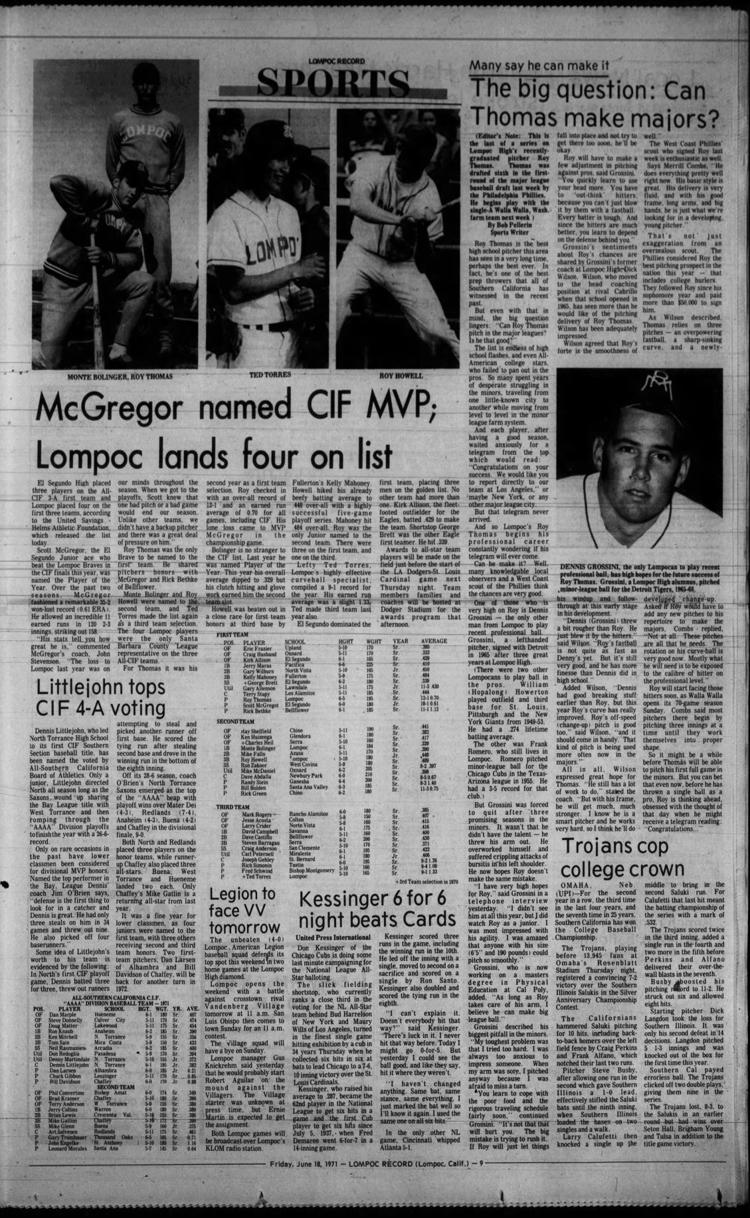 The_Lompoc_Record_Fri__May_29__1970_.jpg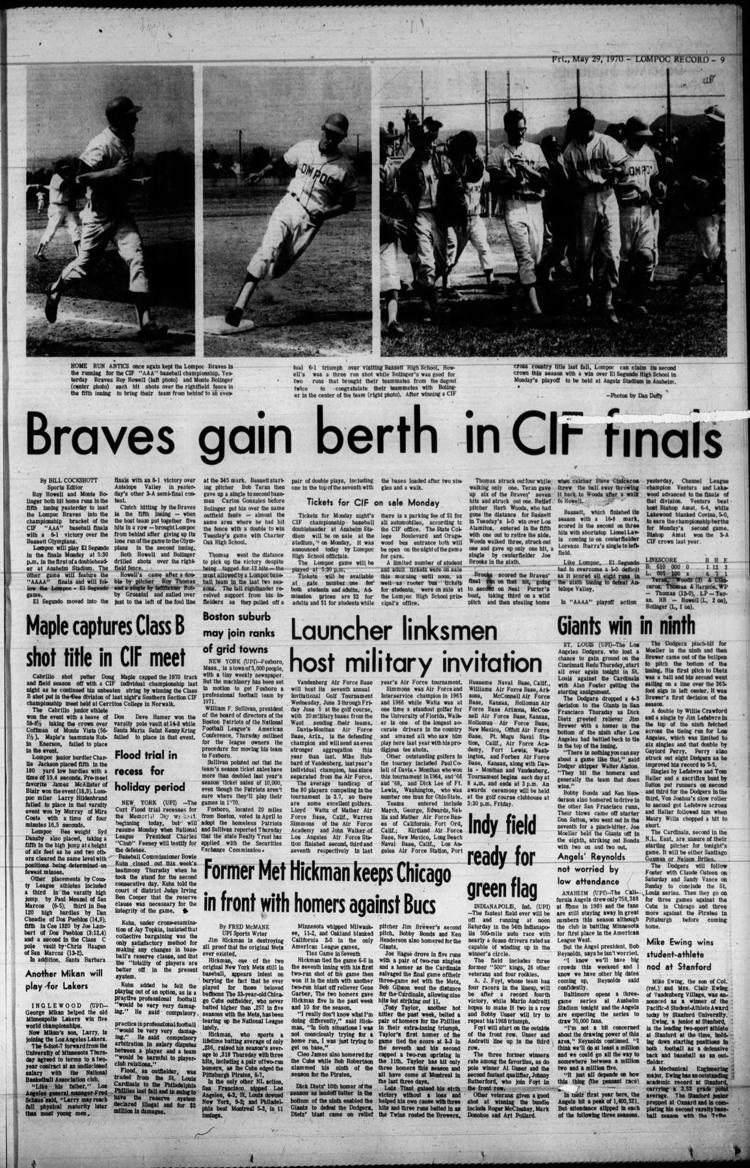 The_Lompoc_Record_Mon__May_31__1971_.jpg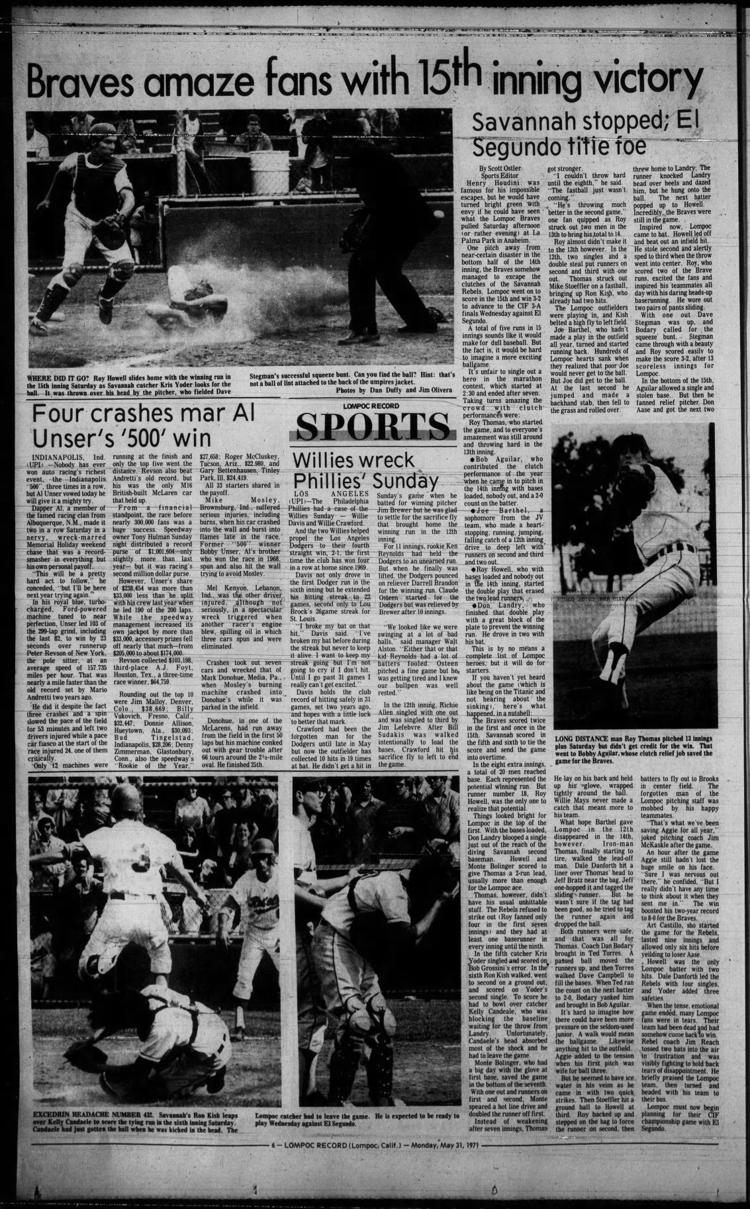 The_Lompoc_Record_Mon__Sep_9__1974_ (1).jpg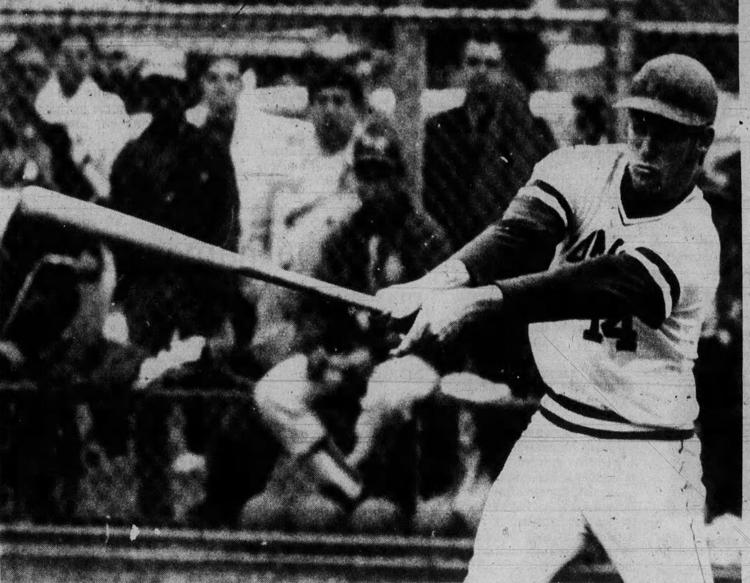 BollingerHowell.jpg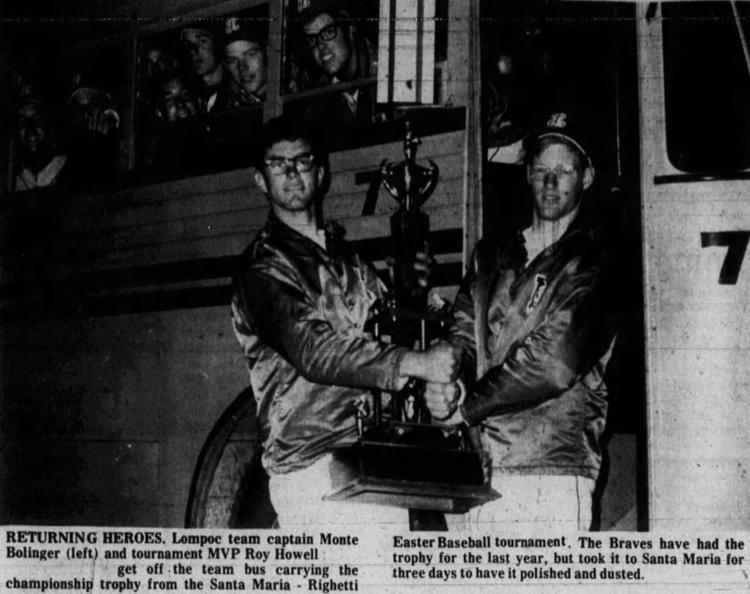 The_Lompoc_Record_Mon__Sep_9__1974_.jpg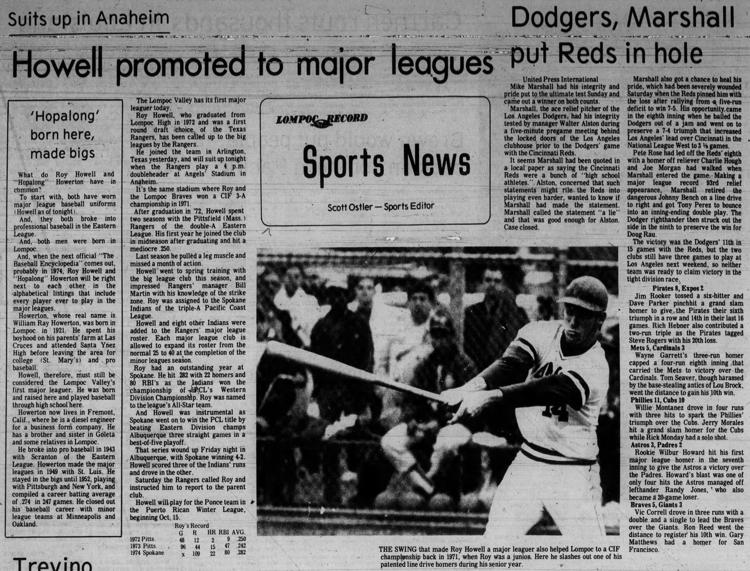 The_Lompoc_Record_Sat__Apr_17__1971_.jpg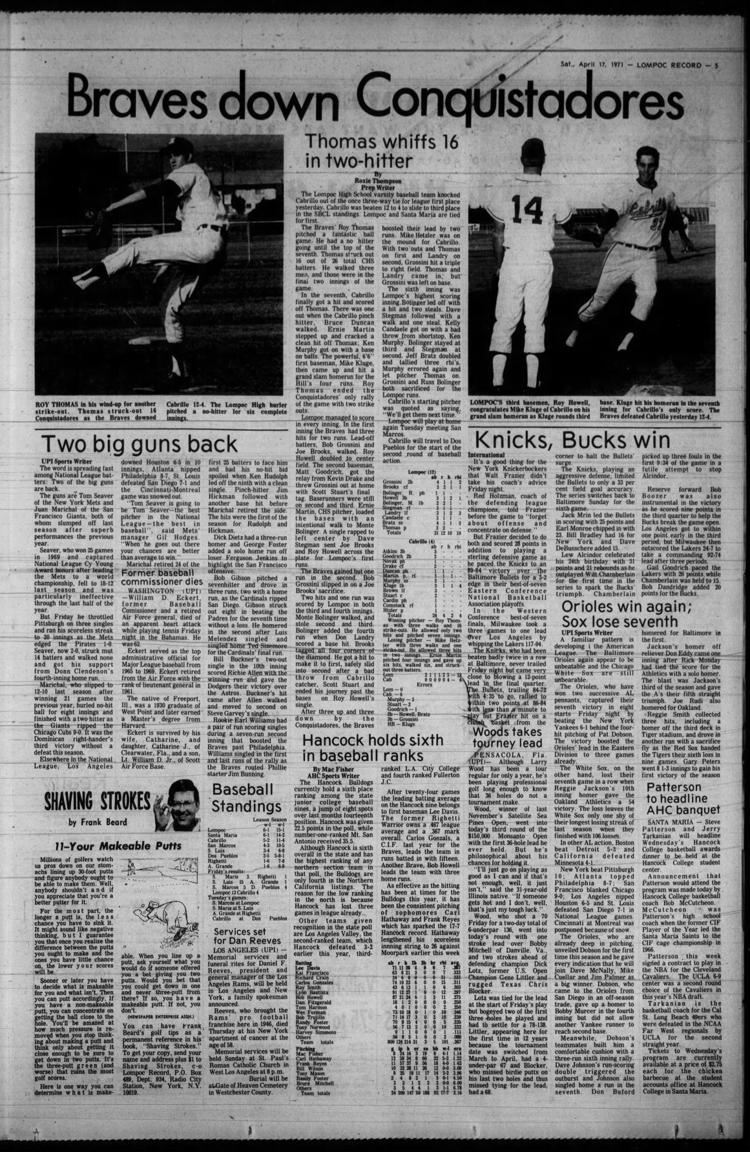 The_Lompoc_Record_Thu__Apr_8__1971_.jpg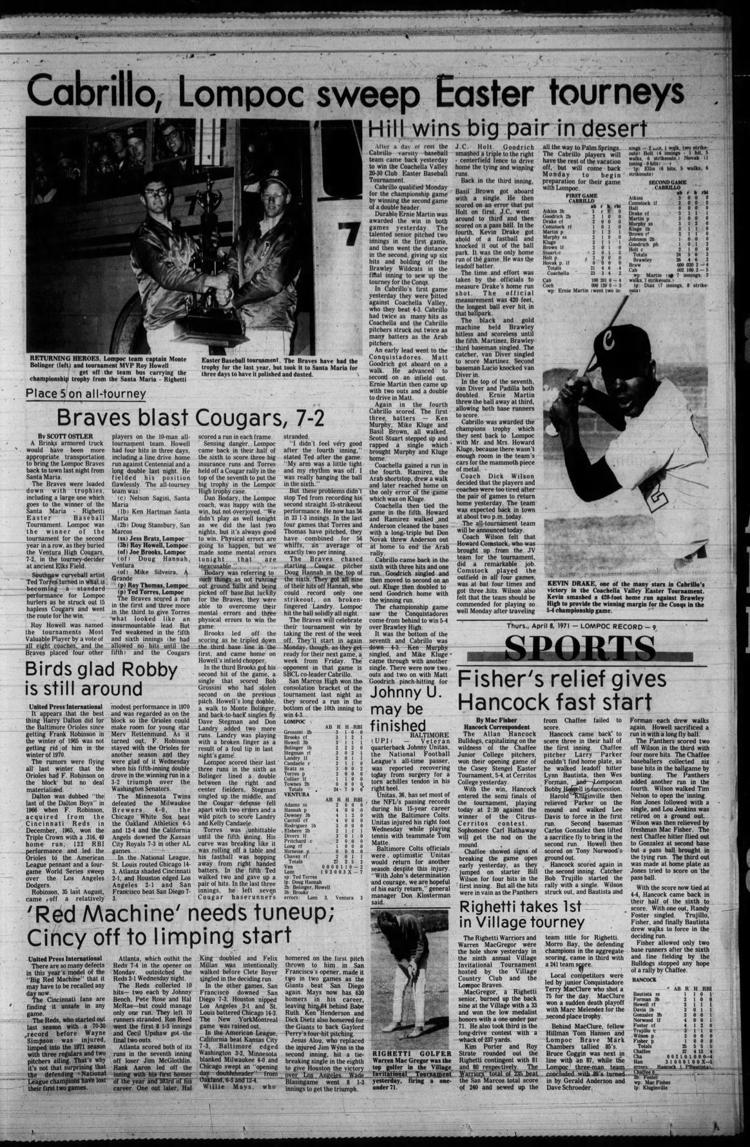 The_Lompoc_Record_Tue__Jun_2__1970_ (2).jpg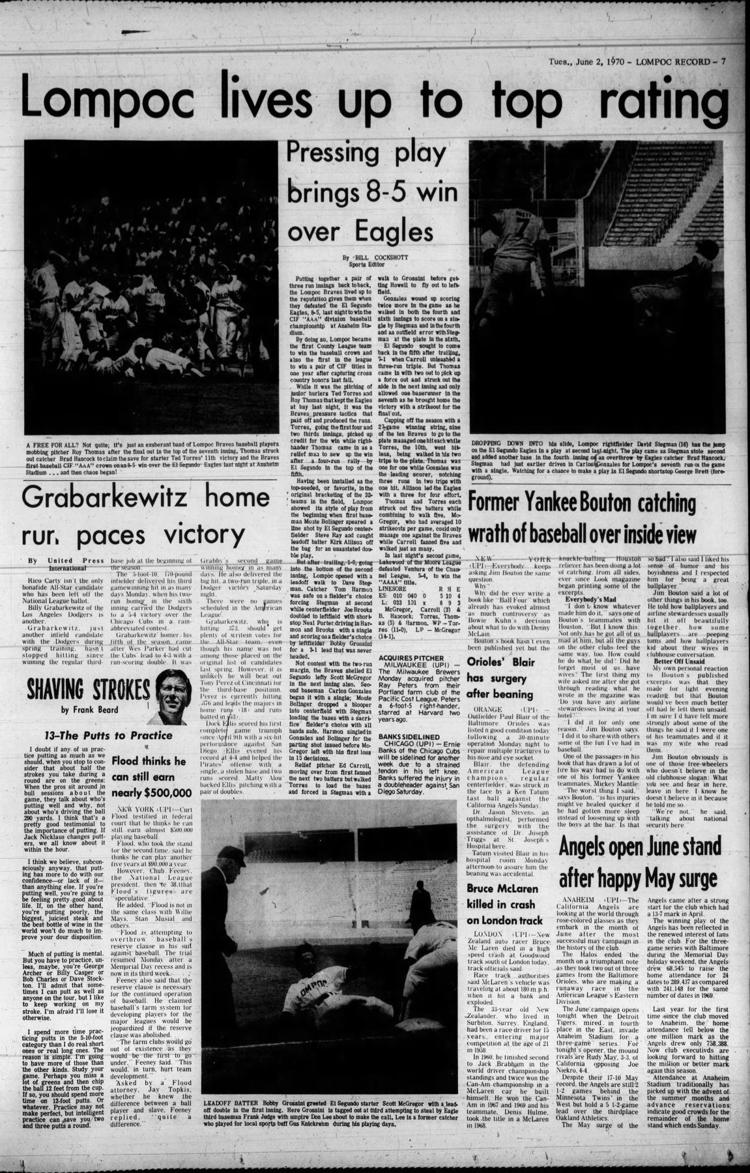 The_Lompoc_Record_Tue__Jun_2__1970_ (3).jpg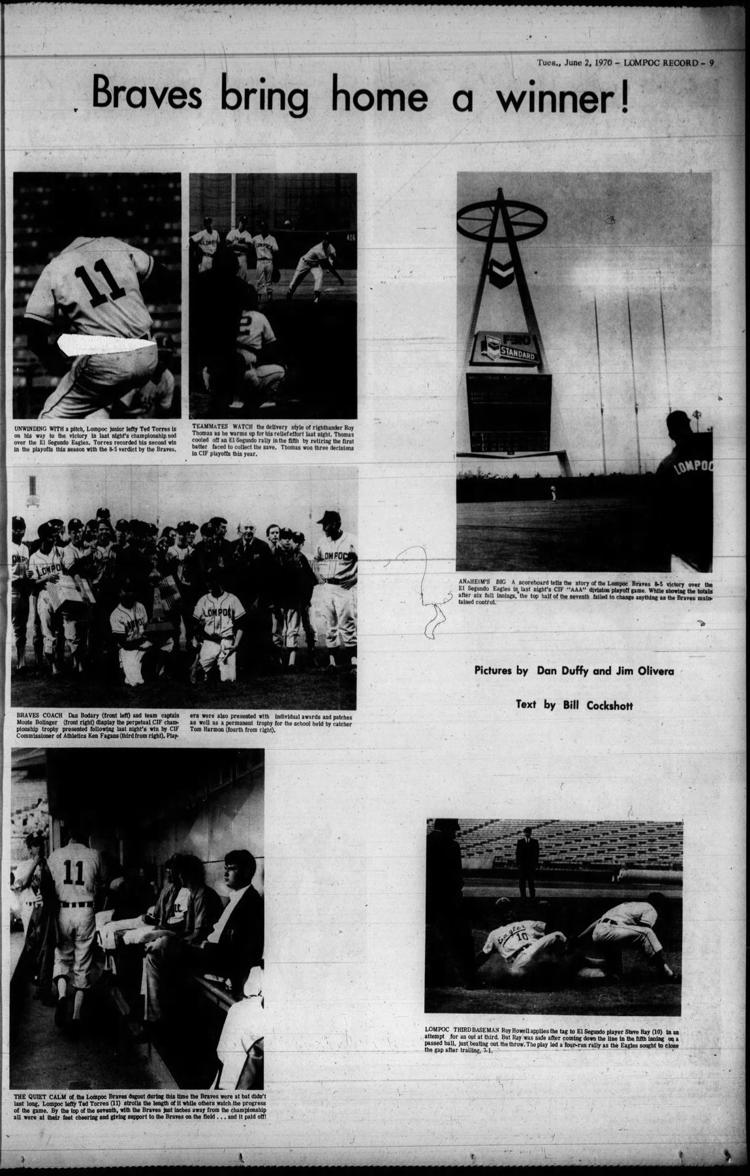 The_Lompoc_Record_Tue__Jun_3__1969_.jpg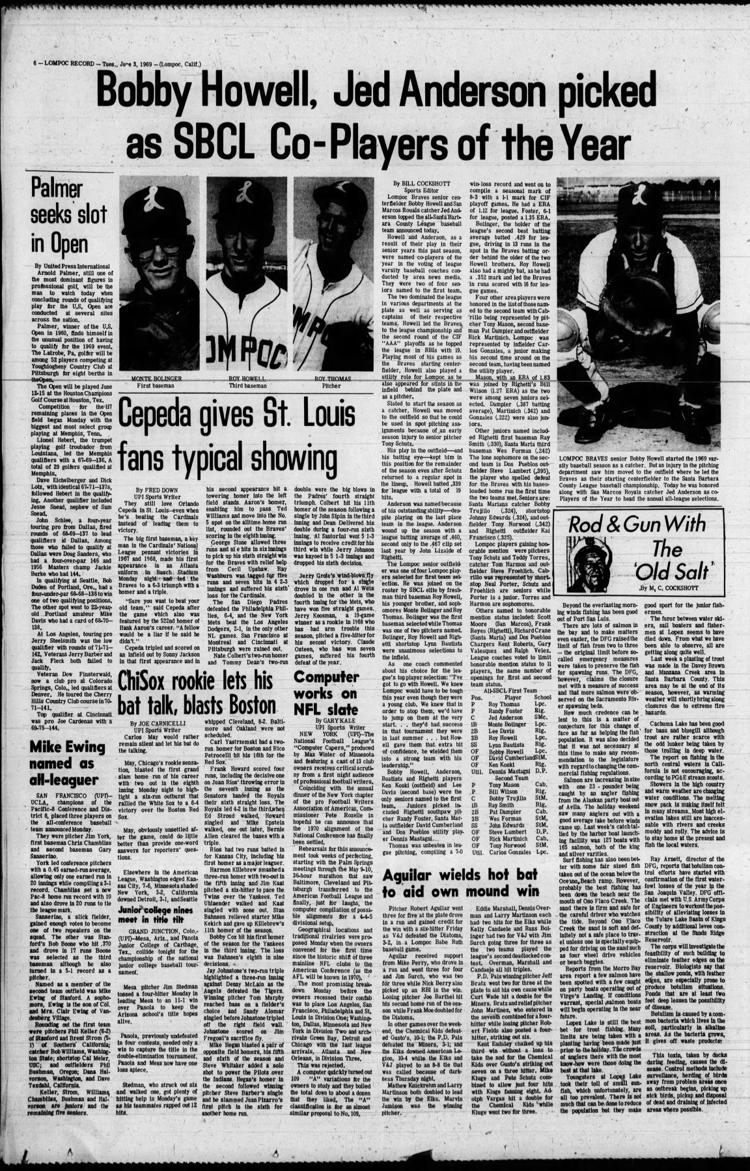 The_Lompoc_Record_Tue__Jun_16__1970_.jpg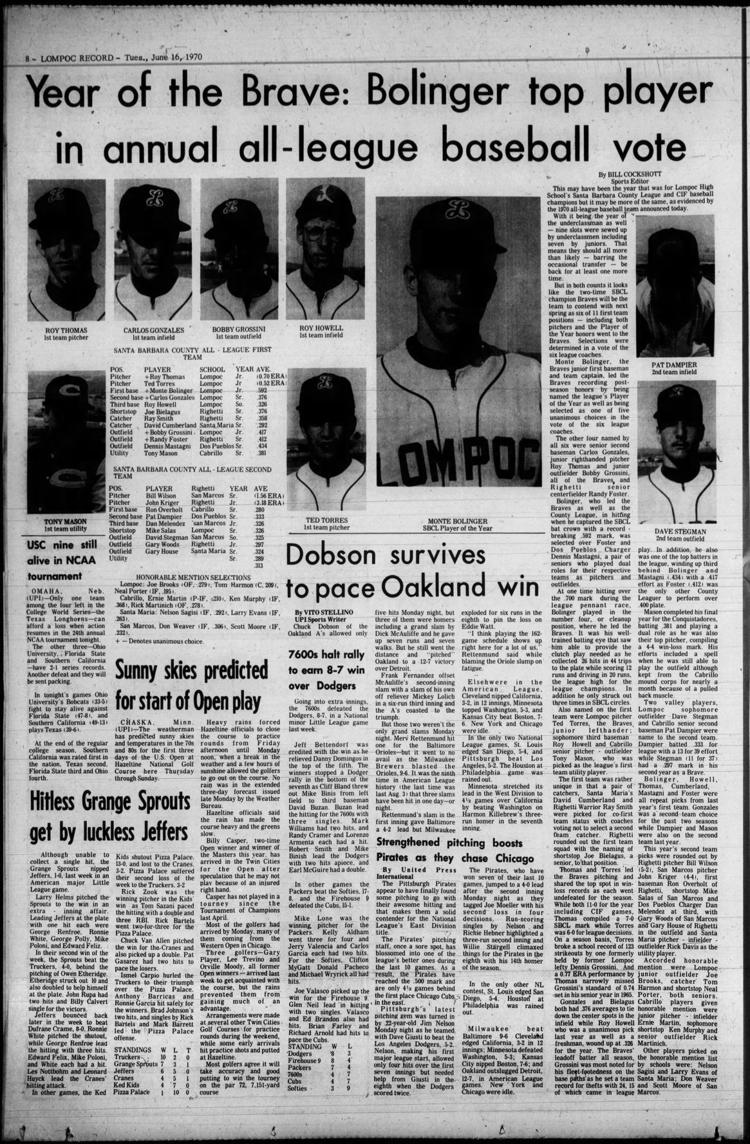 The_Lompoc_Record_Wed__Apr_22__1970_.jpg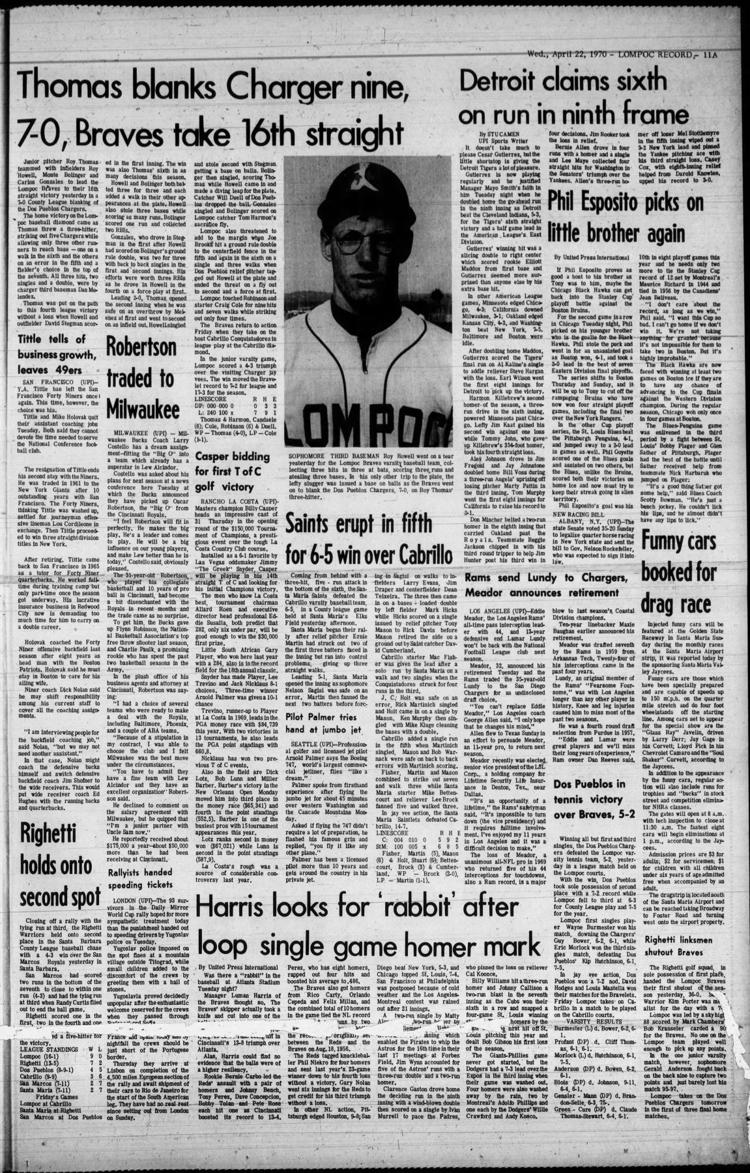 The_Lompoc_Record_Wed__May_27__1970_.jpg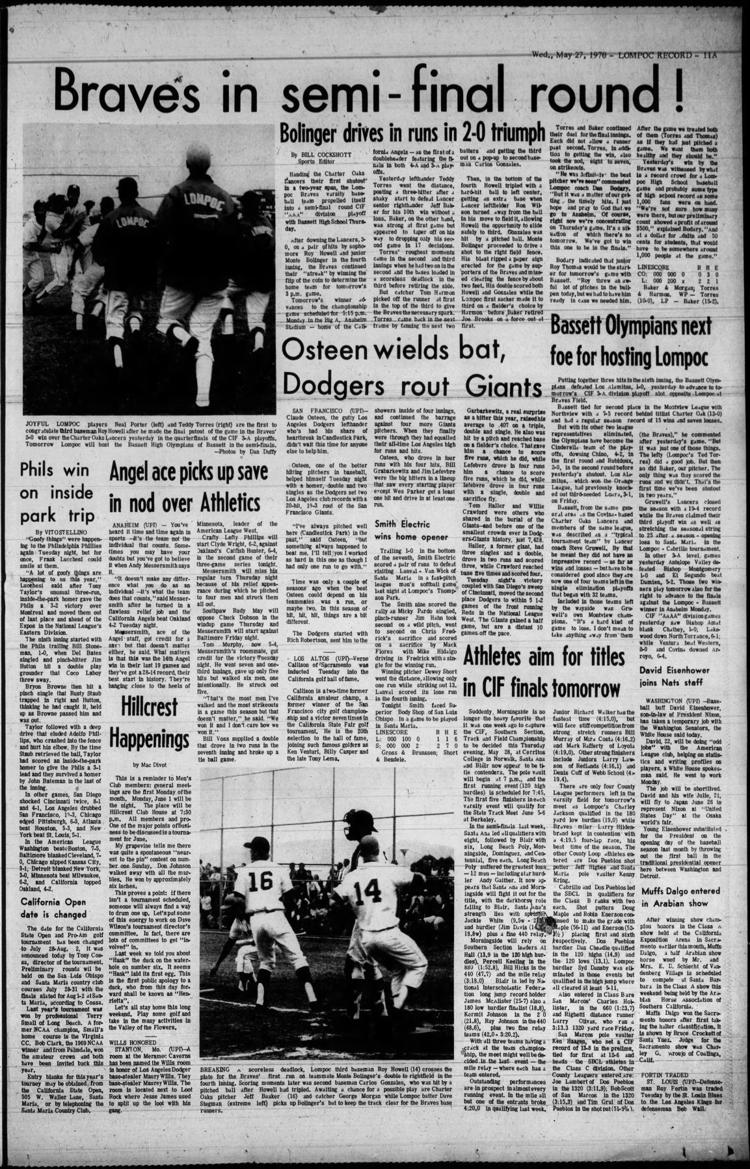 Varsity Team_edited.jpg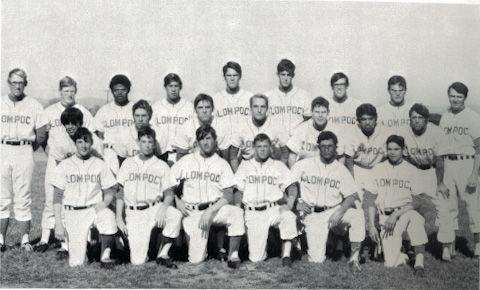 Be the first to know
Get local news delivered to your inbox!