It was reunion time at Hancock College's Joe White Memorial Gymnasium Friday night.
At halftime of the Hancock men's basketball team's 74-70 loss to Cuesta in a regular season finale that had Western State Conference North Division championship implications, some prominent former Hancock athletes from the 1960's were honored.
The honorees included members of the 1963-64 Hancock men's basketball team that lost in the state championship game to the late Jerry Tarkanian's Riverside City College squad that was led by Bob Rule.
Players from Hancock's 1962-63 men's basketball squad, along with players from the 1962 and '63 John Madden-coached Hancock football teams, were also honored.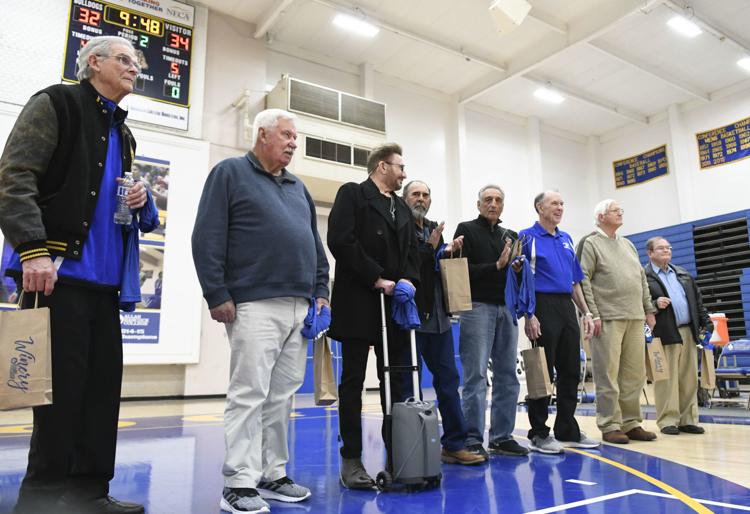 As good as that 1963-64 Hancock squad was, "The 1962-63 team was probably better," Greg Clark, a former All-League player for Santa Maria High School and one of the honorees from the 1963-64 team, said after the halftime ceremony Friday night.
Danny Fitzpatrick coached that 1962-63 team, the only season he coached at Hancock. The late Sam Vokes coached the 1963-64 Hancock team.
"He was a fantastic coach," said Clark.
Another honoree, Nick Allen, played on the 1962-63 and the '63-64 teams. Allen averaged 16 points and 12 rebounds a game during his two seasons for Hancock.
"He was a center, even though he didn't look like a center," Clark, with a chuckle, said of Allen.
"There were no '2, 3, 4, 5' positions in those days," said Allen.
The Bulldogs didn't exactly have a lot of size and, "We didn't have a point guard," said Clark. "We had four guards. They all handled the ball.
"We were deep. We played up-tempo all the time. There were a lot of substitutions. We went eight, nine, 10 players deep in the rotation."
Chuck Negron, who formed the band Three Dog Night, was one of the basketball honorees, and he was there for the halftime ceremony. He played for the 1963-64 team. The other honorees from that squad who attended the ceremony were Allen, Clark, Abie Gonzalez and Ed Marasco.
Allen, Clark and Gonzalez were All-League players for Santa Maria High School. Marasco made the trip for the reunion from his native Pennsylvania, where he still lives. Negron, who was the main driver for the reunion, lives in his native New York.
Marasco went to high school in Punxsutawney, the hometown of Punxsutawney Phil, America's most famous groundhog.
The Hancock football honorees were Bill Nichols, Jim Pope, Richard Schiffrar, Blair Sheldon and David Askins.
A reunion of historic proportions is brewing at Hancock. Some of the school's storied alumni are getting the band back together this Friday ni…
Charles Brown, a first team All-CIF player for Santa Maria High School, was a teammate of Gonzalez's at Hancock.
"I've kept in touch with Chuck Brown," said Gonzalez.
Ron Shaw and Billy Mills, two more all-league players at Santa Maria High, also played for Hancock during the golden era of the 1960's. Brown, Shaw and Mills were all among the honorees.
The 1963-64 Hancock team went 27-7. "Our starting five averaged 77 points a game, and we averaged in the 80's as a team," said Clark.
The basketball honorees who were present for the ceremony said the starting five had such talented players as John Dampier and the late Granville (Granny) Lash.
Dampier shot 85.5 percent on free throws for his career at Hancock, which still ranked him as among the best foul shooters in Hancock history as of 20 years ago.
Lash was an all-state high school player in Pennsylvania. Dell Magazine listed him as the sixth-best high school player in the nation his senior year in high school.