Once again the Moorpark College side in general, and Brandon Russell in particular, gave the Hancock College squad a big challenge.
Once again, the Bulldogs prevailed.
Hancock scored a particularly big win this time, defeating the Raiders 71-63 at Hancock's Joe White Memorial Gym Saturday, despite Russell's 29 points. The Bulldogs (21-5, 6-2 Western State Conference North Division) moved into second place by themselves and kept the Raiders (12-14, 4-4) in fourth. Both teams have two conference games left.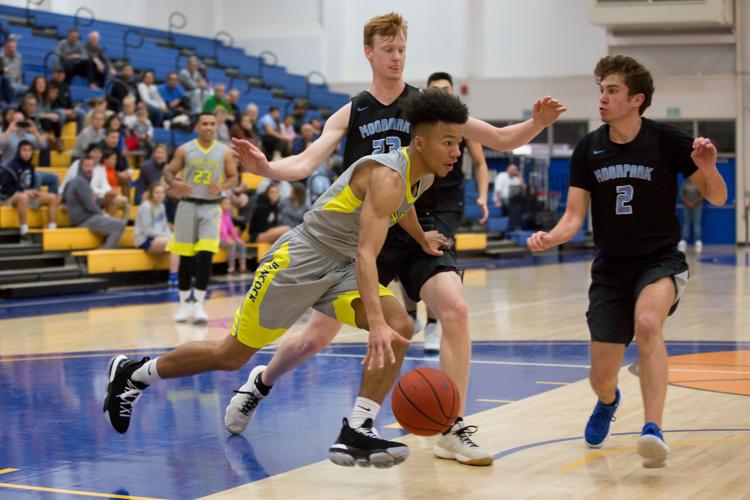 The Bulldogs finished second, behind Ventura College, last year and that was good enough for Hancock to get into the post-season. The Bulldogs eventually made it to the state tournament. Ventura, Hancock and Cuesta all got into the post-season from the WSC North last year.
"It's tight again," said Hancock guard Glenn Jordan. "We're just concentrating on what we need to do. We're not worried about anyone else."
At press time, Ventura led the WSC North at 6-1. Cuesta was 5-2. The worst the Bulldogs can do is a tie for third with Moorpark, and in that case the Bulldogs would get the nod over the Raiders for the third WSC North seed because they swept the team's two-game series.
Hancock edged Moorpark 83-79 at Moorpark in the first half of league play despite another big game from Russell.
"(Russell) is a very good basketball player," said Hancock coach Tyson Aye.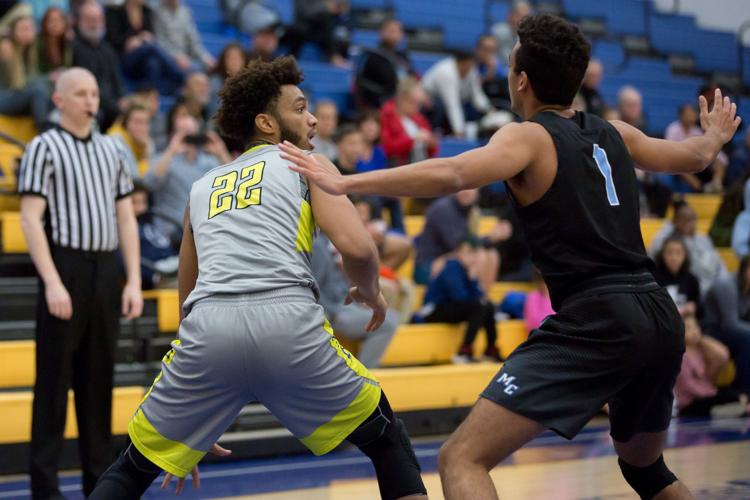 Jordan scored 19 points Saturday, and the Bulldogs made all of their last six free throws to stave off the Raiders despite going through a stretch of four straight turnovers just before Hancock made the big foul shots.
"Our guys made some mistakes, but they didn't get rattled," said Aye. "They just focused on getting ready for the next play."
Justice De Corsi made two free throws to pull the Raiders within 64-61, and Moorpark had a chance to tie on its next possession. However, Tim Andreolli missed a 3-point try, Hancock's Trenton Mitchell pulled down the rebound and Moorpark could not get any closer.
Two made free throws by Mitchell were sandwiched around four made foul shots by Jordan, who went 7-for-9 from the floor, as the Bulldogs closed out the Raiders.
"We've been working on finishing games, keeping our poise," said Jordan.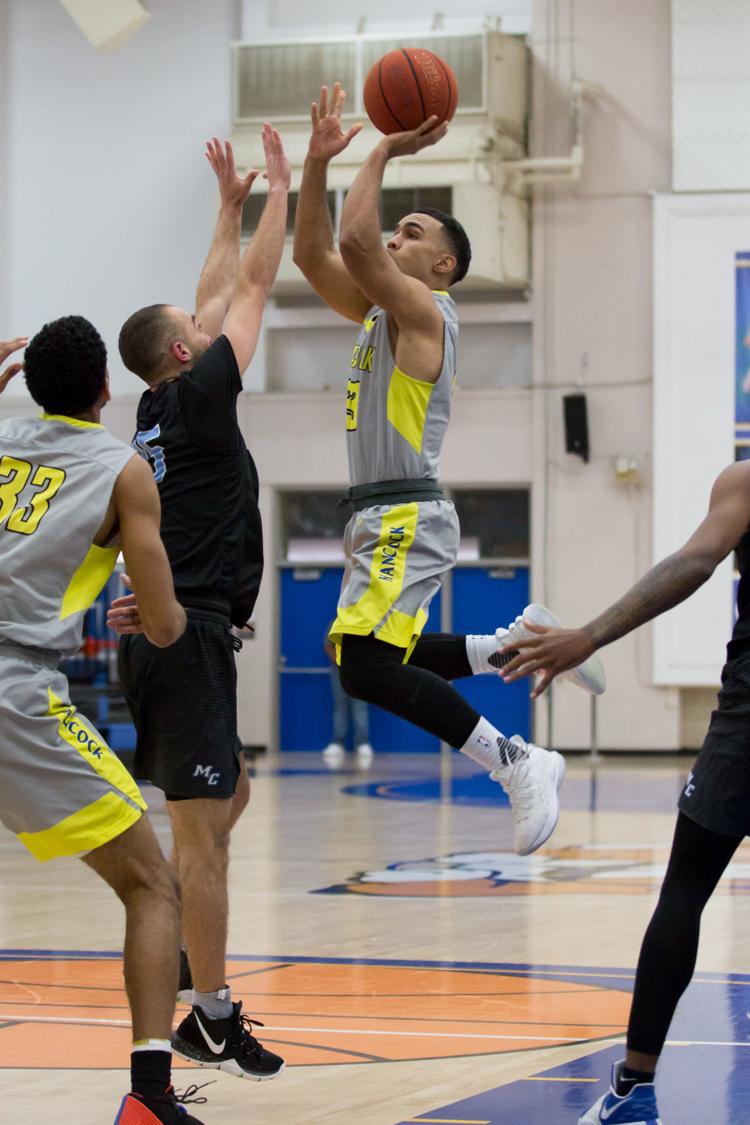 Hancock shot 23-for-48 from the floor. Moorpark was just 15-for-56. The Raiders stayed in it by going 28-for-31 on free throws. The Bulldogs were solid themselves on their free throws, sinking 18 of their 23.
Moorpark kept the game at a half-court pace but the Bulldogs, with the exception of the late string of turnovers, held on to the ball and effectively worked the shot clock when they had the lead late.
"We like to speed it up, they like to slow it down," said Jordan. "It was a half-court game when we played them down there."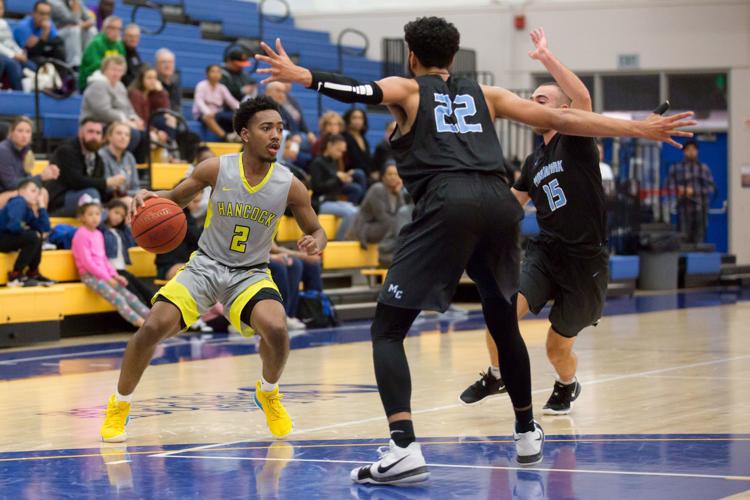 You have free articles remaining.
Hancock's reserves out-scored Moorpark 33-0 Saturday. Hancock back-up Mike Mensah made three of his four 3-point shots en route to scoring 12 points, and starter Spirit Ricks added 10 for the Bulldogs. Ten Hancock players scored.
Andreolli scored 13 points for Moorpark, and Evan Thomas added 10.
Hancock will finish its regular season a 5 p.m. game at conference rival Santa Barbara City College Tuesday and a 5 p.m. home game against Cuesta next Saturday.
At halftime, members of the Hancock College football team were presented with their championship rings. The Bulldogs defeated San Bernardino Valley College 38-35 in the American Championship Bowl.
Women's basketball
Moorpark 85, Hancock 45
The first-place Raiders (26-1, 8-0) routed the Bulldogs (10-13, 2-6) in the second half of a Western State Conference North Division doubleheader at Hancock's Joe White Memorial Gymnasium.
Jazzy Carrasco buried six of her 14 3-point shots and scored a game high 24 points. She led four Raiders in double figures.
Breanna Calhoun went 9-for-13 from the floor and scored 20 points for the Raiders. Starter Barbara Rangel and reserve Isabel Ayala put in 14 points apiece.
Danielle Morgan scored 12 points for Hancock, and Tawny Lino had 11.
Moorpark made half of its 70 shots from the floor. Hancock shot under 24 percent (18-for-76).
Morgan and Tashara Pruett snared 10 rebounds apiece for the Bulldogs, who out-rebounded the Raiders 53-42. Hancock snared 27 offensive rebounds, however the Bulldogs committed 28 turnovers to the Raiders' 16.
Baseball
Arroyo Grande 5, St. Joseph 2
Sebastian Ramirez and Noe Carlos had the RBIs for the Knights (0-1) who dropped a non-league game to the Eagles (1-0) at St. Joseph's Dave Brunell Field in the season opener for both teams.
Ramirez plated Michael Tackett in the first inning. Noe Carlos drove in Justin Maldonado in the fourth.
St. Joseph starter Alex Ontiveros worked 6.1 innings.
The game was originally scheduled for Arroyo Grande's P.O.V.E. Field, but first-year St. Joseph coach Ron Regalado said recent rains had rendered that field unplayable.