The Hancock College women won the basketball game Saturday. The Bulldogs may have lost a lot more than that, at least for a while.
After what appeared to be some contact with Hancock sophomore point guard Kylie Mendez by a Bakersfield College defender — no foul was called, and the Renegades were awarded the ball on a turnover — Mendez came up limping.
The Bulldogs held off the Renegades for a 50-48 win in Hancock's Crossover Tournament. Hancock plays in the Western State Conference North division. Bakersfield plays in the WSC South.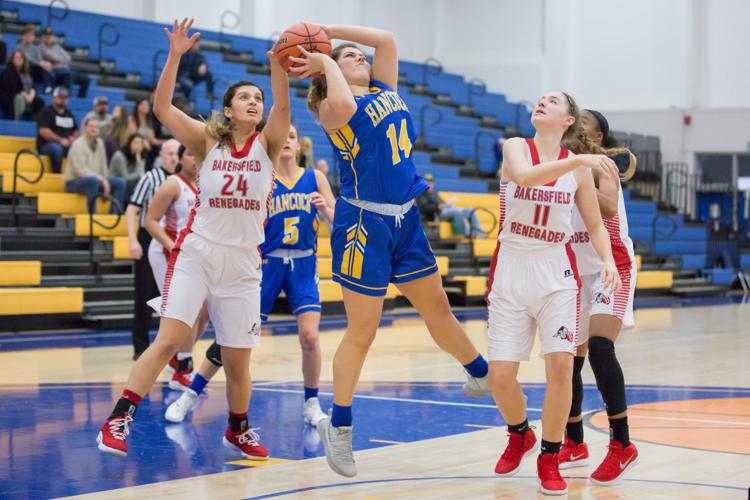 Mendez stayed in the game for a short time after she was shaken up, but she spent the rest of the time on the Hancock training table after she came off the floor. Mendez was on crutches afterward.
"We'll know more after we know the results of the x-rays," said Hancock coach Cary Nerelli.
"It might be a hairline fracture. We're hoping it's a contusion." Nerelli said that a contusion would likely mean much less missed time for Mendez.
Mendez, a Nipomo High School graduate, has filled part of the void left by graduated All-Conference point guard Taylor Lee-Hammer. Mendez has been a quick defender, who gets the ball out quickly in transition, giving Hancock key scoring punch at times and has ably directed the offense.
"Obviously we aren't the same team without her, but I can't say enough about our kids for the way they hung in," said Nerelli.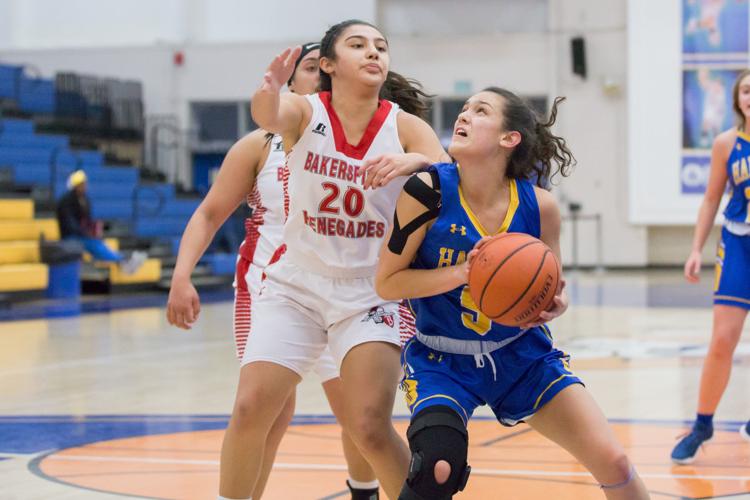 The Bulldogs kept enough of the 38-27 lead they had at the start of the fourth quarter to win. Danielle Morgan bulled her way between two Bakersfield defenders near the basket and scored the winning bucket with 1:31 left.
Morgan's basket made it 49-43. After Morgan made one of two foul shots, Jasmyn Rodriguez made a long 3-point shot for the Renegades, but time ran out as the ball went in.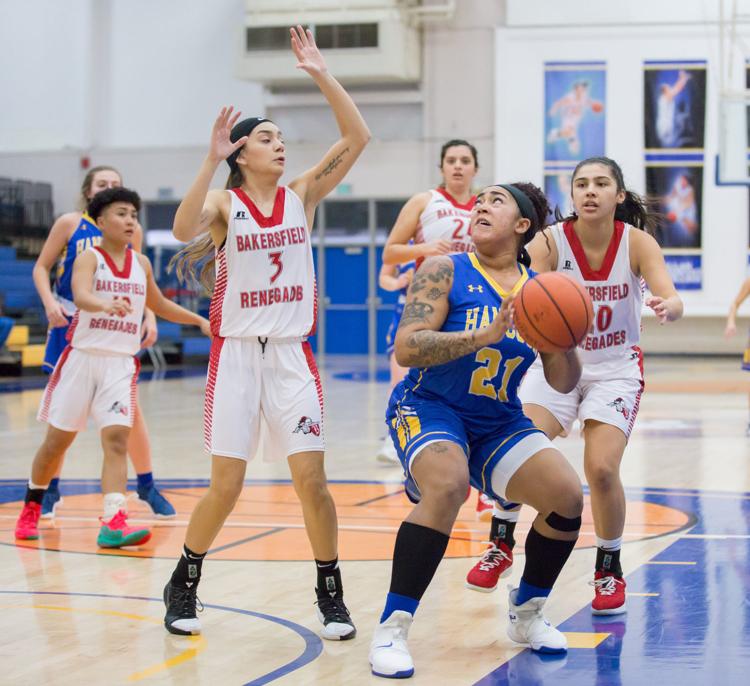 Morgan led the Bulldogs (7-7) with 16 points. She made four of her seven shots in the second half after going 0-for-5 in the first. Morgan hit seven of her 10 foul shots. Willow Bailey scored eight points for the Bulldogs, and she was a key three-for-four on free throws.
Dasia Wandick led the Renegades (7-10) with a game high 20 points. Rodriguez scored 10.
Tashara Pruett scored nine points for Hancock. More importantly, she grabbed a game high 15 rebounds for a Hancock squad that had trouble keeping the Renegades from grabbing offensive rebounds. Wandick snared 12 rebounds for the Renegades.
"They had slightly better athletes than we did, and we had to work to get around them," said Pruett, who did a lot of good work despite fighting a cold.
"Just caught it yesterday," she said.
Pruett said it will be difficult for the Bulldogs without Mendez in the lineup but, "We'll just have to regroup. We won't be without her even though she's not (on the floor, playing)."
Nerelli said, "(Mendez) is a gamer and if she can play, she'll play. Danielle will be at the point while Kylie's out."
Hancock will open Western State Conference play at 3 p.m. next Saturday at Oxnard.
The Bulldogs' game with the Bakersfield was close throughout. The Renegades tied the game twice in the first half but never did go ahead. Pruett put the Bulldogs ahead for good, 14-12, when she scored at the 6:27 mark of the second quarter with an assist from Mendez.
"Again, I can't say enough about our kids," said Nerelli. "This game could have easily gone the other way. Earlier in the season, it would have." 
Men's basketball
Hancock 85, Hartnell 82
The Bulldogs (15-2) shot a hot 66 percent (33-for-50) from the floor and edged the Salinas-based Panthers (7-11) in a non-conference game at Hancock's Joe White Memorial Gymnasium.
The Panthers shot 26-for-53 from the floor themselves, but it wasn't quite enough against the Bulldogs' marksmanship. Hancock led 36-35 at halftime.
Glenn Jordan and Trenton Mitchell scored 17 points each in a balanced Hancock attack in which five Bulldogs scored in double figures. Mitchell made eight of his 10 shots from the floor.
J.T. Riddick scored 11 points for Hancock and Diego Lucas, coming off the bench, also scored 11. Starter Grant Johnson scored 10 points.
Taylor Cox scored a game high 22 points for the Panthers, and Daniel Bost put in 19. Mike Green scored 18 points, and reserve Dallin Mortensen scored nine.
Hartnell stayed in it by making 16 of its 18 foul shots. Hancock was much better from the floor than it was from the foul line. The Bulldogs made half of their 20 free throws.
Hancock will play a non-conference game at 5 p.m. Wednesday at Santa Monica before opening Western State Conference North play with a 1 p.m. game at Oxnard next Saturday.
Board meeting for Babe Ruth
The Lompoc Babe Ruth organization will be holding a board meeting in February.
The league plans to meet on Monday, Feb. 4 at George Meyer Field to vote on and approve by-laws. 
For more information, contact Jeff Woolf at (805) 717-0049. 
Cabrillo alumni baseball game coming
The Patrick Ostini Memorial Alumni Baseball game is set for Saturday, Feb. 9.
The game will be held at McIntyre Field at CHS with first pitch at 1 p.m. 
For more information on the contest, contact CHS head baseball coach Jon Osborne at 805-717-3213 or the CHS Athletic Office at 805-742-2905. 
St. Joseph 74, Pioneer Valley 36
The Knights (17-3, 4-0) broke open this Mountain League game by out-scoring the Panthers (4-17, 1-4) 18-2 in the second quarter. St. Joseph led 15-12 after the first.
Steven Vasquez scored 20 points for St. Joseph and popped in six 3-pointers. Steven Fuerte had 17 for Pioneer Valley. Fuerte made three 3's.