The people came to see local favorites John Leo Dato and Angel Flores Friday night when boxing returned to the Samala Showroom in Santa Ynez's Chumash Casino.
A sold out crowd of more than 1,400 people went home happy as both young men rocked their opponents, finishing them off early with knockout wins.
There were 10 amateur and professional fights on the card with at least one local boxer, and sometimes two, in every bout.
While there were locals in the ring all night, the crowd was really there to support Santa Maria's Dato and Santa Ynez's Flores in WFC 98, the second WFC (World Fighting Championships) event staged at the casino.
WFC President Matt McGovern saved the best for last with Dato's fight against Cincinnati's Aaron Hollis in what was scheduled to be a six-round main event.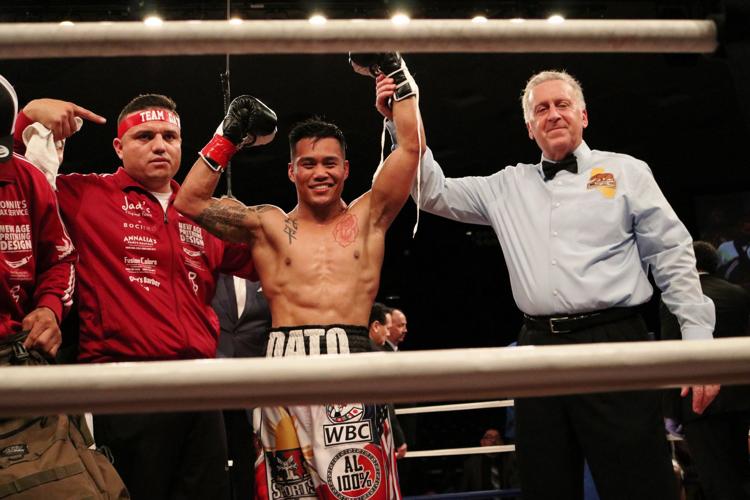 Dato pummeled Hollis through four rounds before referee Jack Reiss stepped in at 2:39 of the fourth round saying, "That's enough, that's enough."
Dato (9-0-1) started off slowly in the match of 129-pound fighters, cautiously measuring his opponent during the early part of the fight.
"I didn't know anything about him, didn't know he was a lefty. I hadn't seen him before so I was feeling him out early," said Dato. "I took a couple shots and realized he couldn't hurt me so I got a lot more aggressive."
Dato landed several strong combinations over the final two minutes of the first round and kept up the relentless attack until Reiss stepped in to stop the fight.
One minute into the second round, Dato had Hollis against the ropes and started pounding away.
Hollis escaped, briefly, but Dato was right back on the attack, setting off the crowd with roars of "Dato, Dato, Dato."
When the 10-second mark was called, Dato hit Hollis with a wicked left, right combination to the head that rocked Hollis who, amazingly, was still standing when the round ended.
The third round was more of the same with Hollis showing a lot of heart, refusing to go down.
It was all over in the fourth after several extended attacks got Hollis on the run.
Dato caught up with Hollis one final time before Reiss stepped in.
"He took a pile of shots. I hit him with a really good left there at the end. I'm glad the ref stepped in," said Dato. "I have to thank the fans for their support. I could hear it when they were cheering for me, chanting my name. It really pumped me up."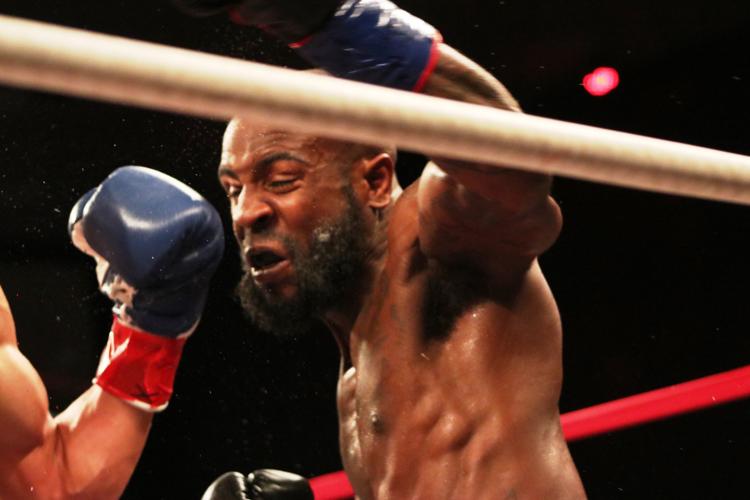 Two bouts earlier, it was Santa Ynez's Flores who got the crowd going.
Facing Oxnard's Chris Beal in a scheduled four-round bout, Flores was out of the ring in two.
Flores got in several strong combinations in the first round but Beal caught Flores with a left that opened a cut above Flores' right eye.
"I got bloody right away in the first round but it didn't concern me at all," said Flores after improving his record to 4-0.
In the second, Flores came out firing, nailing Beal over and over with hard shots, igniting the crowd to chants of "Angel, Angel, Angel."
Just over two minutes into the round, Flores unleashed a flurry of punches that visibly hurt Beal before Flores stepped in, put all his weight behind one final left to the jaw to send Beal to the canvas.
"I could see he was hurt. It was a good shot that put him down," said Flores who then thanked the crowd and headed off to the hospital to get stitches to repair the cut over his eye.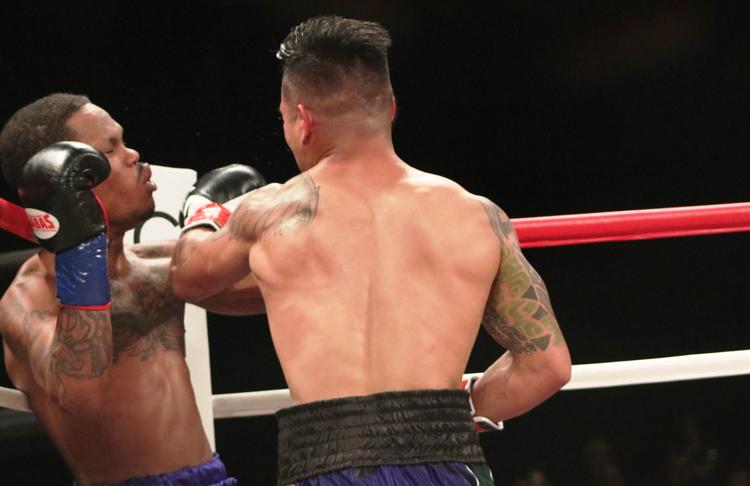 The evening kicked off with five amateur battles that all had a decidedly Central Coast Boxing Club (CCBC) feel, loaded with fighters from the Santa Maria-based club.
The first match, a 190-pound bout between two CCBC fighters, pitted Daniel Reyes against Daniel Rubio.
The fighters were evenly matched in an entertaining opening fight that featured a lot of good back and forth action.
Rubio (4-0) turned the tide his way with several good combinations in the third, and final, round. Reyes' record fell to 4-1.
Two more CCBC fighters were up next – this one a battle of 14-year-olds – in a 105-pound battle.
Adrian Gonzalez earned the unanimous decision over AB Sosa.
Then came a fighter from a famous local boxing family – Emiliano Balderas, a cousin to Olympian Karlos and his older brother Jose Balderas, in a 118-pound bout against Angelo Collier in another all CCBC fight.
Collier improved his record to 2-2, defeating Balderas in a split decision, as Balderas fell to 4-2.
Santa Ynez boxer Javier Iniguez was making his amateur debut again San Luis Obispo's Nicko Agapay (3-0) in a 135-pound battle.
Agapay dominated throughout, rocking Iniguez in each round with shots that led to standing eight counts.
Near the end of the third round, right after Iniguez's third standing eight, Agapay unleashed a punishing flurry and referee Steve Sodaman stepped in to stop the fight with 10-seconds left in the round.
In another all CCBC fight, Adrian Alvarado improved to 7-0 with a unanimous decision over Andres Martinez in a 130-pound battle.
And then it was time for the professionals to take to the ring.
CCBC fighter Manuel Romero (4-5-3) pounded San Jose's Mefi Monterroso throughout in their 130-pound fight, rocking him several times before Reese stepped in to stop it, the TKO coming at 2:39 of the fourth round.
Kazakhstan native Meiirim Nursultanov, boxing out of Oxnard's Boxing Laboratory, improved to 10-0 with a second round knockout of Mexico's Ramon Aguinaga (13-2) in a 160-pound bout.  
Nursultanov rocked Aguinaga with a hard right to the head in the first round and then followed that with another knockdown followed by a knockout at 2:32 of the second round.
Another Kazakhstan and of Oxnard's Boxing Laboratory fighter, Madiyar Ashkeyev, ran his record to 11-0 with a unanimous decision over Puerto Rico's Luis Hernandez in a 154-pound match that was billed as the co-main event.
WFC will be back at the Chumash Casino in April when it stages a night of Mixed Martial Arts fighting. Boxing will be back in the fall.