In the summer of 2016, Santa Maria boxer Karlos Balderas represented the United States at the Rio de Janeiro Olympics, where he advanced all the way to the quarterfinals of the lightweight division in Brazil.
The achievement created so much fanfare in his hometown, that when Balderas returned to the Central Coast in August of that year, he was greeted by hundreds of supporters at the Santa Maria Airport. 
Not long after that, Karlos and his older brother Jose both signed with a promoter and embarked on their professional boxing careers. 
Competing in the Olympics and becoming professionals were both milestones worth remembering, but those achievements were years in the making.
What does it take to reach any sort of success as an elite athlete?
The boys know all too well.
They both started boxing when they were 8 years old. One of the first times they appeared in this newspaper, was in July of 2007. Jose was 11 and Carlos, then going by the given spelling of his first name, was 10. They both attended Liberty Elementary. Karlos had just won his age group in the 65-pound weight class at the Desert Showdown in Coachella. Jose took first place in his 11-12-year-old age group in the 65-pound division. 
Despite their young age, the boys were already receiving heavy doses of knowledge, learning what it would take to succeed in the sport.
Though they had both qualified for the tournament in Coachella, they weren't in the best shape once the competition rolled around. In fact, both were about five pounds above the 65-pound weight limit. 
"Their father and I were concerned," said David Balderas, uncle to Jose and Karlos and the brother of their father, Zenon. The boys were put on a diet of boiled eggs, fruit and vegetables and they were able to make weight. However, once at the Desert Showdown in Coachella, considered one of the top youth boxing contests in the nation, the boys were still struggling with their weight and conditioning. 
So, after their second-round fights, the boys needed some extra training. "They had to cut some more weight to make the championship fight," David Balderas said then. That meant a three-mile run the day before the fight... in triple-digit weather in the desert. The boys had run three miles just about every morning for two months leading up to the tournament, but this was different. 
"We ran in the morning," David Balderas said. "It still was 115 degrees." David Balderas, a former boxer himself, was in decent shape but not able to complete the run that morning. "I had to quit," David said. Jose and Karlos, meanwhile, finished the run. 
"I was just really tired," Jose said then. 
"I just fell asleep right after," Karlos said. 
The brothers continued rising up the youth boxing ranks. By early 2010, Karlos was a seven-time national champion. Fresh off a win at the Silver Gloves Regional Tournament, Karlos said he and Jose "train every day" and were readying to move up to the 85-pound weight class. 
"The Balderas brothers follow the same routine weekday after weekday," a Times article from sports writer Kenny Cress from Jan. 28, 2010 said."School at Santa Maria High for Jose. School at Arellanes Junior High for Carlos. Then it's homework, training, dinner, and, possibly, more homework."
By July of 2012, Karlos had already qualified for the U.S. Olympic Trials for the 2016 games. He was too young to compete in the 2012 London Olympics. 
"That's the goal right now, to have him on the Olympic team in Brazil," Zenon Balderas told Chris Aguirre of the Times. Karlos was a 13-time national champion then. He won the 2012 Junior Olympics in Alabama to qualify for the Trials.
"I won my first fight and I enjoyed it - I really like to fight," Karlos described his boxing origin story. "I started winning a lot, winning national titles and becoming ranked No. 1 in the nation... I'm 100-percent dedicated to this sport. This is what I've wanted to do since I was young."
At the 2016 Olympics, Karlos Balderas won his first two fights before falling to Cuba's Lazaro Alvarez in the quarterfinals.
Karlos returned to Santa Maria a couple weeks later and soon after that, he and Jose signed with Ringstar Boxing. The brothers fought on the same card in July of 2017 in Bakersfield as Jose was making his pro debut.
"It's been almost 10 years since we fought on the same card," Karlos said back in 2017. "We were kids, like 9 or 10 years old. That's how it all started, both of us together, and that's how we came up in the amateur ranks."
Both brothers have been featured on live national telecasts. Karlos won his first nine professional bouts before suffering a knockout loss last year. Jose is 9-0 in his career with three KOs. Neither brother has fought this year amid the coronavirus pandemic. 
Santa_Maria_Times_Thu__Jul_19__2012_.jpg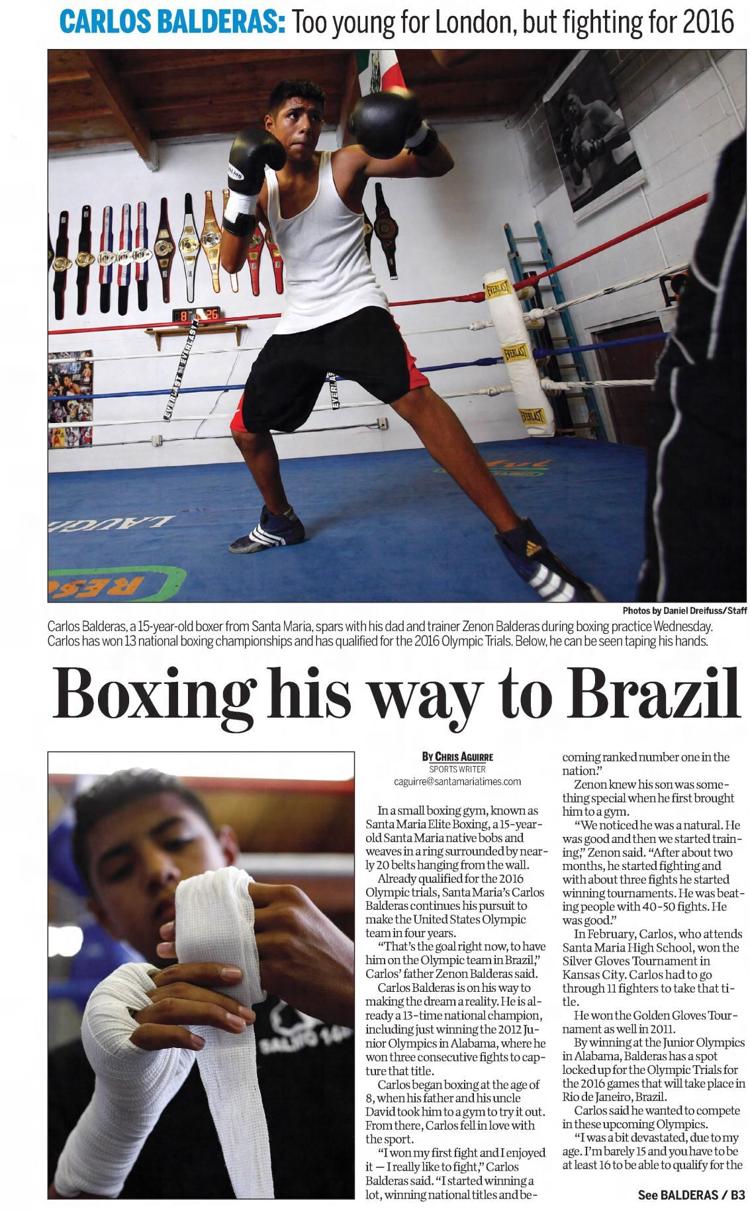 Santa_Maria_Times_Thu__Jul_19__2012_ (1).jpg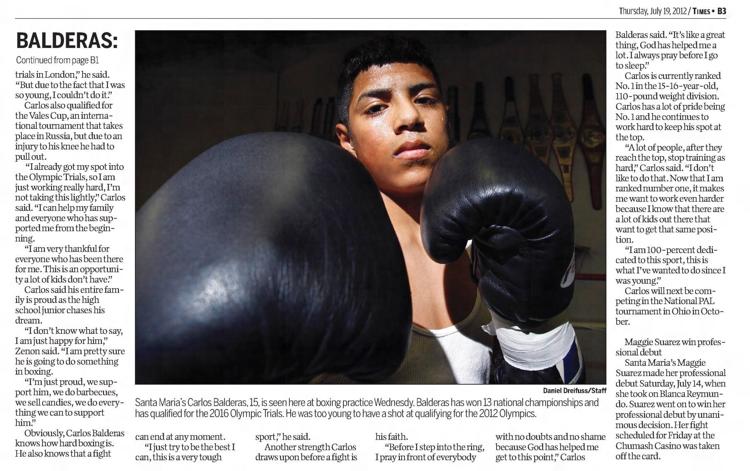 Santa_Maria_Times_Wed__Jul_25__2007_ (2).jpg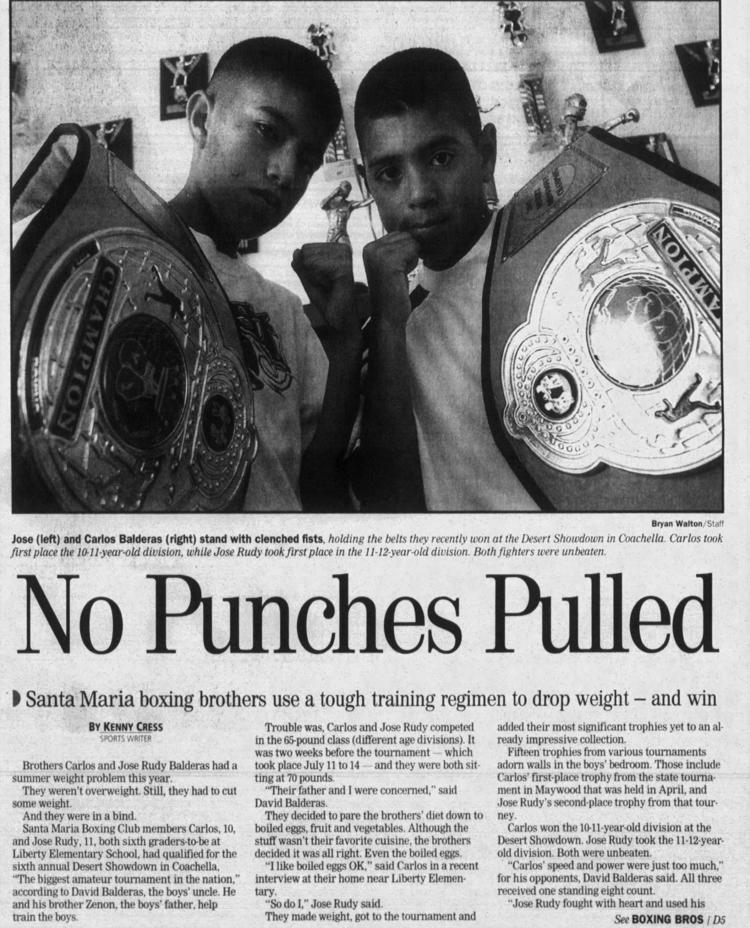 Santa_Maria_Times_Wed__Jul_25__2007_ (1).jpg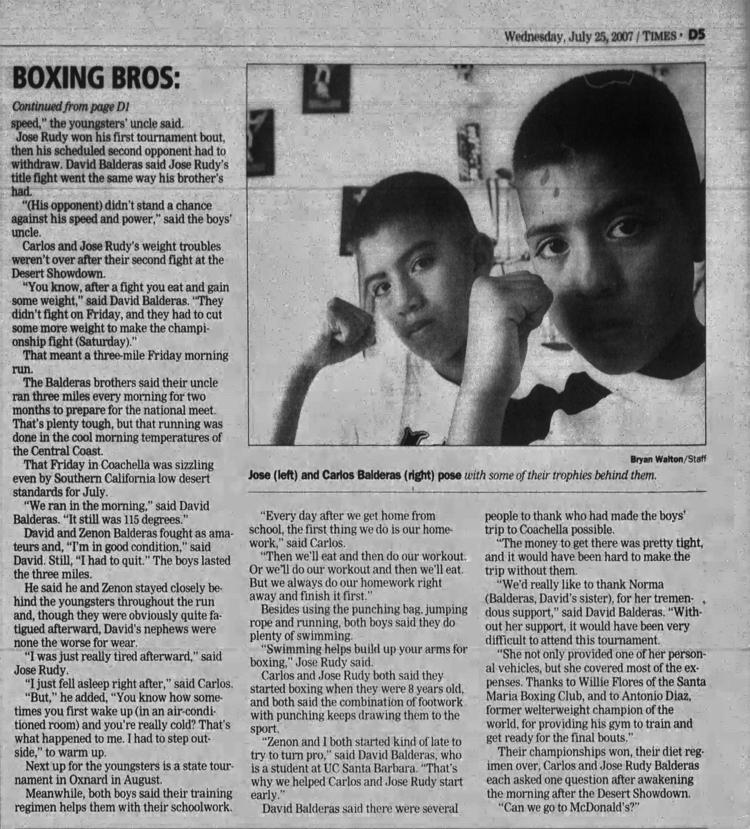 Santa_Maria_Times_Sun__Sep_14__2008_.jpg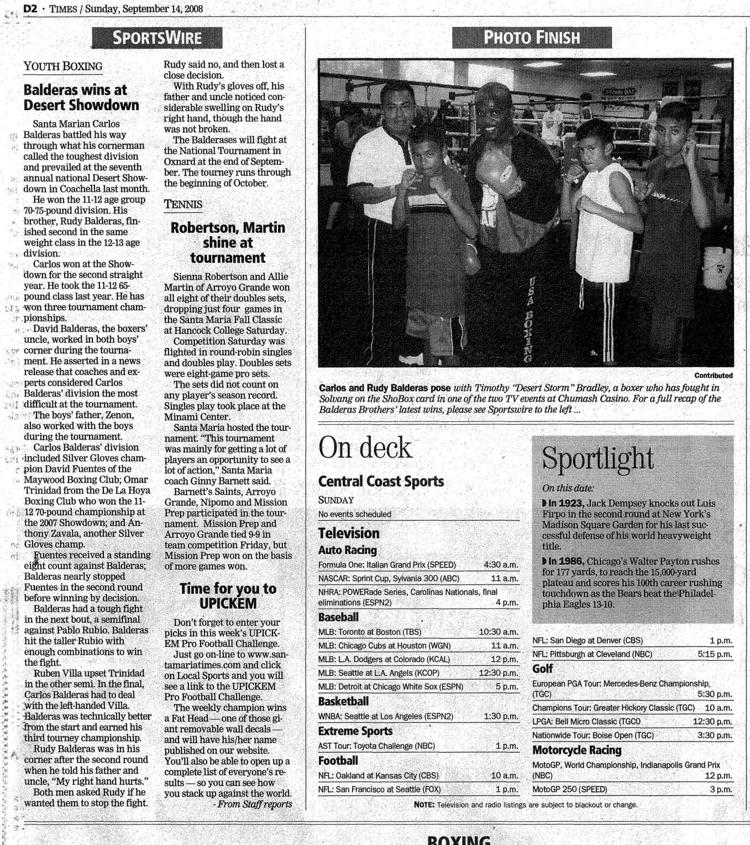 Santa_Maria_Times_Thu__Jan_28__2010_.jpg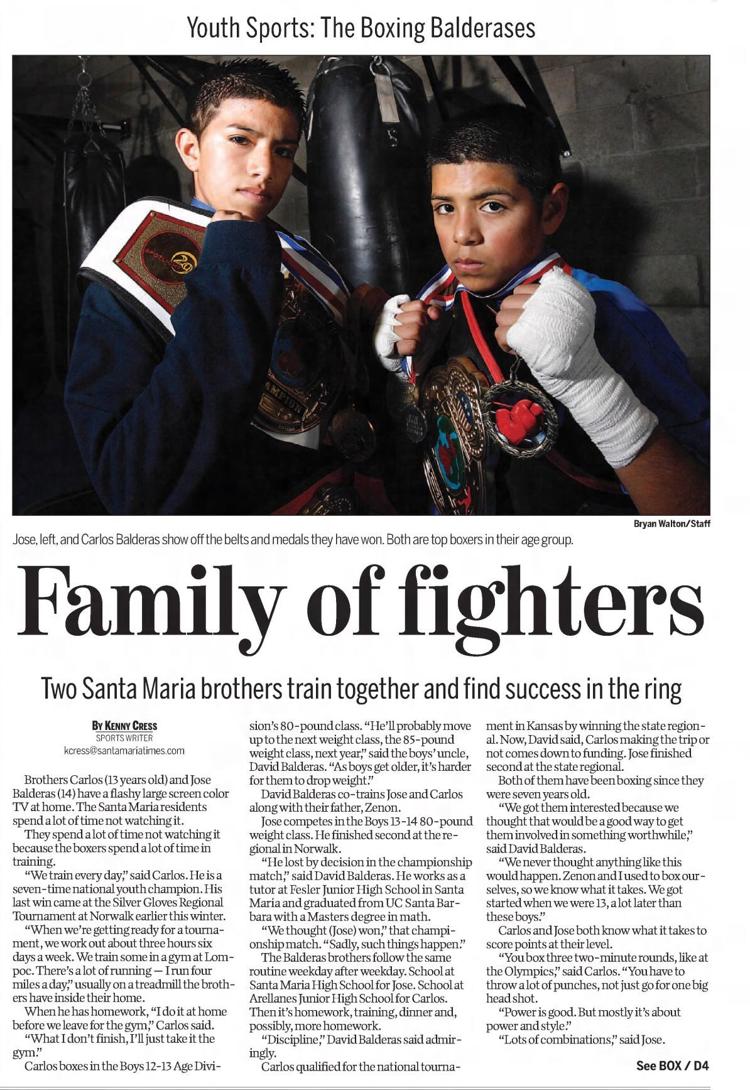 Santa_Maria_Times_Thu__Jan_28__2010_ 2.jpg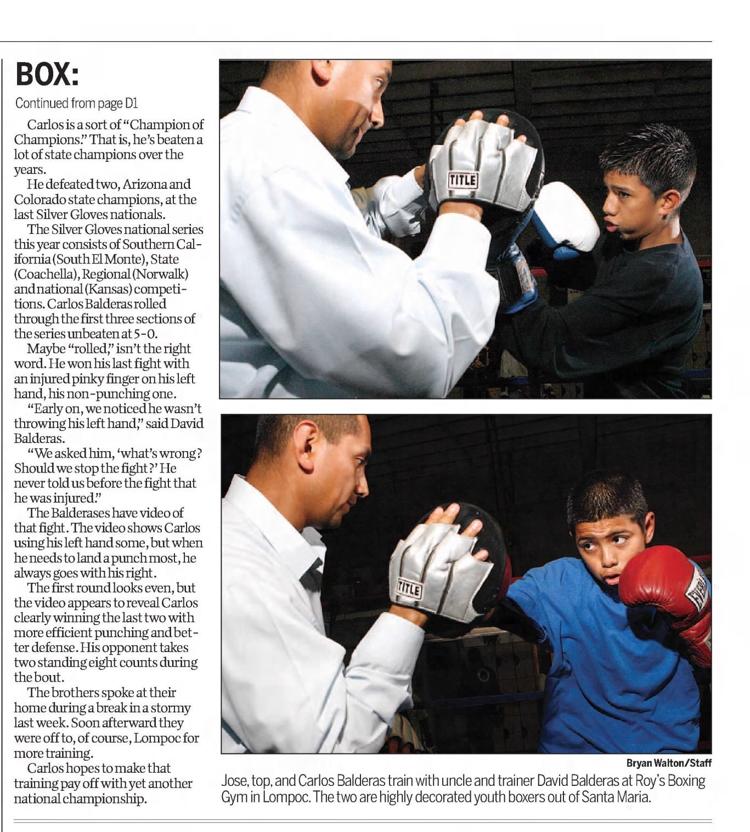 Santa_Maria_Times_Sat__Jan_17__2015_.jpg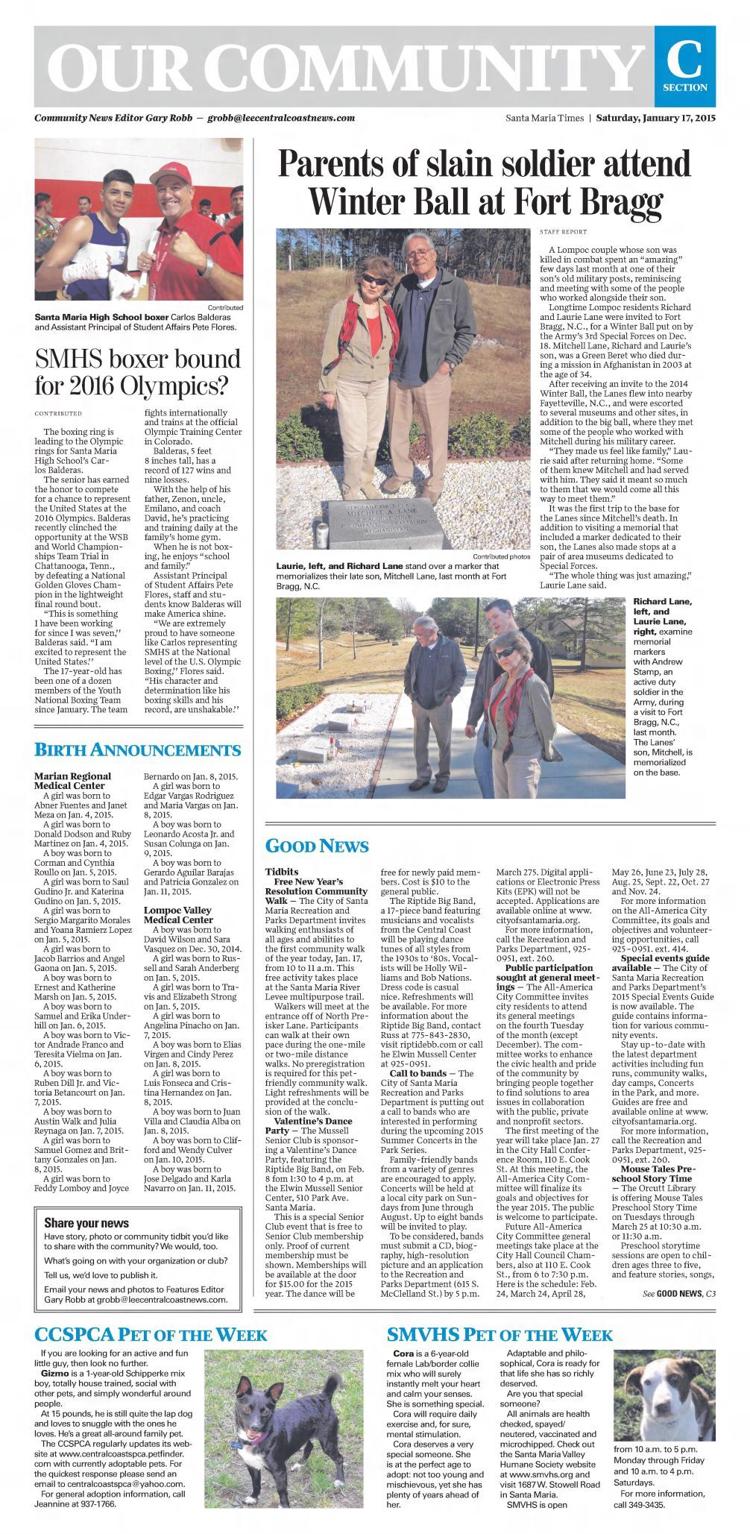 Santa_Maria_Times_Sun__Aug_7__2016_.jpg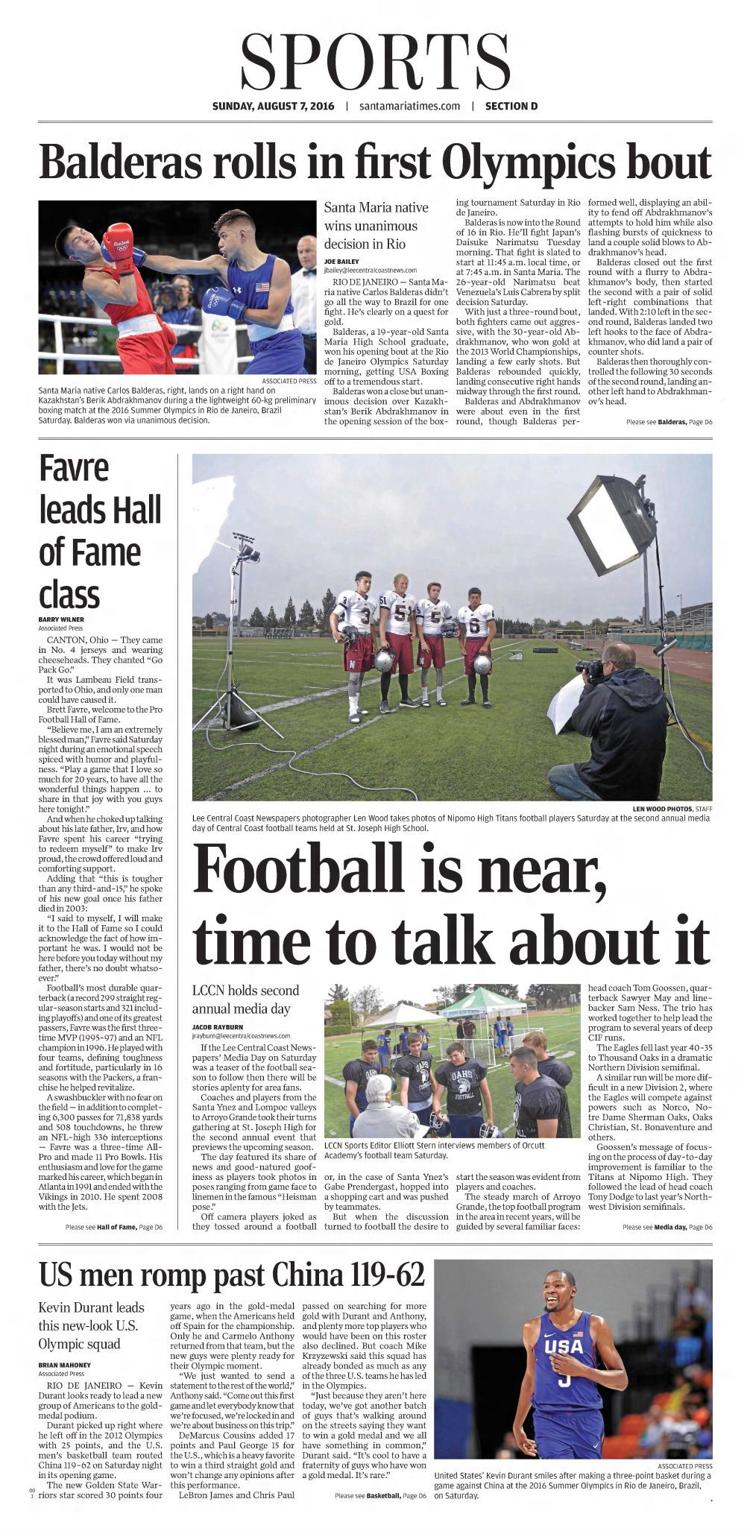 Santa_Maria_Times_Fri__Aug_12__2016_.jpg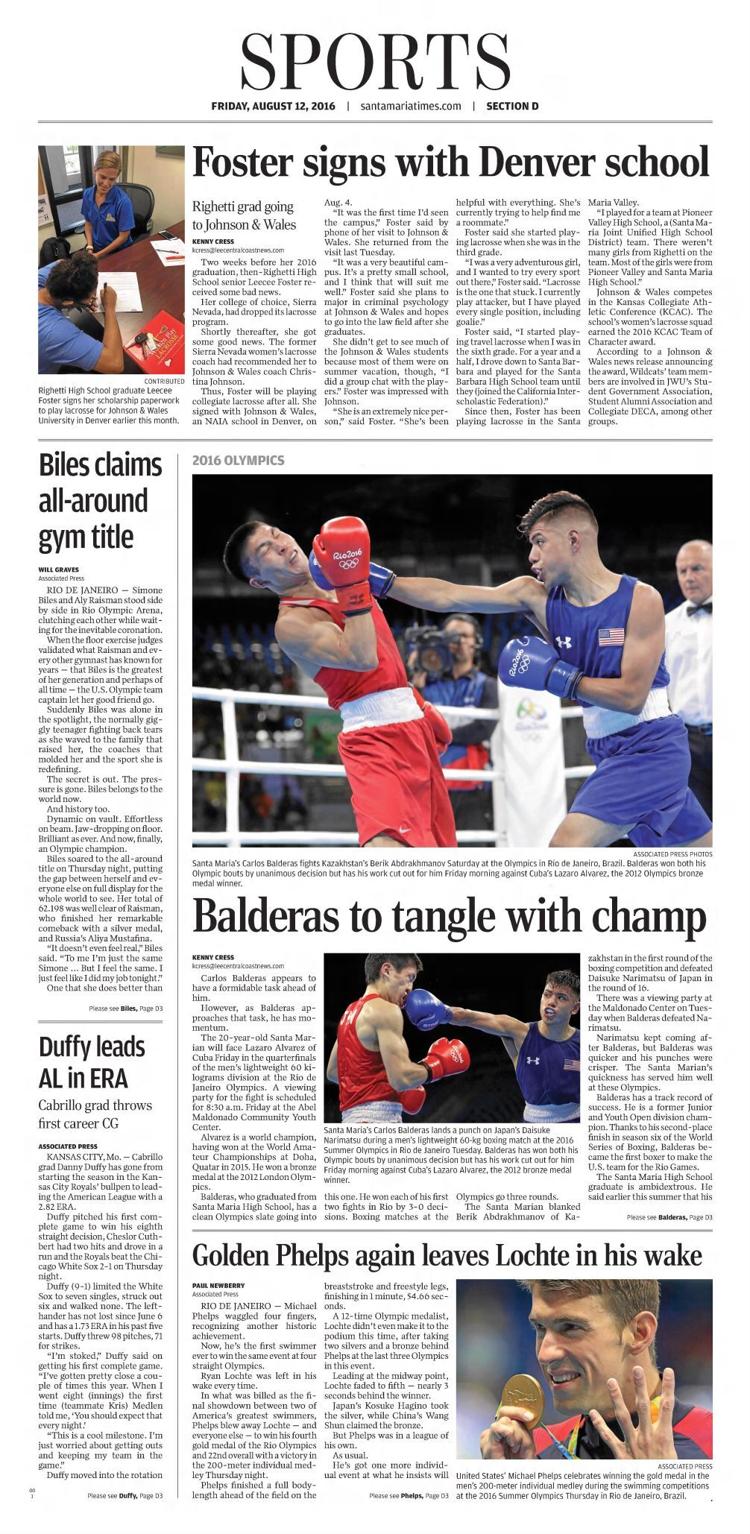 Santa_Maria_Times_Sat__Aug_13__2016_ (1).jpg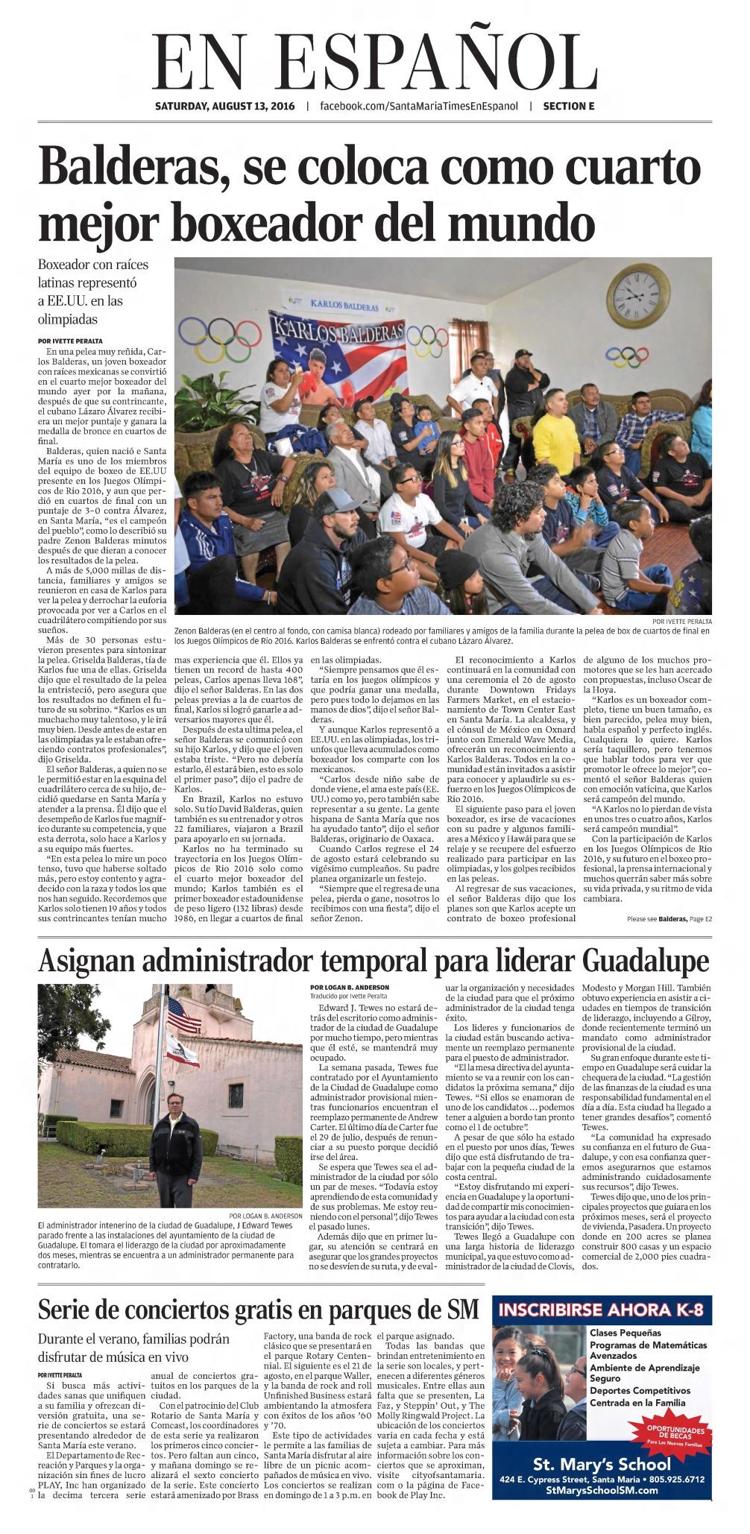 Santa_Maria_Times_Sat__Aug_13__2016_.jpg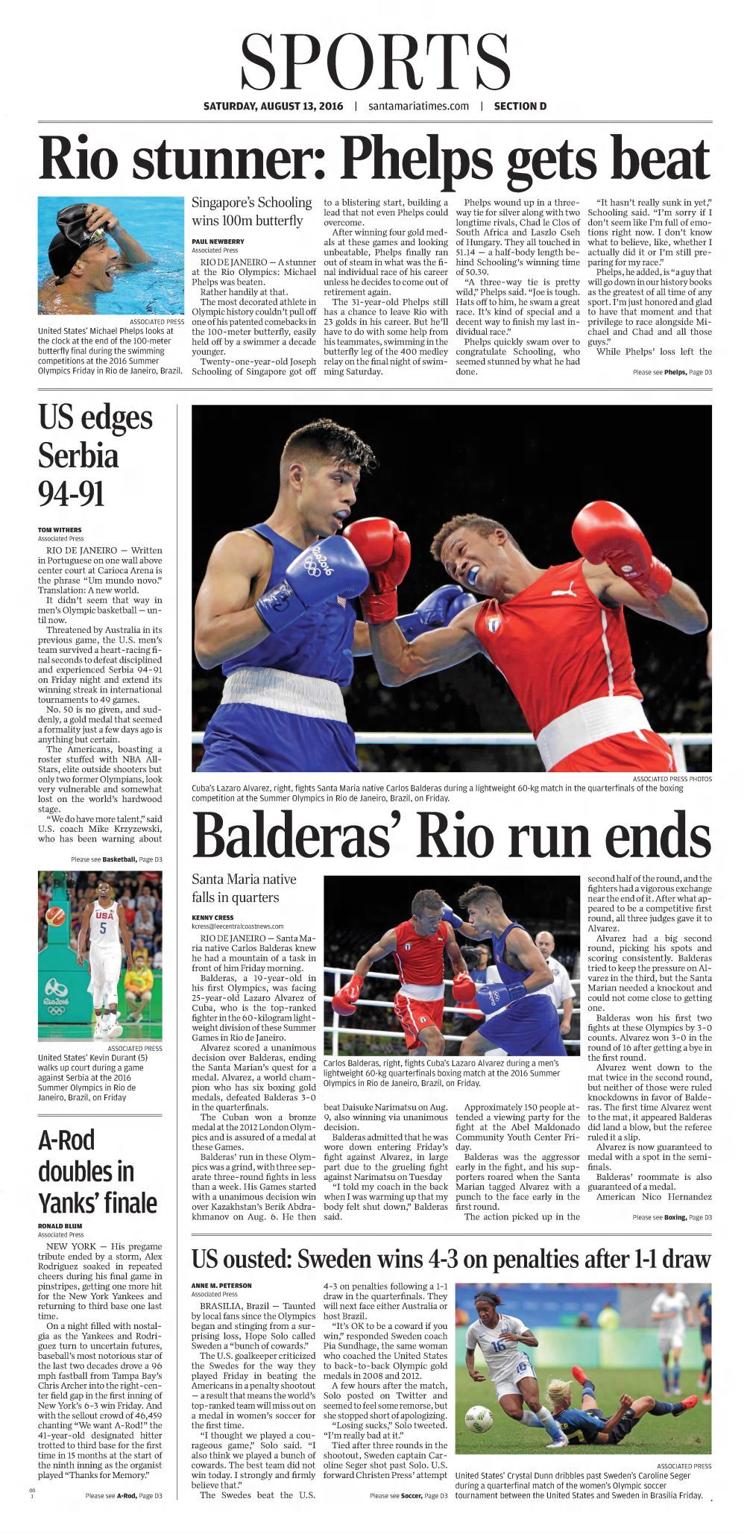 Santa_Maria_Times_Wed__Aug_10__2016_.jpg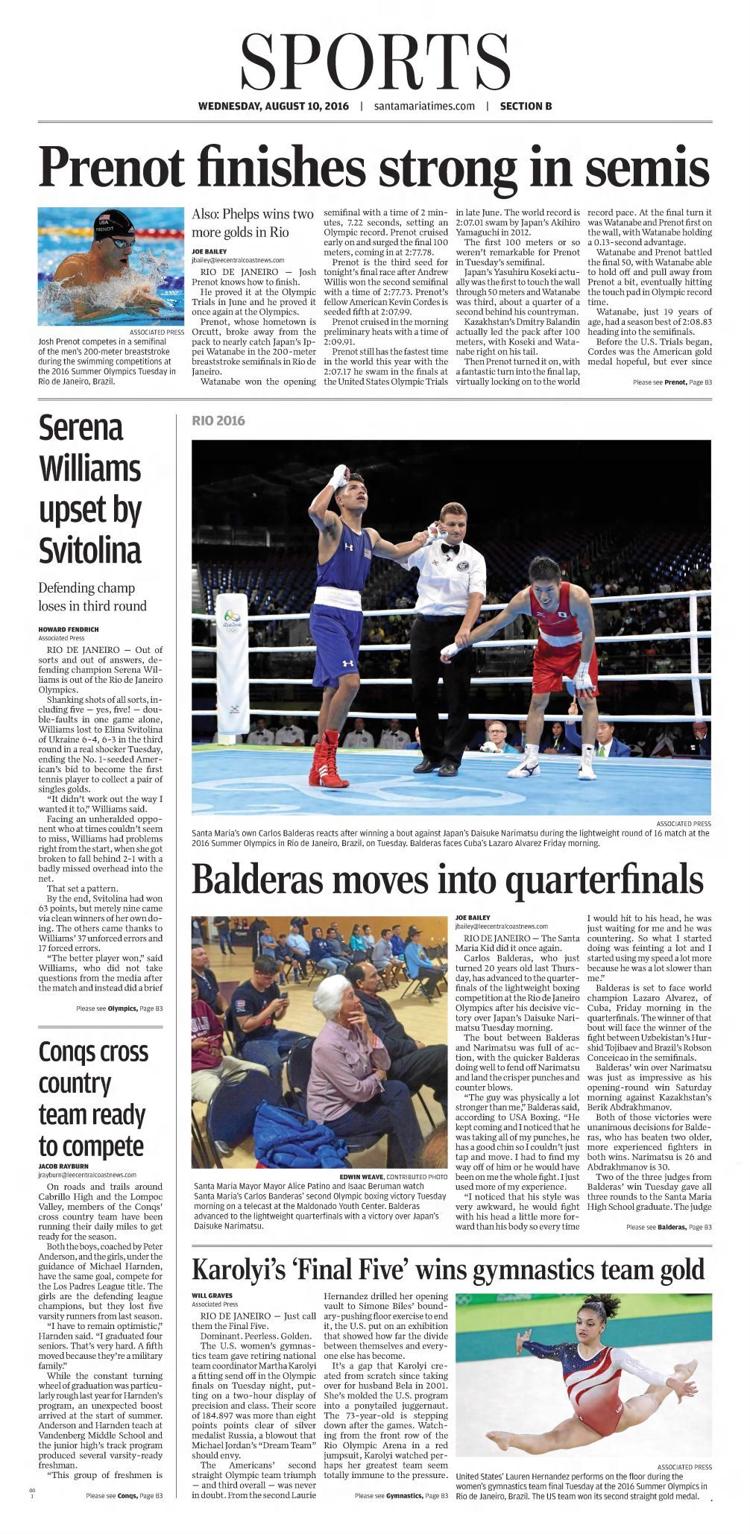 Santa_Maria_Times_Wed__Aug_24__2016_.jpg
Santa_Maria_Times_Sun__Aug_28__2016_.jpg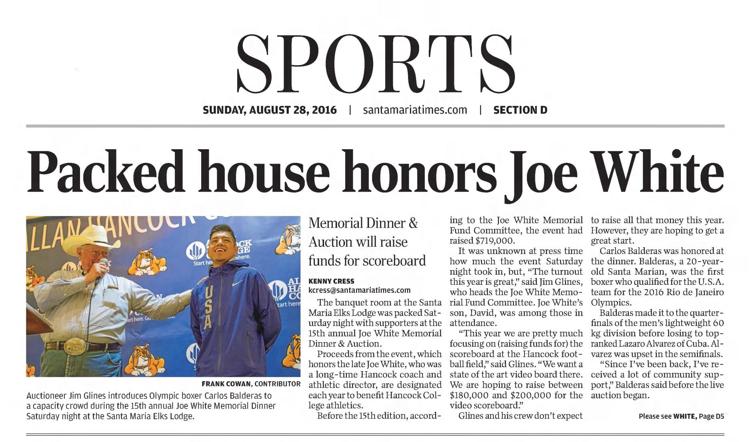 Santa_Maria_Times_Tue__Apr_11__2017_.jpg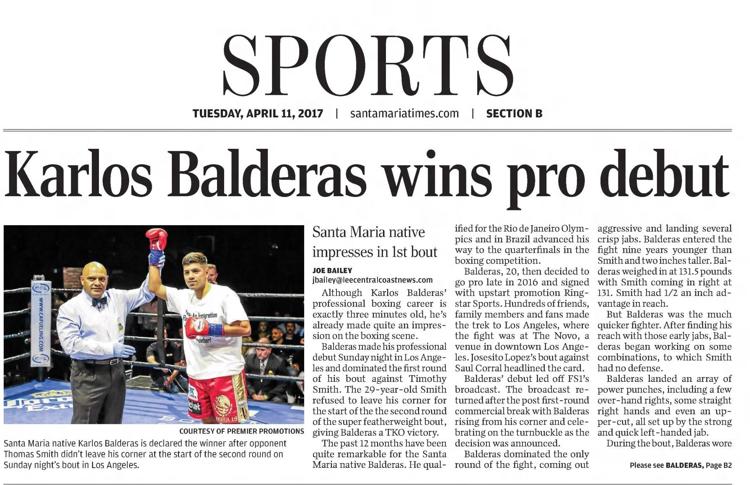 Santa_Maria_Times_Tue__Aug_1__2017_.jpg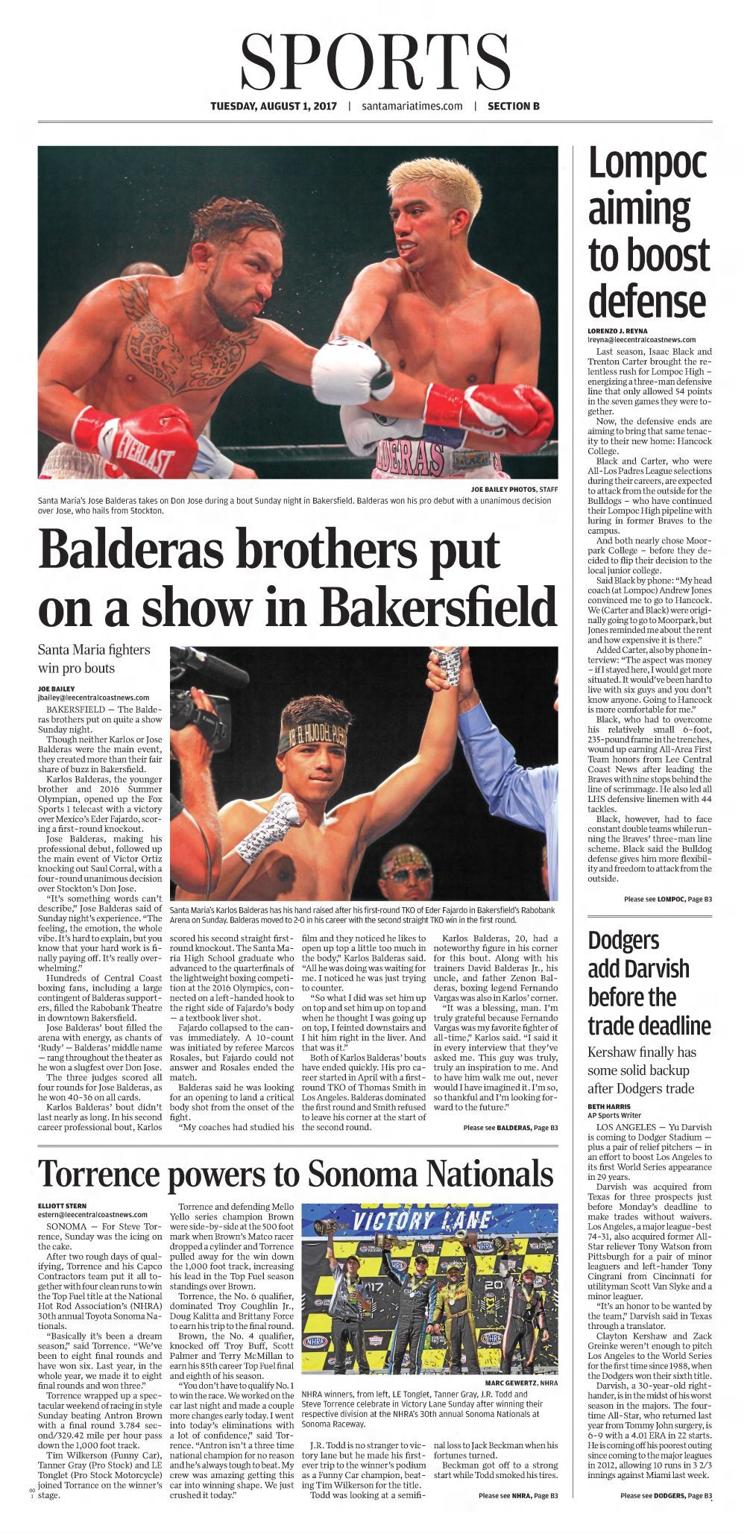 Santa_Maria_Times_Tue__Feb_13__2018_.jpg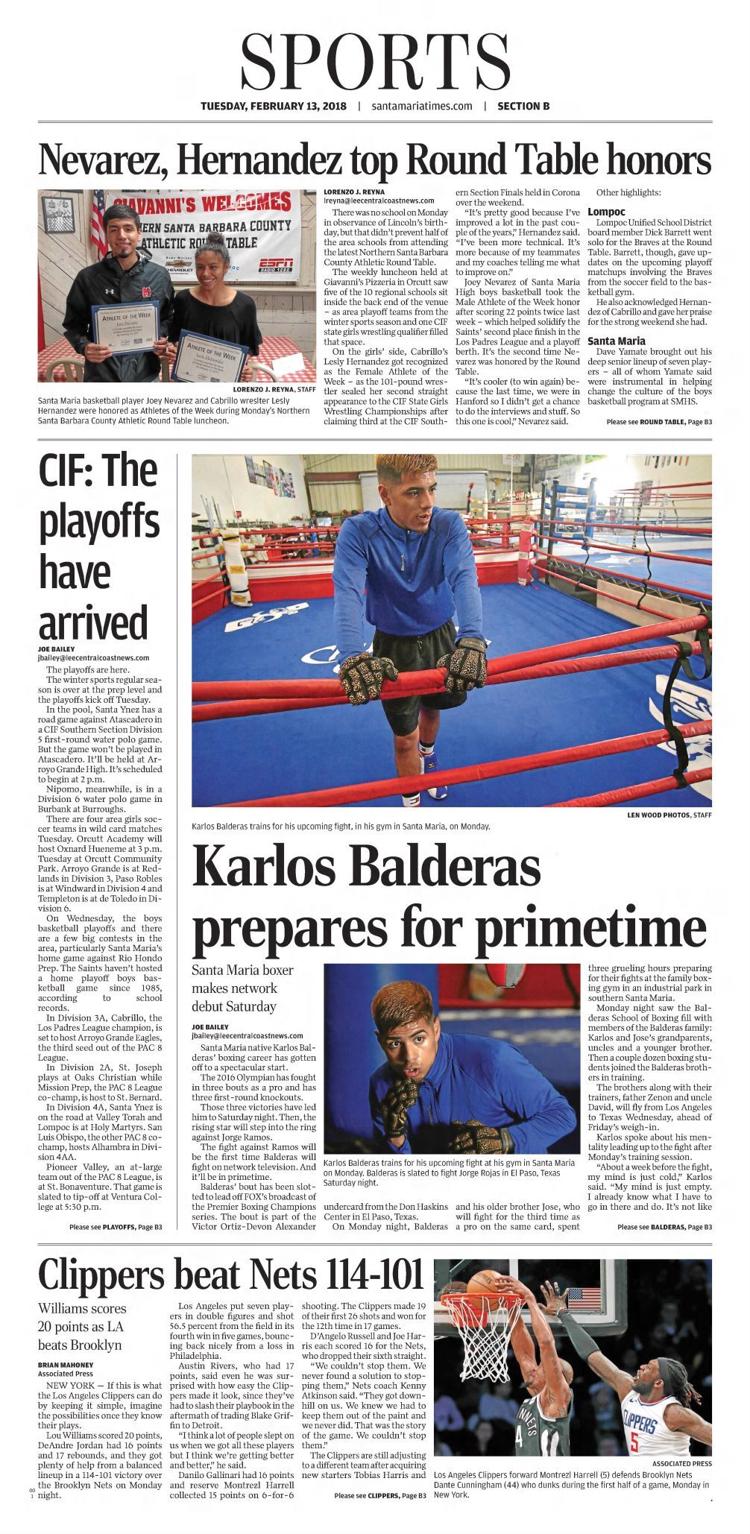 Santa_Maria_Times_Wed__Dec_9__2015_.jpg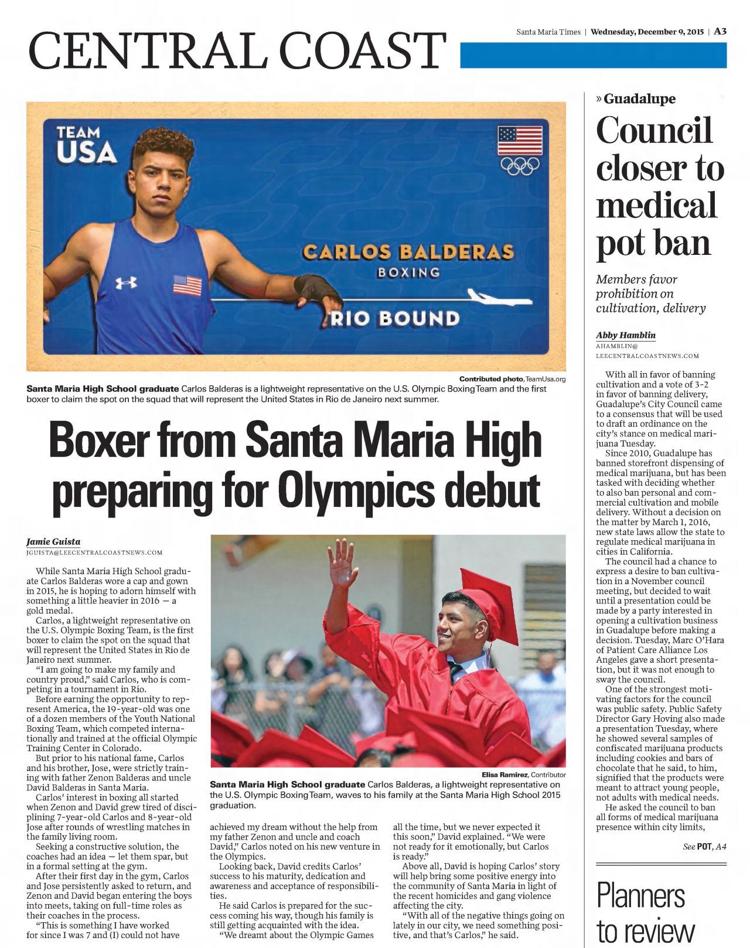 Santa_Maria_Times_Wed__Jul_26__2017_.jpg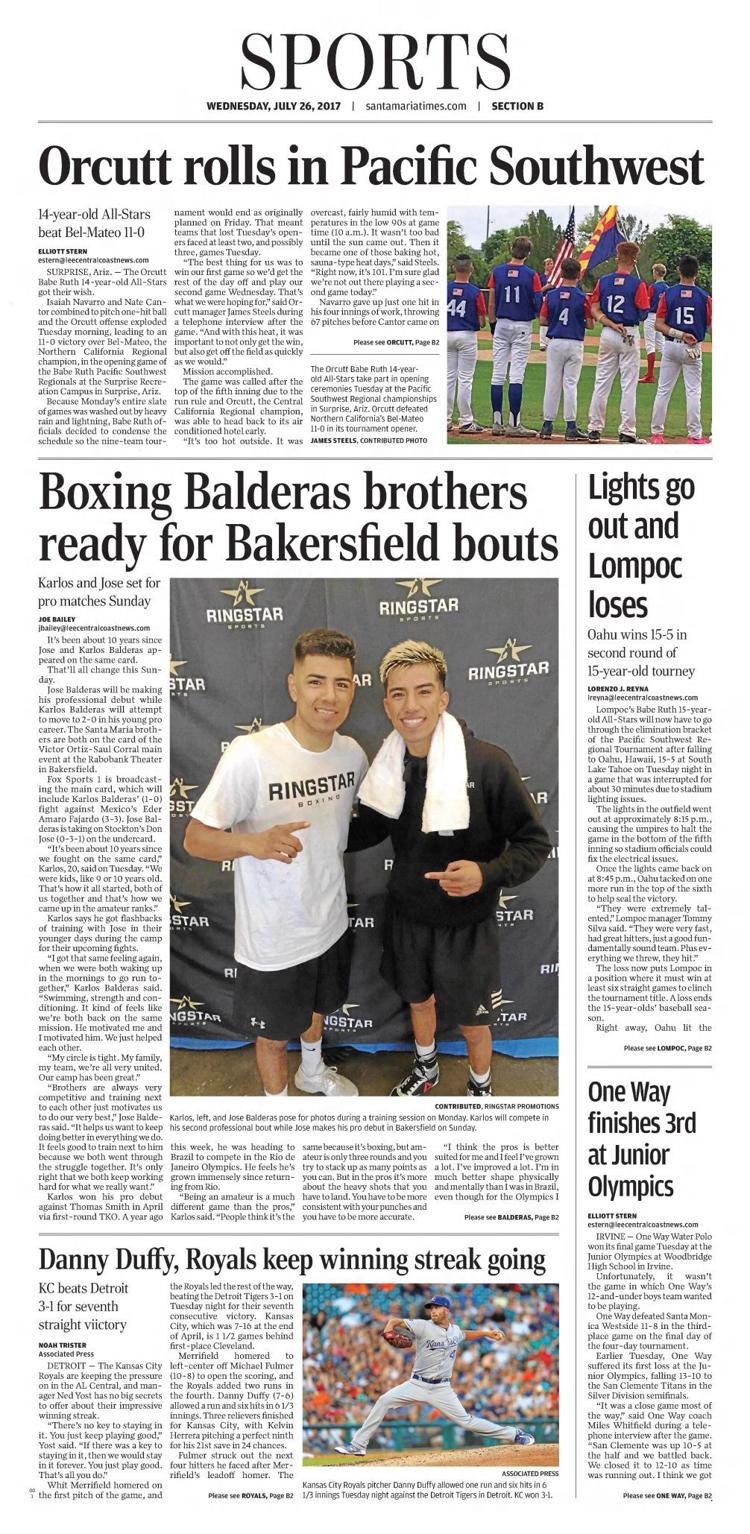 Be the first to know
Get local news delivered to your inbox!