Elijah Cooks and Toa Taua are entering their third season together at Nevada. 
The Central Coast duo doesn't resemble the young men they were when they left the area.
In a Zoom interview Thursday, Cooks and Taua both acknowledged the growth they've experienced during their time in Reno. 
Update: Voting is now closed in our Player of the Decade semifinal round. Tatiana Dunlap upset top seed Ashlyn Hurlihy with a big push from th…
Cooks, who graduated from Atascadero High, pointed to the fact that Taua, a Lompoc High grad entering his junior season with the Wolf Pack, is expecting his first child, due in December. 
"I'm going to be an uncle, Toa is going to be a father," Cooks said Thursday. "I've grown and developed so much since I came here four years ago. I think Toa has too."
From QB to TE to WR
Cooks, a 6-foot-4, 210-pound wideout, has not only grown into a team leader, he's blossomed into one of the top receivers in the Mountain West and a serious NLF prospect. He was named to the preseason watchlist for the Biletnikoff Award over the summer. Cooks led Nevada in all major receiving categories in 2019, hauling in 76 passes for 926 receiving yards and eight touchdowns.
"I was always coming back to Nevada for my senior season," Cooks said when asked if he thought he was ready for the NFL after he had 14 catches for 197 yards and a touchdown in the bowl game win over Ohio late last year. "You know I don't play in the SEC or ACC, in the Mountain West, my numbers have to be extra special as a smaller conference." 
"I think this is one of the best teams Nevada has ever had," Cooks added, saying his only goal this year is to "win a Mountain West championship."
Cooks says the NFL has "always been the destination," but he never thought he'd have a chance to get there as a receiver.
"I was a quarterback growing up. Quarterback, always a quarterback," Cooks said. He played quarterback from his days in the Orcutt Youth Football League through his sophomore year at St. Joseph High School. He then transferred to Atascadero and switched to tight end there. 
Cooks said his father Adrian, who played running back at Fresno State, "could not catch, at all," but the father-and-son duo worked on Elijah's pass-catching skills. "My dad would have me stand underneath the goal posts and throw me passes. He always made me catch the ball with my hands, never use my body. So that's where it started."
Cooks caught two passes for 24 yards in Nevada's overtime win over Wyoming in the season opener last weekend. He has 102 catches for 1,321 yards and 14 touchdowns in a career that spans 36 games at Nevada.
Neither Cooks or Taua have used a redshirt year and each have been granted an extra year of eligibility from the NCAA due to the coronavirus pandemic. 
Taua's 2020 debut
The start to Taua's junior season at Nevada has been delayed a week as he was not available to play in the season opener vs. Wyoming. He was expected to play Saturday night.
Taua talked about his development off the field as he's entering year three at Nevada, where his position coach is his older brother Vai Taua, who played at Cabrillo High before starring at Nevada and nearly making an NFL roster.
"I kind of started taking on my responsibilities, whether it was watching extra film or taking certain things upon myself to do what I needed to do," Taua said.
Taua's parents, Tui and Tee Taua, have relocated from Lompoc to Reno.  "It's great to have my parents out here," Taua said. "They've worked so hard to give me the opportunity to be where I'm at."
Entering his junior season, Taua was named to the preseason watchlists for the Doak Walker Award and Paul Hornung Award. Taua made an immediate impact at Nevada, earning Mountain West Freshman Offensive Player of the Year honors in 2018 after rushing for 872 yards on 178 carries with six touchdowns. Taua followed that up with a strong showing in 2019, gaining 807 yards on 196 carries with with six more scores. 
Taua has also been a factor in the passing game at Nevada, something he rarely showed while staring at Lompoc High. Taua has 52 catches for 387 yards and a score in two seasons. 
Inked up
There are a couple notable physical differences between the two 805 natives. While Cooks has gone from a somewhat bulky tight end/receiver hybrid to a lean 6-foot-4 pure wideout and Taua has bulked up to 210 pounds, each of them have added a number of tattoos. 
Taua has a tribal sleeve started on his right arm while his left arm is nearly filled out, with a notable Muhammad Ali photo centerpiece topped with bold 'Greatness'. 
"The late Michael Taylor gave me my first tattoo on my forearm. I got my mom's name, I've got my sister's name on another arm," Taua said, also showing off a new chest piece. "I got the Muhammad Ali tattoo because he's my favorite athlete and 'Greatness' is what I want in everything I do."
Taua added, "It's probably Elijah's fault, because I didn't have any tattoos until I got out here."
GBB: Player of the Decade Semifinals
No. 1 Ashlyn Herlihy vs. No. 4 Tatiana Dunlap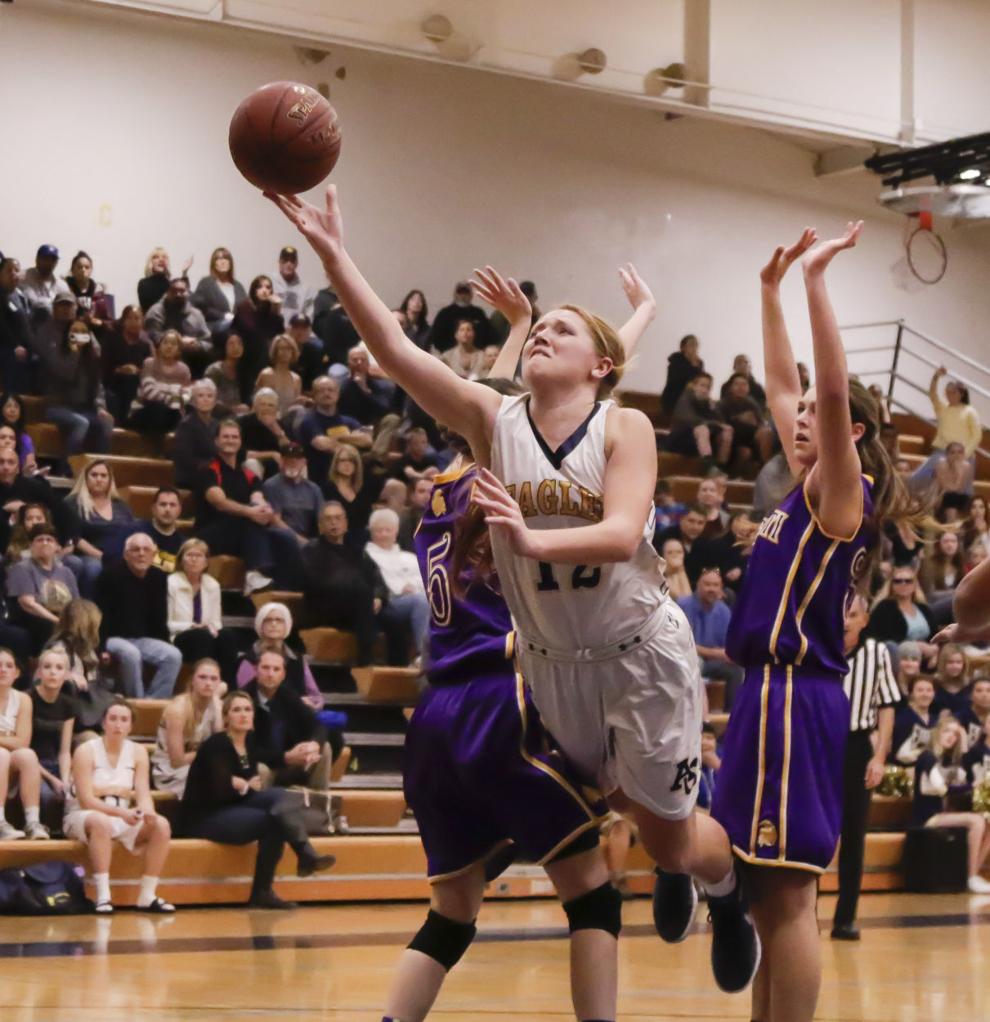 No. 1 Ashlyn Herlihy, Arroyo Grande High
Currently playing at Santa Clara University
Herlihy, a 6-foot-1 forward, averaged 19.9 points and 12 rebounds a game throughout the 2014-15 season at Arroyo Grande, which was Herlihy's junior year.  She led the team to a 24-3 overall record, which included a 21-game win streak and an undefeated and untested run through the PAC 8 League. She was named the league MVP, the Times' All-Area MVP and the SLO County Player of the Year.
Herlihy was even better as a senior, averaging 22 points, 9.7 rebounds, 1.4 steals and 5.5 blocks per game. (The Eagles went 20-8 that year and split the league title with Righetti and Herlihy was named the All-Area Offensive Player of the Year).
Herlihy has gone on to play at Santa Clara University. She redshirted there in 2016-17 and has grown into a starting role the last two seasons, averaging over 10 points and 7 rebounds a game. She earned All-West Coast Conference honors the last two years. She's started 61 games the last two seasons. 
No. 4 Tatiana Dunlap, Cabrillo/St. Joseph
Played at CSU San Bernardino and Cal Lutheran
Going up against Herlihy is Dunlap, a standout two-way guard who starred at St. Joseph High before playing in college. 
Dunlap won a CIF state title in her sophomore season with the Knights. In her three seasons at St. Joseph, Dunlap scored 1,300 points and the 5-foot-8 guard averaged 23.7 points, 3.0 assists, 9.2 rebounds and 2.6 steals per game as a senior.
Like Herlihy, Dunlap also earned one All-Area MVP award, during her senior season. Dunlap averaged 15.1 points over 87 games with the Knights. As a junior in 2011-12, Dunlap averaged a double-double for the season, with 15.3 points and 10.3 rebounds per game, while also dishing out 3.0 assists and swiping 2.4 steals per game. 
No. 2 Kaitlyn Flowers vs. No. 3 Heather Madrigal
No. 2 Kaitlyn Flowers, St. Joseph
A 2014 St. Joseph graduate was a freshman on the Knights' 2011 CIF State championship team. (Flowers played a key role in the Knights' state title win over Oakland's Bishop O'Dowd, eating up 28 minutes and leading the team in rebounding while playing effective defense against the Dragons).
Flowers eventually scored over 1,400 points in her St. Joseph career. As a senior in the 2013-14 season, Flowers averaged 17.9 points, 7.3 rebounds, 3.7 assists and 4.8 steals per game. 
As a junior, Flowers averaged 18.1 points, 4.5 rebounds, 4.9 assists and 4.7 steals. As a sophomore, she scored 18 points a game, adding 4.3 rebounds, 3.2 assists and 4.4 steals per game.
She finished her St. Joseph career with 1,448 total points, 503 total rebounds, 326 assists and 391 steals in 110 games. She averaged 18 points a game over the 75 games she played in her sophomore, junior and senior seasons. She also averaged nearly five steals a game in that span.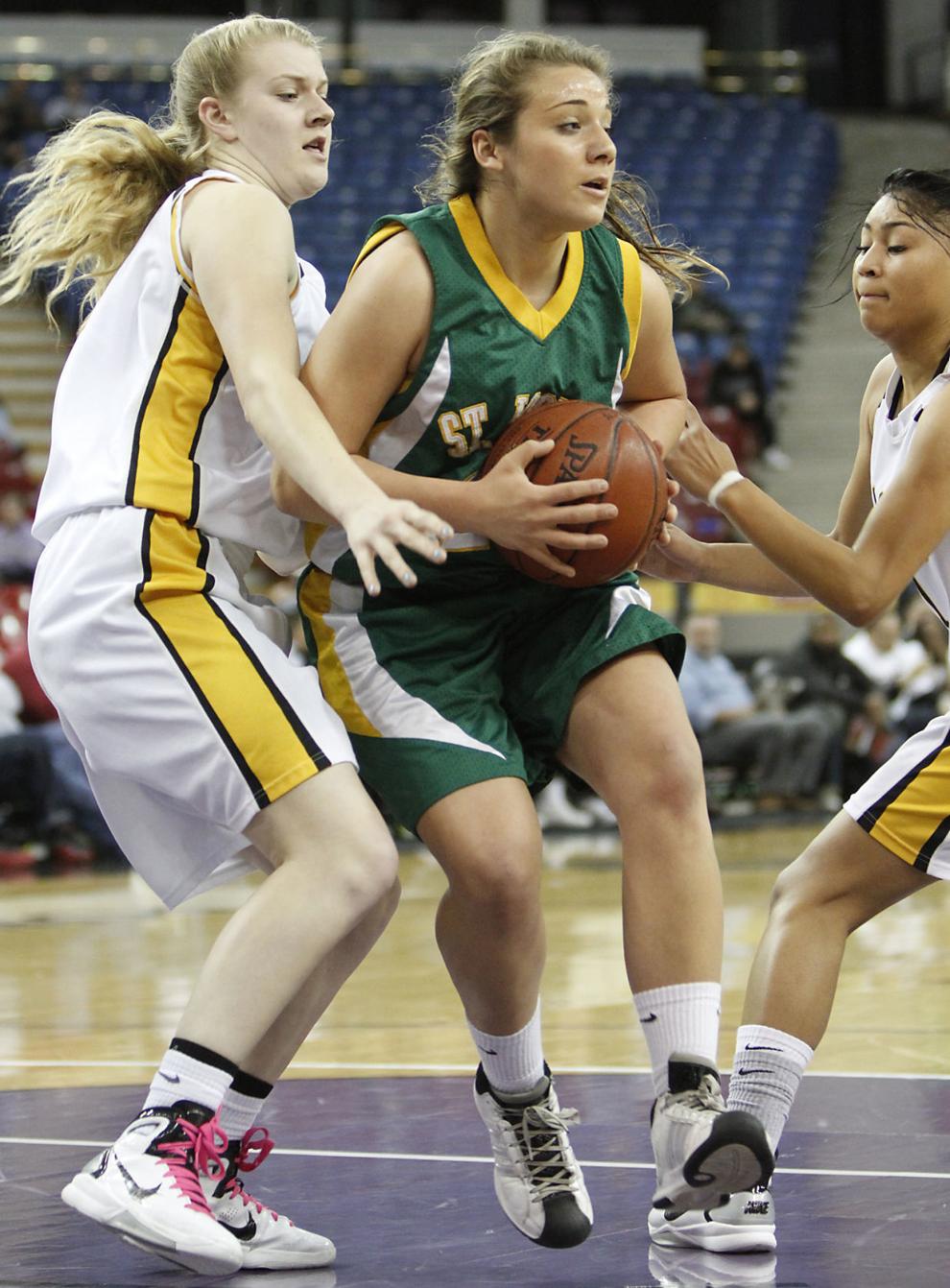 No. 3 Heather Madrigal, St. Joseph/Arroyo Grande
Madrigal was also on that 2011 state title team at St. Joseph. After that season, she transferred to Arroyo Grande and went on to win her fourth CIF championship in 2012. 
Madrigal won three CIF Southern Section titles and one state championship. That's four more titles than the total league games she lost during her career. (Madrigal's teams went 48-0 in league in high school).
Madrigal went 113-20 in her four-year varsity career. The 5-foot-8 forward scored more than 900 points at St. Joseph and, during her lone season at Arroyo Grande, she topped 500 points.
Madrigal averaged 16.2 points, 8.7 rebounds, 2.8 assists and 1.5 steals per game as the Eagles went 27-6 that year. She played 98 games with the Knights and averaged 9.4 points, 4.5 rebounds, 2.4 assists and 1.8 steals per game. 
Madrigal was named the Times' All-Area MVP after her lone season in Arroyo Grande.
Be the first to know
Get local news delivered to your inbox!