Fresno State announced Friday that it is making major changes to its athletic programs amid budget shortfalls exacerbated by the COVID-19 panemic. 
"In response to ongoing financial challenges for Fresno State Athletics, whose revenues have been dramatically impacted this fiscal year by the COVID-19 pandemic, Fresno State announced today its decision to implement program reductions that will ensure long-term financial sustainability of its athletics program," the school said in a statement Friday.
Following the current 2020-21 academic year, the school said, it will discontinue supporting varsity lacrosse, men's tennis and wrestling. Fresno State said those cuts will save about $2.5 million, "once all scholarships and other contractual obligations have been fulfilled."
The move ends a disappointingly short run for the Bulldog wrestling program, which was cut in 2006 and revived in 2017. 
Following the reduction, Fresno State will sponsor 18 NCAA Division I sports (six men's sports and 12 women's sports). The school says it will support approximately 430 student-athletes through those 18 programs, while also "ensuring the University's ongoing commitment to gender equity."
"Today's decision is difficult for everyone and yet it is a necessary step to ensure the financial viability of our Athletics Department," President Joseph I. Castro said in the school's release. "We appreciate those who have supported these Bulldogs programs over the years, including coaches, current and former student-athletes, and their families."
The school said it is expecting the operating deficit for athletics this fiscal year to run about $6.6 million due to the pandemic and its impact on the sports teams' competitive seasons and "the related result of not being able to have fans in its venues."
The school says its usual operating deficit runs at about $2.2 million annually. 
"This is an incredibly difficult day for our entire Bulldog Family and one of the most challenging days of my career," athletic director Terry Tumey said in the statement. "Our mission is to holistically serve all of our student-athletes and prepare them for transformative success in competition and, more importantly, in the classroom and in life. So it is with great sadness and heavy hearts that this difficult decision was made."
The school said it will still honor and provide financial assistance for the affected student-athletes who wish to remain at Fresno State.
"Fresno State Athletics will continue to provide support services to both the students who wish to remain at Fresno State to complete their degree or to the ones who wish to transfer to another institution," the school's statement read.
Per NCAA rules, student-athletes who choose to transfer will be immediately eligible at their next institution, Fresno State said, adding, "Contractual commitments to the coaches from the affected programs will be honored within the terms and conditions stated in their employment contracts."
"With these reductions, the future of our overall athletics endeavor becomes more fiscally solvent and in better alignment with our conference and competitive peers," Tumey said. "In order for us to fulfill our mission of preparing the future leaders of our Valley community, responsible action had to be taken at this time despite how emotionally difficult it is for our students.
"Fresno State Athletics has always been known for our determination, resilience and character, and in this pivotal moment in our athletics history, we must come together now more than ever."
GBB: Player of the Decade Voting Week 1
No. 1 Aly Beebe vs. No. 16 Rylee Sager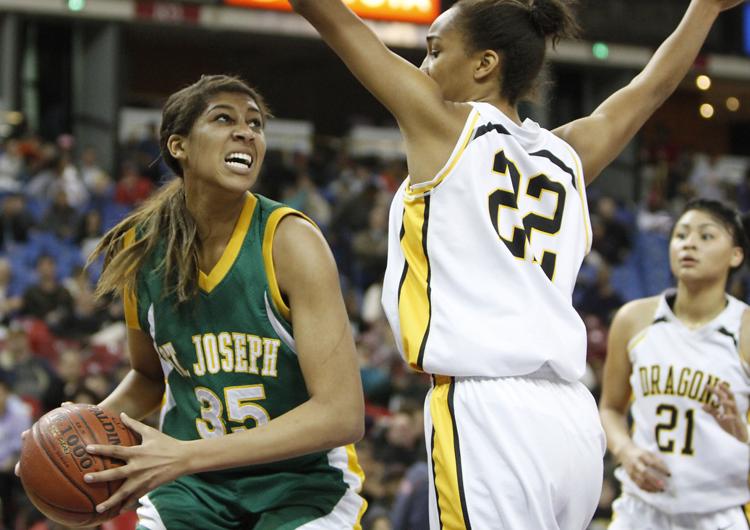 Former St. Joseph star Aly Beebe is the No. 1 seed.
Beebe, who helped the Knights win back-to-back CIF Southern Section titles during her freshman and sophomore seasons, won a CIF State title her junior season as she developed into one of the most dominant players in the entire state, if not the country.
Beebe signed with Stanford after graduating from St. Joseph in 2012, though never played for the Cardinal and eventually retired after numerous injuries to her knee.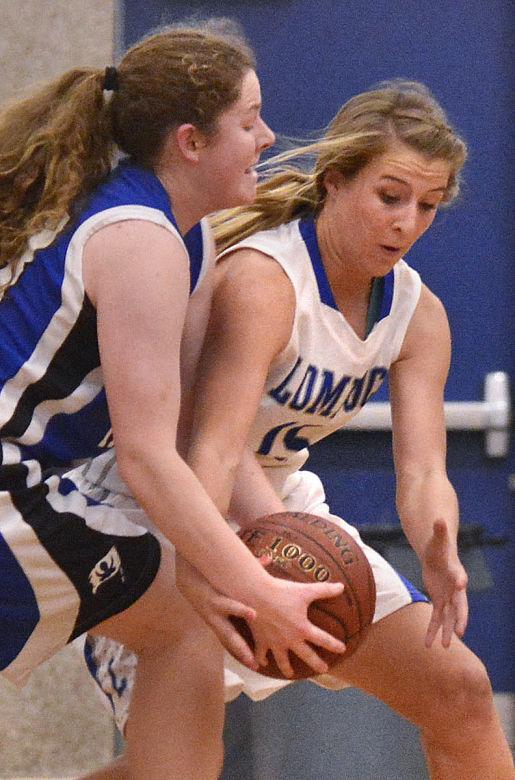 Beebe will square off against Lompoc's Rylee Sager, the No. 16 seed. Sager, a 5-foot-7 guard, played in 107 games in four years at Lompoc, scoring 1,104 points.
The former Brave averaged 14 points, 6.1 rebounds, 4.8 assists and 3.3 steals per game as a senior, leading Lompoc to a 22-7 overall record and 13-1 mark in the Los Padres League.
No. 2 Ashlyn Herlihy vs. No. 15 Ravynn Anielski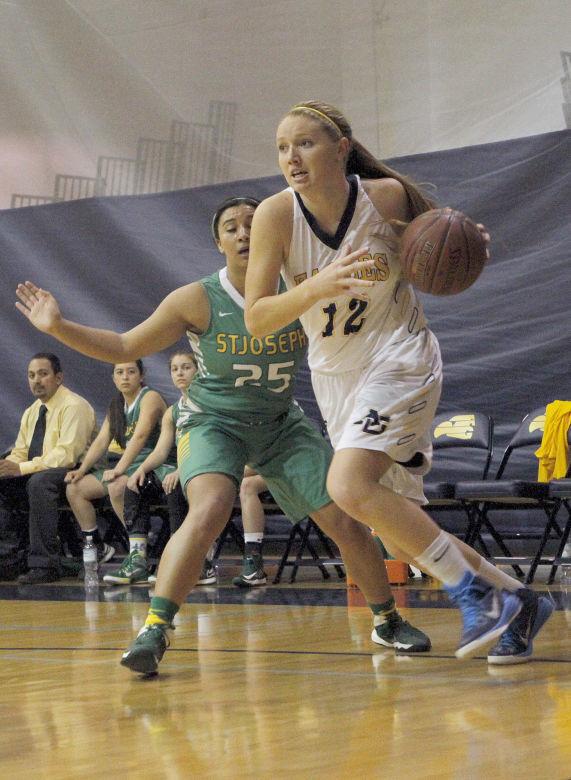 Arroyo Grande graduate Ashlyn Herlihy is the No. 2 seed. Herlihy averaged 22 points, 9.7 rebounds, 1.4 steals and 5.5 blocks per game as a senior at Arroyo Grande. She was named the Times' All-Area MVP as a junior.
Herlihy went on to play at Santa Clara. She redshirted there in 2016-17 and has grown into a starting role the last two seasons, averaging over 10 points and 7 rebounds a game.
Herlihy earned All-West Coast Conference honors the last two years. She's started 61 games the last two seasons.
Herlihy will face No. 15 seed Ravynn Anielski in the first round.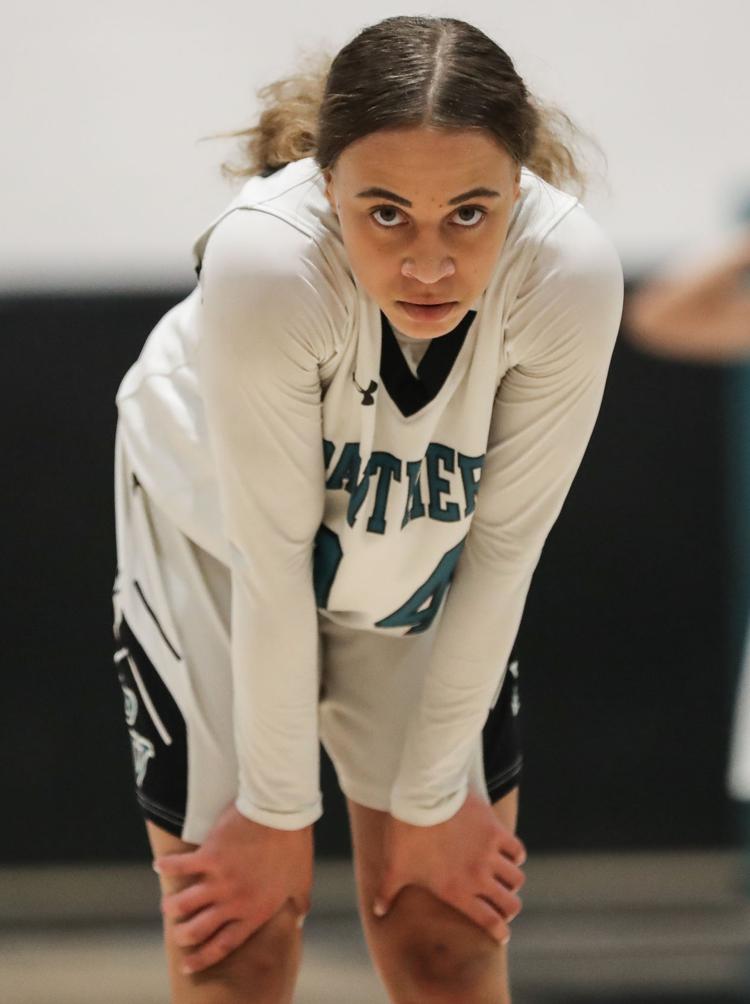 After finishing 19 games under .500 in Anielski's sophomore season, she led the Panthers to a 17-9 record (11-1 in league games) as a junior.
She scored 19.2 points a game that year, adding 4.4 rebounds, 1.5 assists and 3.2 steals.
Anielski was named the Times' All-Area MVP that year and she earned Ocean League MVP honors.
No. 3 Molly Schlemer vs. No. 14 Syenna Ramirez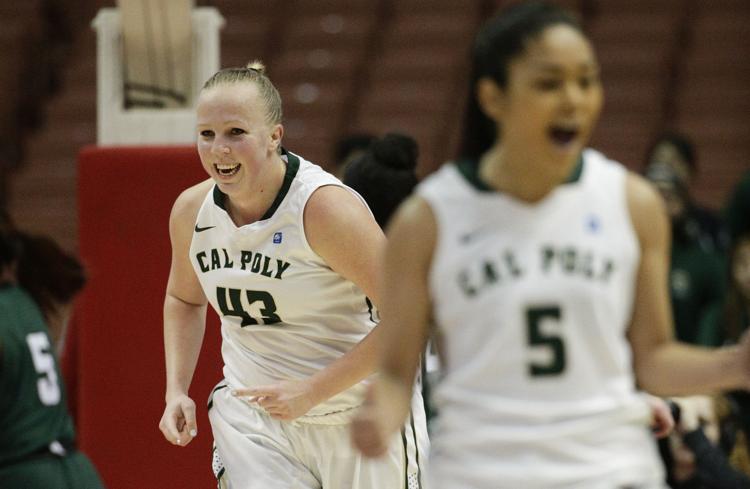 Former Righetti standout Molly Schlemer is the No. 3 seed. The 6-foot-5 post averaged 15 points and 8.3 rebounds a game in her final season with the Warriors. She also blocked 2.5 shots a game.
At Cal Poly, Schlemer started all 32 games for the Mustangs during the 2013-14 season, averaging 16.9 points and 10.1 rebounds a game, all in under 30 minutes a contest.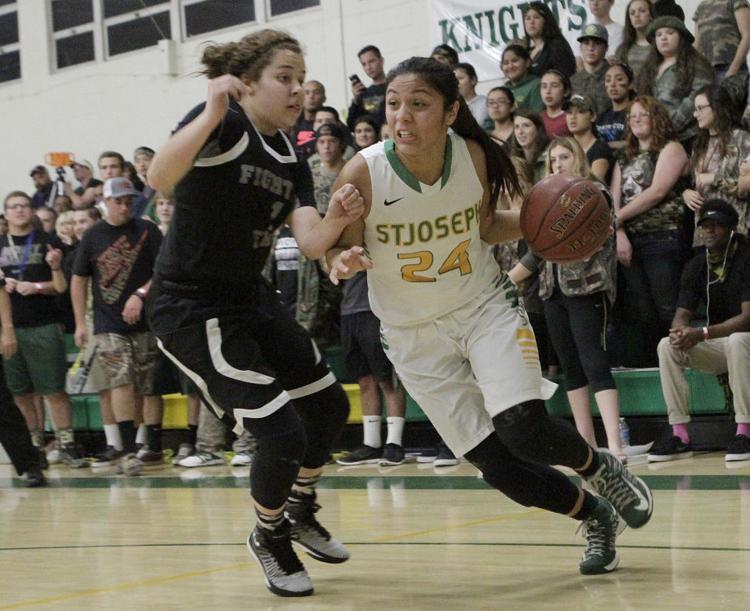 Schlemer will face No. 14 seed Syenna Ramirez. She averaged over 17 points a game as a senior at St. Joseph, going from role player to the best player on her team.
Ramirez culminated her St. Joseph career with a 427-point senior season. In addition to scoring 17 points, Ramirez added 2.2 assists, 4.3 rebounds and 3.3 steals per game that season.
No. 4 Mariah Cooks vs. No. 13 Simone Swain
Another former Righetti star, Mariah Cooks, is the No. 4 seed. Cooks was named the PAC 7 League MVP as she averaged 21.7 points per game and 12 rebounds in league play as a senior.
She led the Warriors to the quarterfinals of the playoffs averaging 22 points and 12.6 rebounds per game. She also earned All-CIF honors. Cooks went on to play four seasons at Washington State in the Pac-12.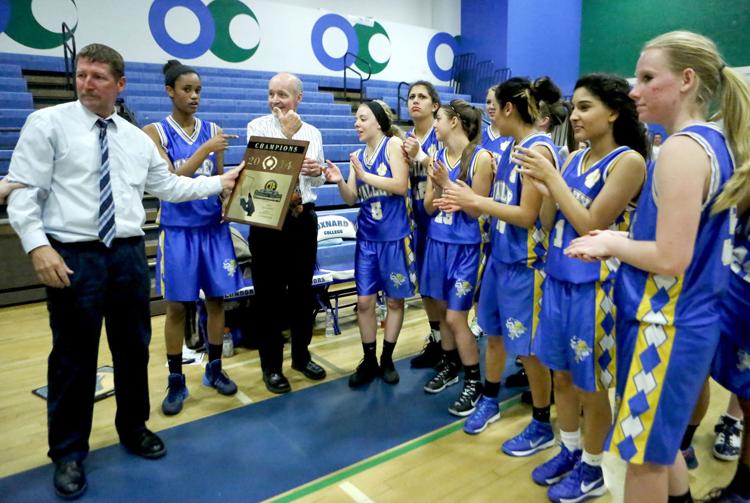 Cooks will face Simone Swain, the No. 13 seed, in the first round. Swain won a CIF-SS title at Valley Christian.
During that 2013-14 title-winning season, Swain averaged 18.1 points and 9.2 rebounds a game as she led the Lions to a 21-4 record and a 10-0 run through the CVL. She added 2.4 steals and 1.4 blocks per game that year.
No. 5 Tatiana Dunlap vs. No. 12 Hailey King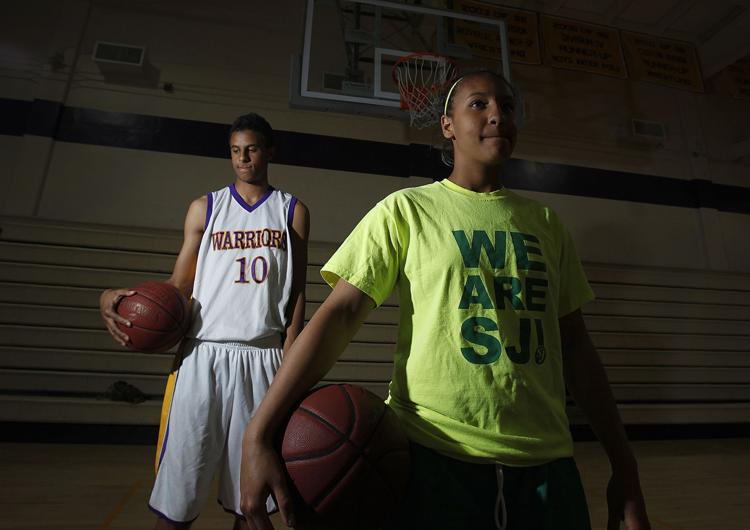 Tatiana Dunlap, another former St. Joseph standout, is the No. 5 seed. Dunlap, an all-time great defender, scored over 1,300 points in three seasons with the Knights.
During her senior season, the 5-foot-8 guard averaged 23.7 points, 3.0 assists, 9.2 rebounds and 2.6 steals per game as the Knights went 19-9. Dunlap played at Cal State San Bernardino and Cal Lutheran.
Santa Ynez grad Hailey King, the No. 12 seed, will face Dunlap in the first round.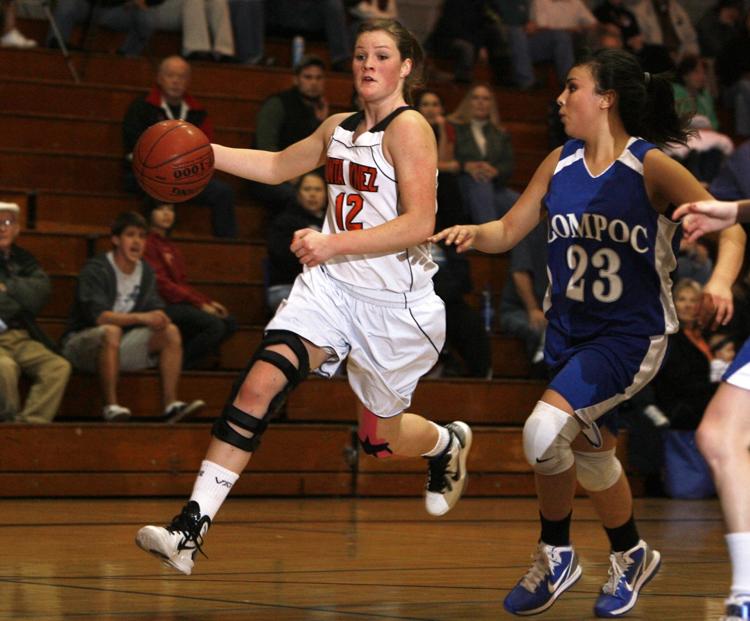 King, who suffered a torn ACL and missed nearly all of her junior season before she made it back to the Pirate lineup as a senior in 2010-11, scored 427 points in her final prep season, leading Santa Ynez to the Los Padres League title, the Pirates' most recent league championship in girls hoops. King played at Cal State Fullerton.
No. 6 Kaitlyn Flowers vs. No. 11 Danielle Morgan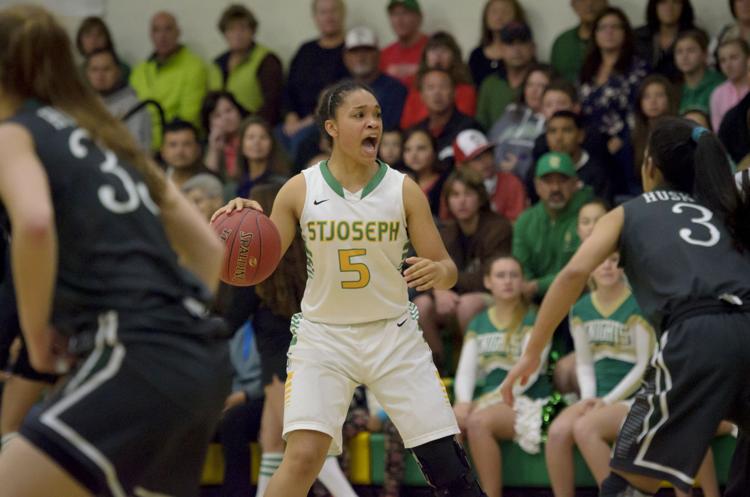 Kaitlyn Flowers is the No. 6 seed. As a senior in the 2013-14 season, Flowers averaged 17.9 points, 7.3 rebounds, 3.7 assists and 4.8 steals per game.
As a sophomore, she scored 18 points a game, adding 4.3 rebounds, 3.2 assists and 4.4 steals per game and 18.1 points, 4.5 rebounds, 4.9 assists and 4.7 steals per game as a junior.
Flowers meets former Lompoc High standout Danielle Morgan, the No. 11 seed who's currently at Hancock.
Morgan topped 1,000 career points with the Braves, finishing her prep career with 1,186 points.
Morgan averaged 17 points, 8.5 rebounds and 4.8 assists as a senior.
No. 7 Erin Jenkins vs. No. 10 Shnyia Tell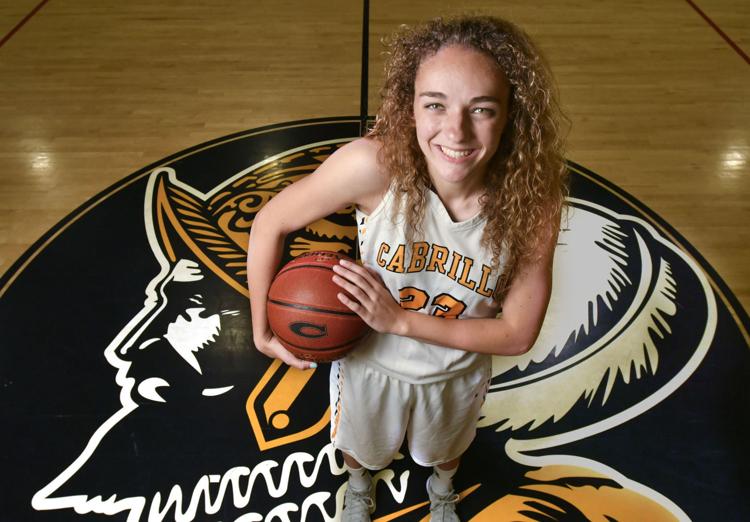 Erin Jenkins, the former Cabrillo standout, is the No. 7 seed. Jenkins and Beebe are the only back-to-back All-Area MVPs of this past decade.
Jenkins currently plays at Northwest Nazarene University. Jenkins averaged 20.3 points, 8.6 rebounds, 3.4 assists and 3.3 steals per game as a senior with the Conqs.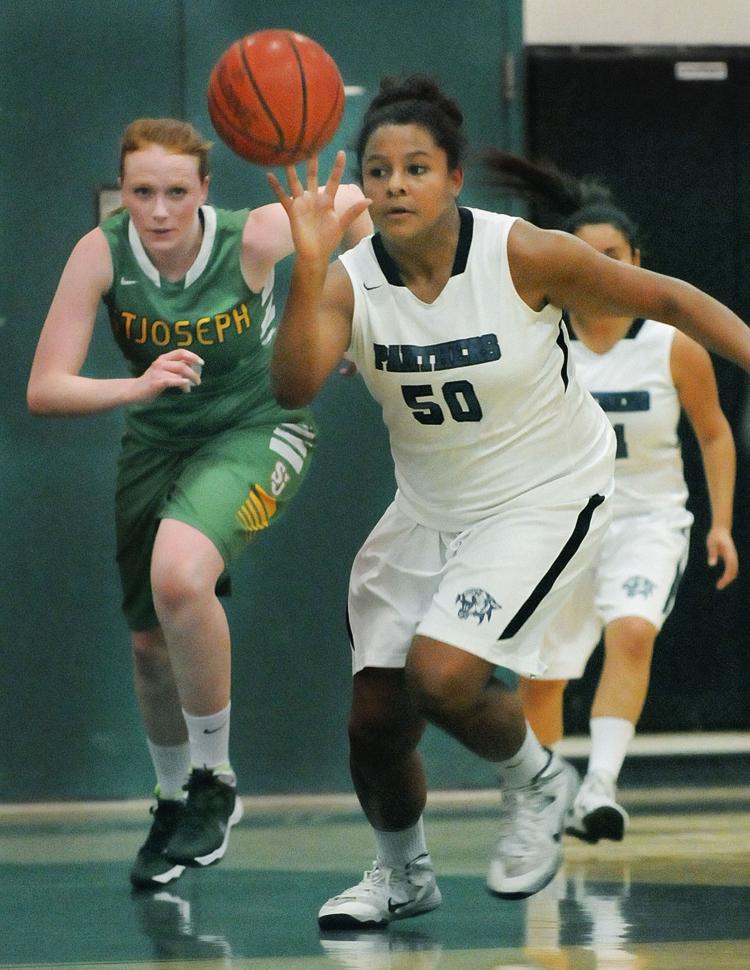 Jenkins meets the No. 10 seed, Shnyia Tell, in the first round. Tell earned one All-Area MVP honor during her time at Pioneer Valley.
At 5-foot-10, Tell averaged 10 rebounds a game for her entire four-year varsity career. She averaged a double-double in both her junior and senior seasons.
Tell averaged 16 points, 13.3 rebounds as a senior with 2.6 steals per game.
No. 8 Danita Estorga vs. No. 9 Heather Madrigal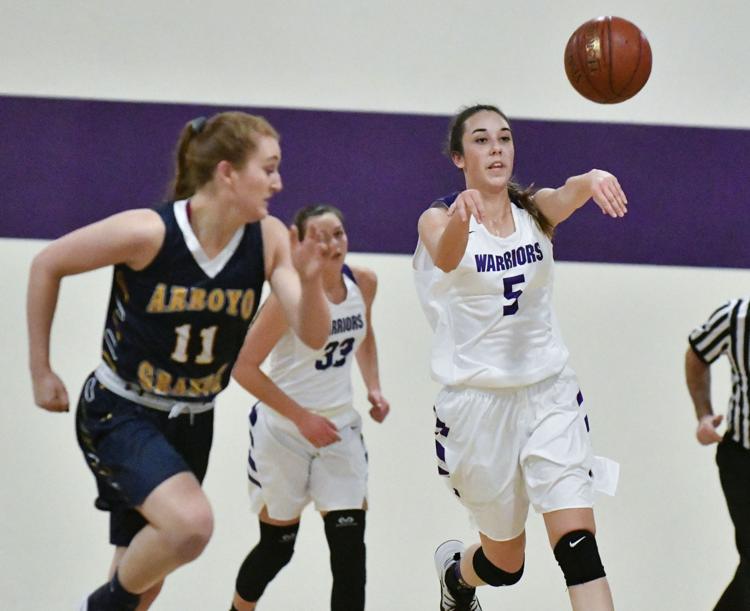 Danita Estorga, yet another former Righetti great, is the No. 8 seed. Estorga, currently playing at Biola University, averaged 15.6 points, 8.2 rebounds, 2.8 assists, 2.5 steals and 1.4 blocks per game over her final two seasons with the Warriors.
She helped Righetti go 47-10 in the final two years with the program. They went 26-2 in league those two seasons.
Estorga will meet Heather Madrigal, the No. 9 seed, in the first round. Madrigal won four CIF titles in four years in high school, winning either a CIF State championship or a CIF Southern Section crown every year.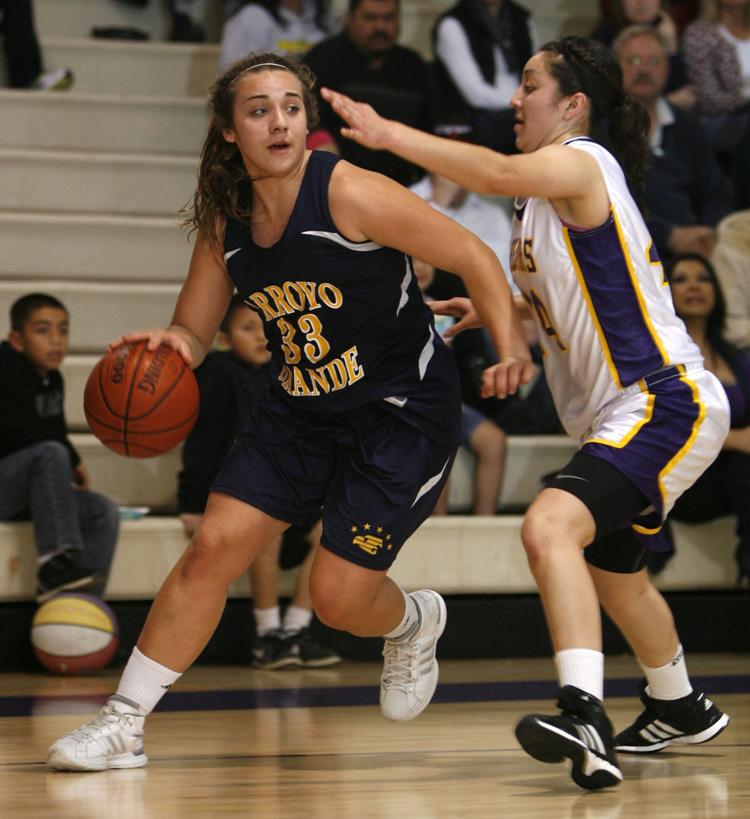 Madrigal went 48-0 in league in high school, spending the first three years at St. Joseph before transferring to Arroyo Grande.
Madrigal averaged 16.2 points, 8.7 rebounds, 2.8 assists and 1.5 steals per game in her one season with the Eagles . At St. Joseph she averaged 9.4 points, 4.5 rebounds, 2.4 assists and 1.8 steals per game.
Be the first to know
Get local news delivered to your inbox!