Staked to a three-run lead Tuesday, Hancock College pitchers Shaylyn Coy and Alexis Porter had a lot of trouble getting the last out of the top of the sixth inning Tuesday.
They had so much trouble, in fact, that by the time starter Porter finally got that third out Santa Barbara City College had scored nine times and gone in front for good. The Vaqueros beat the Bulldogs 14-9 in a Western State Conference-North Division game at Hancock.
"Our pitchers definitely had some challenges in that sixth inning," Hancock coach Scia Maumausolo said after the Vaqueros moved to 4-8, 1-1 and her team dropped to 2-3, 0-2.
"We've just got to get better."
There was nothing wrong with Hancock's hitting. The Bulldogs had 14 hits on the day. However, the Vaqueros racked up 17 against Hancock's pitchers.
Coy entered for Porter to start the top of the sixth after the Bulldogs had turned a 3-1 deficit into a 6-3 lead with five runs in the bottom of the fifth.
Jayden Andrade tied the game for the Bulldogs with a two-run single. Mackenzie Caspian put them ahead with an RBI double to left. Andrade scored on Siana Castillo's RBI ground out and Caspian came home on an error.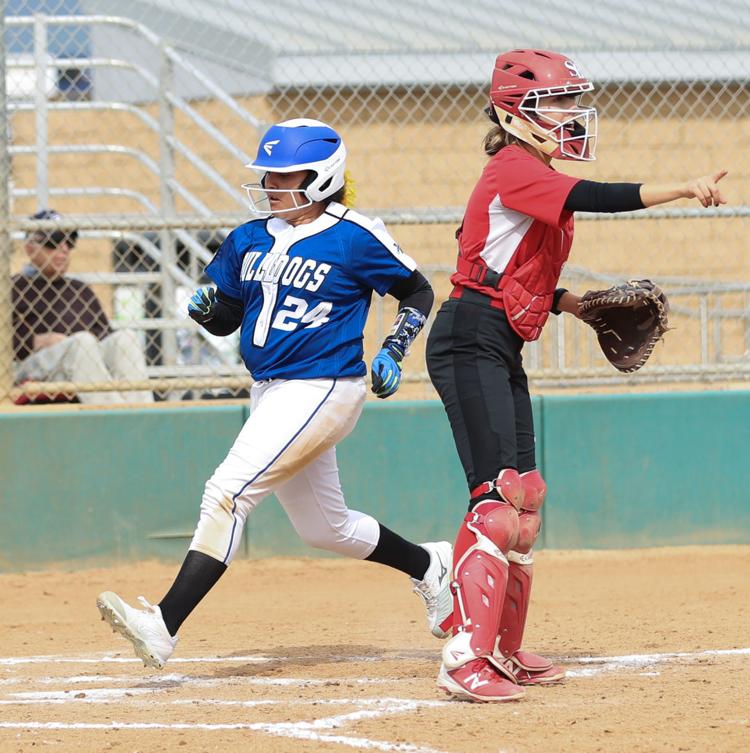 Coy got two outs after throwing eight straight balls to walk the first two batters in the sixth. However, Carson Dunckley drove an 0-2 pith to center for a two-run single, and the Vaqueros' hits kept coming.
Shelby Featherson tied the game with a single, and the Vaqueros were ahead for good when Emily LoneTree scored on a passed ball. After the Vaqueros' fourth straight two-out hit off Coyne, Porter re-entered to pitch.
She walked the next three batters then gave up a two-run double to pinch hitter Kaelyn Whitten before Samantha Yanes finally grounded out for the third out.
After Porter gave up two more runs in the seventh, the Bulldogs didn't go away meekly in the bottom of the inning.
Dunckley, the starting catcher, set the Bulldogs down without a run in the sixth after relieving SBCC starter Page Powell on the mound to start the bottom of the inning. In the seventh, Sabrina Ornelas tripled home one run, Crystal Gonzalez singled in another and Andrade singled in Gonzalez.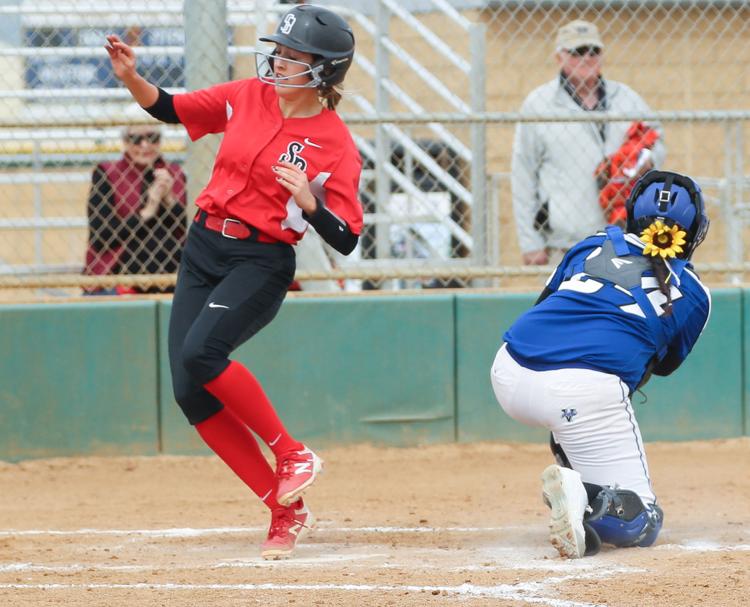 Finally Powell, who moved to center field after being relieved on the mound, charged in and caught a line drive off the bat of Castillo to end the game.
For the Bulldogs, it was a bit of a victory to get a game in.. Rain has washed out or postponed six scheduled Hancock games so far this year.
"I think every team has had to face some challenges with the weather," said Maumausolo.
"But, yeah, just the lack of reps and game experience can have an effect on any team."
Featherson had four hits, including a double and a triple, and drove in three runs. Weaver had two hits and drove in two runs. 
Andrade had three hits and drove in two runs for the Bulldogs. Ehsya Glidewell had two hits and drove in two runs.
The Bulldogs will play a WSC-North game at 2:30 p.m. at Ventura, weather permitting.
Hancock playoff opponent changed
Hancock College's men's basketball team will play San Diego Miramar College, not arch rival Cuesta as originally scheduled, in the first round of the California Community College Athletic Association Southern Regional Playoffs Wednesday night, it was announced Tuesday.
Tip-off is set for 7 p.m. at Hancock's Joe White Memorial Gymnasium. The host Bulldogs (22-6) are seeded 16th. The Jets (16-12) are seeded 19th.
Hancock athletic director Kim Ensing said Tuesday that officials at the CCCAA office made the change because they did not want two teams from the same conference to play each other in the first round.
Cuesta scored narrow wins over Hancock in each of the teams' two meetings this year. Cuesta and Ventura, the 2018 WSC-North champion, shared the Western State Conference-North Division championship this year. Hancock finished third.
The winner Wednesday night will play at overall top seed Fullerton in the second round. Last year, No. 10 Hancock won at No. 7 Fullerton and then at No. 2 San Bernardino Valley College to get into the state playoffs.
Bulldogs earn All-Conference honors
Four Hancock College men's basketball players and two more from the women's team earned All-Western State Conference honors.
From't the men's team, sophomores Spirit Ricks, Glenn Jordan and JT Riddick earned spots on the First Team. Freshman Mike Mensah garnered honorable mention.
From the women's team, freshman Danielle Morgan earned a spot on the First Team. Sophomores Tawny Lino and Tashara Pruett earned honorable mention.
College of the Sequoias 8, Hancock 2
The Visalia-based Giants broke a scoreless tie with a run in the top of the fourth then gradually pulled away to beat the Bulldogs (7-7) in a non-conference game at Hancock.
Half of the Giants' 12 hits were for extra bases. Payton Allen and Zane Thompson both doubled twice, and Andrew Valdez hit a solo home run in the sixth.
Valdez had three hits and drove in three COS runs. David Alcantar had two hits and had two RBIs for the Giants.
Cameron Hirahara and Trevor Garcia hit back-to-back RBI doubles for the Bulldogs in the eighth. Garcia, the starting pitcher, went 5 2/3 innings, giving up four runs, all earned. He took the loss.
Santa Maria 11, Valley Christian Academy 4
Leading 1-0, the Santa Maria Saints broke open the game with a five-run third inning.
The Saints (3-2) added two runs in the fourth, one more in the fifth and six in the sixth inning while holding the Valley Christian Academy Lions to one run in the third and three runs in the fourth inning.
Every starter in the Saints' lineup had at least one hit.
Santa Maria's Austin Peinado had three hits with two doubles and a run batted in, Tommy Herrera had two hits with a double and an RBI and Raymond Rodriguez had two hits and an RBI.
Brian Espinoza was Santa Maria's starting pitcher, striking out seven of the nine batters he faced. Chino Nunez pitched one inning before Ricky Figueroa came in to close out the game. 
Andrew Sparlin doubled and drove in two runs for the Lions (0-2) who lost an out-of-section game at Santa Maria (3-2).
Six Lions had a hit apiece. Four VCA players scored a run.
Templeton 7, Santa Maria 0
Templeton senior ace Ashley Daugherty checked the Saints (0-3) on one hit, and the Eagles (2-0) won this non-league game at Templeton.
Orcutt Academy 13, Coast Union 0 (5 innings, run rule)
Arianna Contreras tripled and drove in three runs as the Spartans (2-0) cruised to an out-of-section win at Coast Union (0-5).
Jordan Heath singled and drove in three Orcutt Academy runs. Danica Black doubled and scored three times.
Orcutt starter Shawnie Flores and reliever Daisy Esperanza combined on a one-hitter. Flores gave up one hit, struck out four and walked three in her three innings of work.
The Titans blanked the Saints in an Ocean League match at Nipomo.
Arroyo Grande Doubles Tournament (Saturday)
Connor Angle and Gavin Silva went 3-0 for the Eagles as they won Flight 2. Ethan Wolfe and Nick Fuller, and Max Willkomm and Tucker Limon went 1-2 for the Eagles in Flight 3.
St. Joseph 3, Santa Maria 1
The Knights (1-0) opened their season with a 25-15, 25-12, 16-25, 25-13 win over the Saints in this crosstown rivalry match at St. Joseph's Hofschulte Gym.
San Luis Obispo 203, Santa Maria 324
Co-medalists Jeffrey Perry and Josh Compton both shot a 39 as the Tigers beat the Saints in a non-league match at Santa Maria Country Club. Sahir Sanchez led Santa Maria with a 57.
Orcutt Academy senior Max Daniels won the 100 and 200 meters, and the Spartans won the boys championship at this meet at Carpinteria High School.
Daniels led a 1-2-3 finish for Orcutt in the 100 and 200. Orcutt's Josiah DeBruno won the long jump and triple jump.