Hancock College's rodeo team got a big boost from Hancock Boosters on Saturday night — a nearly $100,000 boost.
The boosters and team supporters packed the banquet hall at the Santa Maria Elks Lodge for the inaugural rodeo team fundraising dinner and auction.
"This is huge. It's just amazing to see all of these people showing up to support the Hancock College rodeo team," said Erin Krier, the head of Hancock's Agriculture Department who is directing the college's rodeo program. "From not knowing that we'd even have a team to this — about 250 people are here tonight. I think this will really give us the momentum we need."
The team is growing and so are its needs.
"We had three members on the team last year. We've now got 10 young men and women and everybody is so excited," said Krier. "This money will help us build the program on a lot of fronts. First, we'd like to have the money to pay a coach but we also want to help with student expenses. It costs each of them $270 just for their membership in NIRA (the National Intercollegiate Rodeo Association) and there are rodeo entry fees, travel costs — it adds up."
The evening featured both silent and live auctions.
The silent auction had about 75 items up for bid. It ended when Billy Ruiz's Cowboy Flavor New York Strip steak dinner began.
The Round Table has returned.
After dinner, it was time for the live auction.
"It looks like about $97,500 total gross income from everything. That's the early estimate," said Jim Glines on Monday afternoon. Glines is the Chairman of the Board of the Community Bank of Santa Maria and the fundraising committee chairman for Hancock Boosters. "That exceeded our expectations. I'd like to thank the community for its support."
Glines was also the evening's live auctioneer, assisted by his son John and Hancock's rodeo advisor Tony Branquinho.
"The top auction item, and I'm really excited about this, are four seats in Cotton and Karin Rosser's private box at the National Finals Rodeo (NFR). NFR tickets are harder to get than Super Bowl tickets," said Glines. "We have a 2018 signed LeBron James Los Angeles Lakers jersey along with a signed Lakers team basketball and a boxing glove signed by five former heavyweight champions, including Muhammad Ali."
The Santa Maria Valley is prime rodeo country with thriving youth, junior high and high school programs.
Until now, the closest college programs have been in San Luis Obispo at Cal Poly and Cuesta.
"Having a rodeo team at Hancock allowed me to stay home for the first two years of college," said Kathleen Merrill, a graduate of Orcutt Academy who, along with Jimmy Gardner and Xochitl Guzman, is one of the original three members of the AHC team. "We didn't have a rodeo program and now we do. I think it's good for the school. I'd like to see us get on the level with the other colleges in the area."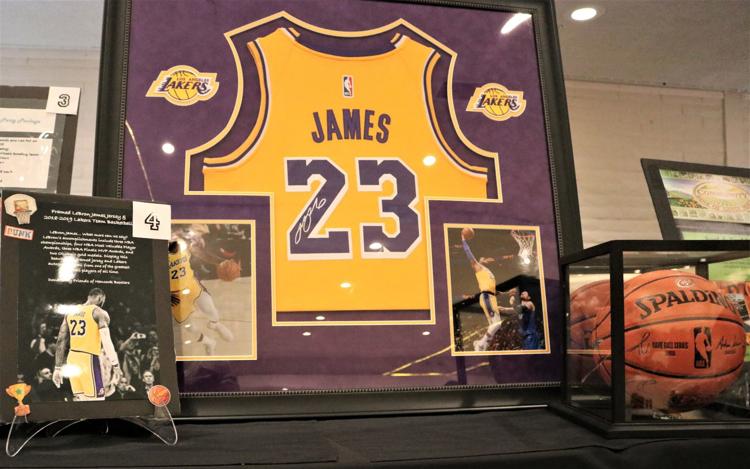 Merrill and her Bulldog teammates mingled with the crowd, standing out in their Hancock Rodeo vests, and helped serve up dinner.
"Kathleen is a real pioneer, one of the Hancock rodeo originals," said Lynne Wisz, the mother of well-known local athletes Stevie and Delanie Wisz, who worked alongside Merrill.
While it was the first dinner and auction to benefit the Hancock rodeo team, it's a continuation of a longstanding Hancock Boosters' tradition.
For the past 17 years, the event had been called the Joe While Memorial dinner and auction but has now been re-purposed to benefit the college's rodeo program.
"I think this is great," said Elks Recreation President Peter Sterling. "We'll always do whatever we can to help support rodeo in the community."
"My wife and I love coming to these dinners," said Elks Exalted Ruler Tony Campas. "They are always fun and it's for a good cause."
To raise even more money, Hancock Boosters offered charter memberships in its rodeo support team.
The $1,000 donation bought a five-year membership and came with an embroidered AHC rodeo jacket.
"We sold 21 charter memberships before tonight and we sold a few more here tonight," said Glines. "We'd like to help provide a local venue and, one day, host our own college rodeo. We'd love for Hancock Rodeo to host a rodeo within three years. That would really put local intercollegiate rodeo on the map. This is a really big night, bigger than we expected. The community response has been overwhelming."
The Hancock Bulldogs begin their 2019-20 college rodeo season Sept 27-28 at Lassen College.
Be the first to know
Get local news delivered to your inbox!