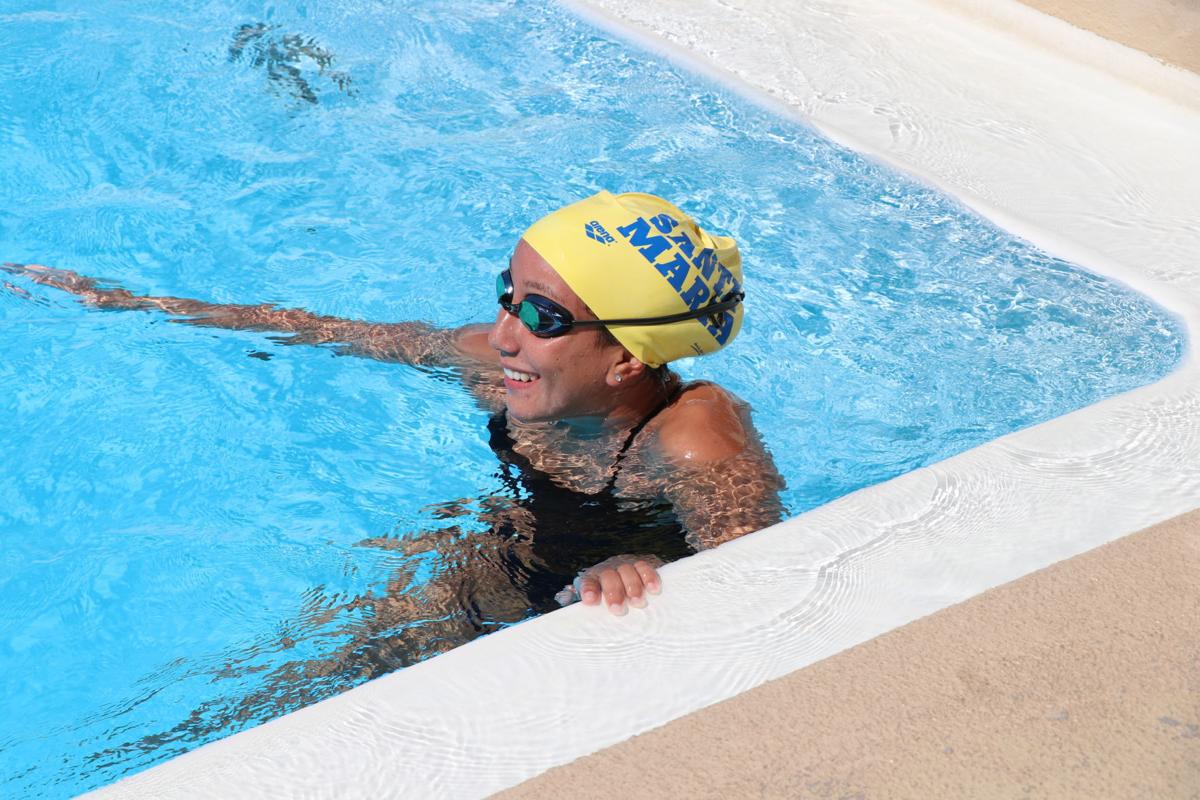 CUPERTINO — Hancock College freshman Izzie Fraire had achieved All-American status in two events and broken two school records in the process at the California Community College Athletic Association (CCCAA) State Championships.
What she had not done was win a state championship. That changed Saturday.
The Righetti High School graduate pulled away in the last lap of what was a four-woman race for an upset win in the women's 200 breaststroke at De Anza College. Fraire won in 2 minutes, 19.62 seconds, another school record and an improvement by 3.93 seconds over her previous best.
Fraire came into the race seeded second, behind defending state champ Meghan Kluck of Orange Coast College. Kluck finished third in 2:20.65, behind Fraire and runner-up Danielle Brown of Sierra (2:20.49).
Fraire earned All-American status for the third time.
Thursday, she finished second in the 200 individual medley. Friday, she placed fourth in the 100 breaststroke. She set school records both times.
Hancock diver Kailey Roux also earned All-American status at the meet, with an eighth-place finish in the 1-meter diving Thursday and a sixth-place finish in the 3-meter diving Friday.
The two-woman Hancock contingent of Fraire (53 points) and Roux (23) combined for 76 points at the state meet, putting the Bulldogs 16th out of 40 teams.
Orange Coast College won its second straight state title and its third in the last four years. San Diego Mesa finished second. Diablo Valley came in third.
Bulldogs Valerio 11th at SoCal Prelims
RIVERSIDE — Hancock freshman Davina Valerio tied for 11th place in the women's pole vault during the Southern California Regional Prelims on Saturday at Riverside College. The Pioneer Valley High School graduate cleared 8 feet, 10.25 inches on her first attempt to tie with three other jumpers for 11th place in the field of 21 women. The top nine advanced to next week's regional final for a chance to qualify for the 2019 CCCAA State Championships. Valerio needed to clear 9-4.25 to qualify for the final.
Valerio also finished 20th in the long jump with a top leap of 15 feet, 0.75 of an inch.
The top 12 advanced to next week's finals. San Diego Mesa's Holly Stallman finished first with a top mark of 20-0.25.
Freshman Mireya Martinez finished third in the 3,000-meter race walk exhibition. She finished in 24:54.67. Cuesta's Kasey Shaw won the exhibition with a time of 21:17.76.
High School Track & Field
CIF Central Section Finals
CLOVIS — Nipomo's Parker Reynolds and Blake Simpson qualified for the state meet with their respective finishes in the Boys 500 meter freestyle at the CIF Central Section Finals at Clovis West High School.
Reynolds finished second in 4 minutes, 30.77 seconds. Simpson was third in 4:31.65.
Reynolds had the other top eight Nipomo  boys finish. He placed eighth in 1:46.98 in the 200 freestyle.
Nipomo's 400 freestyle relay team of Simpson, Austin Aguirre, Trevor Kiunke and Reynolds finished 10th in 3:15.87. Aguirre came in 10th in 1:00.95 in the 100 breaststroke.
Aguirre (1:56.98) and Simpson (1:59.81) came in 11th and 14th respectively in the 200 individual medley. The Titans' 200 medley relay team of Austin Aguirre, Ryan Aguirre, Reynolds and Kiunke finished 11th in 1:42.67.
On the girls side, Nipomo's 400 girls relay team accounted for the top eight Nipomo finish. Emma Marsalek, Meghan Abbott, Emily Edds and Haley Calderon combined for a 3:43.48, good for seventh place.
Calderon came in ninth, in 1:57.36, in the 200 freestyle and 10th, in 53.93, in the 100 freestyle,
Marsalek placed ninth in 5:11.02 in the 500 freestyle. Edds came in 15th in 5:21.93.
The state meet is scheduled for later this coming week.
CIF Southern Section Finals
Santa Ynez freshman Neta Ofiaeli shattered the school record by more than a foot  in the girls triple jump and qualified easily for the CIF Southern Section Division 4 Finals.
Ofiaeli, with a best of 37 feet, 8.50 inches, qualified second at the sectional preliminaries at Carpinteria High School behind Los Angeles Wildwood senior Asha Fletcher, who jumped 38-1.25.
Ofiaeli, who was seeded 14th, also qualified fifth, in 12.81, in the 100.
A pair of Santa Ynez throwers advanced. Quincy Valle qualified fourth in the girls shot put at 35-3.75, and Alaynna Garza advanced in the discus with a best of 103-6. Her qualifying position was not known at press time.
Garza is an alternate for the shot put.
Be the first to know
Get local news delivered to your inbox!