Hancock College swept the Male and Female Athlete of the Week nods at Monday's Northern Santa Barbara County Athletic Round Table.
Glenn Jordan of the Bulldogs men's basketball team took home the top weekly male honor inside Giavanni's Pizzeria in Orcutt. Jordan recently helped wrap up a state playoff run for the Bulldogs for the second season in row – scoring 21 points in the Wednesday 77-74 victory over San Diego Miramar in the first round of the SoCal Regionals.
When Shane Carney graduated last year, he left quite a void on the Hancock College men's basketball team.
Jordan and the Bulldogs' season ended at the hands of Fullerton College on Saturday evening 68-59. Nevertheless, Jordan was all smiles when receiving the male honor.
"We still had a very successful year. I also feel like, personally, I've had a successful past two years and I'm thankful for all the moments I've had at Hancock," Jordan said.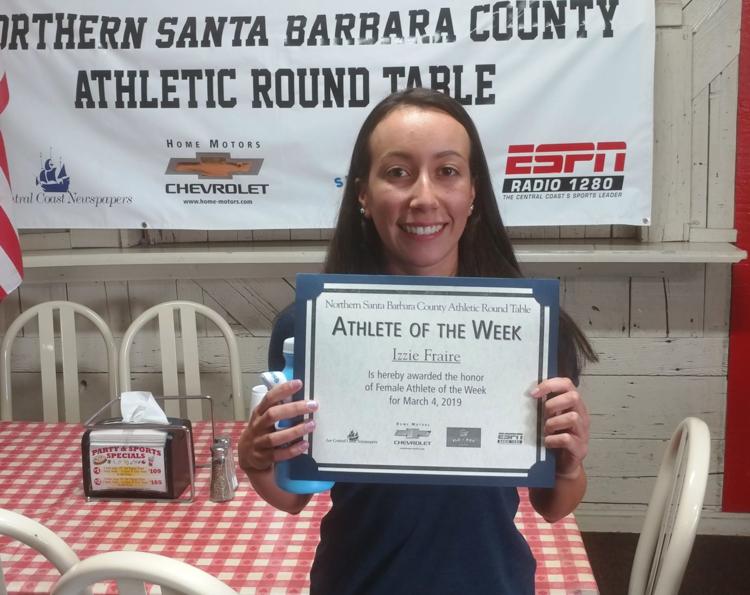 Izzie Fraire of the Hancock College women's swimming team earned the Female Athlete of the Week honor. She swam her way to first place in two individual events: The 200 individual medley (time of 2:16.99) and the 100 breaststroke (1:10.31) during the first of three meets in the Western State Conference last Friday in Ventura College.
Fraire, who is a freshman on the AHC roster, was excited to hear her name being called as the female recipient.
"I was really surprised. I wasn't expecting it but I'm really thankful to have this opportunity," Fraire said.  
Usually, the Bulldogs are saved for last at the Round Table.
But on Monday, AHC went first – as men's basketball head coach Tyson Aye took the microphone to trace back on the season the Bulldogs had, which ended with a 23-7 mark.
Aye spoke highly of his player Jordan, sharing how Jordan will soon leave experiencing the back-to-back 20-win seasons at AHC. Next on stage was Fraire, who introduced her swimming teammates Kailey Roux and Koby Ernst – the latter doubling as AHC student-athlete and coach of the Orcutt Academy swimming teams.
Athletic director Jeff Monteiro went with an all-baseball lineup at the Round Table.
He brought out Vincent Johnson, Anthony Murrillo and Noah Vasquez – who are all transitioning under new head coach Cody Smith.
Dick Barrett spoke on behalf of Braves athletics once again. And this time his lineup was dominated by boys tennis and swim athletes.
On the swimming side, Mark Ainsworth and Jarred Torres were on hand. Anthony Morales and Jeremiah Munoz were the boys tennis honorees from LHS.
The Spartans had a loaded lineup; one that comprised of swimmers, boys tennis and baseball players.
Ernst – again doubling as college swimmer and high school coach – introduced her athletes Ben Luna-Vasquez, Dylan Adams and Jamie Allen. Athletic director Chad McKenzie then spoke on behalf of baseball and boys tennis as he brought out Tyler Zafiris and Connor Adams from the OAHS diamond, followed by Matt Lopez and Troy Fulton from the tennis courts.
Pete Fortier was the chief speaker for Lions athletics, as the athletic director shared updates on the spring sports and had a baseball lineup at the VCA table.
Players Timmy Trenkle and Andrew Sparlin were on hand.
The McNeil sisters Caija and Bianca shared the microphone –as both talked about their Knight swimming teams.
The trio of swimmers representing SJHS: Delilah Boror, Mishila Sotelo and Joshua Stout. Afterwards, St. Joseph baseball player Michael Tackett was the keynote speaker for his sport, introducing pitcher Alex Ontiveros.
Stefanie Vargas took the stage first to deliver updates on the Saints swim teams. She brought out her swimmers Joy LaBelle and Marissa Velasquez.
Then, Brian Wallace helped wrap things up for Saints athletics by speaking for the baseball team. Athletes Brayan Nunez and Tommy Herrera, one of the last remaining members of the 2017 CIF Southern Section champion baseball team, were in attendance for SMHS.
Not present were Cabrillo, RIghetti and Santa Ynez.