In 2013, Zach Torra was an undersized but tough left-handed freshman pitcher at Santa Ynez High School.
Flash forward to 2021, and Torra is an All-American.
The former Pirate, who pitched at Hancock and Cuesta before attending UCSB starting last year, has bounced around, but there's no questioning the promise he has in that left arm.
Torra compiled a 31-5 career record at Santa Ynez, going 11-0 as a sophomore when the Pirates won a CIF Southern Section championship. Torra threw a five-hit complete game with six strikeouts as a sophomore against Sun Valley Village Christian in the Division 5 title game that year, helping the Pirates clinch the championship with a 2-0 win.
The now 6-foot-1, 195-pound hurler put together one of the finest pitching careers this area has ever seen. For his efforts, he's the first nominee for the Times' Player of the Decade contest. There will be 16 nominees announced over the coming weeks. 
Torra started 37 games in a Pirate uniform. He threw complete games in 21 of those starts, with six shutouts. His career ERA: 1.11. 
"For four years, he was unbelievable. He was one of the greatest pitchers in Santa Ynez High School history," Warren Dickey, who was Torra's head coach at Santa Ynez, told the Times last year.
Last year at UCSB, Torra made four starts before the season was canceled amid the coronavirus pandemic. Over his 25 1/3 innings, he compiled a 0.36 ERA and went 3-0. In those innings, he allowed just 11 hits and averaged nearly 14 strikeouts per nine innings, with 39 Ks on the season.
As the clock struck midnight and calendars around the globe finally switched to 2021, most people let out a sigh of relief. 
Torra, who spent a red-shirt year at Santa Barbara City after high school, was a reliable and durable starter at Santa Ynez, throwing nearly 250 innings over three-plus varsity seasons with the Pirates. He allowed just 181 hits while striking out 181 batters. 
Opponents hit just .195 against Torra during his career. His elite control resulted in batters reaching base against him at a rate of .255. 
Torra was the Times' All-Area Pitcher of the Year during his sophomore and junior seasons and earned First Team All-Area recognition as a senior. 
Torra was injured in the final game of his high school career. He left the playoff contest against Woodcrest Christian with an arm injury, which was later diagnosed as an ulnar collateral ligament tear and required Tommy John surgery. Torra has overcome that obstacle and now appears stronger than ever. 
Though no one knew it then, the scene inside Dr. Arthur James Gymnasium on the Arroyo Grande High School campus would soon become a symbol of a different era. The date was March 10, 2020. 
"He was very durable and then it happened," Dickey told former Times reporter and sports editor Elliott Stern in 2020.
"My arm feels good, strong, healthy — that's all I can ask for," Torra said last year.
Collegiate Baseball named Torra a Second Team Preseason All-American heading into the 2021 campaign.
Torra certainly put the work in to get where he's now at. He did not have the prototypical build of an ace. Top collegiate and professional pitchers are typically 6-foot-3, or 6-foot-4 and at least 220 pounds.
"Physically, he's changed," Dickey told Stern last year. "He's changed his lifestyle, workout, diet — he's all in. He's doing all the work necessary, focused on the next level."
"Zach threw a lot for Cuesta (in 2019). He had a nice year," UCSB coach Andrew Checketts said. "We watched him and got to see that he works hard, he's a diligent worker. He's adjusted to Division I ball and has been throwing really well. He's had a good fastball and landed his breaking ball when he needed it. He's done a really nice job of moving the ball around."
Player of the Decade: Boys Basketball
No. 1 Cameron Walker vs. No. 16 Bryan Smith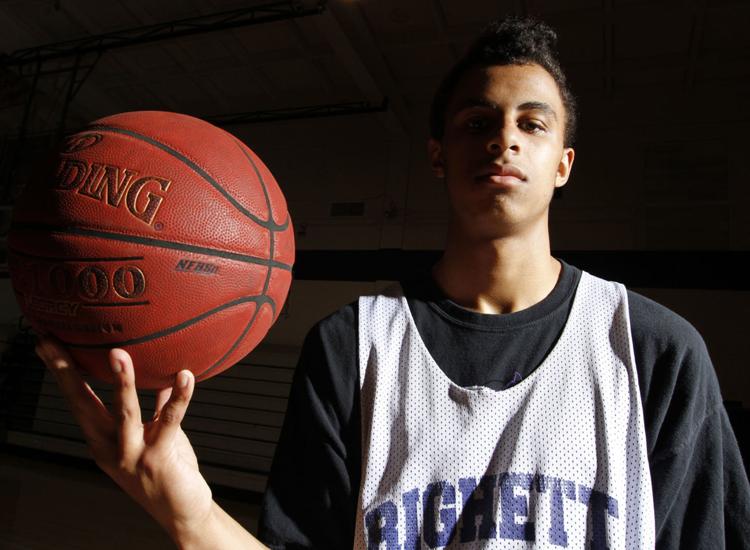 Walker faces Arroyo Grande grad Bryan Smith, the No. 16 seed, in the first round. 
Walker was named All-Area MVP in his sophomore and senior seasons and All-Area co-MVP in 2014, his junior year. Kevin Barbarick, currently Righetti's athletic director, coached Walker all four years he was on the varsity team with the Warriors. Barbarick has decades of coaching experience.
"Cameron is the best I've ever coached," Barbarick once said. "And he has handled everything with such class. Cameron is so humble. He's a good person."
Walker averaged 21 points and 11-plus rebounds a game as a senior. Walker played all five positions on the floor during his prep career.  He averaged 22 points and 12 rebounds a game as a junior, splitting the All-Area MVP award with Cabrillo's Chad Brodhead. 
He played for Stanford for two seasons before medically retiring.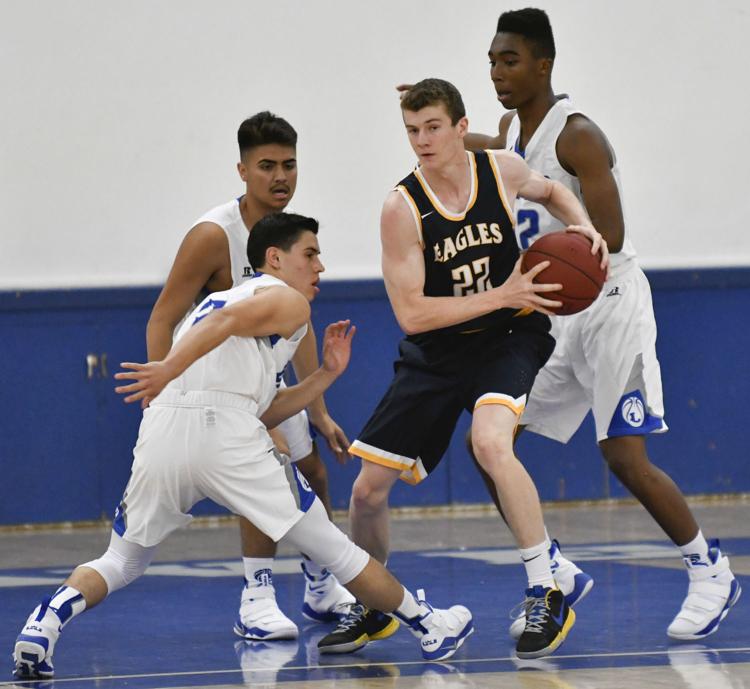 Smith, currently a sophomore walk-on on the men's basketball team at Samford University in Alabama, was a two-year starter and was named the Mountain League's MVP as a senior in the 2018-19 season.
Smith helped the Eagles to the Mountain League title as a senior. He averaged 18 points in league play and 22 points per game in the CIF playoffs. For his senior season, the 6-foot-4 guard averaged 5.8 rebound a game and shot 58% from the floor and 40% from 3-point range, connecting on 76% of his free throws.
No. 2 Quinton Adlesh vs. No. 15 Aaron Abayari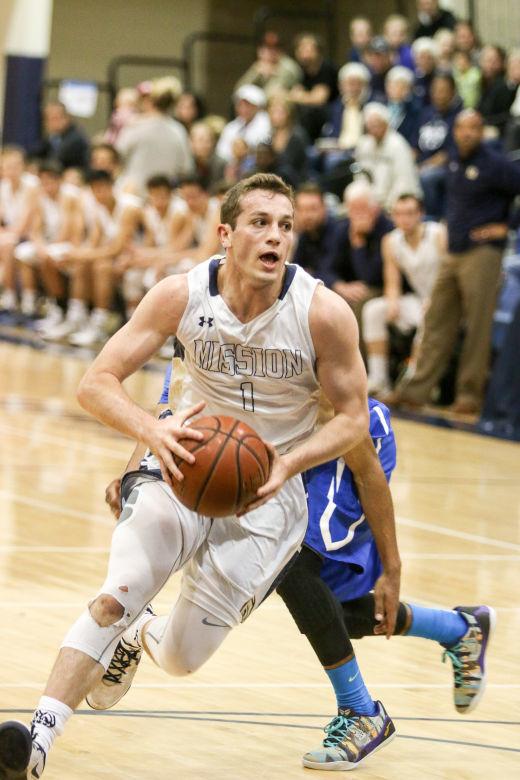 After breaking into the varsity rotation as a freshman at Mission Prep, Adlesh went on to score nearly 2,000 points (1,958) over four seasons, leading the Royals to a PAC 8 League championship and nearly 100 total wins. 
As a senior in the 2014-15 high school season, Adlesh averaged 19 points, 6.5 rebounds and 2.5 steals. The Royals went 25-7 that year, 13-1 in the PAC 8, and lost to Encino Crespi 61-52 in the CIF Southern Section Division 4AA title game. The Royals went 22-0 vs. San Luis Obispo County competition during Adlesh's four years at Mission Prep. The Royals went 99-27 in that same span.
"Quinton is amongst the best this county has ever seen," Terrance Harris, Mission Prep's longtime coach, said of Adlesh. "His work ethic and drive to compete made him a very special player. Every year, Q added to his repertoire. He was relentless in pursuit of excellence. Not only was he a phenomenal player, but he made the players around him better. He certainly raised the bar for not only our program, but the area."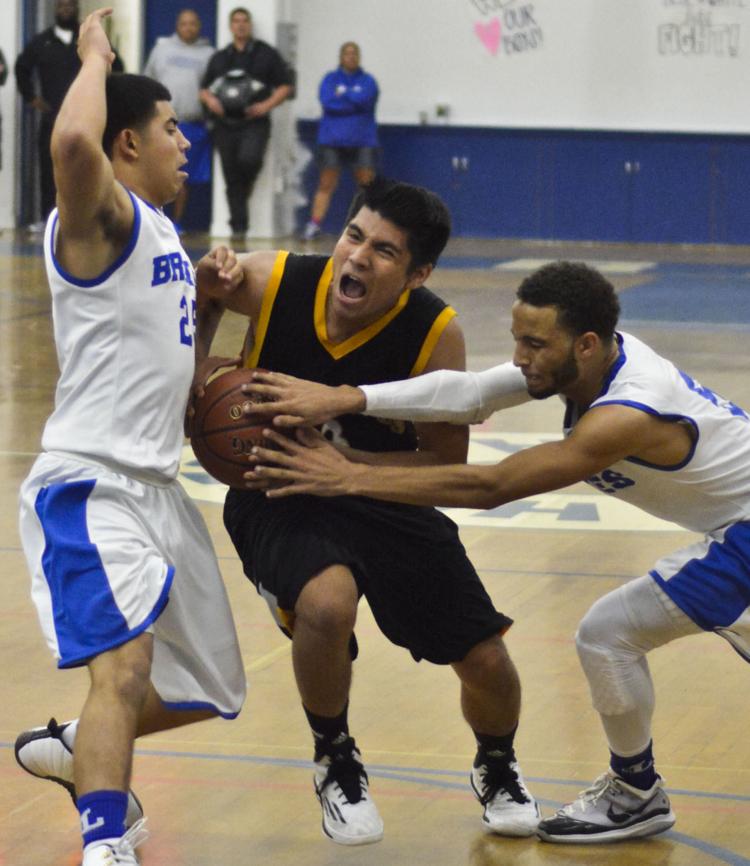 Adlesh goes up against Aaron Abayari, a Cabrillo High grad. The shooting guard averaged 25.4 points a game as he led the Conqs to their fourth consecutive Los Padres League championship in the 2014-15 season. He was the LPL MVP that year.
Former Cabrillo coach Gary West summed up Abayari's playing style like this: "For a 5-foot-9 Filipino boy, Aaron has got more heart than anybody I've coached. He does things that he's not supposed to do at his size, but he puts the ball in the basket, and he just plays hard, he just goes."
No. 3 JoJo Walker vs. No. 14 Ryan McGready
Walker faces former Righetti standout Ryan McGready in a battle of cross-town rivals. 
Walker earned the Times' All-Area MVP award in 2016 after helping the Knights win a CIF Southern Section championship. He was named the CIF divisional Player of the Year in 2016 as the Knights captured a school record 31 wins. 
Despite playing only three seasons at St. Joseph, Walker scored a 1,867 points in 93 career games, averaging just over 20 points a game. 
As a senior, he averaged 23.4 points, 3.6 rebounds, 7.7 assists and 2.1 steals per game.
McGready, a 6-foot-5 post player, led the Warriors to the CIF-SS Division 2AA title game in 2012. He helped the Warriors go 25-6 and make the CIF-SS divisional final, where they lost to Mayfair.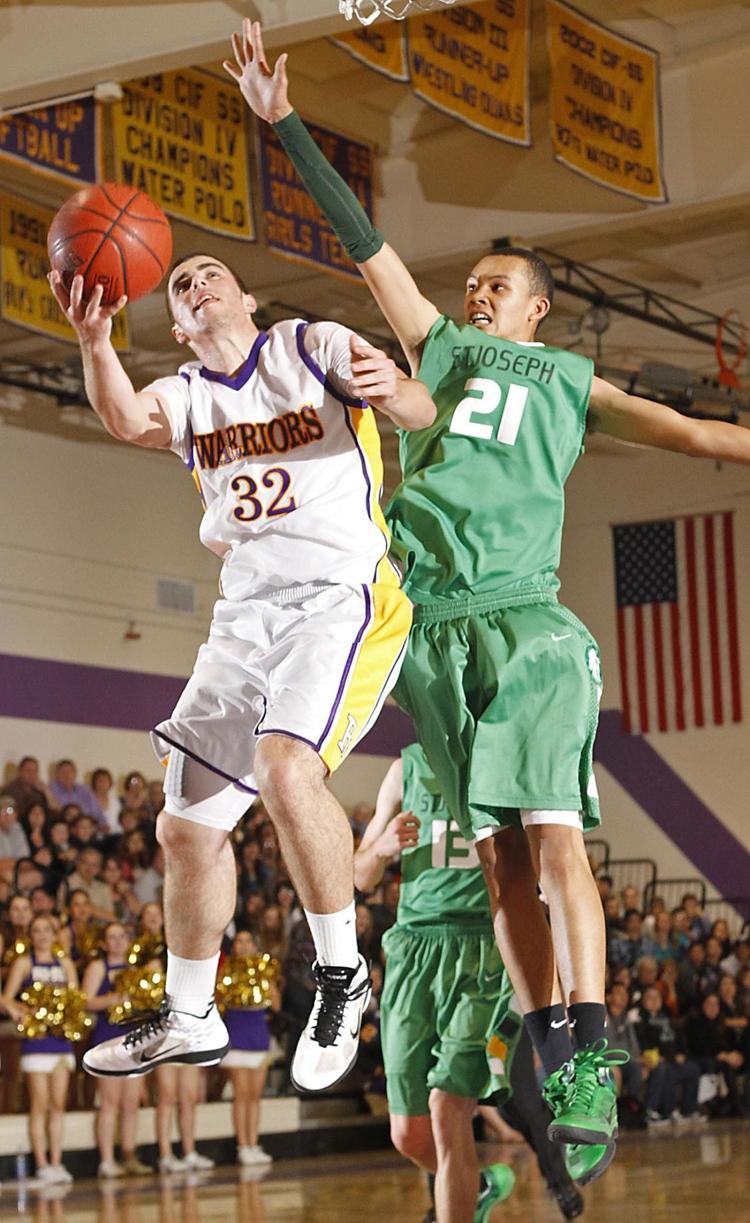 The Warriors also made the state tournament that year as McGready led the team in scoring and rebounding. McGready led the Warriors with 12 points in their 60-45 loss to Mayfair in the CIF title game.
No. 4 Brent VanderVeen vs. No. 13 David Terrones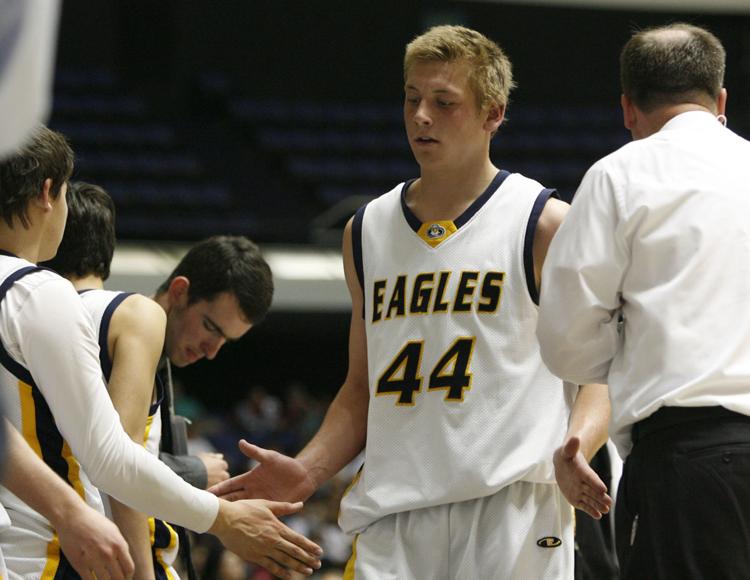 No. 4 VanderVeen faces No. 13 seed David Terrones in the first round.
VanderVeen may have been known more for his football exploits at Arroyo Grande, but his seminal senior hoops season at AGHS shouldn't be overlooked. 
After leading the Eagle football team to a CIF title, VanderVeen carried the Eagles to the CIF Southern Section Division 3AAA title game as a senior in the 2011-12 season, just months later.
Arroyo Grande eventually lost to Pasadena in the CIF final that year, but VanderVeen took home a slew of awards, including being named the Times' All-Area MVP and the SLO County Player of the Year.
VanderVeen scored 16.3 points a game, adding 13.4 rebounds, during his senior season. He played 19 games that year after leading the Eagle football team to a 13-1 record at quarterback. During that following basketball season, VanderVeen helped the Eagles to a 15-game win streak, a rare league title (ending an 11-year drought) and their first CIF final since 1970.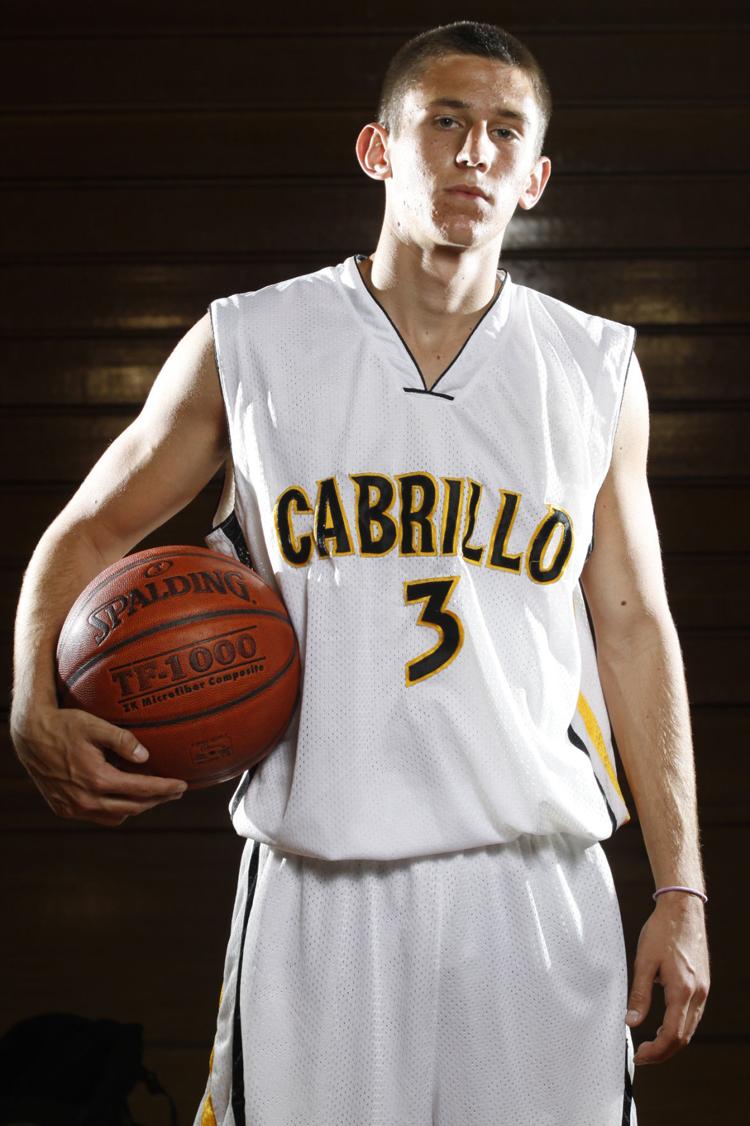 Terrones helped Cabrillo to a remarkable turnaround during the 2009-10 season. After going 9-18 overall and 3-9 in the Los Padres League the year prior, Terrones and the Conquistadores won the LPL title with a perfect 12-0 mark. They finished 21-6 overall.
Terrones, a point guard, led Cabrillo in points (20.6 per game), assists (6.7) and steals (4.2) that year. He was named All-Area MVP in 2010.
No. 5 LeAndrew Knight vs. No. 12 Gabrys Sadaunykas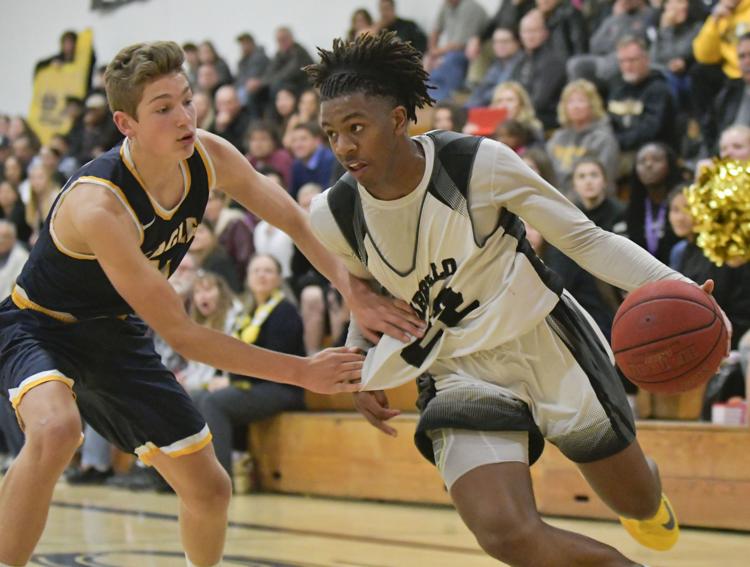 Cabrillo grad LeAndrew Knight is the No. 5 seed. He faces form St. Joseph standout Gabrys Sadaunykas in the first round. 
Knight helped Cabrillo win four straight Los Padres League titles, going 55-1 in league games during his four seasons at CHS. The lone loss was a 67-57 defeat to rival Lompoc. 
Knight was named the Times' All-Area MVP in 2017 and was the All-Area Offensive Player of the Year in 2018. He topped 1,000 points in his career and was named the LPL MVP in back-to-back seasons.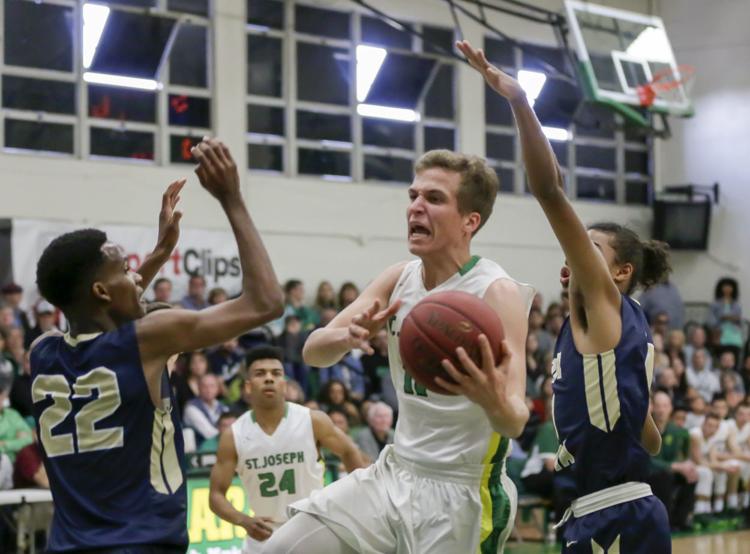 Sadaunykas, a native of Vilnius, Lithuania, was on the St. Joseph team with Walker that won the CIF title in 2015. 
Sadaunykas averaged 16.2 points, 7.5 rebounds and 3.5 assists that year and earned PAC 8 League MVP honors.
No. 6 Robbie Berwick vs. No. 11 Chad Brodhead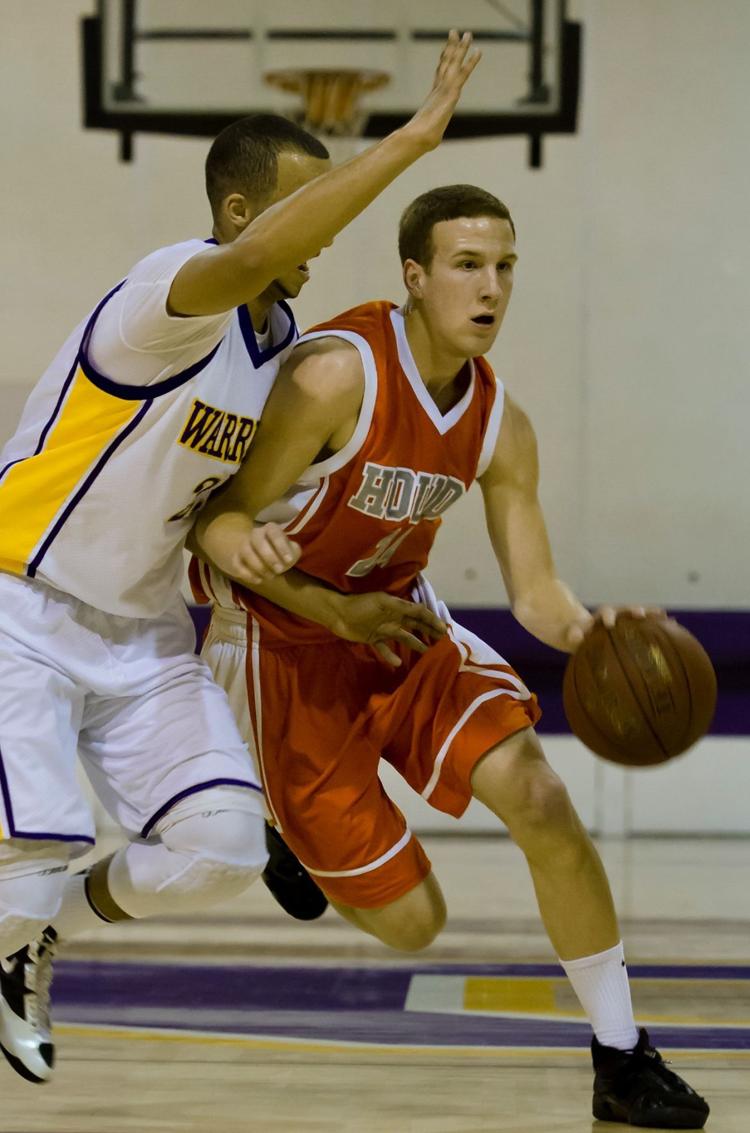 No. 6 seed Robbie Berwick, from Atascadero, faces No. 11 seed Chad Brodhead, a Cabrillo grad. 
Berwick made the rare trip from Atascadero to the ACC, signing with Florida State directly out of high school.
At Atascadero, he scored 1,750 points in four seasons, dishing out 500 assists. He earned the PAC 7 League MVP honor as a junior and senior. The Greyhounds won two PAC 7 titles during Berwick's run in Atascadero. (He also led the 'Hounds to a football league title at QB).
Berwick averaged 15.9 points, 6.5 assists and 4.5 rebounds for his 110-game career at Atascadero. His best season was in the 2013-14 campaign, when Berwick averaged 19.6 points, 4.6 assists and 4.8 rebounds as Atascadero went 24-6 overall and 12-0 in league. (Berwick scored 17.5 points points a game as a junior as the 'Hounds won a league title).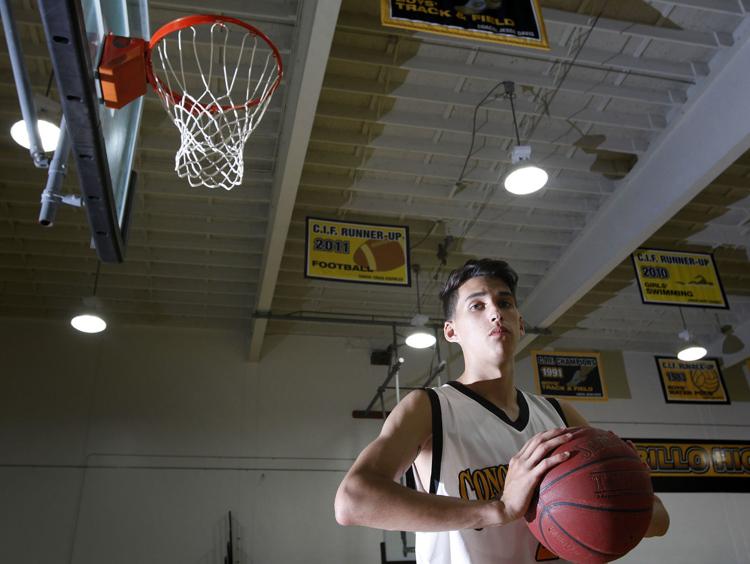 Brodhead was the only player to stop Cameron Walker from earning three straight outright All-Area MVP honors. Brodhead and Walker split the award in the 2013-14 season.
Brodhead averaged 24 points, five rebounds and five steals a game in leading Cabrillo to its third straight Los Padres League title that year. He easily crossed the 1,500-point barrier at Cabrillo, though career stats weren't available. He scored about 700 points during his senior season.
No. 7 Case Bruton vs. No. 10 Gage Gomez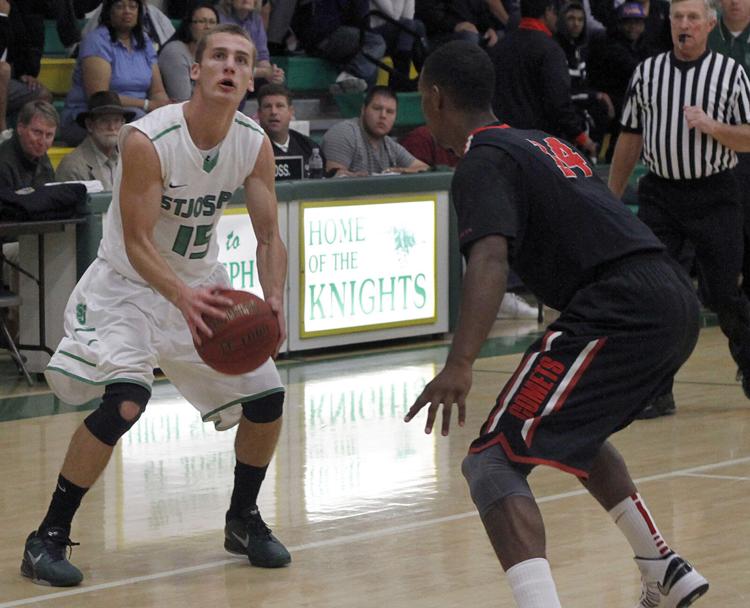 This first-round matchup features two of the area's top shooters from the past 10 seasons as No. 7 seed Case Bruton faces Arroyo Grande grad Gage Gomez, the No. 10 seed.
Bruton put together one of the most impressive offensive careers -- and individual seasons -- with the Knights, scoring nearly 1,300 points in three seasons, including his 675-point campaign as a senior. 
In all, Bruton, who played his freshman season at Morro Bay, put up 1,593 points in four years of high school, averaging 15.3 points per game. 
As a senior in the 2012-13 season, Bruton averaged 21.1 points per game as the Knights went 23-9. Bruton helped the Knights advance to the CIF Southern Section Division 4A semifinals and a state playoff win that year.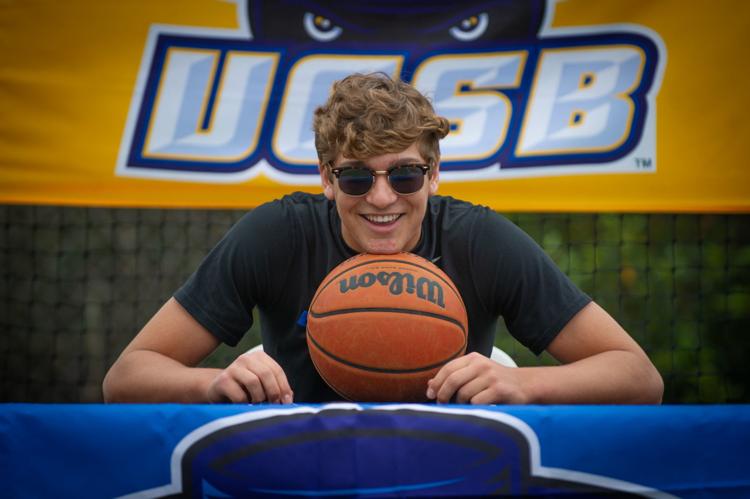 Gomez is a freshman walk-on at UCSB after graduating in 2020. He was one win away from leading his school to its first ever state championship before his high school career ended due to the coronavirus pandemic wiping out the rest of the state title games.
He averaged 21 points, 6.7 rebounds, 5.2 assists and 2.2 steals per game as a senior. He knocked down 120 3-point shots during his senior season alone.
No. 8 Matt Willkomm vs. No. 9 Keith Datu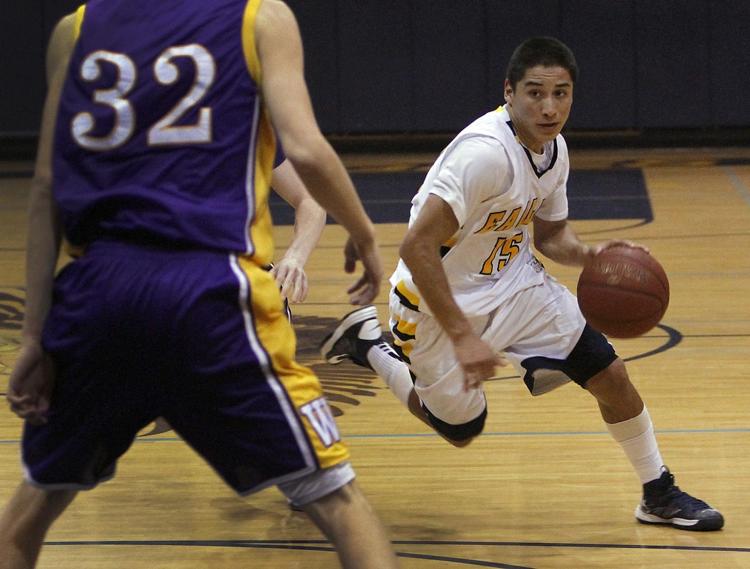 Matt Willkomm, the No. 8 seed, squares off with St. Joseph grad Keith Datu, the No. 9 seed, in the first round.
Willkomm was a dynamic point guard that could either set up the offense or score on his own. He was a junior when the Eagles made the CIF finals with VanderVeen leading the way, then powered AGHS as a senior in 2013-14, averaging 16.4 points over 12 pre-season games. He earned All-Tournament honors at the Harding Invitational, the Jim Bashore Classic and the Eagles' annual Taro Kobara Memorial Tournament, during that run.
Then came the PAC 7 League season. Willkomm took his game up another notch and bumped his scoring average up to 20.4 points in the 10 league games he played in. Willkomm went on to star at Hancock and Arizona Chrisian.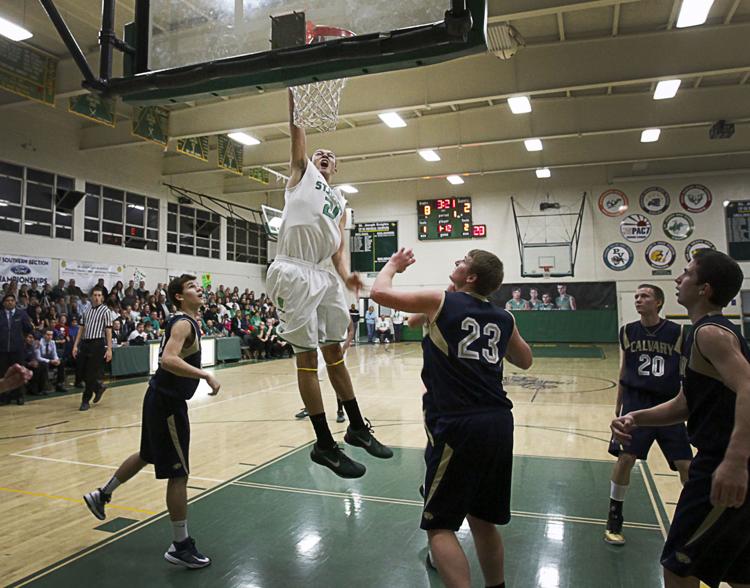 Datu, a 6-foot-7 post, scored nearly 1,500 points in his prep career, adding nearly 1,000 rebounds and over 300 blocks. During his senior season, Datu averaged 19.3 points, 9.5 rebounds and 2.3 blocks a game. 
Datu played in 118 games as a Knight, scoring 1,448 points with 935 rebounds and 305 blocks, adding 75 assists and 73 steals. 
Hunter Barnhart drafted by Tampa Bay Rays
The Rays went on to play in the World Series, which they lost to the LA Dodgers, just months after selecting St. Joseph grad Hunter Barnhart in the third round of the MLB Draft in June.
Barnhart eventually signed with the Rays weeks later. The Paso Robles native was selected with the 96th overall pick.
The right-hander had 18 strikeouts in 11 innings with a 0.64 ERA, making a pair of starts in a shortened spring season. Scouts filled the backstop bleachers at all of Barnhart's pitching performances during this truncated spring season.
Barnhart became the second St. Joseph baseball player to be drafted out of high school, joining Bill Simas (1990). Dustin Kelly was drafted out of Cuesta College by the Red Sox in the 15th round in 2004. Former Knight Doug Bernier made the majors after being undrafted. 
Desiree Hitch tops 100 career wins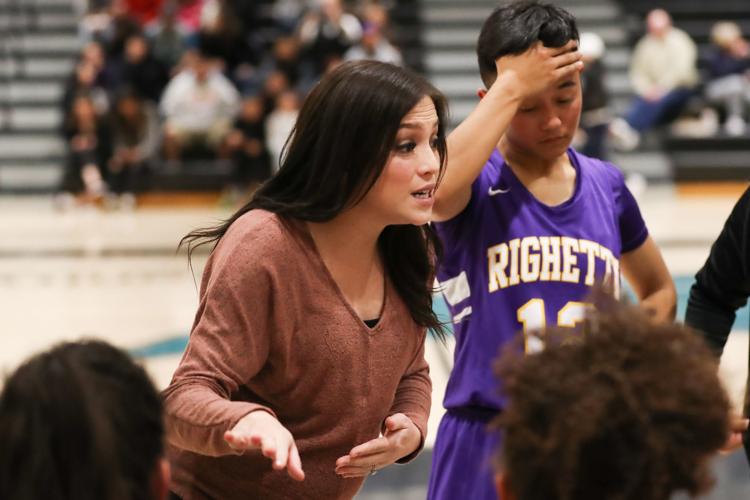 Very early in 2020, Righetti girls basketball coach Desiree Hitch passed the 100 career win mark. She achieved that milestone on Jan. 3, 2020 with a Friday night win over Mission Prep.
"I've been very fortunate to coach players like Zane Sheckherd, Ashley Reynoso, Danita Estorga, Alijah Paquet," Hitch said after the Warriors rallied for a 61-57 Mountain League win at crosstown rival Pioneer Valley, notching her 101st career win on Jan. 4.
Hitch and the Warriors went on to win a Mountain League title and make the CIF semifinals. Hitch did all that while expecting her first child, which was delivered not long after the season.
Desiree Hitch raced past the century mark as Righetti's girls basketball coach. She earned her 100th coaching win at Righetti when the Warriors won 55-40 at Mission Prep Friday night, then got her 101st career win the following night in a 61-57 win over Pioneer Valley. 
Eagles make deep state playoff run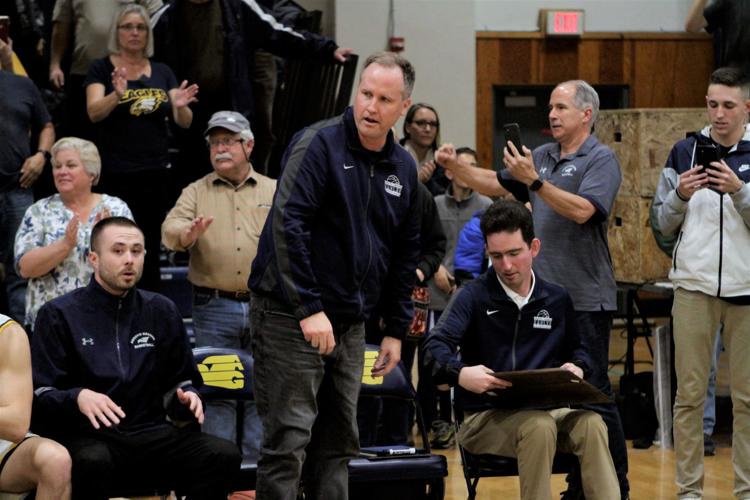 Arroyo Grande's boys basketball team had a state title in its grasp before the pandemic forced the cancellation of all the state's CIF championship games in March. 
The Eagles won a Mountain League title behind the play of Gage Gomez, Robert Hutchens, Connor Angle and Michael Atherton. They were then selected for the CIF Central Section Open Division playoffs, where they lost to Clovis West in the semifinals.
They were moved on to the state playoffs and won five regional games, concluding with a 79-69 win over Burbank Providence. The Eagles were supposed to play Albany St. Mary's for the state championship in Sacramento three days later, on March 13. The entire slate of state games were canceled a day before the Eagles were set to play in their game. 
The team was later featured on ESPN's SportsCenter, which highlighted teams affected by the pandemic.
Scott Van Pelt, the longtime ESPN anchor who hosts the popular late-night edition of SportsCenter, has spent the past few nights highlighting high school or college teams and athletes who have had their seasons or careers impacted by the coronavirus pandemic. He picked up the Eagles' story Tuesday night.
It wasn't supposed to be this easy, but the Eagles have made a habit of making difficult tasks appear effortless. 
Spartans cherish historic season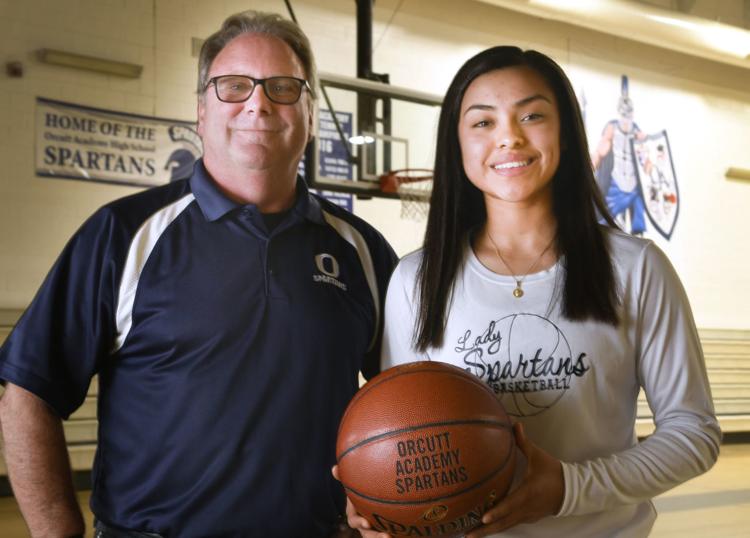 Meanwhile, the Orcutt Academy girls basketball team enjoyed its most successful season in its history, winning an Ocean League title and advancing to the CIF semifinals, where the Spartans lost to eventual CIF champ Caruthers. 
Tom Robb was named the All-Area Coach of the Year and standout sophomore Giselle Calderon was voted the Defensive Player of the Year. 
"My first year here, we won one league game," Robb said back in February. "My second year, we won two. The next year, we finished third (behind Ocean League co-champs Pioneer Valley and Nipomo). This year we won the Ocean League championship."
In addition to averaging 5 steals a game, Calderon also averaged 14 points a game for the Ocean League champs (10-0 in league games), made 74 percent of her free throws and was pretty adept at running an offense. She averaged as many assists a game as she did steals.
Robb's team got that first girls basketball league title in school history by rolling through a 10-0 league campaign. Orcutt finished 24-5 overall.
Lompoc High girls soccer team wins league title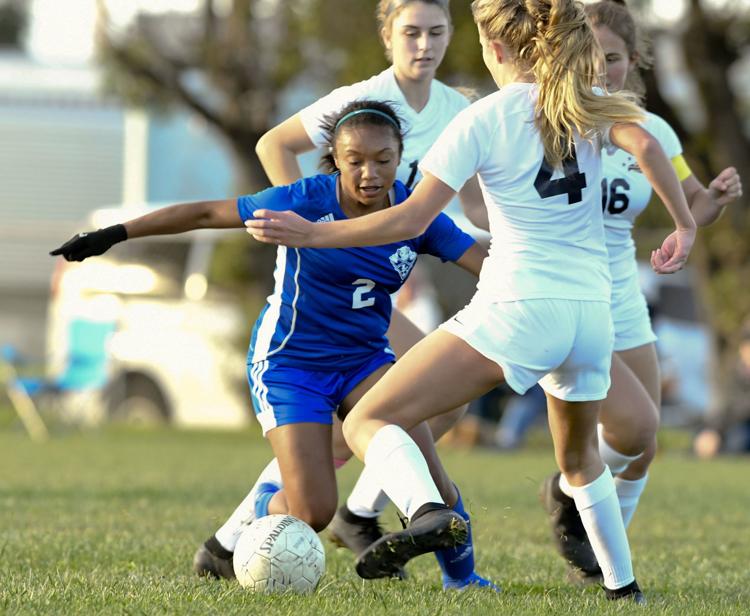 The Lompoc High girls soccer team also had a memorable season, winning the Channel League title behind the stellar play of Ayziah Simmons, who was voted the All-Area MVP. 
The Braves went 6-1-3 in league games.
On the season, Simmons scored 18 goals in 16 games for the Braves and also dished out six assists. Lompoc won the league title as Simmons scored 10 goals in 10 league games with one assist.
For her efforts, Simmons has been voted the All-Area MVP by the sports staff at the Santa Maria Times, Lompoc Record and Santa Ynez Valley News. On the season, she scored 18 goals in 16 games for the Braves and also dished out six assists. Lompoc won the league title as Simmons scored 10 goals in 10 league games with one assist.
Hancock women make playoffs despite being short-handed
The Hancock women's basketball team carried six players most of the season. The Bulldogs still made it to the California Community College Athletic Association (CCCAA) Southern California women's basketball regional.
Despite only having six healthy players for much of the season, the Hancock women's basketball team still made the CCCAA playoffs.
"I've had small rosters before," coach Cary Nerelli told the Times early in 2020. "But nothing like this."
The Bulldogs actually had five players during one game. Point guard Aryanna Gonzales was out for that one with an injured ankle. The Bulldogs finished 14-16 despite those obstacles.
For all of his success, Nerelli was inducted into the CIF Southern Section Hall of Fame in 2014 and then the Northern Santa Barbara County Hall of Fame in 2018.
Santa Maria girls wrestling wins Masters
The Saints had a remarkable 2020. They won an area meet, the Central California Athletic Association meet, the regional meet and at the Masters. 
Santa Maria athletic director Brian Wallace said it was the school's first girls CIF championship since the Saints girls basketball team won a title in 1975.
Santa Maria senior Mariana Tello advanced to the CIF State Tournament, as did teammate Jennifer Lopez. 
Santa Maria High School has the top girls wrestling program in the Central Section.
PVHS boys wrestling takes CIF championship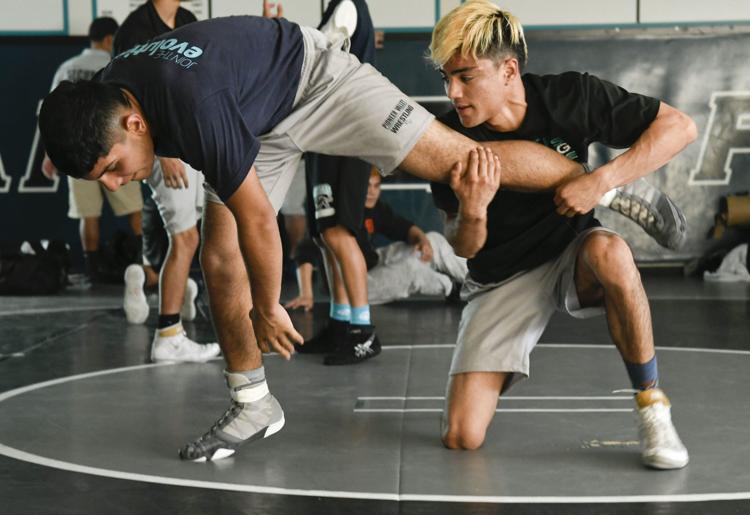 The school across town also had some wrestling success in 2020 as Pioneer Valley's boys took their divisional title.
The Panthers edged Porterville Monache 183-181.5 at Madera South High School to win the CIF Central Section Division 2 championship in February. 
Jacob Velasquez, Giovanni Castaneda, Juan Orozco, Alejandro Zepeda and Vicente Wilson all had key finishes to help the Panthers claim the title. Andy Ojeda (134 pounds) and Eric Guerra (152) finished fourth in their weight classes. The Panthers' Adrian Salazar finished eighth at 160.
Righetti sophomore Dominic Mendez makes state semis
One wrestler also had a stellar individual postseason. Righetti sophomore Dominic Mendez earned league MVP honors and advanced to the state semifinals.
Mendez finished in fourth place at 108 pounds in the state tournament at Mechanics Bank Arena in Bakersfield.
He was also the Mountain League champion at 108 pounds and won at the CIT meet at Morro Bay early in 2020.
Be the first to know
Get local news delivered to your inbox!