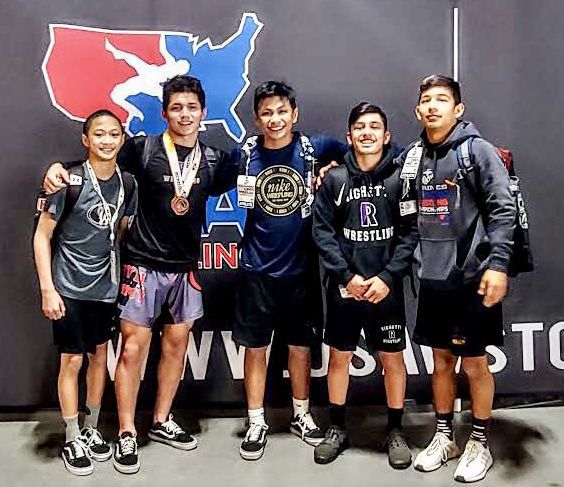 Rodriguez placed third in the Freestyle competition and fourth in Greco Roman at 152 pounds. Mendez had an injury default in the Freestyle semis at 106 and finished sixth.
Josh Rodriguez has done just fine as a Folkstyle wrestler. In fact, he was a decorated Folkstyle wrestler at Righetti High School, winning at …
Other Marvel Wrestling Academy regional qualifiers were Jeremy Oani, Jason Bautista, Aaron Ibarra and Luke Guerrero.
Oani won the state freestyle championship at 94 pounds at the state competition that took place April 13 and 14 at Fresno. Mendez won the state championship in the 106-pound Junior Division and was the runner-up in the Cadet Division.
Rodriguez won the state championship at 160 pounds in the Cadet Division and finished sixth in the Junior Division. Guerrero finished eighth at 152 pounds in the Cadet Division.
Josh Rodriguez, Matt's older brother, went 3-2 at the U.S. Open in Las Vegas and will compete at the World Trials in May. 
CIF Southern Section playoffs set
You have free articles remaining.
The CIF Southern Section released its playoff pairings for the softball and baseball postseason Monday morning.
Lompoc, Cabrillo, Santa Ynez, VCA and Dunn are the area schools that remained in the Southern Section after most SLO and Santa Barbara county schools left for the Central Section.
Lompoc was the lone former Los Padres League team that's now in the Channel League to make the postseason. The Braves (11-12) host Ventura (13-11) in a CIF-SS Division 4 wild card game Wednesday at 3:15 p.m.
Dunn, the Coast Valley League team that is riding a 14-game win streak, is the No. 2 seed in the Division 5 bracket at 18-3 overall. The Earwigs host a first-round game Thursday against Palmdale Knight. 
Valley Christian Academy finished second in the CVL. The Lions play at Santa Monica Pacific Christian on Thursday in a Division 7 first-round game.
On the softball side, Santa Ynez made the CIF-SS Division 5 playoffs as the second-place team out of the Channel League. The Pirates play at Louisville in the first round Thursday. Louisville will host Santa Ynez at its off-campus field located at Encino Franklin Fields – 17301 W. Oxnard St. in Encino.
In Division 7, Valley Christian will host Rio Hondo Prep on Thursday in a first-round game. The Lions are the top seed out of the CVL. Rio Hondo made the playoffs as an at-large team out of the Prep League.
In the boys volleyball playoffs, San Luis Obispo Classical Academy hosts a first-round match in Division 6 against Holy Martyrs while Dunn is at Brethren Christian. Those matches are Tuesday.