Jeremy Hicks ignited Cabrillo boys basketball with two transition layups from long-range lobs, then Eddy Little banked the 3-pointer that got the crowd to their feet late in the fourth quarter.
But with one second left and following a CHS rebound and final heave to the hoop, San Marcos escaped from Vandenberg Village with a 50-49 road win over the Conquistadores on Thursday.
The last attempt by Blake Beecher fell short and bounced near the CHS student section and cheerleaders, leading to the Conqs' fifth loss in their last six games.
San Marcos went on to sweep the boys basketball season series against Cabrillo – and capped the Conquistadores' first losing season since the 2010-11 campaign. Cabrillo's season ends at 9-18 overall and 3-7 in its first year as a Channel League member for boys basketball.
Before this season, CHS had a streak of seven consecutive seasons of producing a winning mark above .500 – which included seven straight Los Padres League championships. Now, it's only the third time since the 2005-06 basketball season that the Conqs will end the year with nine victories.  
But after the excruciating last-second loss to last season's Channel League champions, there was no lamenting or disgust from CHS head coach C.J. Simmons. His final message to his team was this: Play hard and finish the year strong.
Simmons left the CHS sidelines pleased with the grit of the Conqs in their season finale.
"It was more about just finishing strong and playing with heart and pride," Simmons said. "This season was, obviously, not as expected. But my boys never stopped fighting. Every day they wanted to get better. Every day they challenged each other. But with a young, inexperienced team, inconsistencies happen. But I couldn't be more proud."
Cabrillo fell behind early 6-0, especially following an alley-oop slam dunk on the Royals' side that energized the SMHS bench. But CHS didn't take long to respond – going on a 5-0 run to cut the lead to 6-5.
Hicks and Blake Beecher were two Conqs largely responsible for keeping the home team in the contest during the first. Then in the second, Alec Brown swished a 3-pointer to start the quarter.
Cabrillo took its first lead at 18-17 late in the second behind the play of Brown, Hicks and Reggie Orr; the latter often throwing his body inside to draw contact and head to the foul line. San Marcos ended the first half leading 28-25.
From there, the game stayed neck-and-neck throughout the evening. Eddy Little buried an early 3-pointer to start the third quarter and tie it 28-all. Then, Hicks completed the underhanded layup and foul. San Marcos, though, would outscore CHS 9-3 for the remainder of the third quarter until Anthony Lopez nailed a right side jumper to make it 37-36 in favor of SMHS.
The fourth saw the Conqs show whatever remaining ounce of energy they had left – and turned to Hicks to reignite the home team and cut the lead to 46-45.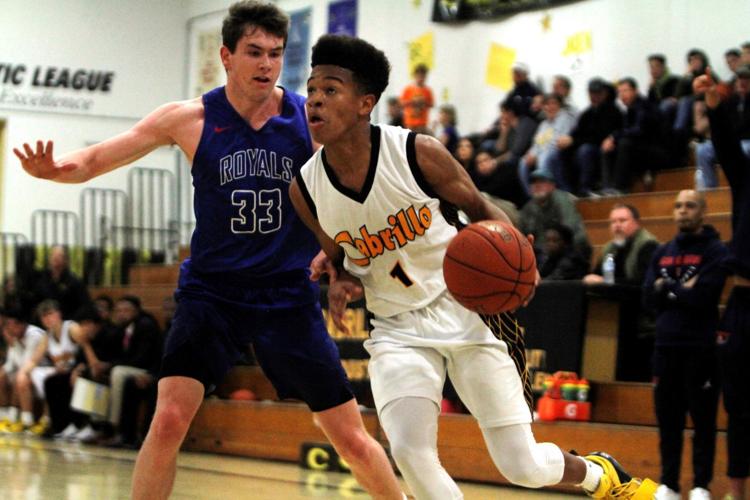 But in the end, San Marcos never crumbled in front of the CHS brass and in front of its sidelines, picking up its 14th victory of the season and solidifying second place in league standings.
Again, Simmons praised the resiliency of his team, plus added his praise for the Royals who were guided by new head coach Jelani Hicks.
"They never stopped fighting," Simmons said of his team. "San Marcos is very well coached and they have some pretty good athletes. Jelani has done a really good job with those guys. And it's his first year, so I'm happy he's had a successful first year and I'll be following them in the playoffs."
Looking ahead, Simmons will aim to improve the consistency inside the CHS gym.
 "We just need to be more consistent day in and day out. Mainly doing all the little things that can help you get the win. We'll emphasize that a lot," Simmons said.
Hicks and Beecher led the Conqs with 12 points. Orr added 10 while Little finished his night with six points.
Santa Barbara 69, Lompoc 45
Lompoc ends its season by falling to the undefeated Channel League champion Dons. 
Dominic Ballesteros led LHS with 13 points. Ryan Morgan chipped in 12 points. Collin Oestereich had 10. 
Lompoc ends its season 12-15 overall and 2-8 in the C.L. 
Orcutt Academy 4, Morro Bay 0
The Spartans' offense clicked into high gear, and Orcutt blanked the Pirates in an Ocean League game.
Tyler Zafiris, on a through ball from Josiah DeBruno, beat the charging Morro Bay goalkeeper from 16 yards out for the first goal. Thaddeus Freeborn backwheeled an aerial ball between two defenders to Hayden Mathieu who fired a shot in for the second.
Kaden Bennett volleyed in a pass from Max Daniels for the third goal. Micah Rauscher scored off a short diagonal pass from Alex Sutton for the last one.