Santa Ynez girls basketball still has control of the top of the Channel League.
And the Pirates swept the Cabrillo Conquistadores to get there – a first since the 2011-12 season after edging the home team 26-21 on Thursday night.
Pirates head coach Jason Finley proudly high-fived his excited players after the game and the varsity girls exchanged hugs and cheers with the junior varsity members – realizing they just won both regular season contests against CHS after enduring six straight seasons of getting swept by the Conqs.
And the win extended the Pirates' lead in the race for the C.L title at 5-1 in league games. But for Finley, it's his first experience of coaching the Pirates (12-10) to a regular season sweep of the Conqs.
"It's a great feeling. I'm really happy for my seniors especially because they've never had a victory (against Cabrillo). And to get two of them, including one at their home, it's huge. It took the whole team," Finley said.
The night, however, included some questionable calls.
Multiple times, Cabrillo and Santa Ynez players chased after loose balls and wound up in scrums on the floor like football players trying to recover a fumble. But fouls weren't called.
Late in the fourth quarter, Cabrillo's top scorer Morgan McIntyre went down hard after drawing contact and grimaced in pain after injuring her neck.
Cabrillo head coach Jared McCune didn't hold back when addressing the game's officiating.
"I thought we played as good as a defense as we played all season. Offensively, we struggled. But I thought it was a poorly officiated game. They let it get too physical and that doesn't play to our strengths. I thought it turned into a rugby match. Every time we went up for a rebound they were diving at us and raking us on the arms – and they didn't call anything," McCune said. "It's disappointing. Our girls work hard and it just got ugly."
As for McIntyre, she had an ice pack wrapped on top of her neck following the game. McCune believes it's soreness from falling down hard and will likely return to action next week.
McCune did offer his praise to Santa Ynez for how the Pirates have performed this season.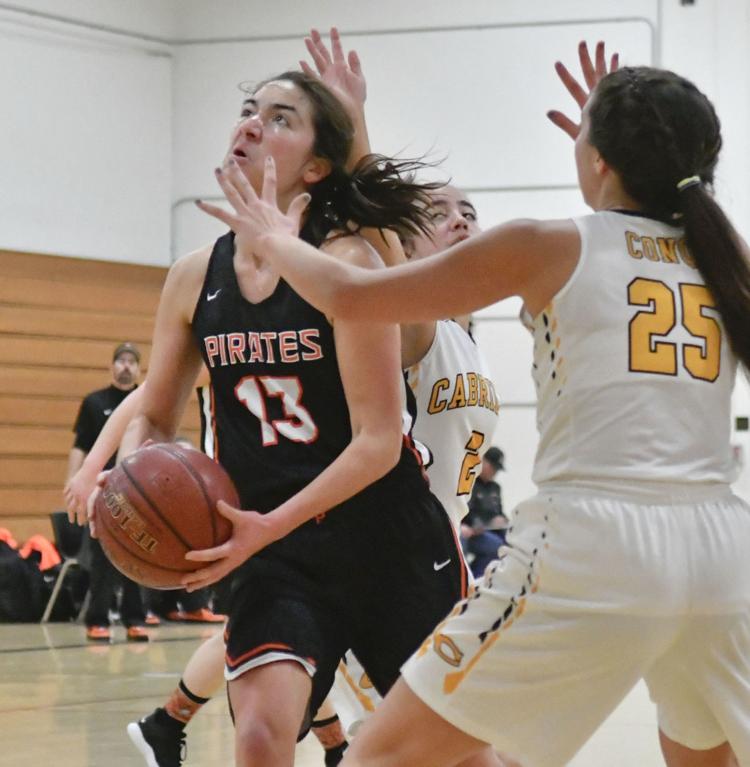 "Santa Ynez is playing great ball and we did some really good things to shut down some of their shooters and try to take away some of their advantages, but ultimately, they took some more shots than us," McCune said. "Kudos to them, they did what they had to do. I just thought it got really physical and they got more size than us – and it played to their advantage in my opinion."
The Pirates struggled with getting top shooting option Malia Loos going, as she was held to zero points. In fact, only three Pirate players filled the scoring stat sheet.
But one of them delivered a stellar shooting and defensive night: Sophomore Grace Padilla.
She used her hustle and hands to steal the basketball four times. She ended the evening by knocking down a crucial 3-pointer that made it 24-21, then concluded the night by hitting both of her final free throw attempts. Finley has relied on her tenacity throughout the season.
"She's the heart and soul," Finley said of Padilla. "She does the dirty work that it takes to get everyone else going. We couldn't do this without her. She's amazing."
Lita Wright (eight points) and Madison Holbrook (six points) were the other Pirates who scored on the evening – as they had to overcome constant double teams that CHS threw at them. Padilla added 12 rebounds and six steals to lead SYHS.
For McCune and Cabrillo, the loss snapped a four-game winning streak and now places CHS at 7-12 overall and 3-3 in the C.L.
"It's hard to bounce back from this," McCune said. "This was an opportunity to put us back in the run for the league championship. Now it's an uphill battle. But all we can do is play the team in front of us and put ourselves in the best position possible, maybe get a playoff berth still and see what happens. But it's a tough one to swallow."
Jesse Jenkins led the fast break attack for Cabrillo. She ended up with five first half points before Santa Ynez held the Conqs to just nine second half points the rest of the night. 
The league-leading Pirates will now have a huge battle against San Marcos on the road at 7 p.m. on Tuesday, which was the team that handed Santa Ynez its only league loss. Cabrillo will aim to redeem itself next Friday by hosting Lompoc at 5:30 p.m.
The Braves moved to the .500 mark of the C.L by defeating the Royals by 18 points on Thursday night.
Mya Mendoza led LHS with 19 points. Kayla Taylor added 11 points. Raya Gonzalez had nine points and Alyssa Grossi finished with eight. 
Boys soccer
The Royals scored the lone goal of the night during the second half.
The Braves' loss dropped their league record to 1-5 overall.
Santa Ynez 4, Cabrillo 0 
The Pirates scored early and late in the win.
In the second minute, Colin Janes found that back of the net with Erik Guerrero providing the assist. 
The Pirates went ahead 2-0 with a goal in the fourth minute from Nico Rocha. Ricky Romero assisted on that goal.
Things were quiet until the 64th minute, when Rocha scored again, with Ricky Romero again assisting. 
The scoring was capped in the 78th minute by a Jonathan Campos goal. Luis Gonzalez assisted.  
Santa Ynez is 3-4 in Channel League play. The Pirates are scheduled to host Dos Pueblos on Jan. 24 in their next game.
Cabrillo is 0-5 in Channel League play. 
Cabrillo and Santa Ynez played to the tie on Thursday night. 
Lauren Pulido, Naomi Wiley and Antoinette Terrones all scored for CHS. Cabrillo led 2-0 and 3-1 before the Pirates rallied back. 
No other stats were made available.