After four tries and four losses, Pioneer Valley finally has a boys basketball victory over Cabrillo.
The Panthers overcame a late CHS surge to prevail 60-53 on Tuesday at the PVHS gym – cementing the programs' first-ever win over the traditional Los Padres League powerhouse.
And Pioneer Valley (3-5 overall) had to respond after a huge 3-point basket that lifted the Conquistadores back in front.
Cabrillo's Eddy Little was wide open at the top corner near the home stands. Little fired his 3-pointer and saw the ball swish through the net – leading to a jumping Cabrillo bench and forcing PVHS to call a timeout.
But instead of going on a vocal tirade, first-year Panthers head coach Ross Rivera instead chose to remain in a calm state of mind – which he said also influenced his players to play with a sense of calm after the huge basket.
"It starts with me on the sidelines and how I act," Rivera said. "When other teams score, the guys tend to look at the sidelines and see how I act and what I'm going to do. So I stay composed, called a timeout and just said, 'Hey, we need to do a little bit better on these certain things.' And we did. We ran the offense, we got some baskets and we made some free throws then a 3-point shot. We've been working on that in practice and it showed."
The run began with Christian Morin trying to draw contact with his defender while near the key. Morin leaned forward while releasing the ball, trying to draw the foul. The awkward looking attempt still got the ball to go inside the hoop – putting the Panthers up 54-53.  
And the Panthers finished the evening by going on an 8-0 run.
Cabrillo has dealt with a tough tournament schedule during a rare 4-8 start. Before Tuesday's contest, every team the Conqs have lost to hold a record above .500 – including teams like Oxnard Santa Clara (currently 12-4), San Luis Obispo (6-1) and former LPL rival Templeton (5-3).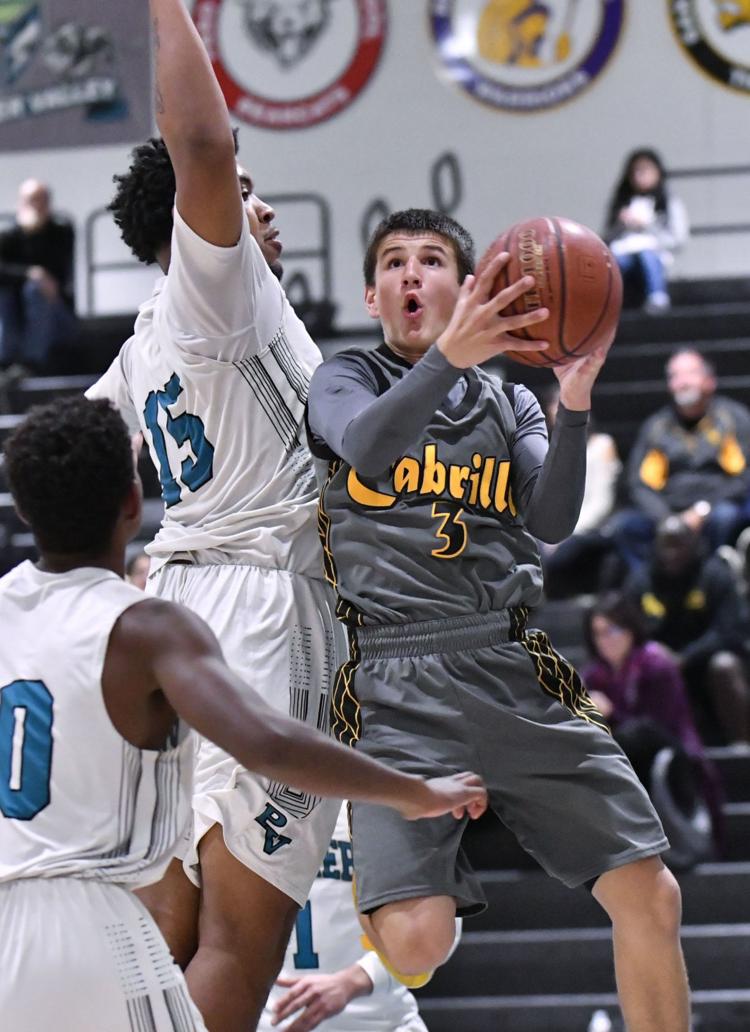 Head coach C.J. Simmons, though, has spent every loss trying to encourage his players that the wins will eventually come – as six of CHS's 12 games have been decided by a margin of eight points or less.
"They handled adversity really well (versus PVHS). They fought back – and that's all I've been asking for," Simmons said. "It's definitely been a slow start, something that we're not familiar with. But every day, we're trying to get better. I do see down the road things turning around for us."
Jeremy Hicks was once again Cabrillo's top scoring marksman with 14 points including two 3-pointers he made during the first quarter. Sophomore Hayden Jory also scored 14 and became a long-range threat behind the 3-point line – connecting on four from near the arc.
Little not only scored 13 points, but also guarded the Panthers' top post presence Jayden Jones, who came with the height advantage at 6-foot-6. Jones ended the evening scoring 14 points including nine free throws.
Elijah Bloodworth added six points for the Panthers. Steven Fuerte, Joe Arriola, Jonathan Magana and recent All-Ocean League football Most Valuable Player Michael Bourbon each hit one three.
Cabrillo's next game was originally set for Wednesday at home against Morro Bay, but CHS athletic director Dan Troup said the game had to be moved due to a scheduling conflict with the Dos Pueblos/Cabrillo wrestling duel set for the same day. Cabrillo beat Morro Bay 65-58 to improve to 5-8 on the season. The Conqs open Channel League play with Tuesday's game against Santa Ynez at home. Tip-off is set for 6:30 p.m.