You need a point guard? LeAndrew Knight can help you out.
Some extra scoring punch is needed? Knight can handle that, too.
Relentless defense? No question. Knight has got you covered. 
The former Cabrillo standout was the ideal perimeter player for four years in Vandenberg. 
At 6-foot-3, he possessed great size for either guard position and the skill-set to pair it with. Knight was consistently tasked with running the offense for Cabrillo, which dominated the Los Padres League under Knight's watch.
But he could just as easily score on his own. Knight was a strong, athletic guard that attacked the paint and developed into a reliable shooter.
With his long arms and strength, Knight could also turn up the intensity on his defense.
Knight's steady production at Cabrillo makes him the first nominee for the Times' Player of the Decade contest. There will be 16 nominees from all of San Luis Obispo County and Northern Santa Barbara County. 
"When I came here my freshman year, I had to figure out the game changed and how it was a lot faster. So I learned a lot and learned how to get in the weight room and hit the gym, so I can compete with these guys," Knight told Lorenzo Reyna of the Lompoc Record in 2017. "Every day since my freshman year, I would come in here early in the morning and afternoon and get myself better…in order to compete with the top athletes from around here."
Knight helped Cabrillo win four straight Los Padres League titles, going 55-1 in league games during his four seasons at CHS. The lone loss was a 67-57 defeat to rival Lompoc. 
"LeAndrew is in here Monday through Saturday at 5 a.m. or after hours. He's just completely dedicated to his craft," former Cabrillo coach CJ Simmons said of Knight, according to Reyna. "He works extremely hard, is a great leader and I've never been around a young kid who was so anxious to be great at something he loves." 
Knight was named the Times' All-Area MVP in 2017 and was the All-Area Offensive Player of the Year in 2018. He topped 1,000 points in his career and was named the LPL MVP in back-to-back seasons. 
Knight was oh-so-close to making deep playoff runs, but saw his team eliminated in heart-breaking fashion each year at Cabrillo. In Knight's sophomore season, the Conqs were eliminated in a 55-53 CIF-SS loss at Palm Springs in the second round of the Division 3A playoffs.
During Knight's junior season (2016-17), Cabrillo lost 61-60 to Santa Fe Springs St. Paul and, as a senior, Arroyo Grande knocked out Cabrillo on a last-second shot in a 47-46 playoff win. 
After graduating from Cabrillo in 2018, Knight has spent the last two years at Santa Monica College. He has reportedly signed to finish up his collegiate career with Cal State San Bernardino.
"LeAndrew has been an amazing addition to our program these past two years. He was a great student at SMC," coach Joshua Thomas said, according to a press release from the school. "...We have to commend him for his team-first mentality. LeAndrew was a starter for us his freshman year and was very accepting of his role as sixth man this year. He was a strong foundation and that comes from his loving family. We know LeAndrew will be a huge success in life and reach his all of his goals. He was a dream to coach, and we are thankful to be a part of his journey."
Knight averaged 10.7 points per game on 55% shooting last year for Santa Monica. He added 5.9 rebounds and 2.5 assists per game. 
The Times is polling current and former coaches to develop its list of nominees for Player of the Decade. The rest of the nominees will be announced before a tournament-style voting contest will be held to determine the girls basketball Player of the Decade. Readers will be able to vote online at santamariatimes.com; lompocrecord.com and syvnews.com. Players from Northern Santa Barbara County and San Luis Obispo County whose final seasons where in between 2009-10 and 2019-20 are eligible.
Player of the Decade Boys Basketball: Get to know the nominees before voting starts
It's almost time to vote in our boys basketball player of the decade poll, have you taken a moment to read about the nominees? Go through this collection of profiles and get ready for the voting.  We have been working to highlight the decade's best players in several different sports over the last few months, and now we continue with boys basketball. We've really enjoyed the level of participation we've had with the football and girls basketball polls, so share these profiles and the contest with your friends to get the word out and support our local athletes.  
Player of the Decade: Infographic
No. 1 Aly Beebe vs. No. 8 Heather Madrigal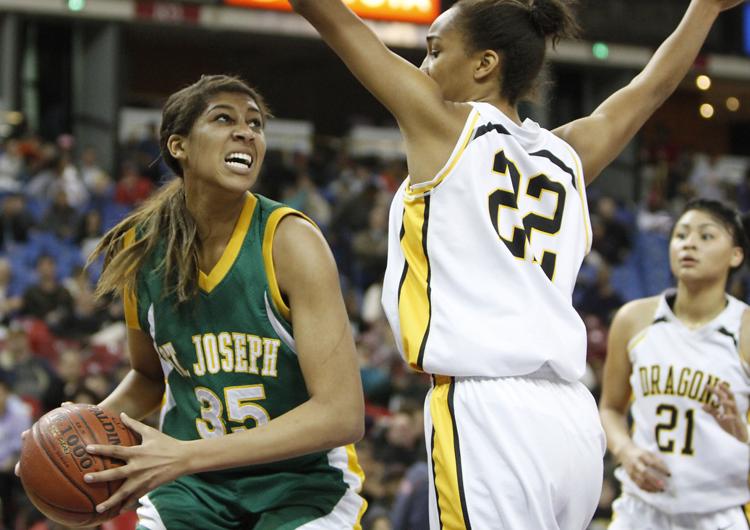 Beebe earned the No. 1 seed after she averaged 20.1 points, 12.5 rebounds, 2.6 steals and 3.4 blocks a game during her junior season. She led the Knights to two CIF Southern Section title and a state title. She missed her senior season with an ACL injury and then signed with Stanford.
Beebe scored 1,423 points in just three seasons and had a legitimate shot at a 2,000-point career.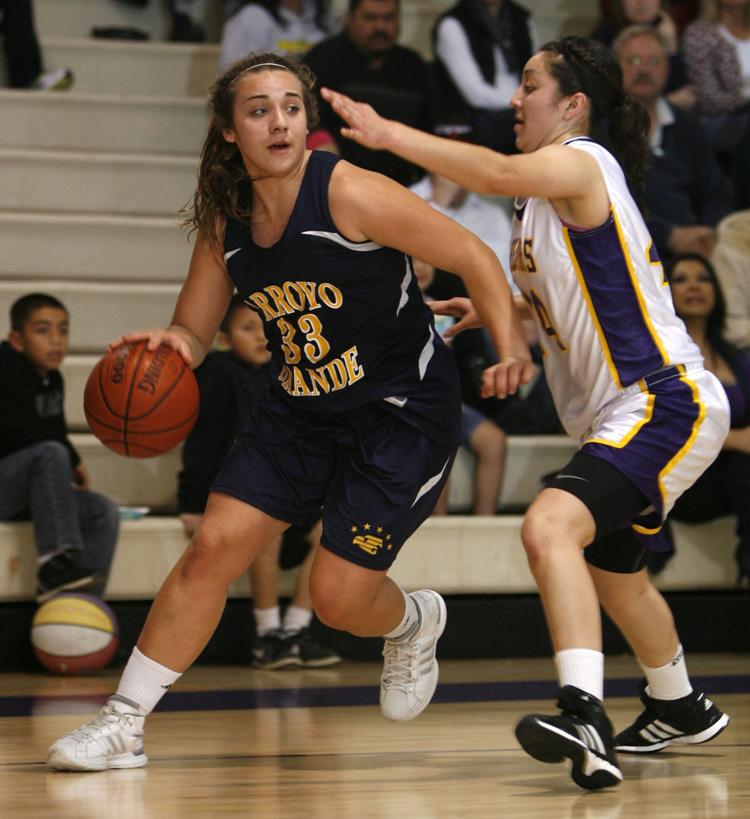 Madrigal was in the same class as Beebe and they spent the first three years of their high school careers together at St. Joseph.
Madrigal then transferred to Arroyo Grande for her senior season and helped the Eagles win their first CIF-SS title in girls basketball in 2011-12. She finished her career with four total CIF titles (Southern Section and state) and a 48-0 mark in league games. She played at Cal Poly. 
No. 2 Ashlyn Herlihy vs. No. 7 Syenna Ramirez
Herlihy, the No. 2 seed will face Ramirez. Herlihy is currently playing at Santa Clara. She earned the Times' All-Area MVP award as a junior and was also the 2016 San Luis Obispo County Player of the Year. She averaged 22 points, 9.7 rebounds, 1.4 steals and 5.5 blocks per game as a senior at Arroyo Grande.
At Santa Clara, Herlihy redshirted in 2016-17 and has grown into a starting role the last two seasons, averaging over 10 points and 7 rebounds a game. Herlihy earned All-West Coast Conference honors the last two years.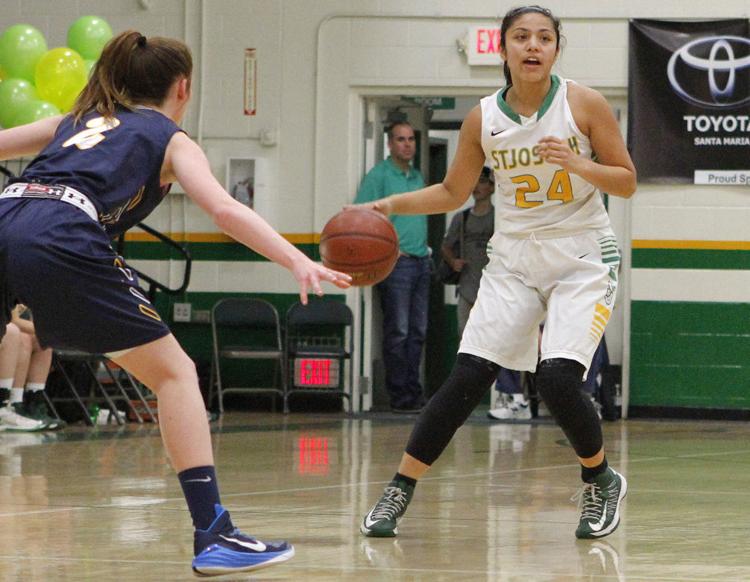 Ramirez scored over 1,300 points in her career.
As a senior, she averaged over 17 points a game and culminated her prep career with a 427-point season. Ramirez starred at Hancock after her St. Joseph days.
No. 3 Kaitlyn Flowers vs. No. 6 Erin Jenkins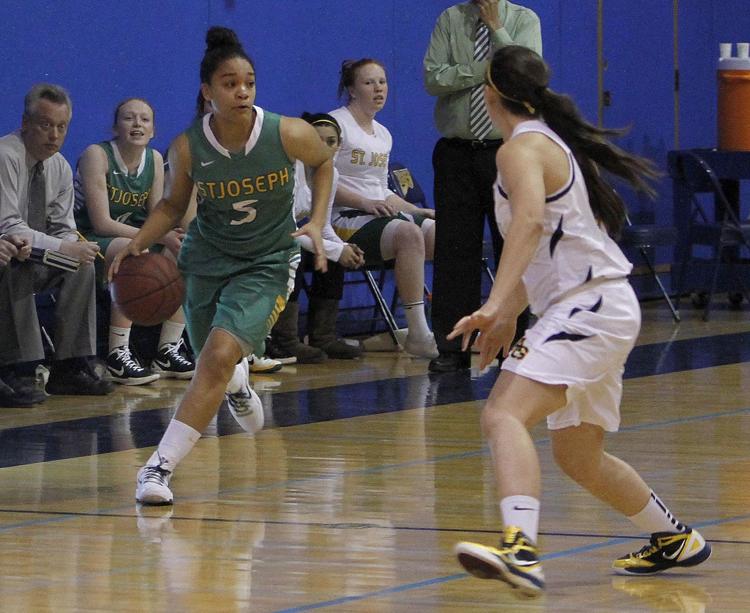 Flowers won a state title at St. Joseph during that 2010-11 season. She would go on to score over 1,400 points in her St. Joseph career while also providing the Knights with elite defense and rebounding. As a senior in the 2013-14 season, she averaged 17.9 points, 7.3 rebounds, 3.7 assists and 4.8 steals per game.
Flowers played at Akron after high school.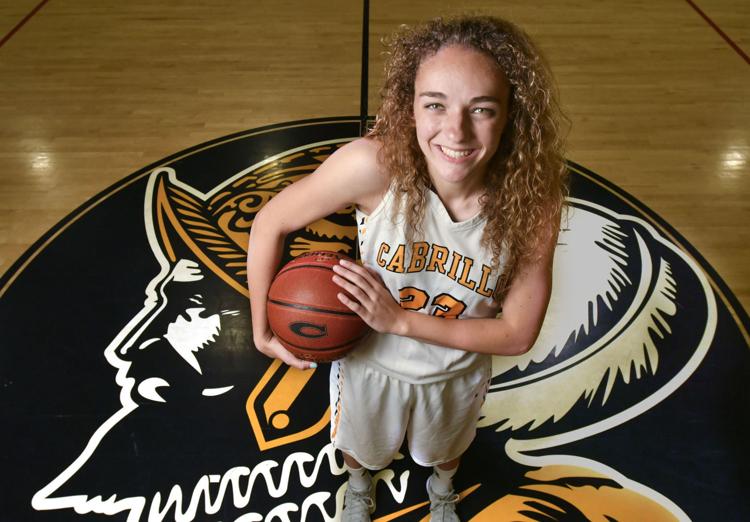 Jenkins was named All-Area MVP in back-to-back seasons at Cabrillo. During her senior season, she averaged 20.3 points, 8.6 rebounds, 3.4 assists and 3.3 steals per game.
Jenkins scored 1,779 total points during her Cabrillo career, which spanned 111 games. She averaged 16.2 points, 7.0 rebounds, 2.7 steals and 2.3 assists per game. Jenkins plays at Northwest Nazarene University in Idaho.
No. 4 Mariah Cooks vs. No. 5 Tatiana Dunlap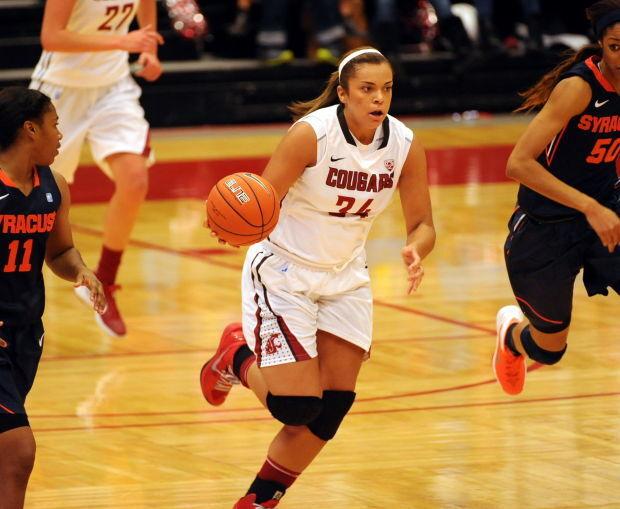 Cooks played four years at Washington State after starring at Righetti. As a junior, Cooks averaged 17.2 points per game with 10.7 rebounds and 4.3 steals per game.
In her senior year, Cooks was named the PAC 7 League MVP as she averaged 21.7 points per game and 12 rebounds in league play.
She led the Warriors to the quarterfinals of the playoffs averaging 22 points and 12.6 rebounds per game. She also earned All-CIF honors.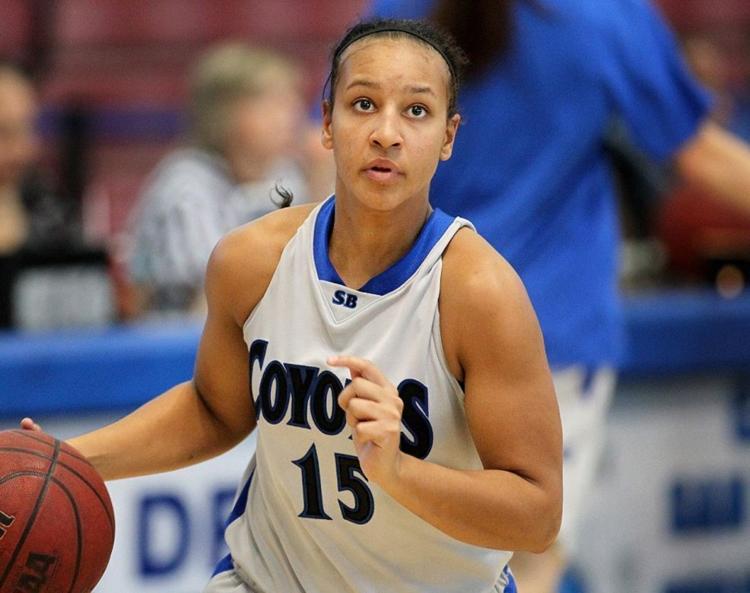 Dunlap played at CSU San Bernardino and Cal Lutheran after winning a state title at St. Joseph. During her senior season, the 5-foot-8 guard averaged 23.7 points, 3.0 assists, 9.2 rebounds and 2.6 steals per game as the Knights went 19-9.
You can vote online through Tuesday, Oct. 27. Vote on all three of our sites: santamariatimes.com, lompocrecord.com and syvnews.com.
Get in the game with our Prep Sports Newsletter
Sent weekly directly to your inbox!