Steven Coleman took his Cabrillo Conquistadores on a shakedown cruise Wednesday night.
Coleman, 29, is the Conqs' new head coach of the boys' varsity basketball team.
On Wednesday night, Coleman got his first real look at how his team is shaping up for the 2019-20 season in a scrimmage at Righetti High School.
"It's a work in progress but I see a lot of potential," said Coleman. "We're a very deep squad. We have a least two people who could start at every position and several who can play anywhere on the floor. I'm excited to get the season going."
Coleman is a Florida native who started college at Ohio University in Athens, Ohio, before transferring to Mercyhurst University in Erie, Pennsyvlania.
Once he completed college, Coleman was ready to get back to warmer weather.
"I always wanted to come to California so when I finished college, I moved out here," said Coleman.
Gone are six seniors who graduated in the spring.
This year's team features four seniors; 5-foot-10 shooting guard Jeremy Hicks, 6-3 forward Alec Brown, 6-4 forward Adam Wilson and 6-4 wing Jonathan Jones.
The streak is now at seven.
And the Knights are into the semifinals. 
"Jeremy made first team all (Channel) league last year," said Coleman. "Jeremy along with Alec, (5-8 junior point guard) Hayden Jory and (6-0 sophomore guard) Reggie Orr are our four core guys. Everyone else makes important contributions in different ways."
Some teams feature one high-scoring star. That's not the Cabrillo way.
"We have a pretty balanced attack which is a plus," said Coleman. "We'll have four players who will average between 10 and 15 points. Teams won't be able to concentrate on shutting down just one of our players."
After three seasons as the assistant to CJ Simmons, Coleman was promoted to the head coach's job this year.
If the Hancock College football team wins at Los Angeles Harbor Saturday, the Bulldogs take their third straight outright Pacific League championship, finish their third straight unbeaten Pacific League campaign and almost certainly go to a bowl game.
You have free articles remaining.
Register for more free articles
Stay logged in to skip the surveys
"We've had our regular summer ball but this scrimmage against Righetti was the first real competition in the last month-and-a-half," said Coleman. "I'm just trying to teach the boys to share the ball, play together and have fun with the game."
The scrimmage was played in two 20-minute halves.
Although no official score was kept, unofficially Cabrillo posted a 46-39 come-from-behind victory.
AJ Pateras' run as Cabrillo's football coach is over.
Orr led the Conqs with 10 points while Jory added nine and nine different Cabrillo players scored.
"It took us the first 20 minutes to get warmed up, to get the butterflies out," said Coleman whose team, unofficially, trailed 21-16 at the break. "Once the boys settled down, they played pretty well. Righetti is a great team. It was definitely a different type of matchup from the teams we play in the Channel League."
This will be Cabrillo's second year as a member of the Channel League.
After a phenomenal run in the final seasons of the old Los Padres League, Cabrillo struggled in its first year playing against the much larger Santa Barbara area schools.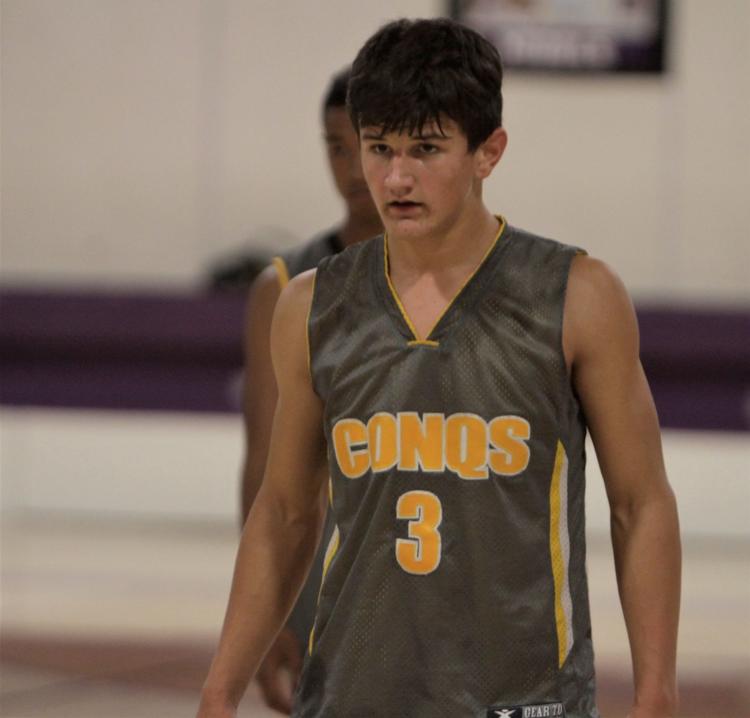 The Conquistadores finished fourth in their inaugural Channel League season with a 3-7 league record (9-18 overall), behind the three Santa Barbara area schools, Santa Barbara (29-5, 10-0 Channel), San Marcos (14-9, 8-2) and Dos Pueblos (12-17, 6-4) but ahead of old Los Padres League foes Lompoc (12-15, 2-8) and Santa Ynez (10-16, 1-9).
This after seven years of dominating the LPL.
Since tying Morro Bay for first place with a 10-2 LPL record in the 2011-12 season, Cabrillo ran off six straight LPL championships, going 78-2 during their run including a perfect 12-0 run in 2013-14 and three straight 14-0 campaigns in the league's final three years.
"The Channel League has a lot of good players and coaches," said Coleman. "You have to be ready to adjust your game plan on the fly. Those Santa Barbara schools have a lot of strong, talented players. It's much stronger than the Los Padres League. But that just makes me sharper as a coach so this is a new and bigger challenge for us. We're ready for it."
Cabrillo opens its 2019-20 home slate Tuesday with a non-league game against Templeton.