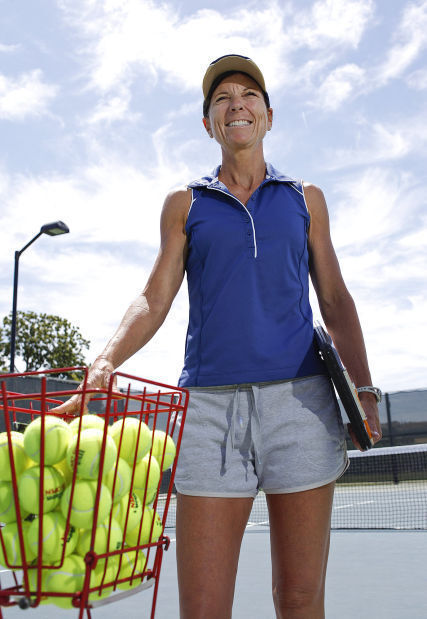 If Arroyo Grande was playing, Lori Hollister was calling. 
Like clockwork, Hollister, who spent more than a decade coaching girls and boys tennis at Arroyo Grande High School, would phone the local newspapers with her team's results each time her team played. 
And, just about every time, Hollister would have good news to report. 
Hollister built a dominant AGHS tennis program that won multiple CIF Southern Section titles and sustained league dominance before stepping down last year. She coached the Eagles to their only CIF tennis championships in a remarkable run in 2013. 
The Eagles boys team won its first and only CIF Southern Section team championship in the spring of 2013, led by Sean Hollister, Lori's son, and Eli Whittle, two standouts in singles. The Eagles beat rival San Luis Obispo 13-5 in that final. 
Hollister then helped the Eagles girls team to its first CIF-SS title later that year, in a wild win over Vista Murrieta, a match decided by just three games. 
Hollister was named the State Boys Tennis Coach of the Year in 2015. She was also named the Girls Southern Coach of the Year after helping the Eagles' girls to its CIF title.
"This is really about the players, our athletic director, Dwight MacDonald, who does so much for the sports programs at our school, my assistant coaches, Rick Cohen and Vickie Feilzer, and the players' families," Hollister said in 2015 after being named State Coach of the Year. "We have a fantastic group of parents, with the values they have instilled in these young men."
Hollister's role as coach wasn't measured solely by wins and losses. Hollister also filled the role that many high school coaches do, even though she wasn't an on-campus coach at AGHS. Hollister's teams, like many at AGHS, were annually listed among the top squads in the CIF Southern Section's academic awards with GPAs averaging around 3.50 every season.
Hollister also drove the team van to and from away matches, sometimes to Southern California or the Central Valley. And, of course, Hollister always made sure to report her scores to publicize her players' successes after wins while also not hiding from the occasional failure, reporting her team's scores even after a loss. 
Hollister's background as a fair and dedicated coach started to form during her days as a standout athlete at Cabrillo High School in Lompoc. She played four years each of varsity softball and tennis at Cabrillo, back when she was known as Lori Klitz.
"I had terrific, enthusiastic coaches, great teachers and a supportive athletic director at Cabrillo High School," Hollister said in 2013, "who were all positive influences on my life and who helped shape my decision to pick up coaching at a later age, after teaching in the classroom."
Veteran Lompoc Girls Softball Association coach Codie Blea, who helped coach the Region 10 Red team the trio played on at the Games, said all three acquitted themselves just fine.
Hollister, who eventually taught at St. Patrick's school in Arroyo Grande, was part of Cabrillo's first CIF title in any sport, with a 1976 win over Lompoc in the Southern Section softball final. She then led Arroyo Grande to its first-ever tennis championship in 2013. 
"That was the first CIF championship Cabrillo had won in any sport," Hollister said of '76. "It was an honor then, just as it is now, to be involved in that kind of a program with great community support."
Hollister was named the Northern League's co-MVP in softball as a senior in 1979. 
The_Lompoc_Record_Wed__Oct_27__1976_.jpg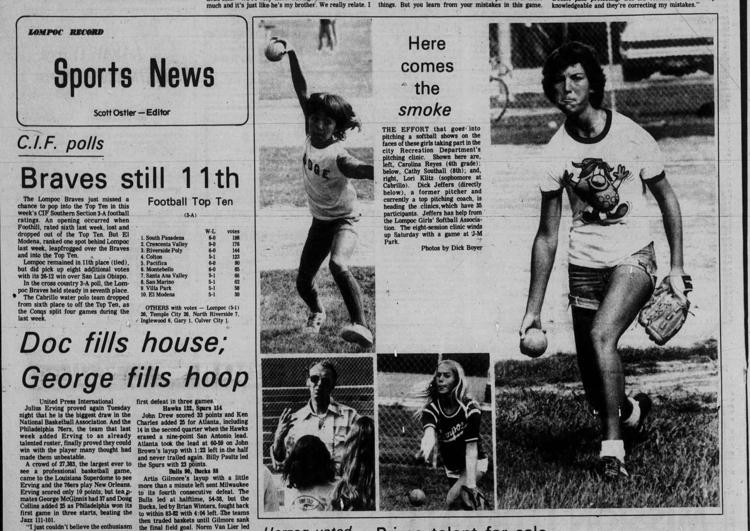 The_Lompoc_Record_Fri__Jun_1__1979_.jpg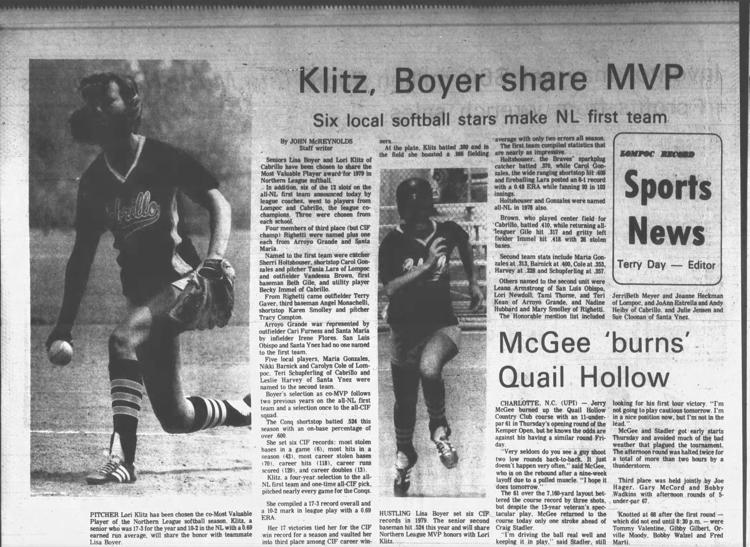 The_Lompoc_Record_Fri__Jun_4__1976_.jpg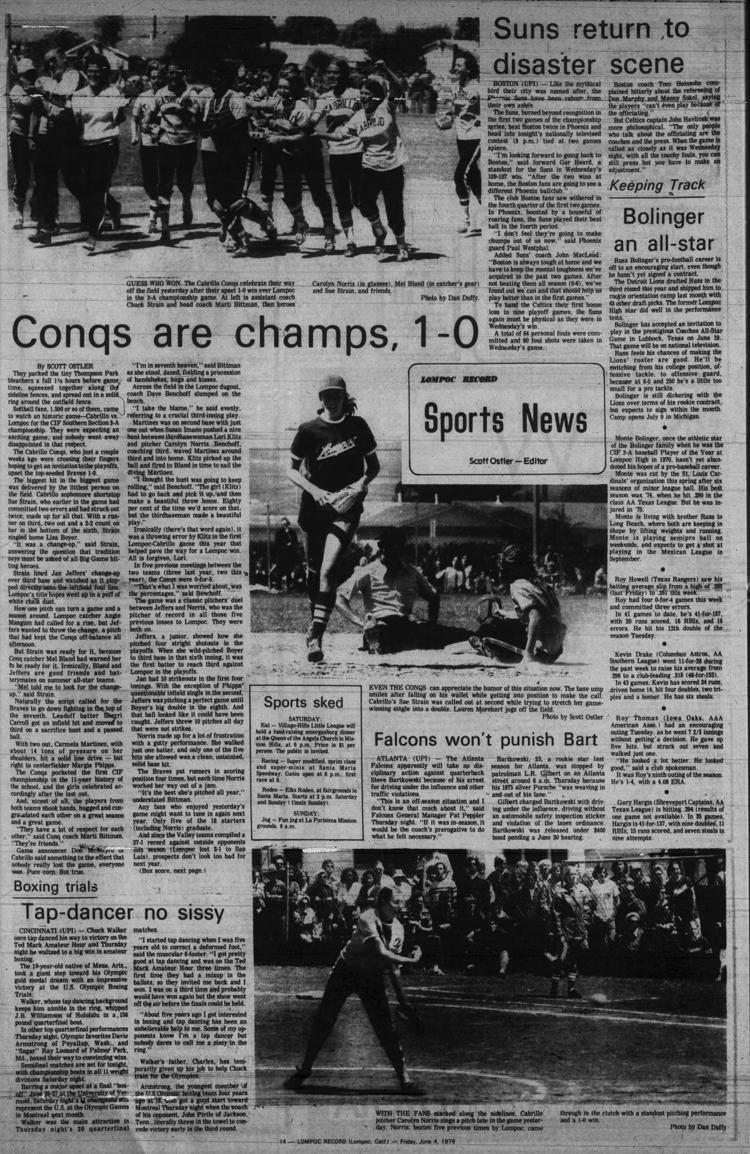 The_Lompoc_Record_Fri__Jun_17__1977_.jpg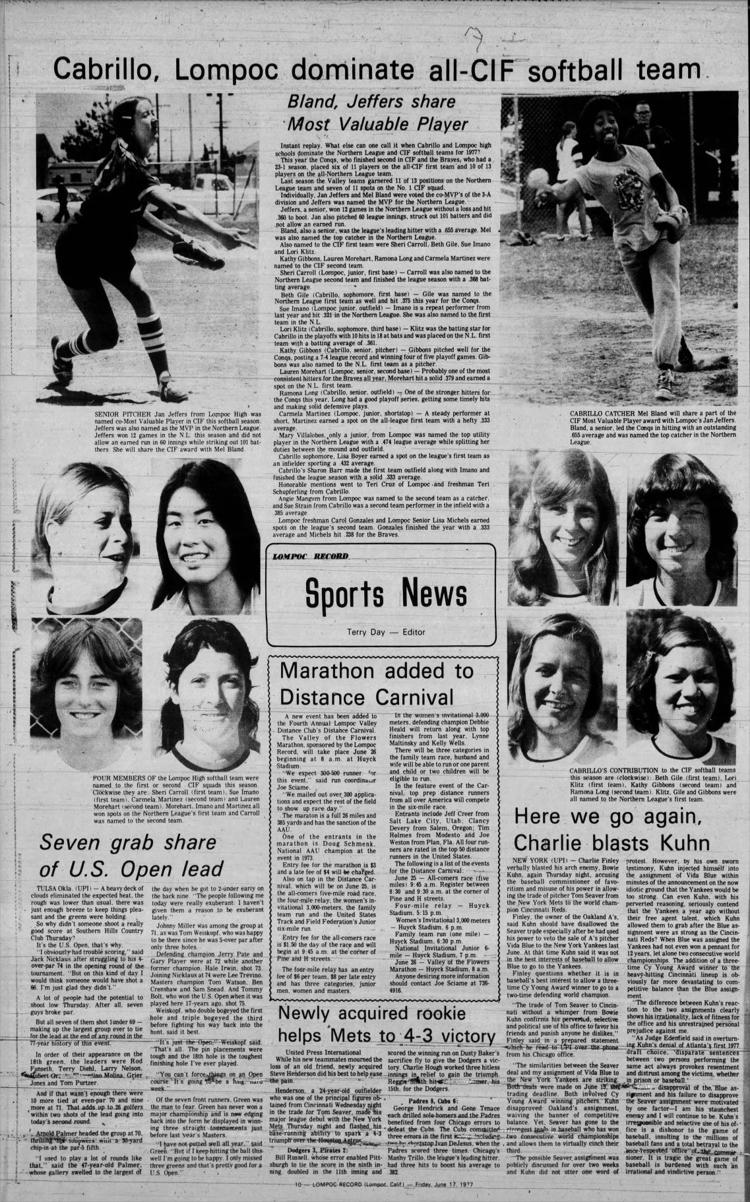 The_Lompoc_Record_Fri__May_27__1977_.jpg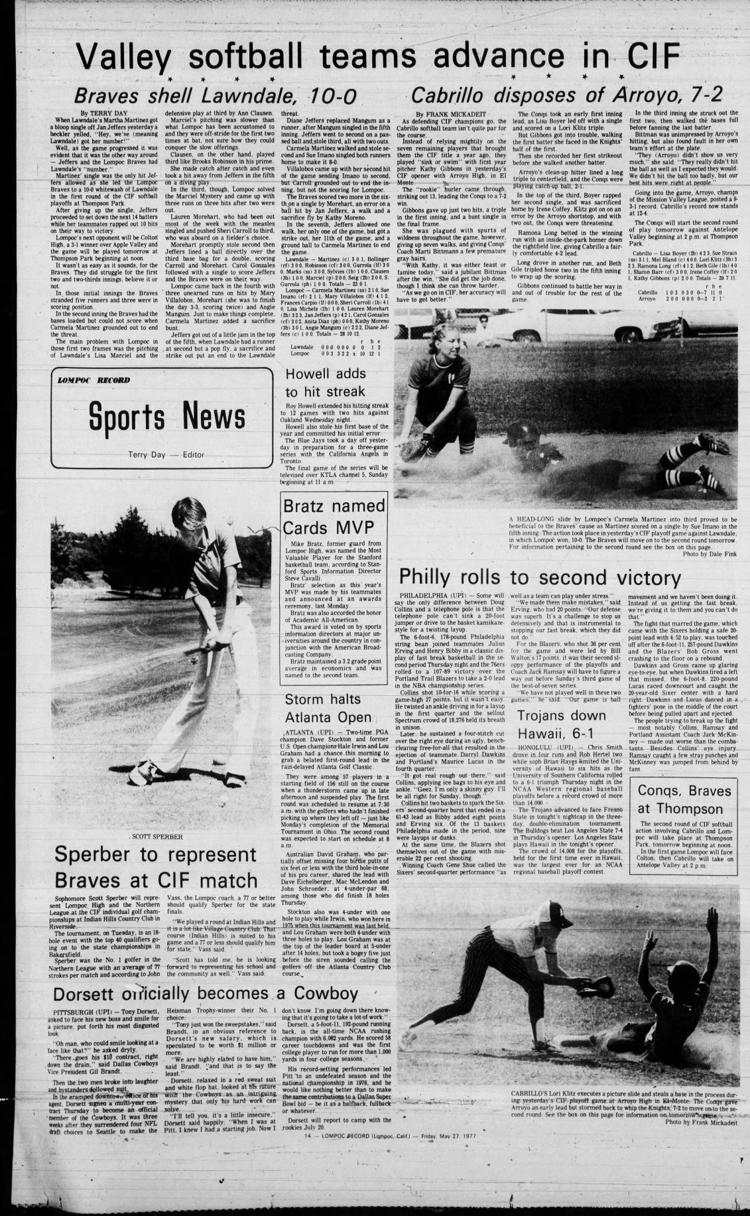 The_Lompoc_Record_Mon__Jun_7__1976_.jpg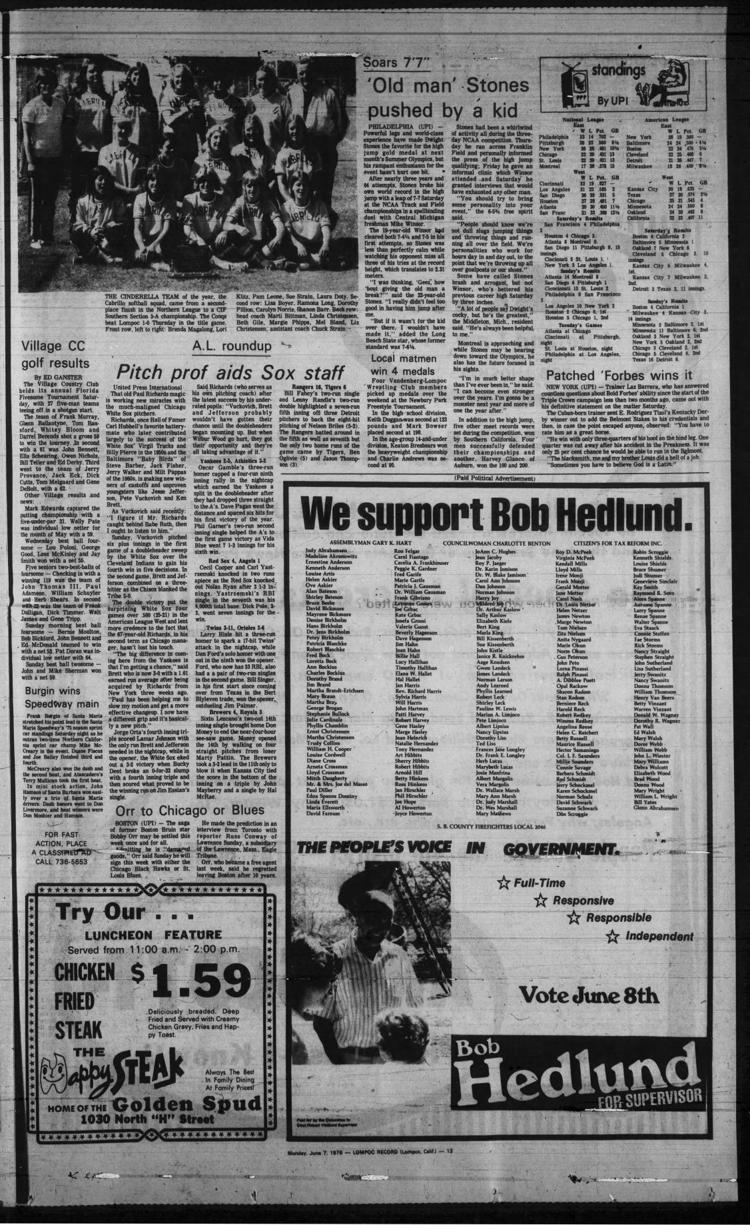 The_Lompoc_Record_Thu__Sep_30__1976_.jpg
The_Lompoc_Record_Tue__Jun_6__1978_.jpg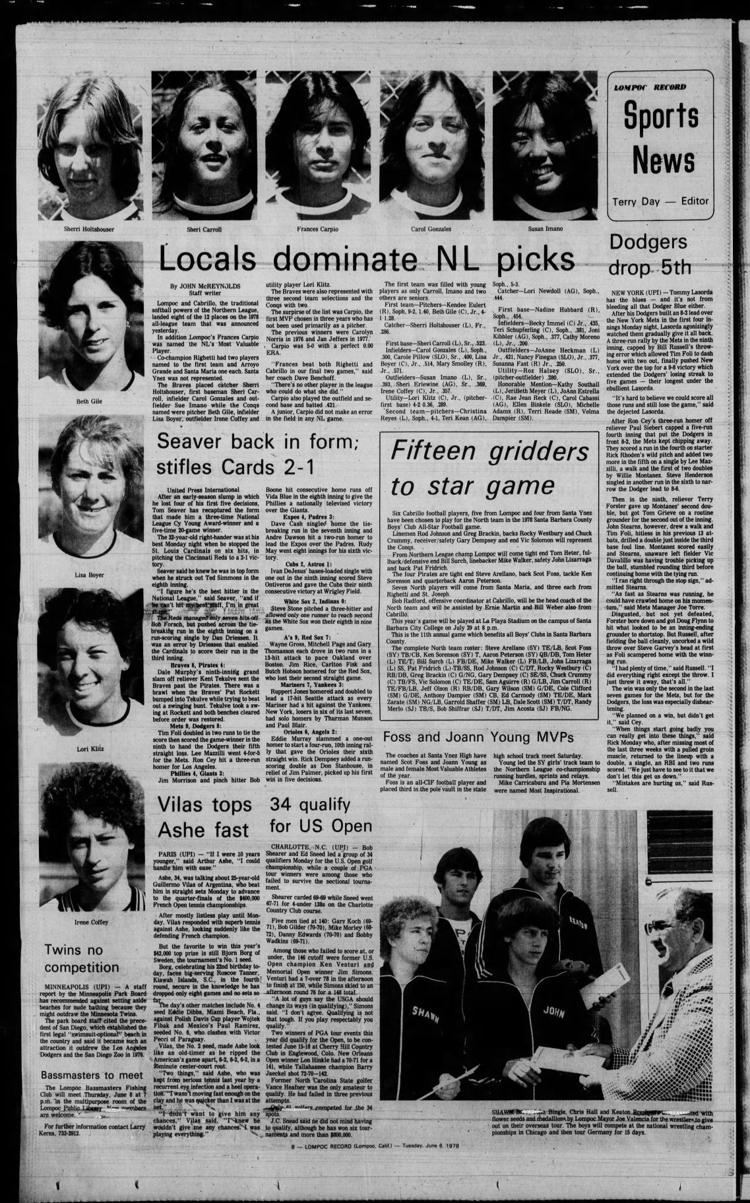 The_Lompoc_Record_Wed__Jun_6__1979_.jpg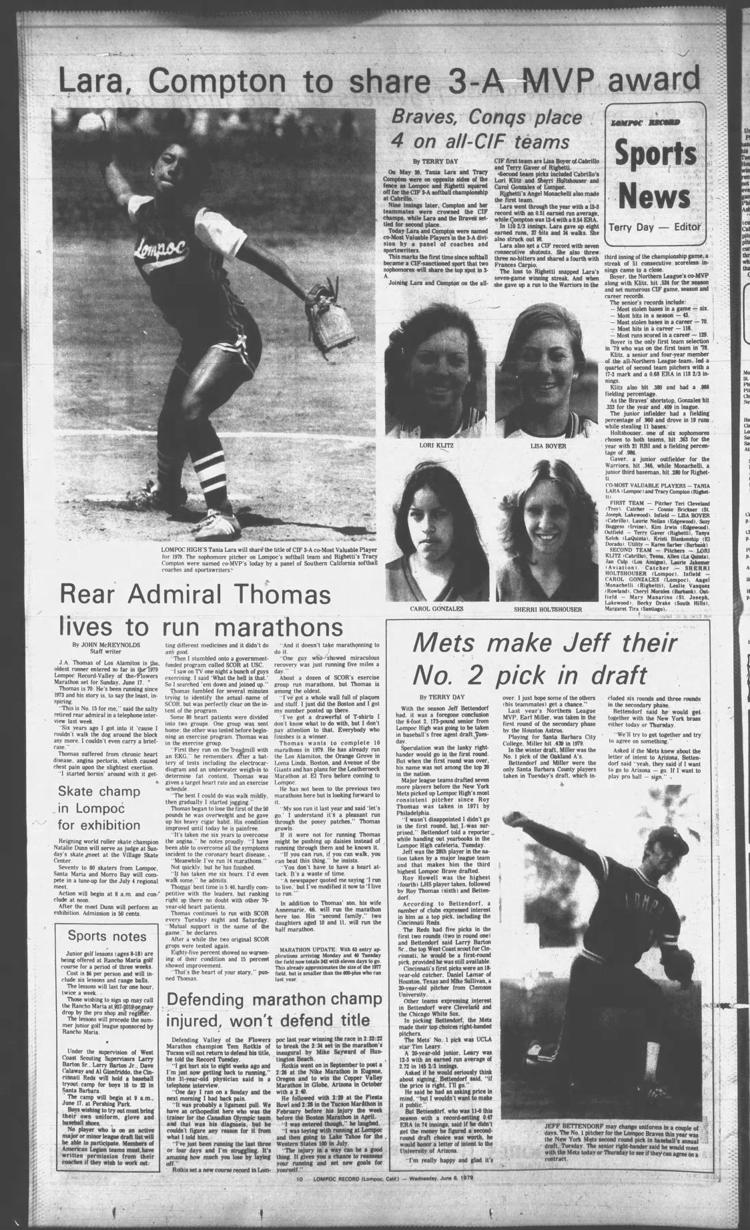 The_Lompoc_Record_Wed__Nov_2__1977_.jpg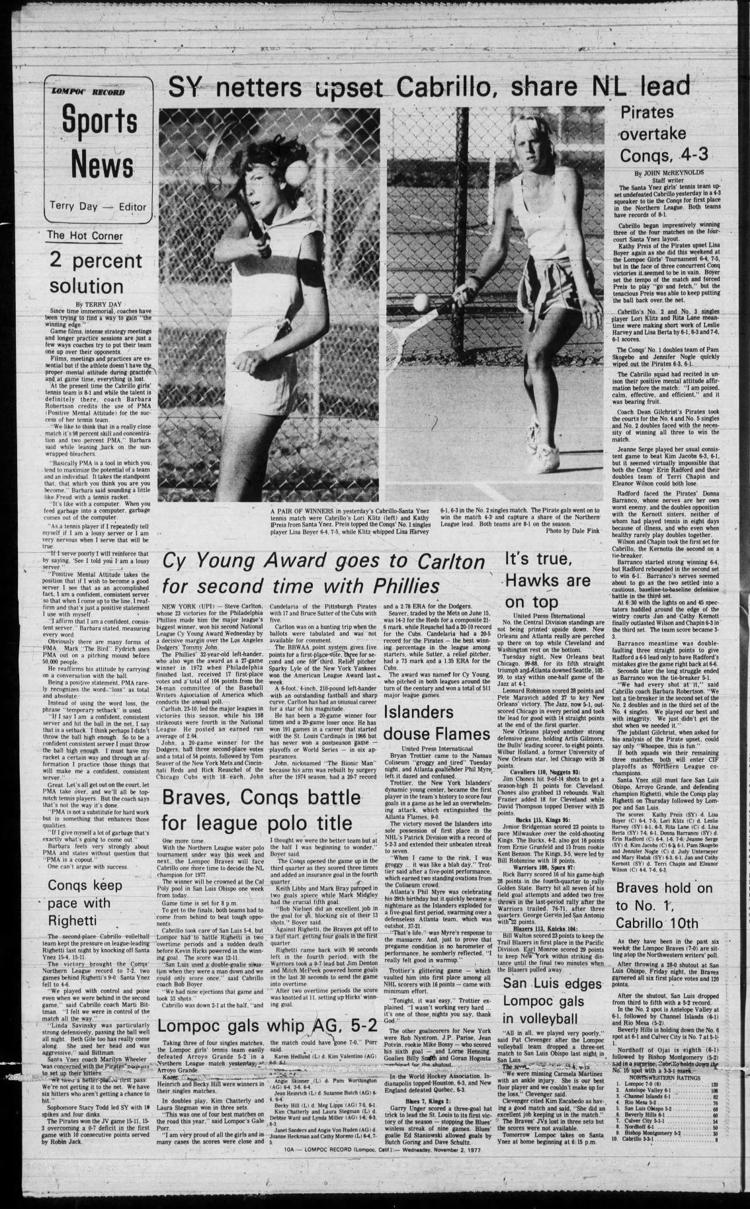 Sports have been written off and discounted as a welcomed distraction lately, something to watch on TV to get our minds off the chaos around us.
Get in the game with our Prep Sports Newsletter
Sent weekly directly to your inbox!