The Conquistadores have found their man.
Cabrillo High athletic director Gary West said the school has an agreement in place for its next head football coach.
West says Andy Guyader, who has coached at Cal Poly and Army as part of Rich Ellerson's staffs, has accepted the position.
Guyader is also a lecturer at Cal Poly, but has taken a teaching position at Cabrillo that will start next week. 
Guyader has a Doctorate in Civil Engineering and will teach in Cabrillo's Math department. West says Guyader has been a lecturer in the Engineering department at Cal Poly since returning from coaching at West Point in 2014. 
AJ Pateras' run as Cabrillo's football coach is over.
"He's one of the smartest guys I've ever spoken with," West says of Guyader. "He has written articles about football analytics, he's very intelligent. He reminds of a lot of a Bill Belichick or Kyle Shanahan. He's quiet, but his knowledge of the game is impressive, he understands parts of the game with great depth."
Guyader coached at Cal Poly from 2004-08 and then at Army from 2009-2014.
West is pleased with how the hiring process played out. Cabrillo started looking for its next coach after parting ways with AJ Pateras, who led Cabrillo for three seasons, in November. 
"I said at the time I was not going to get the first guy, I was going to get the best possible coach we could find," West said. "There were two rounds of interviews. Our principal (Isidro Carrasco) and I flew out to Tennessee for a national coaches conference and spoke to about 10 coaches out there. We had four guys locally that had applied for that position and we interviewed a couple of them.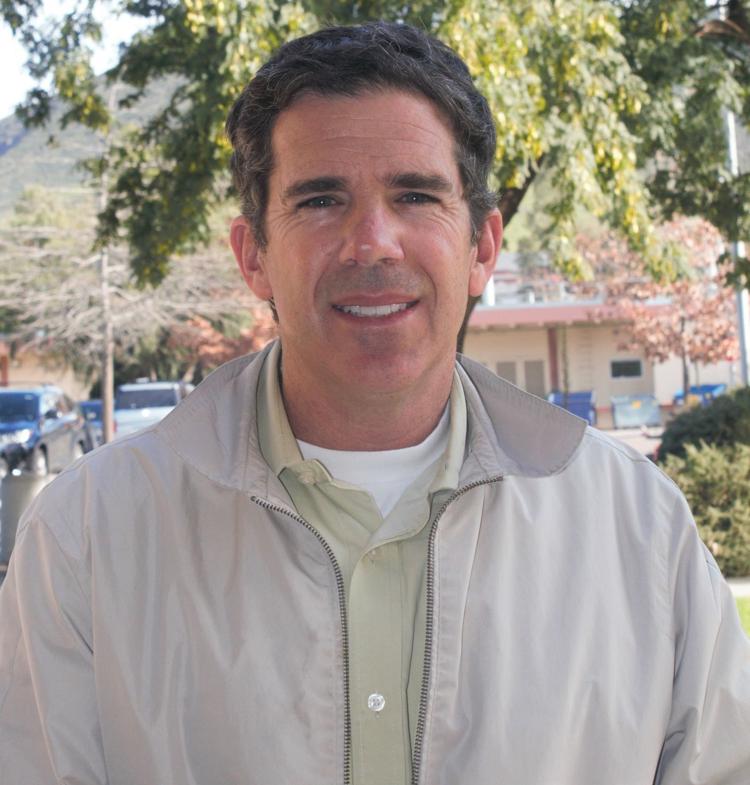 "Andy kind of dropped into my lap at the last minute. He was recommended to me, I contacted him, we spoke and got him an interview."
West, who says he's not religious, admitted he felt there was divine intervention in this hiring. 
"I'm not a religious man, but I know the man upstairs has had his hand in this the whole time," West said. "It all came to be at the 11th hour, so to speak."
West feels his patient approach to his first big hire in his first year as Cabrillo's athletic director has paid off with the hiring of Guyader. 
"It's been grueling; I lost sleep, I lost weight. This is not the way you want your first year to go," West said. "I was very confident and happy with how things turned out. A lot of people were very impatient and wanted to push the envelope. But I felt you have to do it right. No offense to AJ (Pateras) at all, but when you have a wound, you've got to heal. You have to do it right and you can't throw a Band-Aid on it.
"I've been saying, 'We aren't throwing a Band-Aid on it, we're getting a doctor.'"
West said the football team has been working out somewhat informally during the coaching search, though many of the team's players have a seventh-period PE class. Players went to morning weights Tuesday with news of the new hire.
According to Guyader's LinkedIn page, he studied at Cal Poly for his undergrad then received his PhD from Caltech. Guyader has also coached football at Pasadena Poly.
"He's not just a football coach, he's a good man," West said of Guyader. "I've spent a lot of time with him and his family, my wife and I spent last Saturday with them, walking the campus and talking. It's great to not just get a good coach, but also a good teacher and he's outstanding in both of those fields. He's a good man, I think he cares about people and cares about kids. He's passionate about football and teaching.
"He got emotional in the interview about not taking a coaching position sooner and that showed me the passion."
Cabrillo has won one game over the last three years, with back-to-back 0-10 seasons. West acknowledges that it may take some time for the program to start winning consistently, but feels Guyader is the right man at the right time to get the job done.
"He's got a huge, monumental task in front of him," West said of Guyader. "But I can't think of a more qualified person. Again, it's been a long, grueling process but I'm happy, I'm relieved. It's tough when you've struggled for the last three years. It's tough to get someone in here, especially with a pedigree like Andy's.
"Our program is way down, but this challenge excites me. It doesn't scare me."
Guyader is married to his wife Brenda and they have a daughter, Claire.
Get in the game with our Prep Sports Newsletter
Sent weekly directly to your inbox!