Huyck Stadium better get ready, because it's going to be a busy weekend. 
The historic stadium in Lompoc will host a pair of games, beginning with Friday night's contest between Lompoc and Simi Valley and concluding Saturday night with Cabrillo taking on Bishop Diego. 
Both games are set to kick off at 7 p.m.
Simi Valley at Lompoc
Simi Valley started the 2018 season and the Jim Benkert era with a home game against Lompoc. The Braves rolled in that one, winning 49-28.
The Pioneers went on to finish out the season with an 8-4 record under Benkert, a longtime coach at Westlake and Oaks Christian who joined Simi Valley last year. Benkert has won five CIF Southern Section titles and took the Pioneers to the Division 10 quarterfinals last year. 
The Pioneer offense was led by sophomore quarterback Jack Applegate, who returns as a junior. Applegate played in 12 games and completed 92 of his 154 passes for 1,251 yards, 13 touchdowns and five interceptions. He is listed at 5-foot-11, 185 pounds. He completed 2 of 6 passes for 16 yards and a touchdown last year against the Braves. 
Jackson Sterling, Simi Valley's top rushing threat from a year ago, has graduated, meaning the Pioneers have to replace his 1,453 rushing yards and 13 touchdowns. 
Applegate was the second-leading rusher for his team a year ago, totaling 499 yards and seven touchdowns on 88 carries. 
Malik Hunt figures to be Simi Valley's top receiving threat returning from 2018. As a sophomore, Hunt was the second-leading receiver for the Pioneers, hauling in 35 passes for 509 yards and four scores. 
Simi Valley replaces its top seven tacklers, who have all graduated. 
Lompoc's returning quarterback, Cameron Iribarren, completed 5 of his 7 passes against Simi Valley for 206 yards and three touchdowns. Iribarren also rushed for 76 yards in that game as the Braves racked up 300 yards on the ground. Ryan Morgan, Oscar Tenorio and Joe Schumer all caught touchdown passes last year and all three will suit up Friday night. 
Iribarren had a stellar season leading Lompoc's offensive attack as a junior, throwing 13 touchdowns against only four interceptions while also rushing for 1,068 yards and 15 more scores.
Iribarren was named the Channel League Offensive MVP.
Teammate Leondre Coleman earned the Channel League Defensive MVP honor. Coleman is also one of Lompoc's strongest offensive playmakers. 
Coleman, now a 6-foot-2, 205-pound senior, had 1,060 rushing yards and 11 touchdowns on 161 carries. He also caught 13 passes for 319 yards and five more scores in 2018. On defense, Coleman had 43 total tackles and 14 1/2 tackles-for-loss with 10 sacks. 
You have free articles remaining.
Lompoc finished 8-3 last year and went 5-0 in the Channel League. They were bounced in the first round of the CIF Southern Section Division 3 playoffs at Capistrano Valley.
The Braves return all of their top passers, rushers, receivers and defenders from that 2018 team.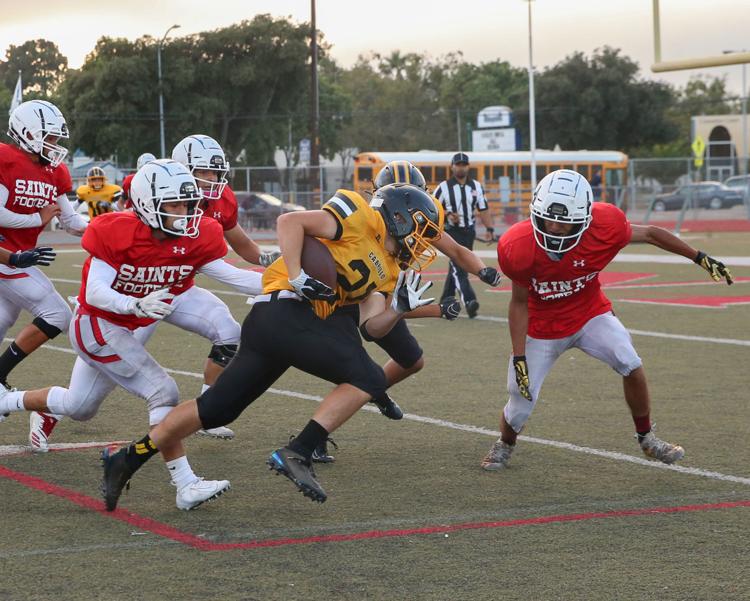 Bishop Diego at Cabrillo
The Conquistadores are set to kick off their 2019 season at home Saturday night against the Cardinals. 
Cabrillo, 1-19 over the last two seasons, also started the 2018 season against Bishop Diego in a 42-0 road loss.
Bishop Diego went 4-7 under coach Tom Crawford, who guided the Cardinals to a state title in 2017. 
Adrian Soracco and Luke Knightley figure to lead the Cardinal offense in 2019.
Soracco was the team's leading rusher a year ago as a junior, amassing 1,151 yards and 12 touchdowns on 163 carries. 
Knightley, a receiver, had two touchdown catches and also ran for 156 yards on the ground as a sophomore.
Matthew Bribiesca was the Cardinals' top tackler and he returns. Bribiesca made 91 total tackles and nine tackles-for-loss as a sophomore.
Cabrillo will look different on offense in 2019 after two-year starter at quarterback Jackson Anderson graduated. Zack Ramos will be the Conqs' starter Saturday night at the position. Ramos is a 5-foot-10, 150-pound junior.
Trey Robison and JJ Lombrana will be used heavily on offense for the Conqs. Lombrana is one of the top running backs and Robison can be deployed at different offensive positions and also make plays on defense.
There's an unquestioned leader on that defense: Patrick Durham. The linebacker made 110 tackles as a junior a year ago.
Cade McNamee will also be counted on heavily this year. McNamee, at 6-foot-4, is a tough cover at tight end and defensive end. He's a junior.