There are many debates to be had on things concerning the Central Coast.
However, there's one topic that, frankly, is not up for discussion.
This one involves the area's Greatest Athlete of All-Time.
And there's only one correct answer: Napoleon Kaufman.
Kaufman grew up in the City of Lompoc and as a youngster he dominated the local youth football league. He was known as 'Nip' before he hit Lompoc High. 
Once with the Braves, Nip put together the most decorated athletic careers this area has ever seen, both on the football field and the track, starring at Huyck Stadium. 
And just about everything Kaufman achieved was noted in the Lompoc Record. (Remember to support your local newspaper!)
Longtime Lompoc Record sports boss, the late Alan Hunt, recorded much of Kaufman's high school career and it was great to look over some of his old clippings, with the trademark writing style Alan was known for. I first met Mr. Hunt after he was no longer at the Record and he was always welcoming and helpful to a young sports writer. (Interestingly enough, Mike Chaldu also covered quite a few of Kaufman's games and still works for the Lompoc Record and Santa Maria Times as our lead design coordinator).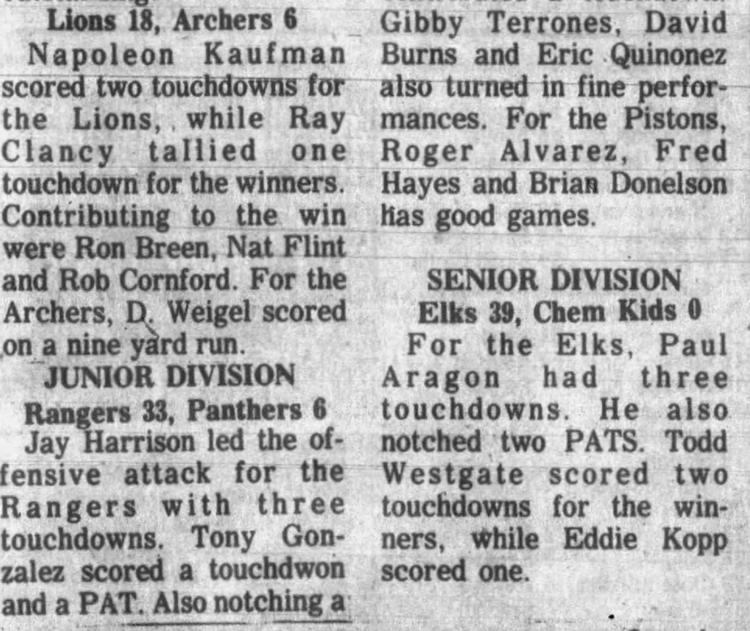 The first time Kaufman's name appeared in the Record was in the fall of 1981. Kaufman was playing for the Lompoc Youth Football League's Lions as an 8-year-old. He was scoring touchdowns left and right.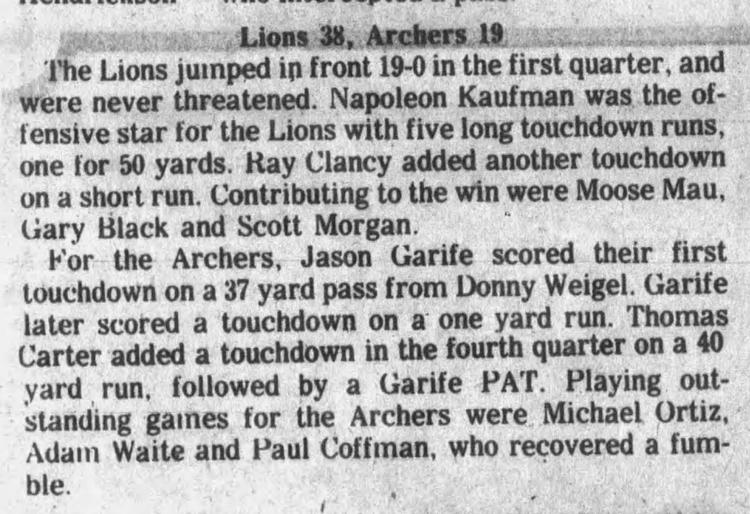 Kaufman played football with a lot of kids he'd eventually go to high school with. There's eventual quarterback Jason Garife and also Scott Morgan, Moose Mau and Ray Clancy, to name a few.
In 1985, Kaufman was playing for the Lompoc Rangers in the Junior II Division. The writing was already on the wall. His highlights read like that of a future NFL star.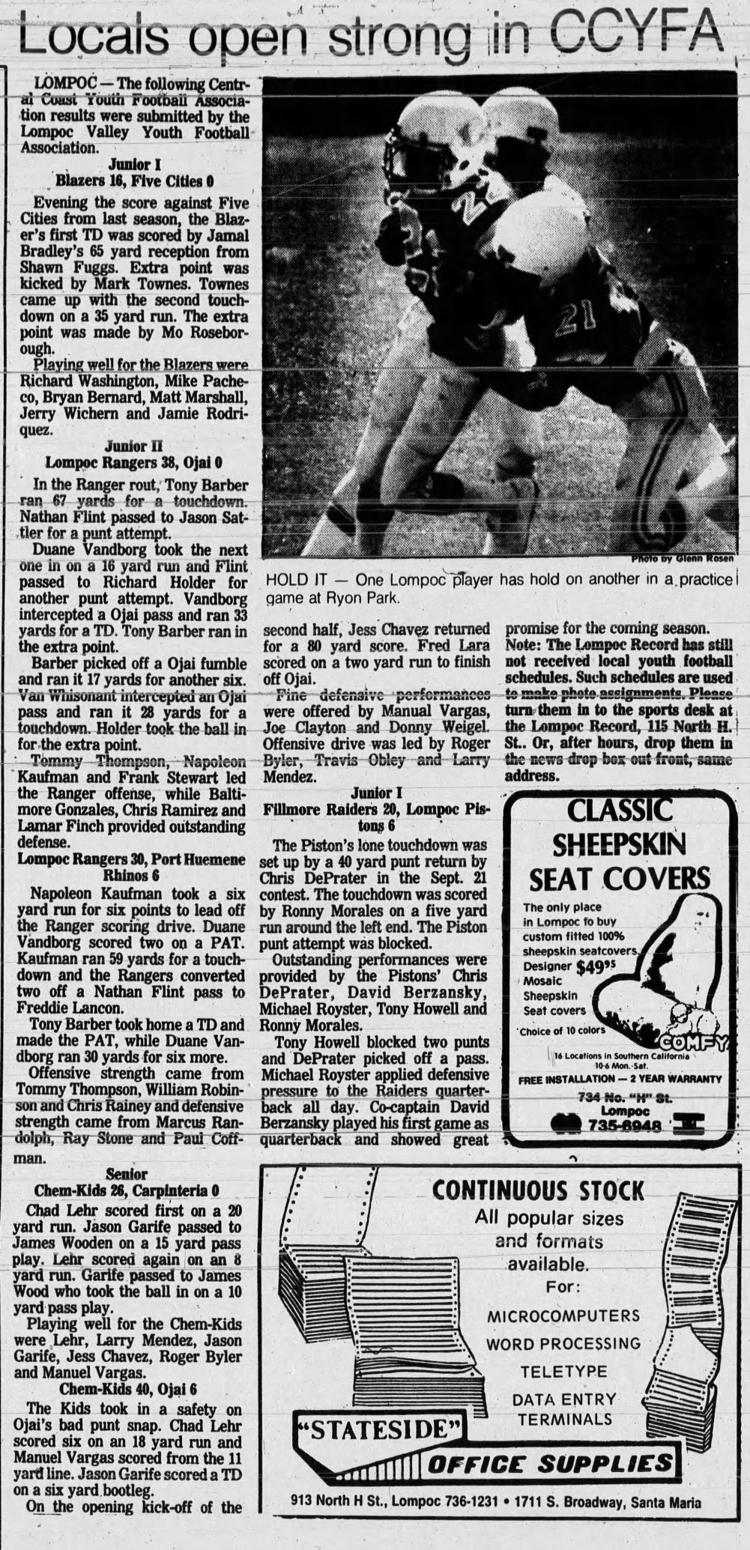 "Napoleon Kaufman took a six-yard run for six points... Kaufman ran 59 yards for a touchdown..." In the fall of '85, the Rangers routed Ojai 38-0 and the Port Hueneme Rhinos 30-6, behind the play of Kaufman, Nate Flint, Tony Barber, among others.

Kaufman also dabbled in some track as a youngster. At the county meet as an eighth grader in the spring of 1987, Kaufman set the county record in the long jump at 18 feet, 10 3/4 inches.
Kaufman finally hit Lompoc High in 1987. As a freshman at Lompoc, Kaufman spent the winter wrestling and was undefeated for a while at the frosh level, wrestling at 138 pounds. 
Relatively speaking, Nip's freshman year at Lompoc was quiet. Until the spring.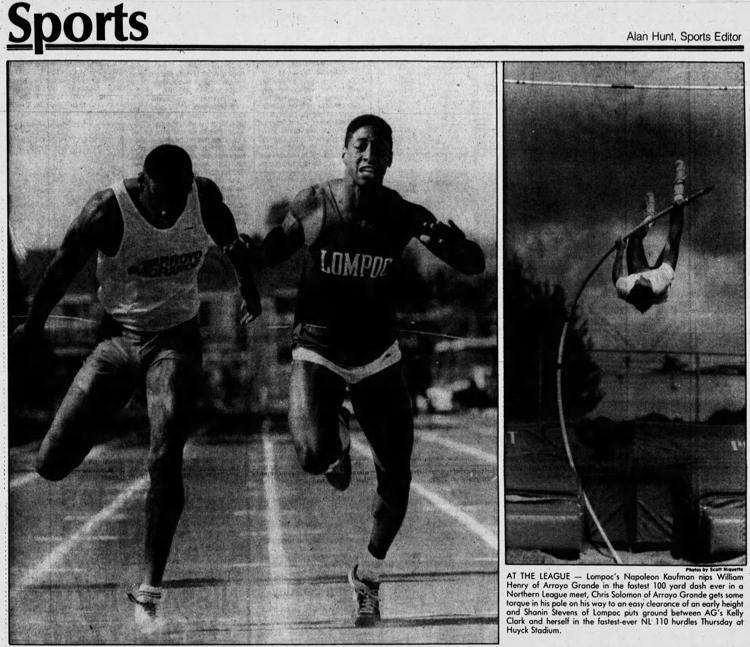 The clip above shows Nip as a freshman at Lompoc High, winning the fastest 100-meter dash ever run in the Northern League against William Henry of Arroyo Grande. 
Later in 1988, he suited up for the LHS varsity football team, listed as a 5-foot-8, 150-pound (his listed weight, though he was probably closer to 140 pounds) sophomore running back. 
Kaufman's sophomore season mirrored that of his youth football days. He was too quick, too fast for opposing defenses. Nip rushed for over 1,000 yards as Lompoc made a dramatic run to the CIF Southern Section semifinals.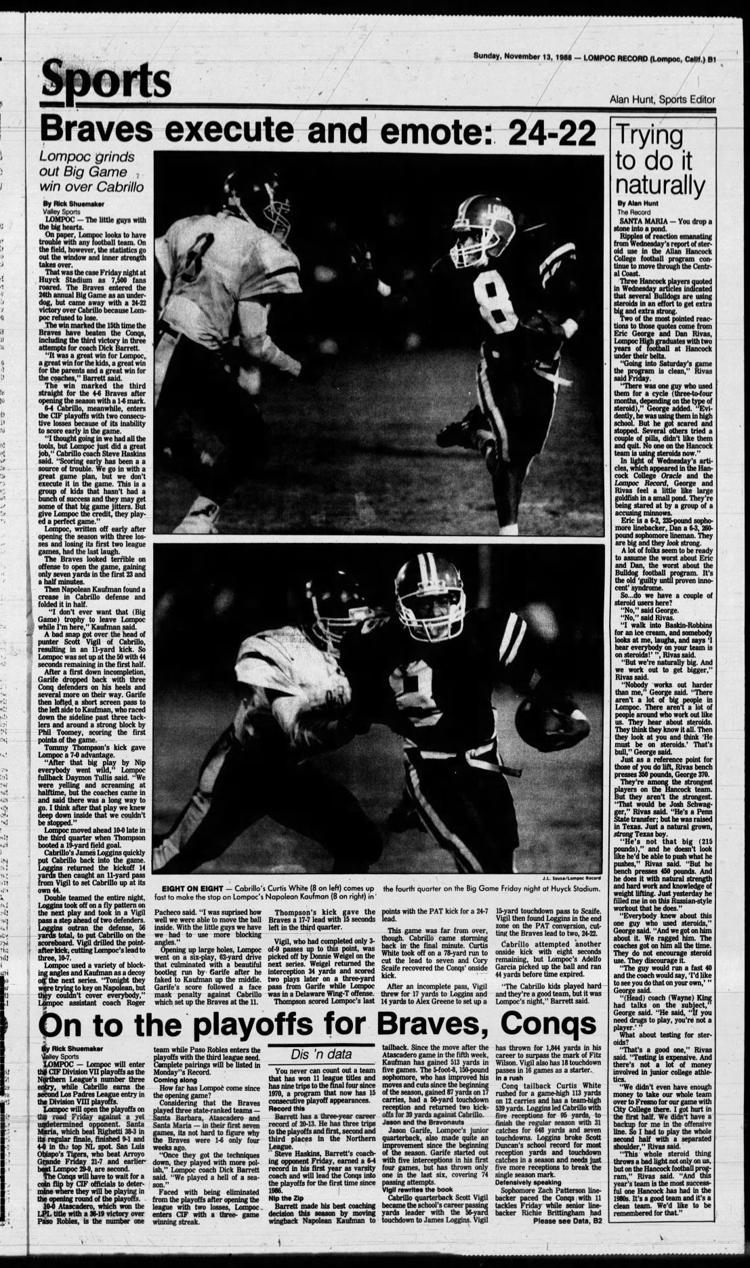 The regular season ended for Lompoc with a 24-22 win over rival Cabrillo in the Big Game, one in which Lompoc came in as the underdog at 3-6 against 6-3 Cabrillo. Nip led the Dick Barrett-coached team to a win. That put Barrett at 3-for-3 against the Conqs, using the Delaware Wing-T Offense in 1988. 
Afterwards, Kaufman said, "I don't ever want that (Big Game trophy) to leave Lompoc while I'm here." It wouldn't.
The next week, Lompoc won its fourth game in a row and stunned Sherman Oaks Notre Dame on the road to advance to the second round of the playoffs.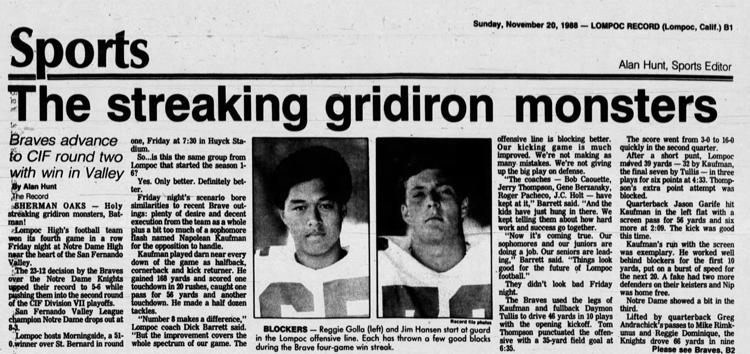 According to Alan Hunt's writeup following the game, Kaufman played 'darn near every down of the game at halfback, cornerback and kick returner."
He gained 168 yards on 20 carries with one touchdown on the ground. He caught a 56-yard touchdown pass and made six tackles on defense. Not bad for an diminutive sophomore. 
Then came the second-round game in '88, which Lompoc won 14-9 over Morningside, another big upset for the Braves and a fifth straight win after a 1-6 start.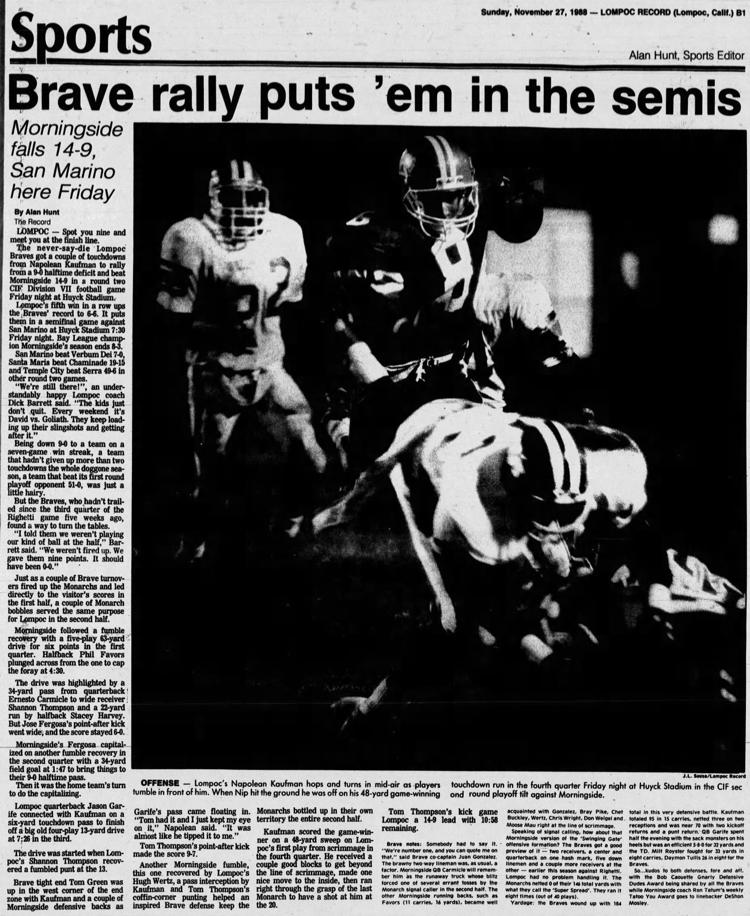 Of course both of Lompoc's touchdowns came via Nip runs after the Braves went down 9-0 early. 
The Braves would then lose 30-7 to San Marino in the semifinals of the CIF-SS DVII playoffs. San Marino would go on to beat Santa Maria in the DVII title game that year. 
Then, in 1989-90, Kaufman put together one of the greatest athletic seasons this area has ever seen.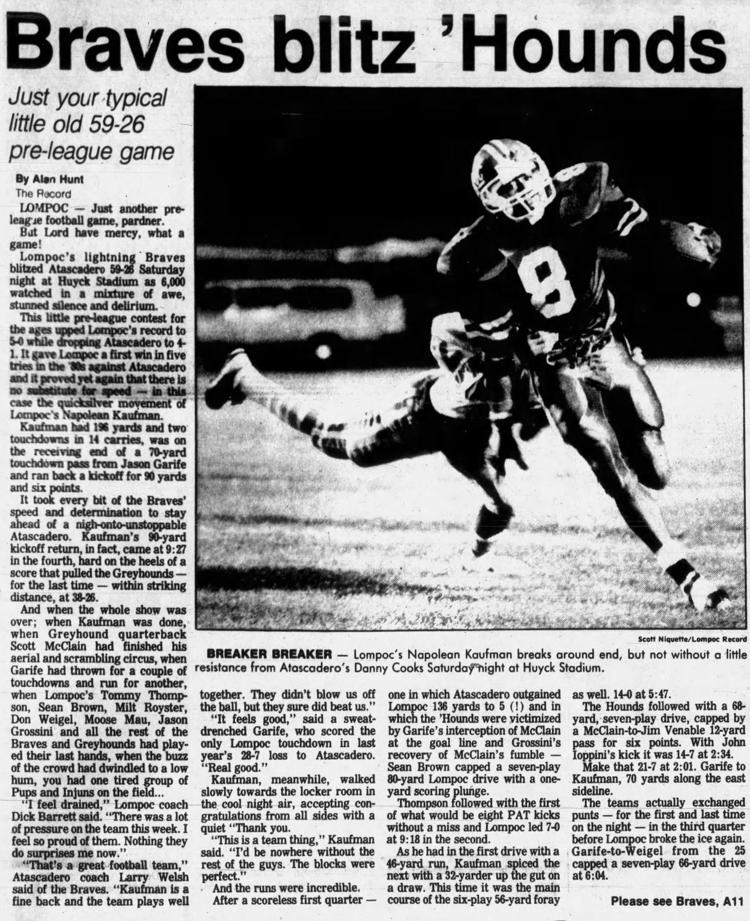 Lompoc football carried the momentum into the 1989 season and ran through its competition, making the CIF-SS final as Kaufman scored 39 touchdowns and racked up nearly 3,000 all-purpose yards. He led the state in scoring with 236 points.
Also... that No. 8 and the oversized hip pads he's wearing in Blue and White are iconic.
The Braves ended the regular season with a 31-14 win over rival Cabrillo in the Big Game, improving to 10-0. Kaufman had 137 yards on 17 carries.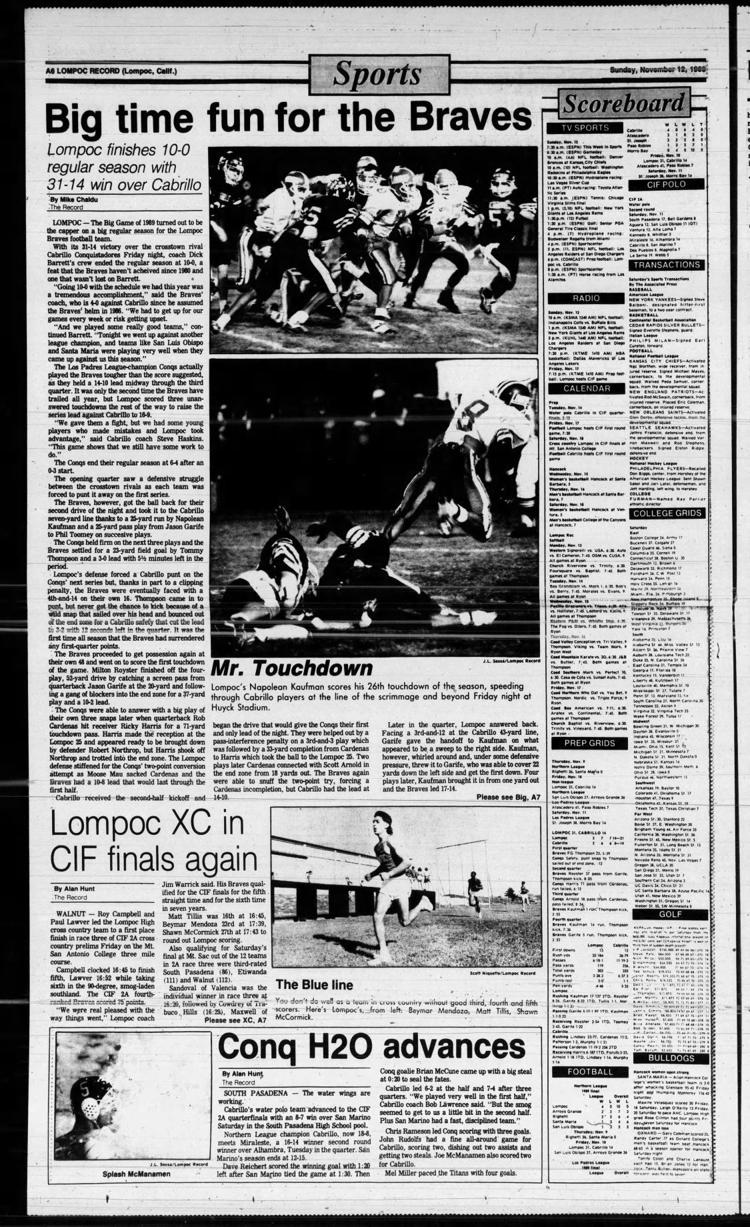 Lompoc would run through the postseason, setting up a monumental showdown with Serra High for the CIF title in December of 1989.
Both teams came into the game at 13-0, meeting at El Camino College in Torrance for the CIF-SS Division VII title. 
The Braves would come up short, losing 34-31, and end the season 13-1. Serra was crowned the champion at 14-0. Nip had four touchdowns, including a 95-yard kick return, 48 yards receiving and 143 yards rushing in the loss.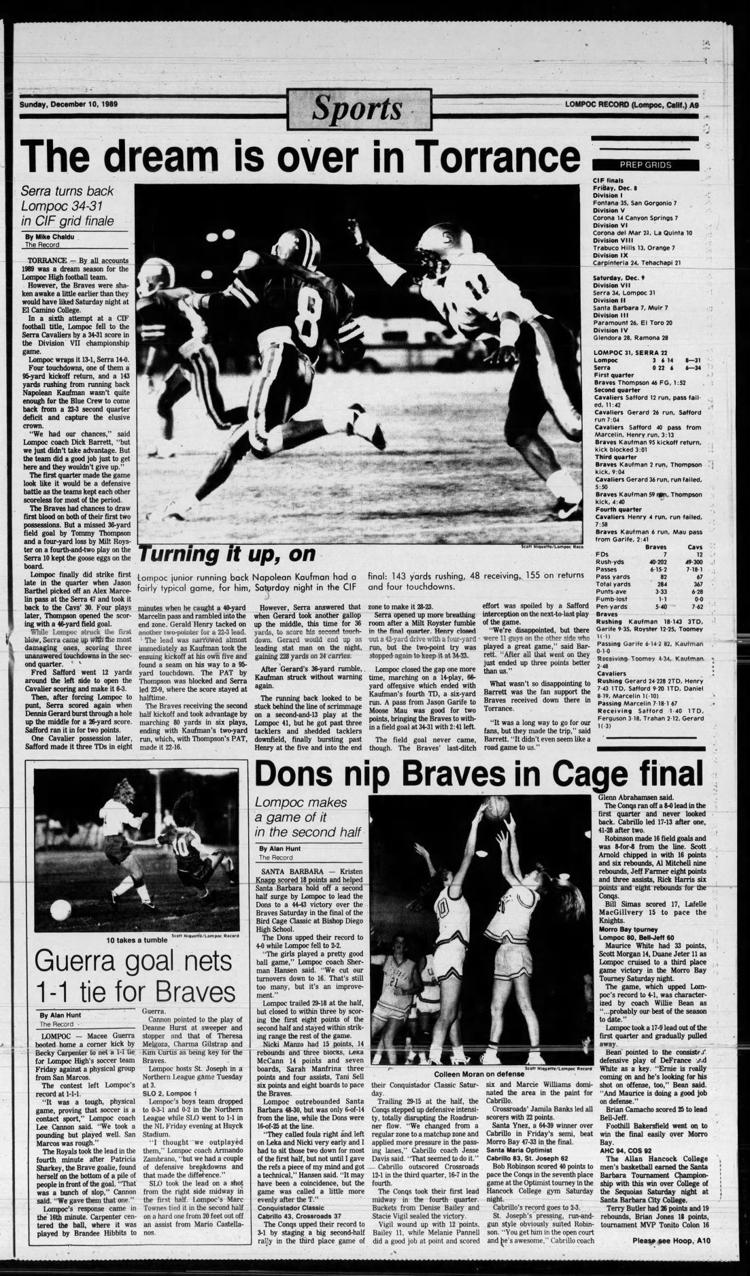 Kaufman's junior season wasn't done, though. Oh no.
This is where he truly showed that he is undeniably the best athlete to come from these parts. 
Kaufman went on to run track for the Braves in the spring and ended up winning two titles. No... not two Northern League titles. No, not two county titles or even CIF Southern Section titles.
Kaufman took home a pair of CIF State Championship titles, sweeping both the 100- and 200-meter dashes as a junior. (I'm sure someone will throw out another name as the area's GOAT, but I'm having a hard time seeing anybody do what Napoleon Kaufman did).
To recap, Kaufman totaled nearly 3,000 all-purpose yards and 39 touchdowns, was named the CIF State Player of the Year for football and then took home two state titles in the sprints later that spring.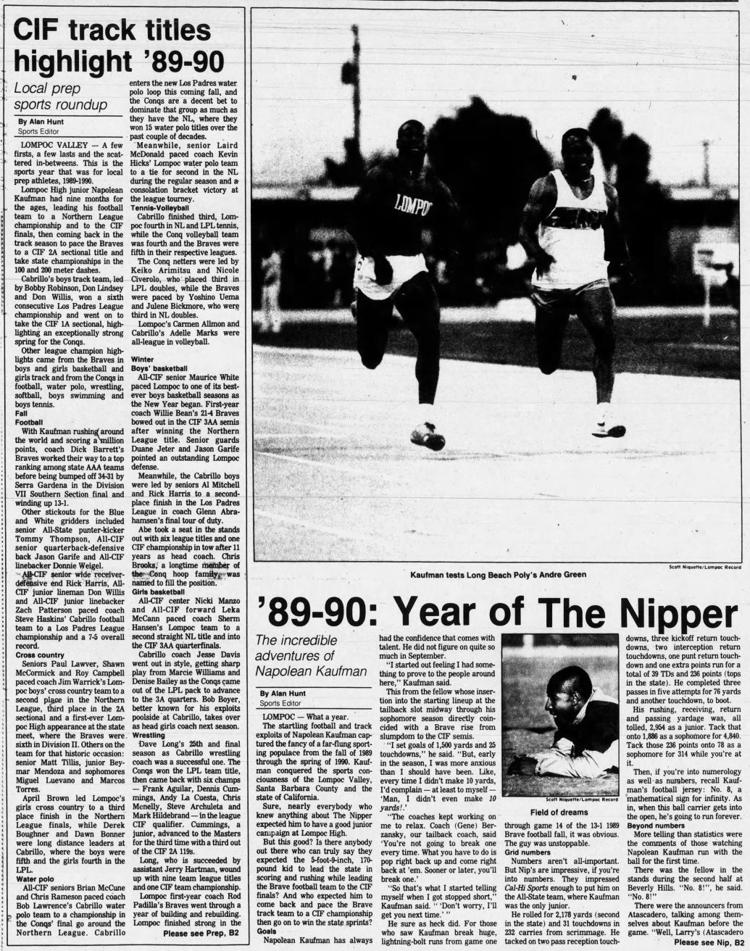 Remarkable. 
Again, Nip wasn't done. Nope.
Kaufman came back bigger and stronger to the football team as a senior and the Braves rolled to the CIF title, playing Arroyo Grande at Cal Poly in the championship game.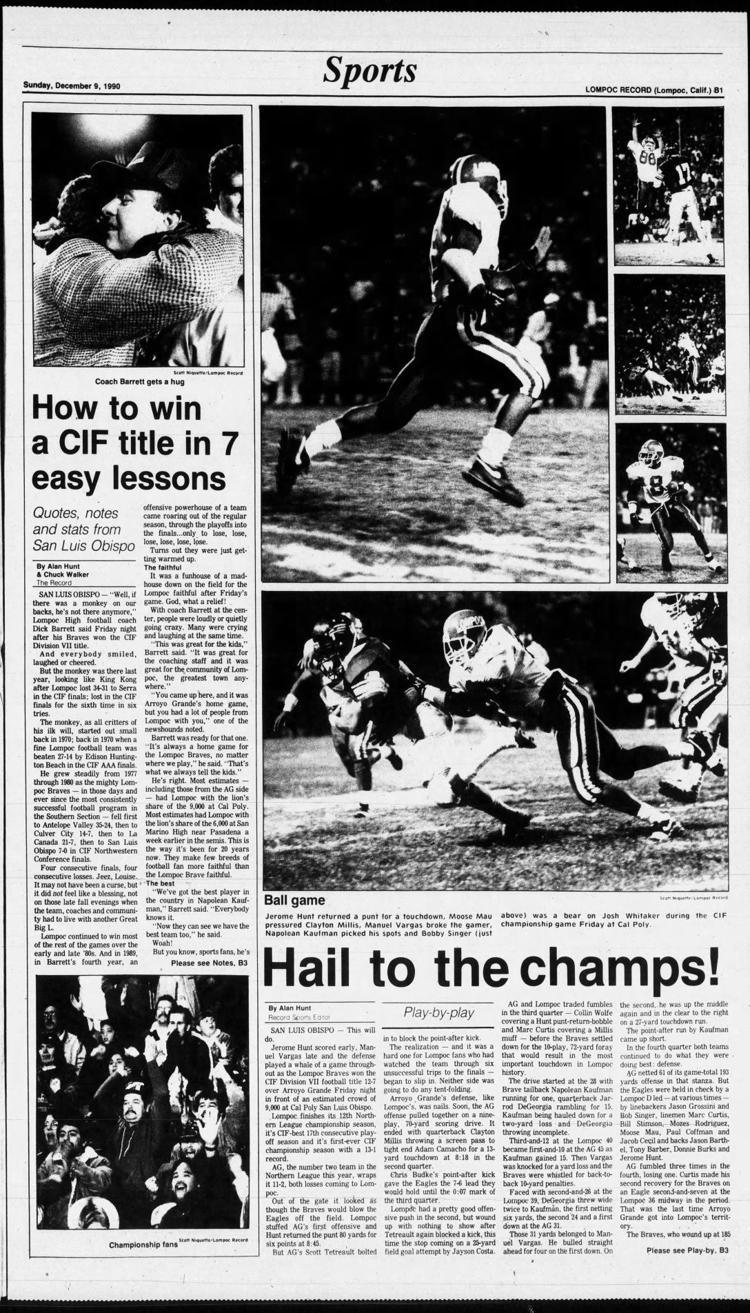 It wasn't an ideal individual season for Nip, as he battled through injuries. But he still scored 28 touchdowns and 1,960 yards. And, best of all, his team finally won a CIF championship.
What a remarkable prep career. That's 5,151 yards rushing and 86 touchdowns in football and two State titles in track.
That alone would get Kaufman near the top of the Central Coast's Greatest Athlete of All-Time list. Then, of course, Kaufman went on to his storied football career at Washington. He rushed for at least 1,000 yards in three straight seasons and was a Second Team All-American. 
Then the Raiders drafted him 18th overall in 1995 and went on to 4,792 yards and 12 touchdowns with Oakland before his abrupt retirement in 2000 at the age of 27. 
Top that.
Subscribe to the Lompoc Record and the Santa Maria Times and visit our archives to get access to our recently digitized archives or email me if you want to see what we can dig up next!
As Danny Duffy embarks on his tenth major league season, now is a good time to look back on his career as a high schooler at Cabrillo and the …
Get in the game with our Prep Sports Newsletter
Sent weekly directly to your inbox!