New league, same result for the Lompoc High School football team.
After winning several Los Padres League championships, the Braves moved to the Channel League after they, along with Cabrillo and Santa Ynez, stayed put in the CIF Southern Section while former LPL rivals Pioneer Valley and St. Joseph moved to the Central Section.
As they did so many times in the LPL, the Braves ran the table in the Channel League, this time with a 5-0 mark. The Braves have garnered most of the top All-Channel League awards after their inaugural season in the revamped league.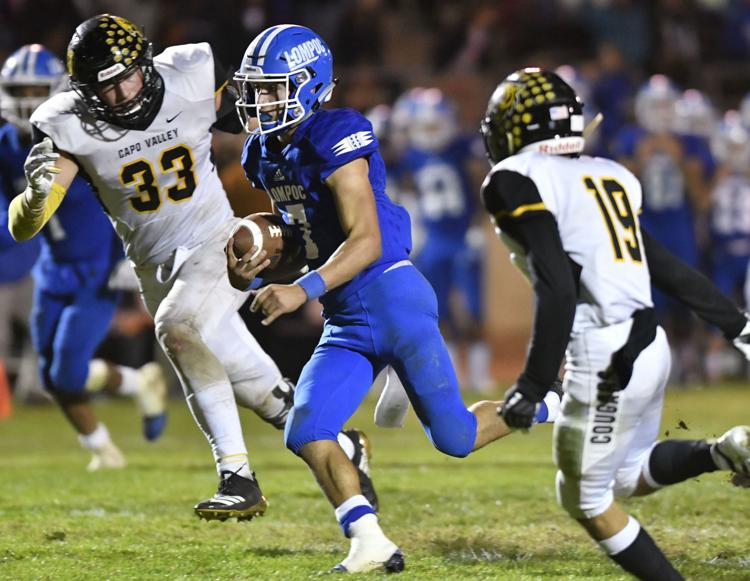 The Braves went out in the first round of the playoffs with a 24-7 home loss to Mission Viejo Capistrano Valley last Friday night.
Lompoc junior quarterback Cameron Iribarren is the Channel League Offensive MVP. Iribarren threw for 841 yards and 13 touchdowns. He tossed just two interceptions.
With 974 yards, Iribarren was the second-leading rusher on the team behind Leondre Coleman (980). Iribarren led the team in rushing touchdowns with 14. Coleman ran for 10.
Coleman, a junior, is the younger brother of Lavon Coleman, who was a record-breaking running back at Lompoc.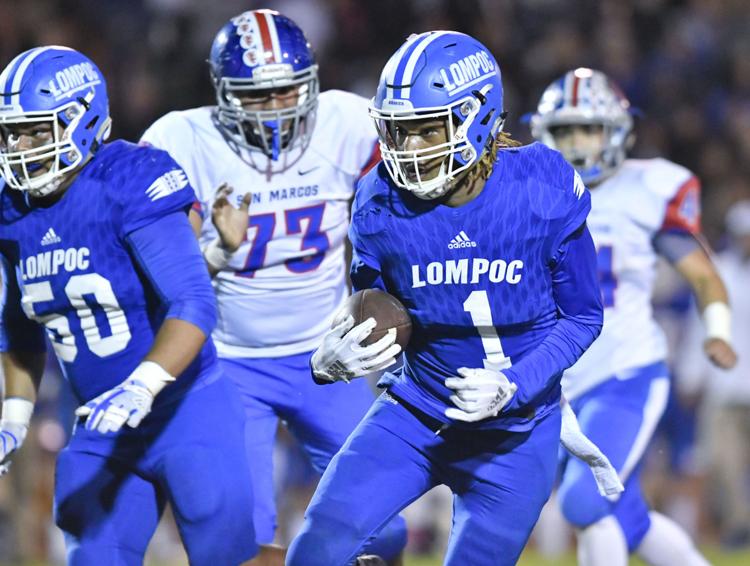 Leondre Coleman is the league Defensive MVP. With 60 tackles, he was second on the team to junior Cullin Ranney, the All-League First Team Tight end. 
Lompoc also has the league Offensive Lineman of the Year, junior Jacob Nunez. Lompoc senior Jovany Lucatero is the co-Defensive Lineman of the Year with Santa Barbara senior Jeremiah Phillips.
Lompoc coach Andrew Jones and his staff earned the Channel League Varsity Staff of the Year award. Santa Ynez senior wide receiver/defensive back/kick returner Jasper Kadlec is the league Utility Player of the Year.
The linemen on the Channel League First Team Offense are center Gerardo Fernandez and right tackle Jakob Beachey of Lompoc, right tackle Angel Flores and left guard Sunny Graybill of Dos Pueblos and left tackle Marco Lazarit of Santa Ynez. All are seniors.
The tight end is Ranney. The receivers are juniors Jackson Gonzales and Dakota Hill of Santa Barbara, and Josh Brown of San Marcos.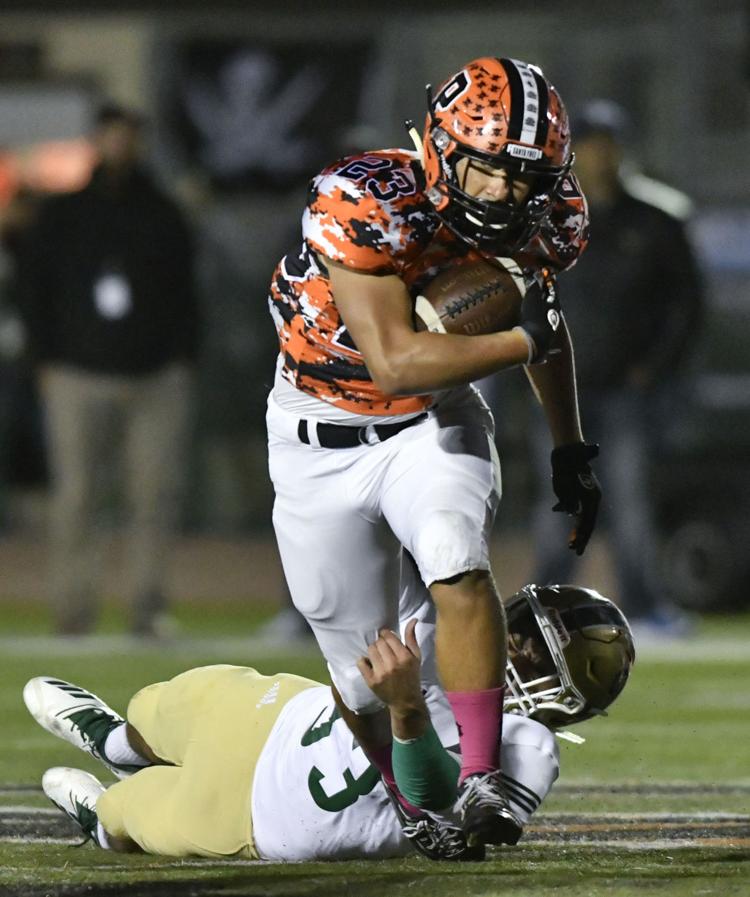 The quarterback is Santa Barbara senior Frank Gamberdella. The running backs are seniors David Leon (he's actually a quarterback) and Eric Lopez of Dos Pueblos, Cash Transeth of Santa Ynez and Tommy Schaeffer of San Marcos. They are all seniors.
The linemen on the First Team Defense are Lompoc seniors Juan DeLuna and Jesus Corrales, Santa Ynez senior Juan Sanchez (who also played quarterback, offensive tackle, fullback and punter) and Santa Ynez junior Tyler Germani.
The linebackers are Santa Ynez seniors Vinny Vacca and Alex Lammers, Lompoc junior Johnny Gaitan and San Marcos senior Jafet Gomez. The defensive backs are seniors Andrew Galindo of Lompoc, Jacob Forney of Santa Barbara, Dylan Hamilton of Santa Ynez and Ty Hernandez of Cabrillo.
Water Polo
Attacker Ethan Parrish and goalkeeper Angus Goodner of league champ Dos Pueblos shared Channel League Boys Water Polo MVP honors. Parrish is a junior. Goodner is a senior.
The First Team utility players are seniors Keller Haws of Santa Ynez and Trevor Ricci of San Marcos, juniors Chase Raisin of Santa Barbara and Henry Allen of Santa Ynez and Dos Pueblos sophomore Sammy Arshadi. The center is Santa Barbara senior Julian Bacon. The two meter player is San Marcos senior James Oiskovich.
The Second Team utility players are Santa Ynez junior Clayton Davidson, Santa Barbara junior Dylan Fogg and Cabrillo senior Josh Rowe. The two meter defenders are Dos Pueblos senior Wyatt Meckelborg and San Marcos senior Keller Radthy.
The center is Dos Pueblos senior Kyle Faison. The driver is Santa Ynez junior Jacob Thielst. The goalkeeper is San Marcos freshman Ben Webber. The center defender is Santa Barbara sophomore Jordan Hayes.
Santa Ynez senior center defender Mateo Del Solar, Cabrillo junior goalkeeper Chase Fichtner and Lompoc senior attacker Jarred Torres all earned honorable mention.
Tennis
Senior Yuka Perera helped lead the San Marcos girls tennis team to the league championship, and she is the Channel League Girls Tennis MVP.
The First Team seniors are Kelly Coulson, Maura Mannix and Sam Weiner of San Marcos, Claire Stotts, Sophia Ostovany and Claudia Brewer of Santa Barbara and Anjali Thakrar of Dos Puebolos. The sophomores are Alessa Somer and Cami Chou of Dos Pueblos, and Kayla King of Cabrillo. The juniors are Fiona Kinsella of San Marcos and Claire Collison of Santa Ynez.
The Second Team seniors are Paris Wynne, Alyssa Murray and Karly Kovach of Cabrillo, Janice Tsai of Dos Pueblos and Dawani Layog of Lompoc. The juniors are Samantha De Alba and Bella Munoz of San Marcos, and Hannah Mendez of Santa Barbara. The sophomore is Mia Chou of Dos Pueblos. The freshman is Sophia Curti of Santa Ynez.
Emmy Withrow and Lauren Thorburn of Santa Ynez, along with Rachel Carlos of Cabrillo, and Leann Alcantara and Cheri Battle of Lompoc, all earned honorable mention.