Though it'll be the Braves' Homecoming game, the Lompoc High football team will treat it just like any other.
Lompoc, hosting Dos Pueblos (1-5, 1-0) in a Channel League game as it aims for a third straight win, will crown its Homecoming queen and king this weekend. 
Braves coach Andrew Jones acknowledges that Homecoming can be an exciting time for his high-school aged players, but he and his coaching staff don't change their approach to the game.
"With high school kids, I just try to treat it like any other game and eliminate any distractions," Jones said Tuesday. "I try to not change the way we've prepared and not to change anything really. Keep it the same way, there's just happens to be a dance Saturday."
We went far and wide to find the Player of the Week nominees for Week Six. There's a couple candidates from the Lompoc Valley, three from the Santa Maria Valley and two from SLO County. It is time to vote! Go online and give us your pick. 
Lompoc (4-2, 1-0) offensive lineman Jacob Nunez is one of the Homecoming king candidates. The rest of the candidates are water polo players Robby Theis and Corbin Hayes, along with Cole Beattie and Raymond Leyva.
The Lompoc High Homecoming queen candidates are soccer and track standout Ayziah Simmons, softball standouts Jackie Castaneda, Olivia Lara and Jackie LaShore and volleyball player Mariah Escobedo.
In its most recent game, last Friday's 45-7 win at Santa Ynez, the Brave offense was firing on all cylinders as Lompoc neared 500 total yards. 
The Braves rushed for 269 yards as a team. Sophomore Sheldon Canley Jr. led the way with five carries for 105 yards. 
The Braves started slow against the Pirates on Friday night as the team's exchanged turnovers during a sloppy first half. But Lompoc was able …
Jones says Canley is playing like a vet and has earned his carries in a deep running back rotation.
"He's got a chance to be special, he really does," Jones said of Canley, who scored twice against the Pirates last week. "He has great speed and good vision and he improves every day. I think one of the things I like about him most is that he keeps his mouth shut and just plays ball. He's so coachable. Sometimes you get those guys that are pretty good and just want the ball or are about themselves, but Sheldon just does what he's coached to do
"We're starting to see what kind of back he can be."
Though they've logged countless hours on the tennis court or soccer pitch over the years, St. Joseph's Katelynn Haskell and Hancock's Bryan Go…
Jones also felt the emergence of Carlos 'Maui' Garcia was pivotal last week. Garcia had to sit out the first half of the season after transferring into Lompoc High.
"He's been a solid addition and that was his first game back, but Carlos' play really helped the run game," Jones said. "You factor in that (Santa Ynez coach) Josh (McClurg)'s defense, or pretty much his whole team, was beat up and it resulted in our best offensive game.
"Having ASU on the sidelines also motivated the guys and maybe got Jacob (Nunez) and the rest of the team going."
Nunez, Lompoc's 6-foot-4, 290-pound tackle, has verbally committed to Arizona State and Sun Devil offensive line coach Dave Christensen watched the Braves play Santa Ynez. 
The Chargers (1-5) scored their first win of the season in the Channel League opener against winless Cabrillo (0-6). The score was 7-0 at half…
By Tuesday, Jones had already did some film-work in preparing for Dos Pueblos, which is 1-5 and coming off a 40-13 win over Cabrillo, which was also played on the field at Huyck Stadium. Jones feels Dos Pueblos hasn't quite found its identity on offense as the Chargers have moved away from their explosive single-wing offense from years past. 
"I think they've had a tough schedule and we can't take anybody lightly," Jones said of Dos Pueblos. "They've been inconsistent. They'll show flashes of being a good team and then make a horrible mistake. We've got to make sure we're playing smoothly, not having bone-headed penalties.
You have free articles remaining.
"In any league game like this you can't allow teams to stick around. If that happens we could be in trouble."
Cavin Ross, Lompoc's freshman quarterback, had another solid game last week, completing 15-of-26 passe for 225 yards with one touchdown and one interception. On the season, Ross has completed over 60 percent of his passes for 988 yards, nine touchdowns and six interceptions.
Ross's most reliable target has been senior Ryan Morgan, who has committed to play at Wyoming next year. Morgan had four catches for 121 yards and a score last week. He leads the Braves with 24 catches for 455 yards and four touchdowns. 
Nearly 100 young baseball and softball players, along with parents, coaches and youth league organizers, marched in front of the Recreation and Parks Department building in Santa Maria on Monday, protesting the changes to the area fields.
"He's just a great kid and he's a match-up nightmare for most teams," Jones said of Morgan. "We'll continue to find ways to get him the ball. We're always trying to move him around so he's not in the same spot and we can get a linebacker or safety on him. He's had a great year and he's a good kid.
"We're looking forward to seeing him play at the next level."
The Braves have had a much different offense in 2019 than they've had in the past, as evidenced by their balance. Typically a run-first offense under Jones, the Braves have averaged 182 yards rushing per game this year and 168 yards through the air.
Leondre Coleman, a senior, leads Lompoc with 82 carries for 448 yards with three touchdowns. Oscar Tenorio is second on the team with 367 yards on 56 carries with four scores.
Junior Cailin Daniels is second on the team with 14 catches for 215 yards for Lompoc.
Pre-sale tickets for the game can be purchased at Lompoc's athletics office.
Cabrillo travels to play San Marcos
The Conqs (0-6, 0-1 CL) travel to play San Marcos Friday night in another Channel League game.
Cabrillo is coming off its 40-13 Homecoming loss to Dos Pueblos at home last week. 
Cabrillo does appear to have the ability to be competitive in this game. San Marcos is 2-4 overall and 0-1 in league play. The Royals lost to Santa Barbara 308-12 last week and lost to Santa Maria in a non-league game 33-29 earlier this season.
In the loss to Dos Pueblos last week, Cabrillo quarterback Zack Ramos had his best game of the year, completing 15-of-27 passes for 158 yards, one touchdown and one interception. Senior JJ Lombrana picked up 84 of the Conqs' 88 team rushing yards, carrying the ball 17 times.
Cabrillo was in the game last week through halftime, trailing Dos Pueblos 7-0 at the break. The Chargers then outscored the Conqs 33-13 in the second half. 
Junior Cade McNamee caught four passes for 54 yards and a touchdown last week. Hunter Barthel led Cabrillo with six catches that went for 52 yards. 
Junior Trey Robison led Cabrillo's defense with nine tackles. He also had two tackles-for-loss.
Cabrillo closes out the season with a road game at Santa Ynez on Oct. 18, a home game vs. Santa Barbara on Oct. 25 and the Big Game against Lompoc on Nov. 1. 
100419 Lompoc SY football 01.jpg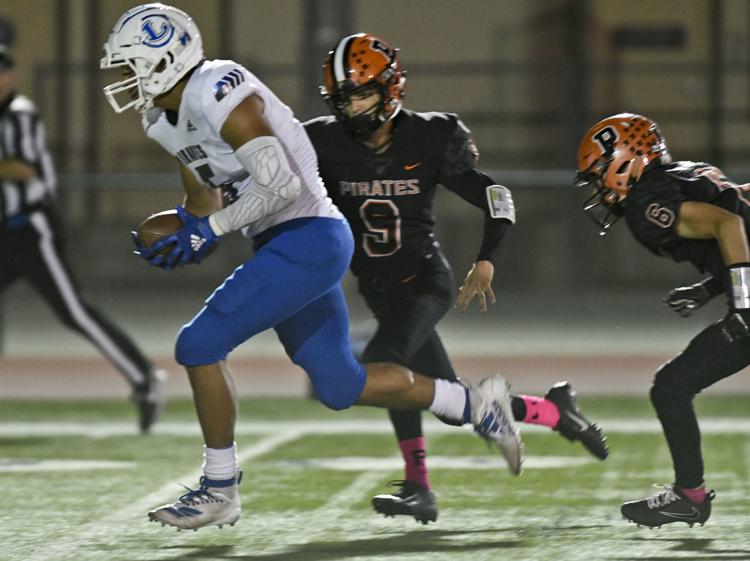 100419 Lompoc SY football 02.jpg
100419 Lompoc SY football 03.jpg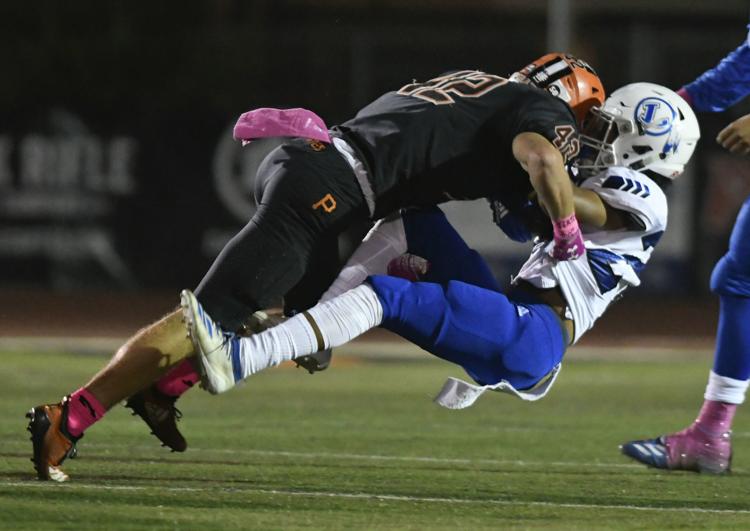 100419 Lompoc SY football 04.jpg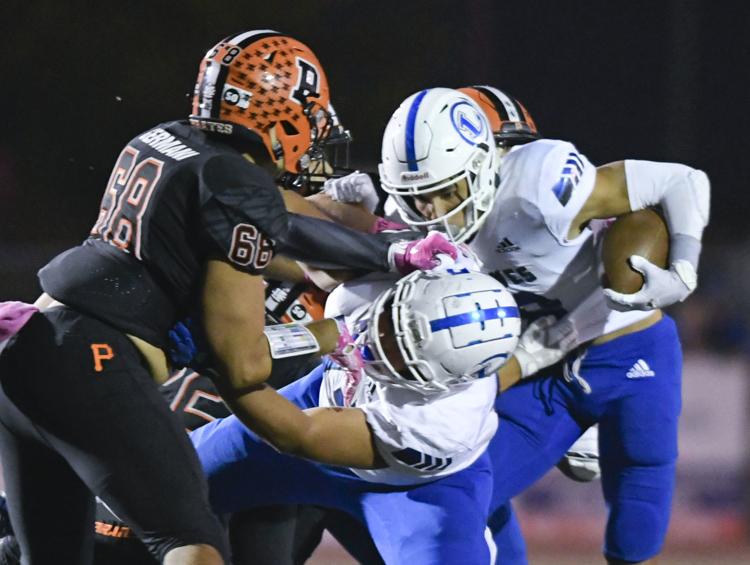 100419 Lompoc SY football 05.jpg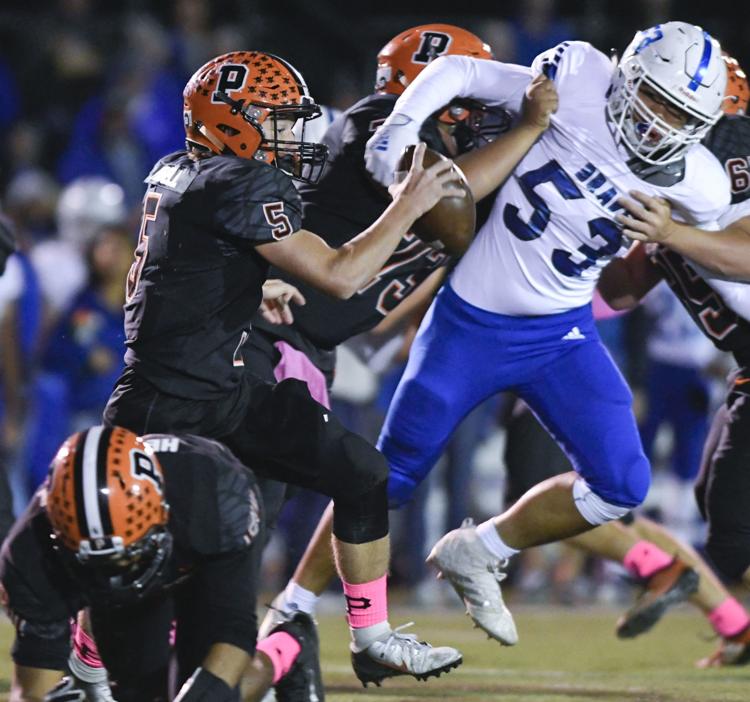 100419 Lompoc SY football 06.jpg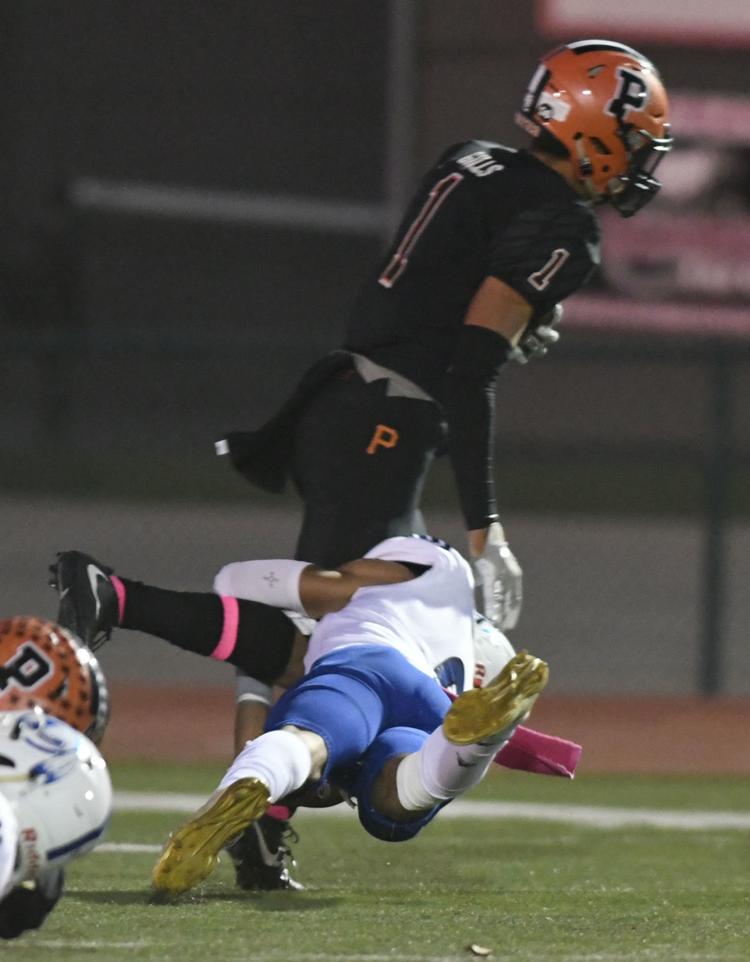 100419 Lompoc SY football 07.jpg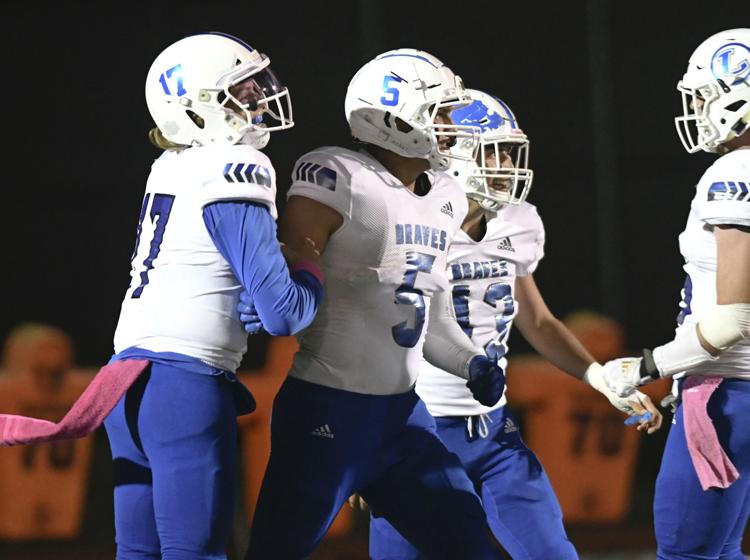 100419 Lompoc SY football 08.jpg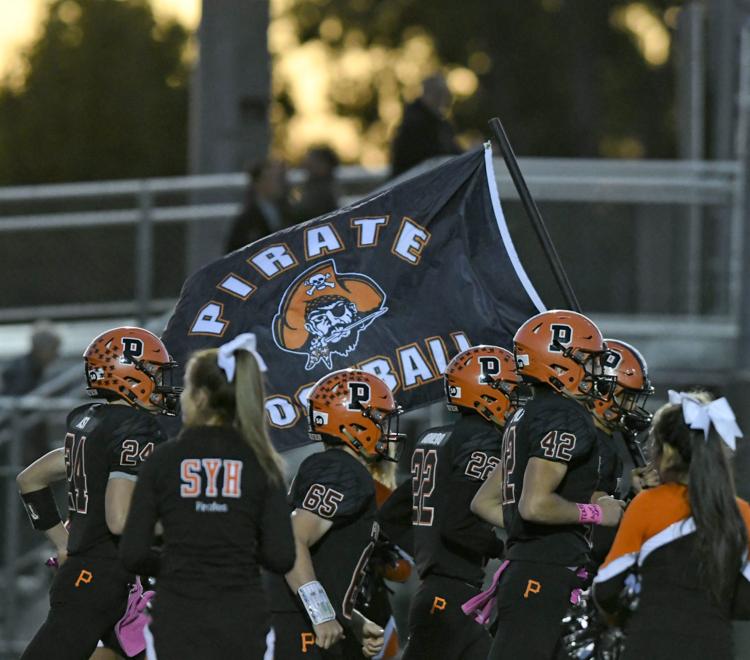 100419 Lompoc SY football 09.jpg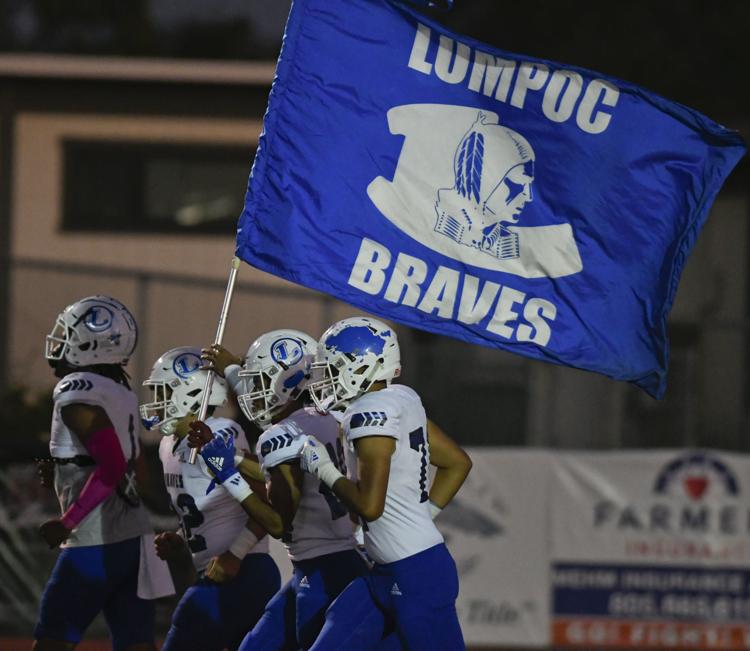 100419 Lompoc SY football 10.jpg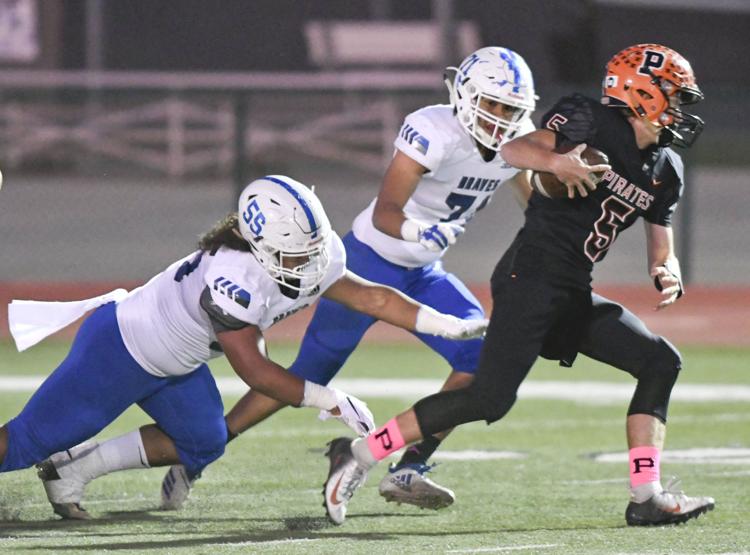 100419 Lompoc SY football 11.jpg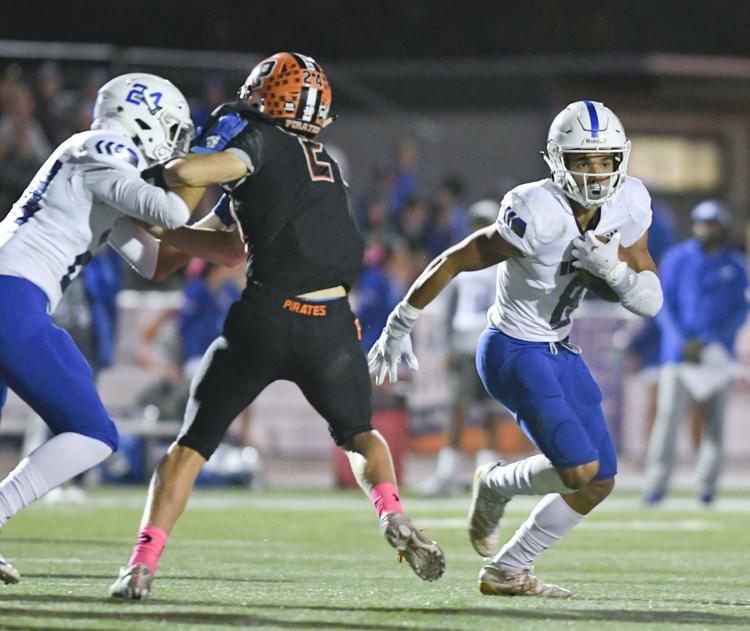 100419 Lompoc SY football 12.jpg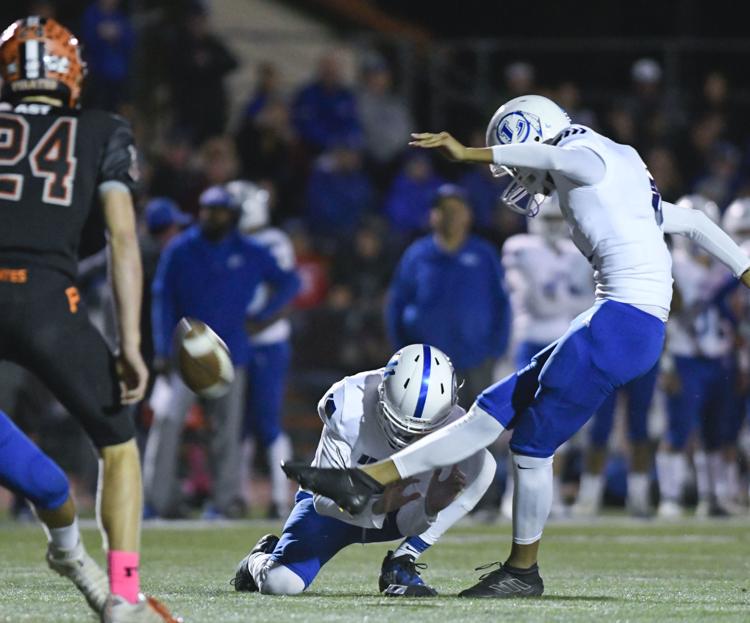 100419 Lompoc SY football 13.jpg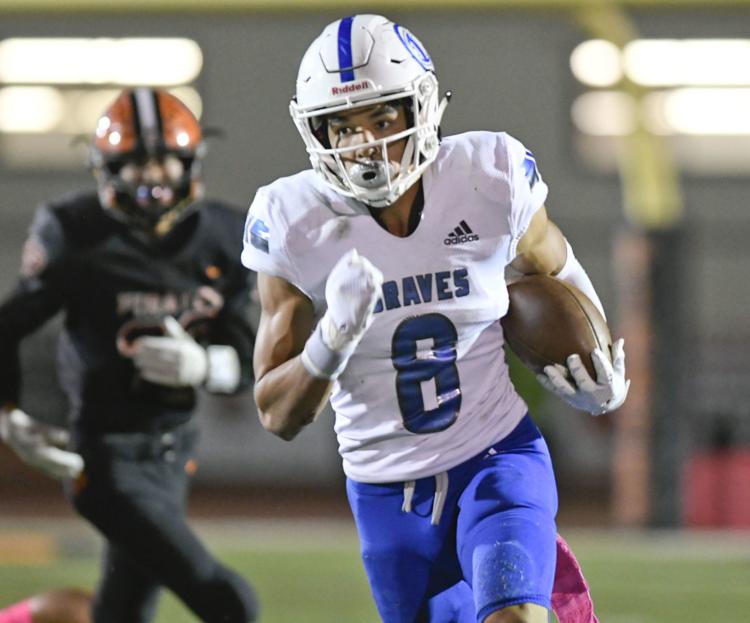 100419 Lompoc SY football 14.jpg
100419 Lompoc SY football 15.jpg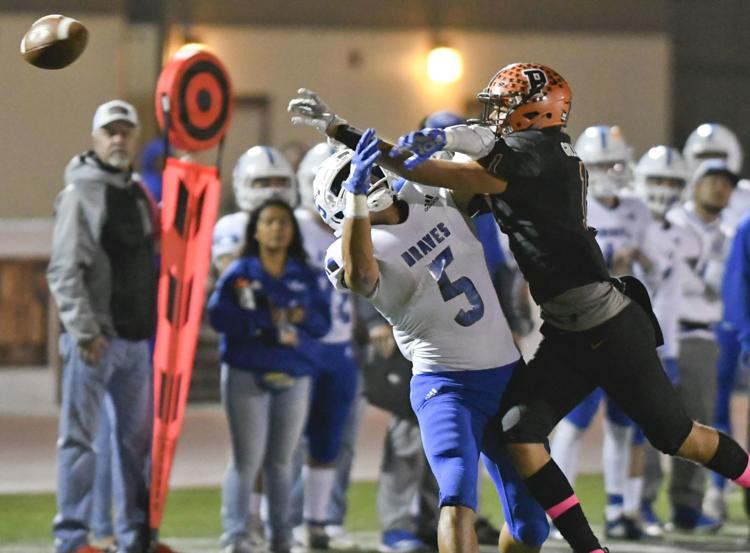 100419 Lompoc SY football 16.jpg