Zo's Gold Mines: Quarterback dynamics are imminent at Santa Ynez on Friday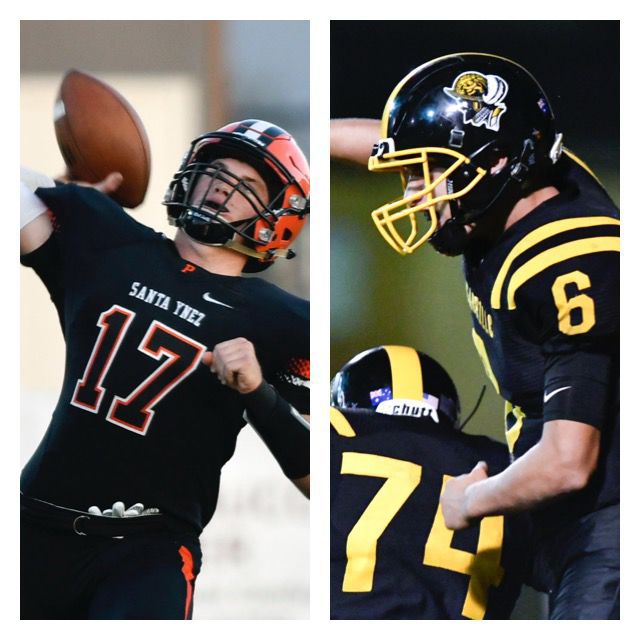 Here's a position battle to be glued to if anyone attends the Cabrillo at Santa Ynez football contest on Friday: The quarterbacks.
Cabrillo's rising junior Jackson Anderson and Santa Ynez's dynamic senior Dustin Gregg should provide plenty of dramatic theater with their arms and legs at SYHS.  
Here's a closer look at how they've progressed:
Anderson: Since being named the starting quarterback after Sean Wood left the team, the 2019 prospect has emerged as the explosive bright spot for a Conquistadores team that's been in a rebuilding phase at 1-6 overall.
The 6-foot-2 Anderson showed glimpses of his potential against Santa Maria, with 183 combined yards and two touchdowns in the 46-24 loss. But he followed that up with 366 total yards and four combined touchdowns (three rushing) in the 71-27 loss to Templeton. His breakout night arrived in Cabrillo's lone victory of the season: The 47-42 thriller over Morro Bay that saw Anderson account for 487 total yards and seven combined touchdowns. His seven scores were the most from a Cabrillo player since wide receiver/kick returner Jason Robert scored seven times in the 50-48 loss to Bishop Diego in Sept. 2001.
Off the field, Anderson's head coach A.J. Pateras says Anderson holds a grade point average between 3.6 and 3.9, making him attractive for any big academic university that will need a dual-threat quarterback down the road.
"It's exciting to see what he will become as a quarterback," Pateras said via text back on Oct. 1. "He has all the tools. He just needs to sharpen them."
Gregg: Turns out replacing Mike McCoy and his 3,125 yards from scrimmage and 34 combined touchdowns last season was too easy for Gregg.
After all, Gregg has already shattered McCoy's previous school records – plus Gregg's own personal records.
Similar in build to McCoy at 5-foot-8, Gregg tossed seven touchdown passes in the 54-0 rout of Morro Bay last Friday, shattering the previous mark of six that he threw against Templeton on Sept. 22. And Gregg's touchdown to interception ratio so far this season: 24 to 2.
In six games, Gregg has totaled 1,827 yards throwing and rushing and has 28 combined touchdowns – meaning he's seven more away from bettering McCoy's totals from last season.
His head coach Josh McClurg prefers to not use the word "amazed" when talking about the performance of Gregg. 
"Don't know if amazed would be the term I would use. I think we expected Dusty to manage the offense and we have continually told him to take what the defense gives you and don't lock onto Gabe Prendergast," McClurg said via text. "I'm most surprised by how well he has run the ball."
Additionally, Gregg comes with academic prowess – as his grade point average sits at 5.0 with AP courses in his class schedule.
Cabrillo and Santa Ynez take the field at 7 p.m. on Friday in the Los Padres League contest.