One of the first times Bryn Smith's name appeared in newspapers was in 1964. 
Smith, then 9, had just finished as the runner-up in the Southern California district competition of the Punt, Pass and Kick Contest in Anaheim. 
A photo of Smith being congratulated by Santa Maria 20-30 Club Member Mike Pangburn appeared on page 14 of the Santa Maria Times on Thursday, Nov. 5, 1964. 
Owens, now 29, has used her athletic background to move into the next phase of her life. She is a fitness athlete, trainer and business owner based in Fayetteville, North Carolina. Owens owns and operates Athlete Inner Fitness, working with clients who are intent in following intense workout regiments. 
It would be the first of many times Smith's photo and accomplishments appeared in a newspaper. 
The right-hander would go on to star in the youth baseball ranks and eventually at Santa Maria High School, where he graduated in 1973. Smith then pitched with the Hancock College Bulldogs before signing with the Baltimore Orioles in 1974. 
He would eventually break into the major leagues with the Montreal Expos and win over 100 games in the majors, building a career that ranks among the best of area natives who played professional sports. 
As a young coach, Reck took over the Santa Ynez girls basketball program in 1976. The ENTIRE program.
"I was the girls varsity and junior varsity coach," Reck told the Times' Joe Bailey before being inducted into Santa Barbara's Court of Champions in 2016.
Though Smith pitched into the 1990s, signs of his potential were there way back in the 1960s. 
Smith won the age 10 crown in the district Punt, Pass and Kick contest in 1965, as Pat Kelly took second and Robert Twitchell finished third.
In the summer of 1966, Smith pitched for the Eastside Little League Columbia Records team. He struck out 10 batters but took the loss in a June 23 game as Steve Brock struck out 14 batters for Elks. 
Jenkins was named the Times' All-Area MVP in 2017 and 2018, after her junior and senior years at Cabrillo High. Aly Beebe (2010 and '11) and Meghan Gnekow (2001 and '02) are the only other two players to do that this century. Both Beebe and Gnekow went on to sign with Pac-12 schools, Beebe joining Stanford and Gnekow playing for USC.
That fall, Smith again won the area Punt, Pass and Kick contest, edging second-place Kelly. In 1967, while playing for Columbia Records, Smith smacked two home runs in a pair of wins over Elks and Simas Sporting Goods. 
Smith played for the Eastside All-Stars in 1967, though the team was ousted by Morro Bay in the district playoffs.
"The 11-year-old Smith came in with two on and no out and fanned the side on 10 pitches. Smith did an excellent job in relief, yielding just one unearned run, in the sixth, when a walk, an error and two wild pitches accounted for the final Morro Bay marker," a game story in the Times' sports section read on July 29, 1967. 
Tuitele wrote that he worked late five to six nights a week, living pretty much a subsistence existence, "However, by the grace of God, I had just enough to pay off my college tuition and housing rent for two years straight," Tuitele wrote.
Smith fanned eight in just three innings in that game, a 3-1 loss.
In 1968, Smith had a huge performance in an 8-5 victory over Village Hills in a Little League tourney. He threw a four-hitter and helped his winning cause with a two-run homer as the "Santa Maria Eastsiders defeated Village Hills Little League All-Stars, 8-5," a Times story read.
"The blury Eastside pitcher was cruising through the Village batters when a cataclysm of errors struck in the third inning to reshape the game."
Smith, and Kelly, hit Santa Maria High School in 1970. Smith was named the Northern League MVP as a senior in 1973. Smith also earned All-CIF Second Team honors that year, going 13-2 with a 1.07 ERA. (Kelly earned First Team All-CIF honors with a .338 batting average at catcher and was drafted by the Angels that summer).  
Smith was drafted by the St. Louis Cardinals out of high school in '73, though he opted to go to Hancock, where he pitched for one season before signing with the Baltimore Orioles on Dec. 18, 1974. 
"Smith, or 'Smudge' as he is known, fulfills a dream he has had since he was four years old and pitched to his older brother Tommy in the front-yard of the family home. He and catcher Pat Kelly, a recent draftee of the Angels, were a formidable battery in the Pee Wee League competition," a Times story on Smith's signing read.
Though Smith did realize his major league dreams, he never pitched for Baltimore. The Orioles traded him about three year later, sending Smith, Rudy May and Randy Miller to the Montreal Expos for Joe Kerrigan, Gary Roenicke and Don Stanhouse. 
It was with Montreal that Smith broke into the big leagues. He made his major league debut on Sept. 8, 1981, according to Baseball Reference. He pitched 2/3 of an inning without allowing a hit. His final game came on June 1, 1993 with the Colorado Rockies. 
Smith went 108-94 in the majors with a 3.53 ERA. He pitched in 365 games and made 255 starts, amassing over 1,791 innings. He wasn't a hard-throwing pitcher, striking out just 1,028 batters. His best season was likely his 1989 campaign, when he started 32 games and threw of 215 innings. He went 10-11 that year with a 2.84 ERA.
Smith went 18-5 in 1985 with a 2.91 ERA, starting 32 games and piling up 222 innings. He struck out 127 batters that year. That was likely his second-best year as a pro. 
After his career, Smith has stayed in the Santa Maria Valley, becoming involved with youth baseball in the area, working wonders to provide a playing field for Orcutt Babe Ruth. 
In 1990, after joining the St. Louis Cardinals, Smith was the keynote speaker at the Santa Maria Boys and Girls Club's annual dinner.
"I have to come back (home) to give to the community that gave so much to me," Smith said then, according to a Times story. "It makes me feel good to come back home and still see that so many people are concerned with the wellfare of our young people. All we can do is create opportunities for the kids and give them the chance to go on to bigger and better things."
The first time Smith's name appeared in the Santa Maria Times was in November of 1962 in a story focused on his parents, Tom and Meg Smith, who were directing a play titled "All My Sons" at the Santa Maria Civic Theater.
While discussing some of the can't-miss-performers in the play, Mrs. Smith said, "Oh, I almost forgot–Bryn Smith–let's just say he's a natural ham because he's our son."
Santa_Maria_Times_Fri__Nov_30__1962_.jpg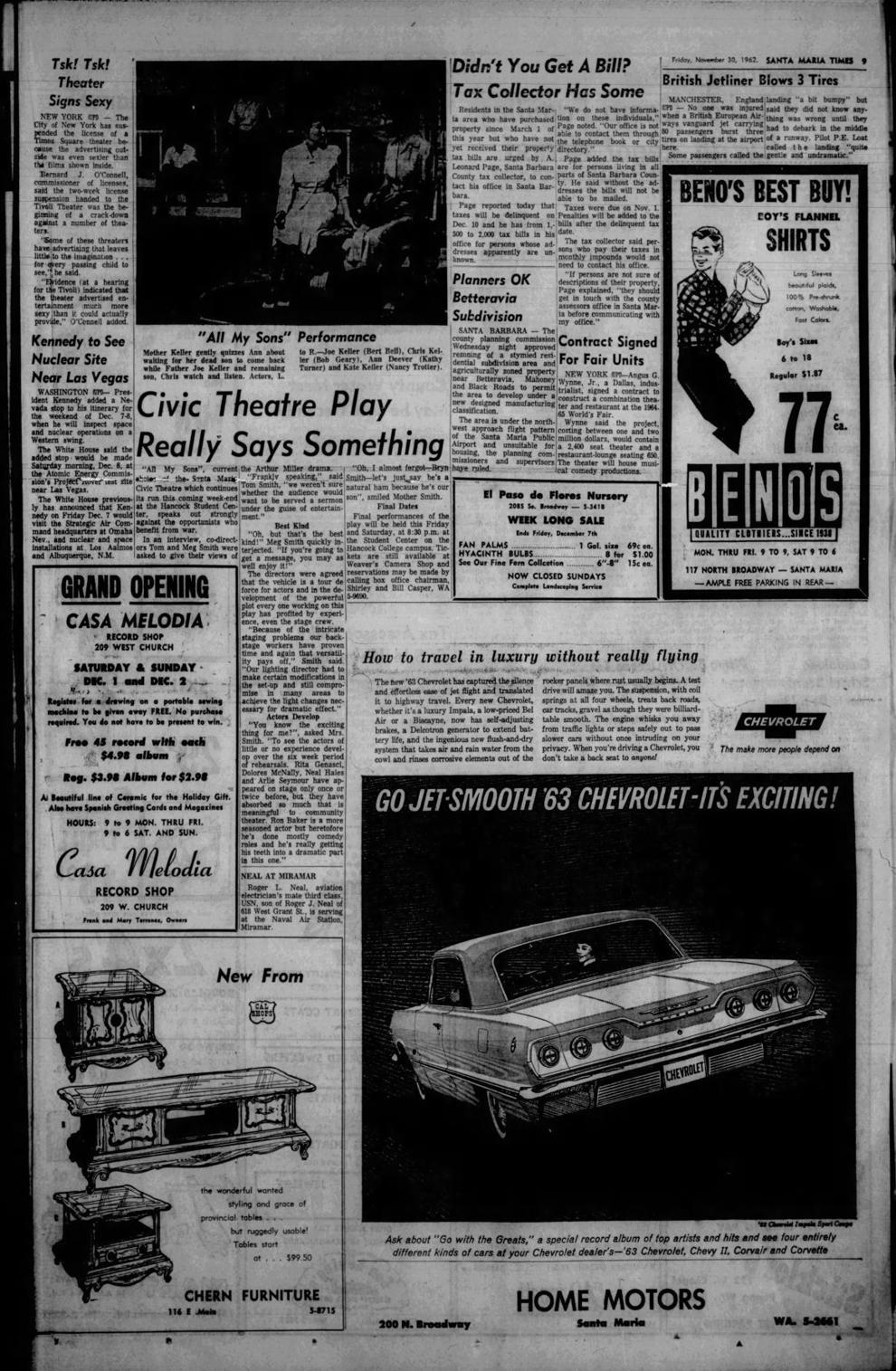 Santa_Maria_Times_Thu__Jul_11__1963_.jpg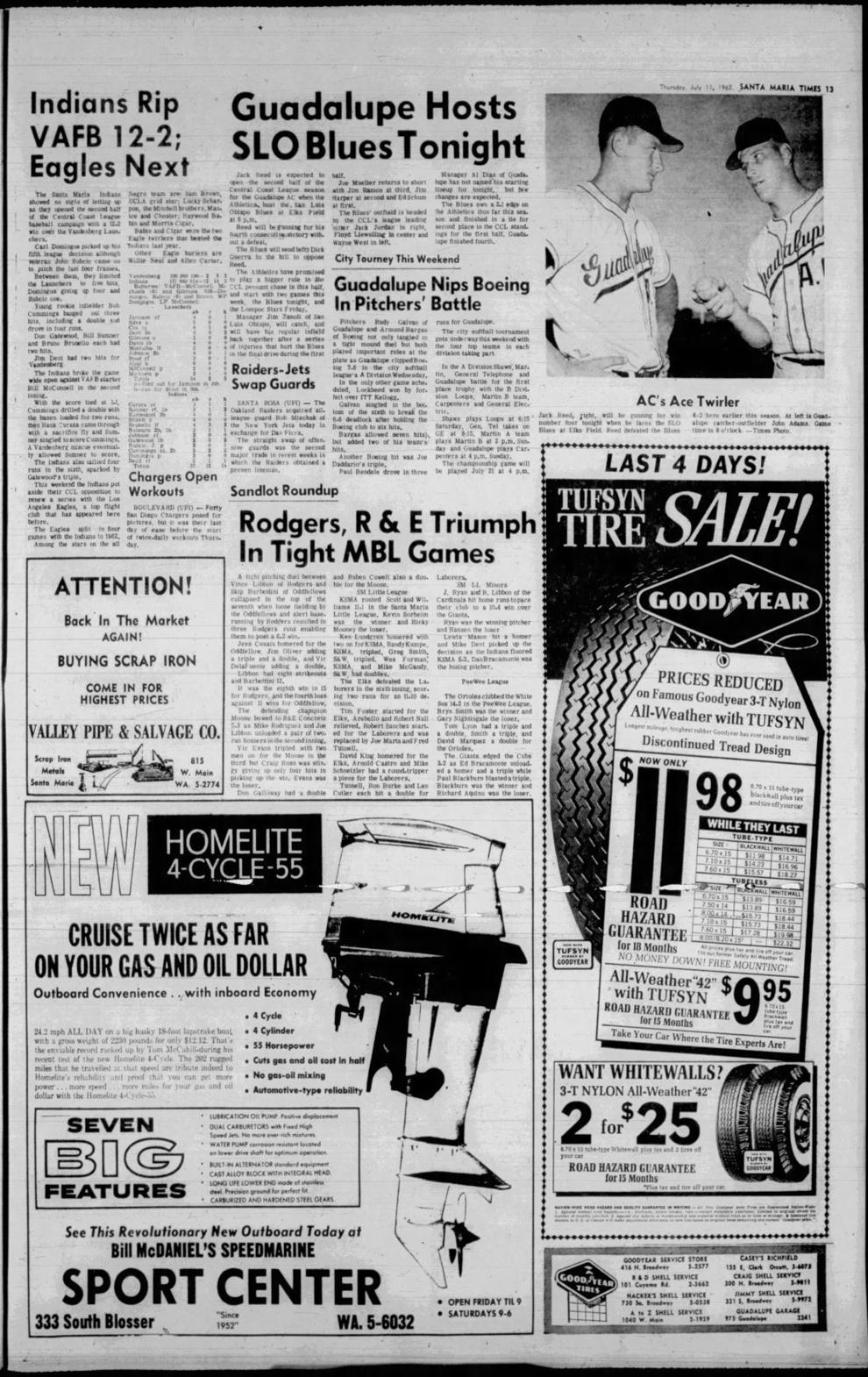 Santa_Maria_Times_Thu__Nov_5__1964_.jpg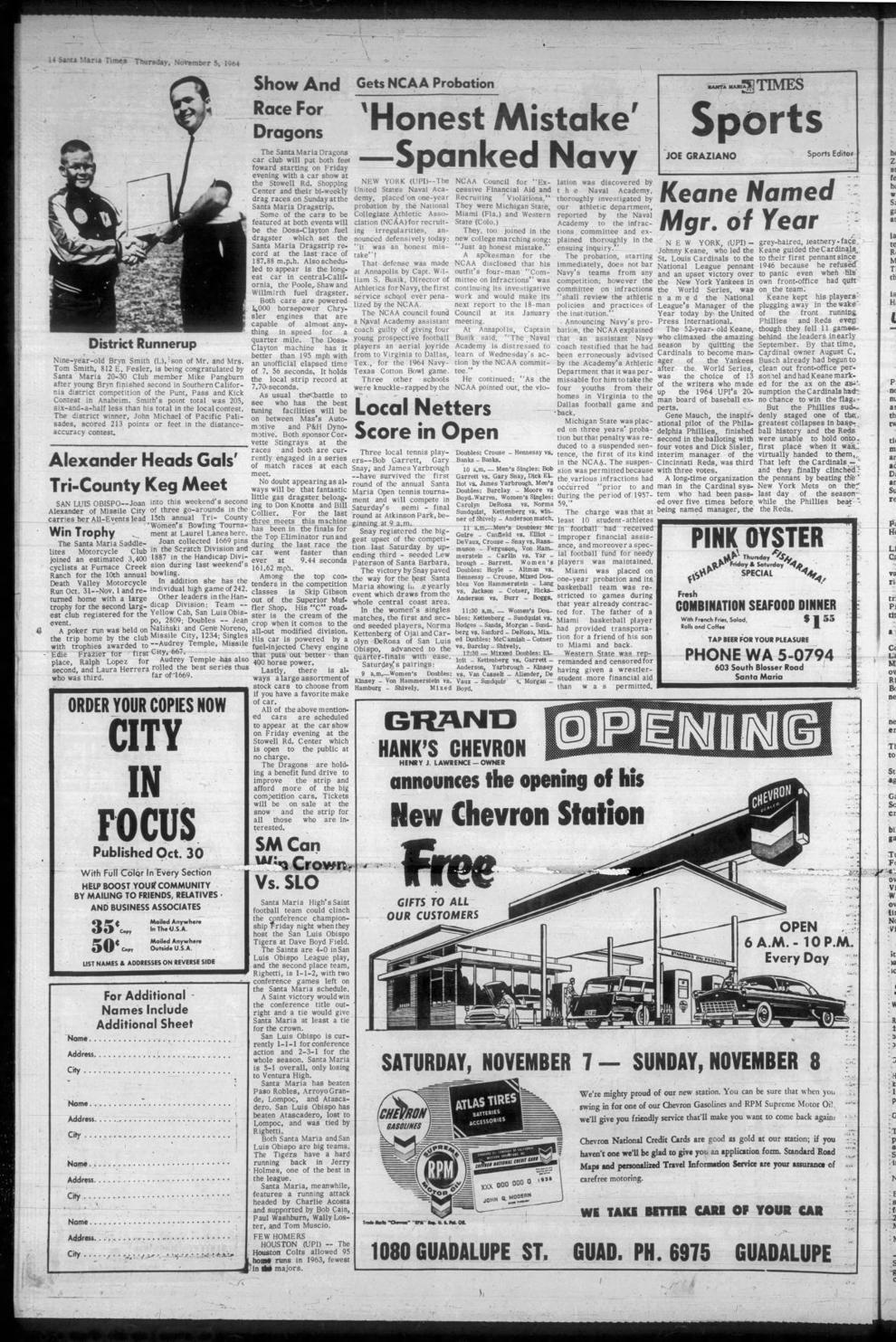 Santa_Maria_Times_Mon__Jul_22__1968_.jpg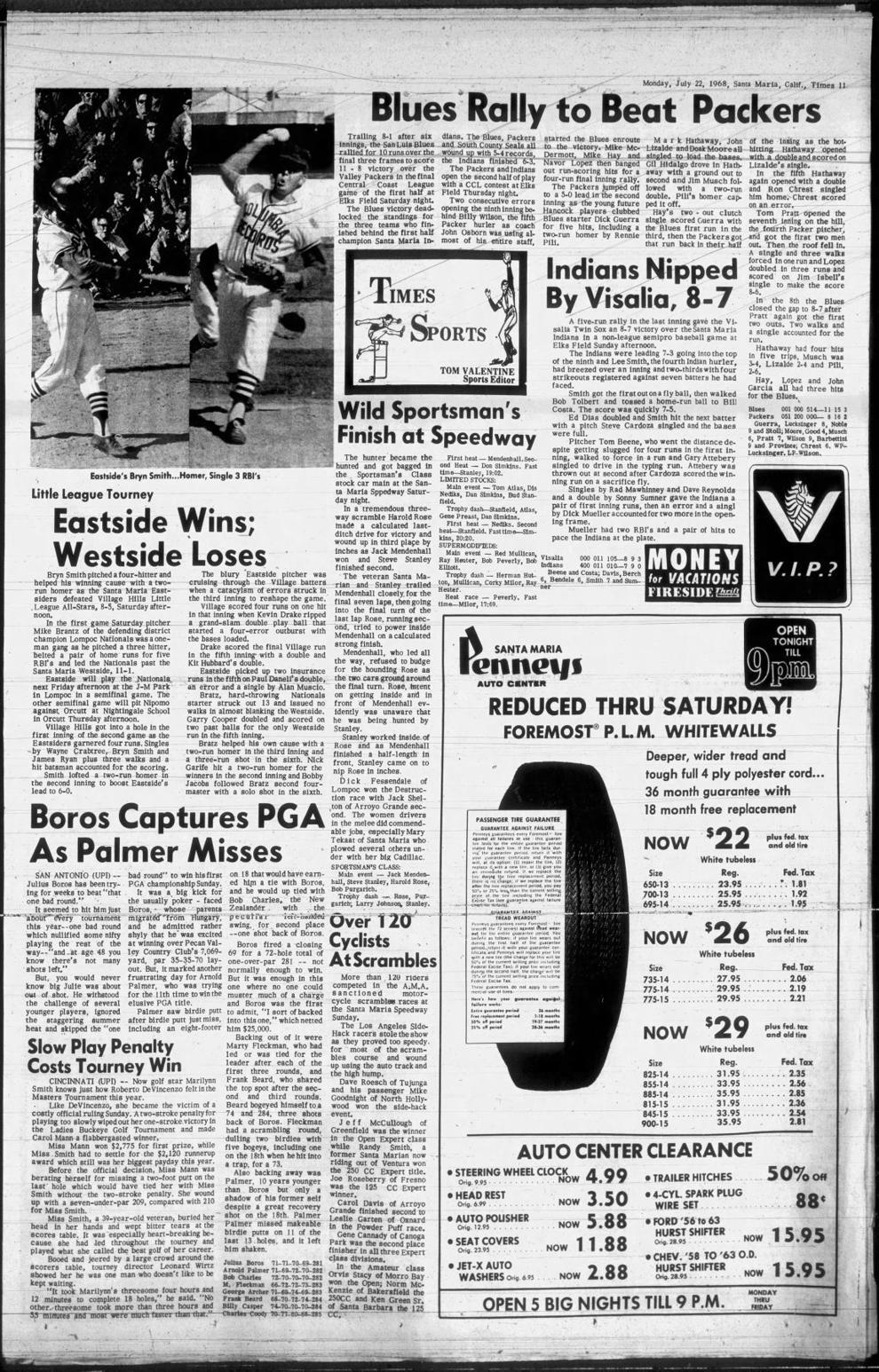 Santa_Maria_Times_Tue__Aug_10__1971_.jpg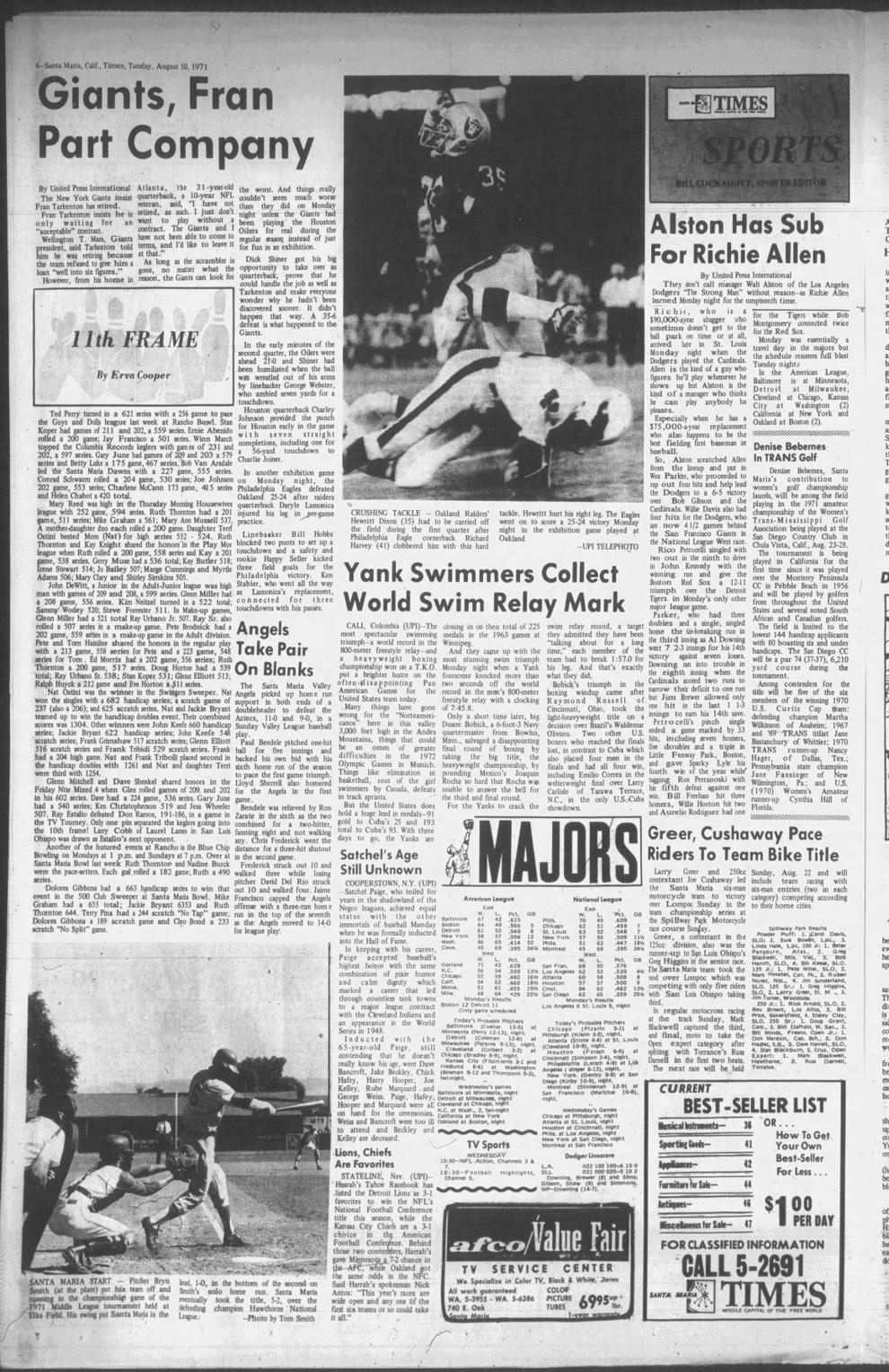 Santa_Maria_Times_Wed__Mar_8__1972_.jpg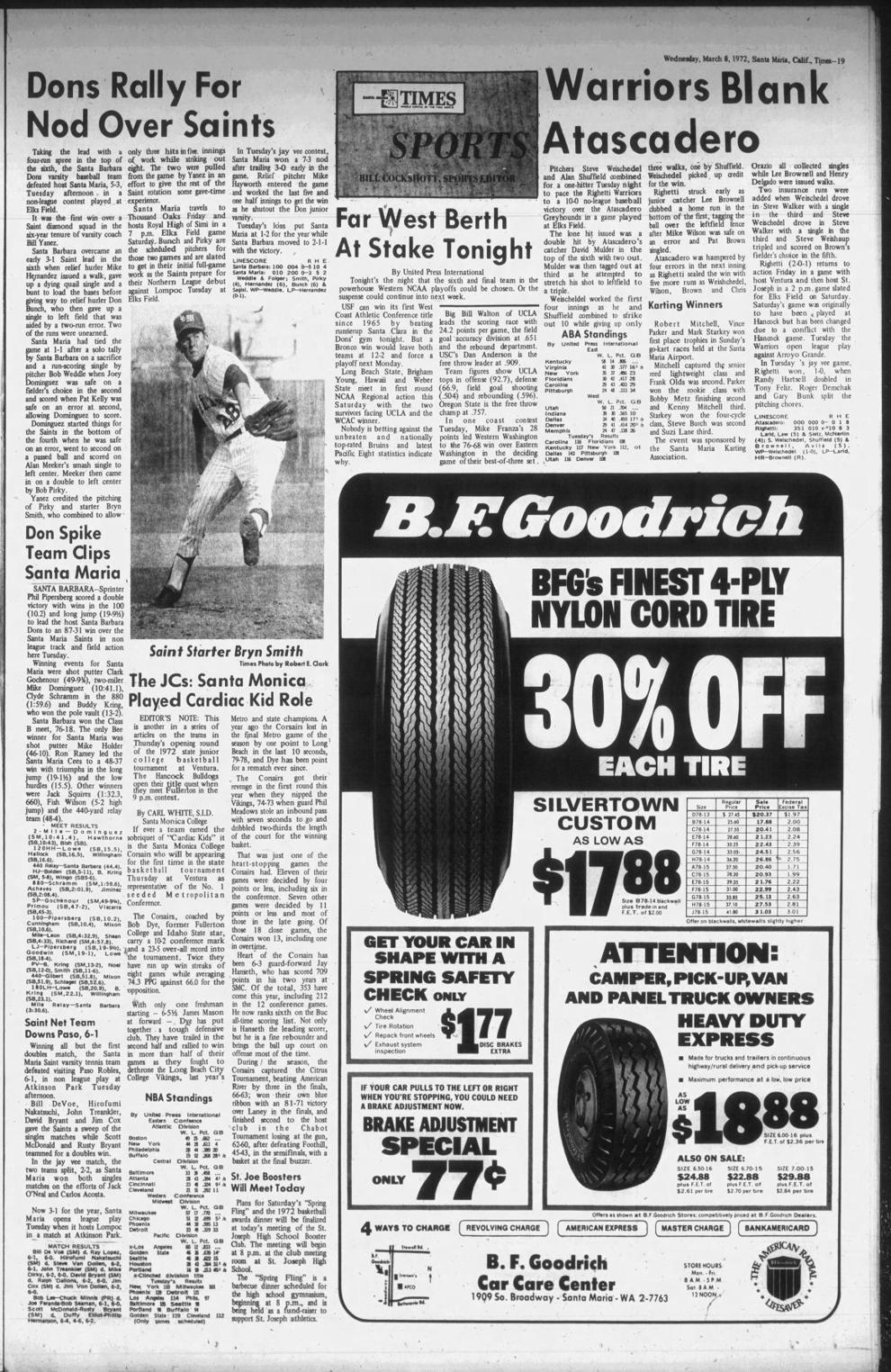 Santa_Maria_Times_Sat__Mar_17__1973_.jpg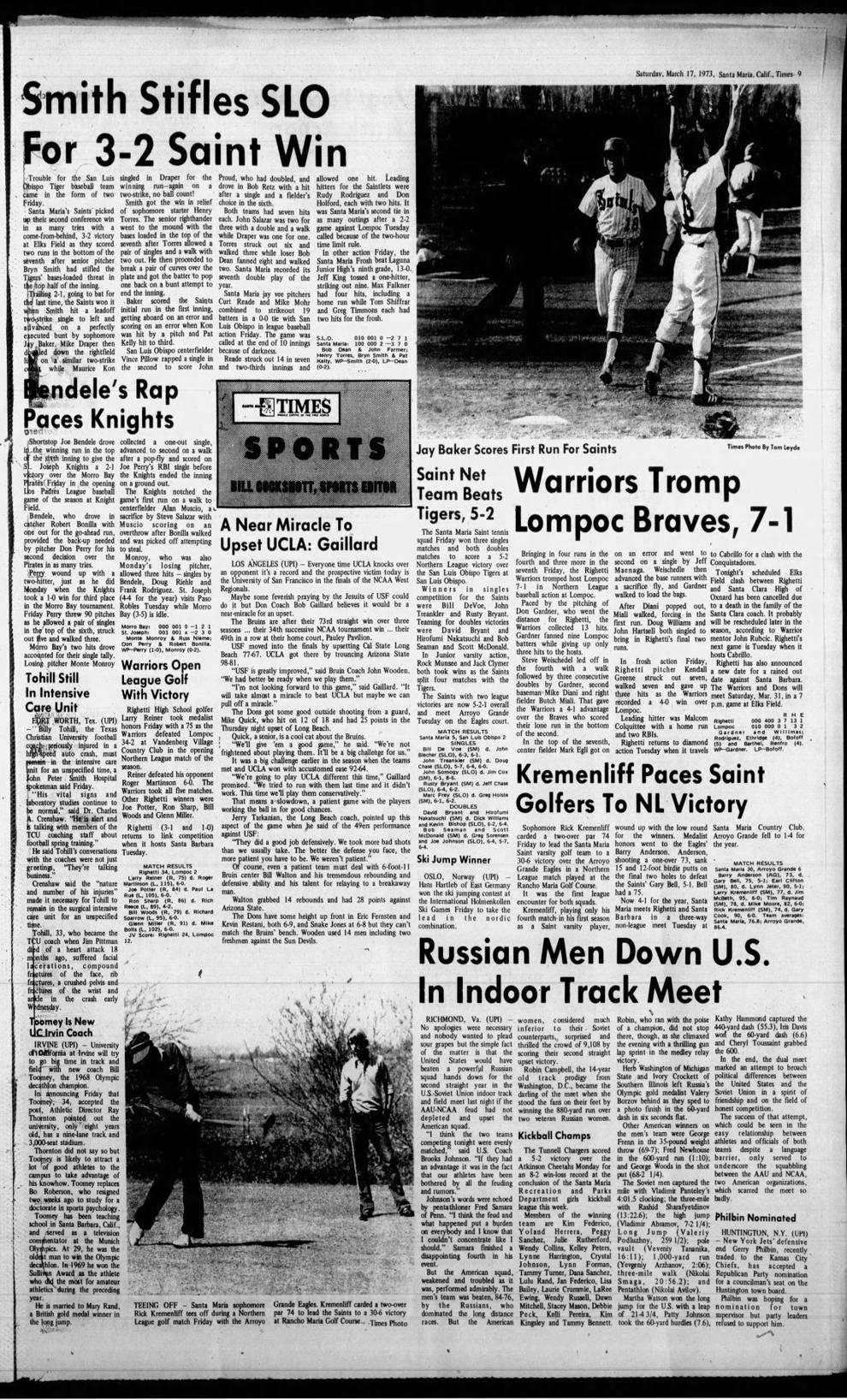 Santa_Maria_Times_Sat__May_12__1973_.jpg
Santa_Maria_Times_Fri__May_18__1973_.jpg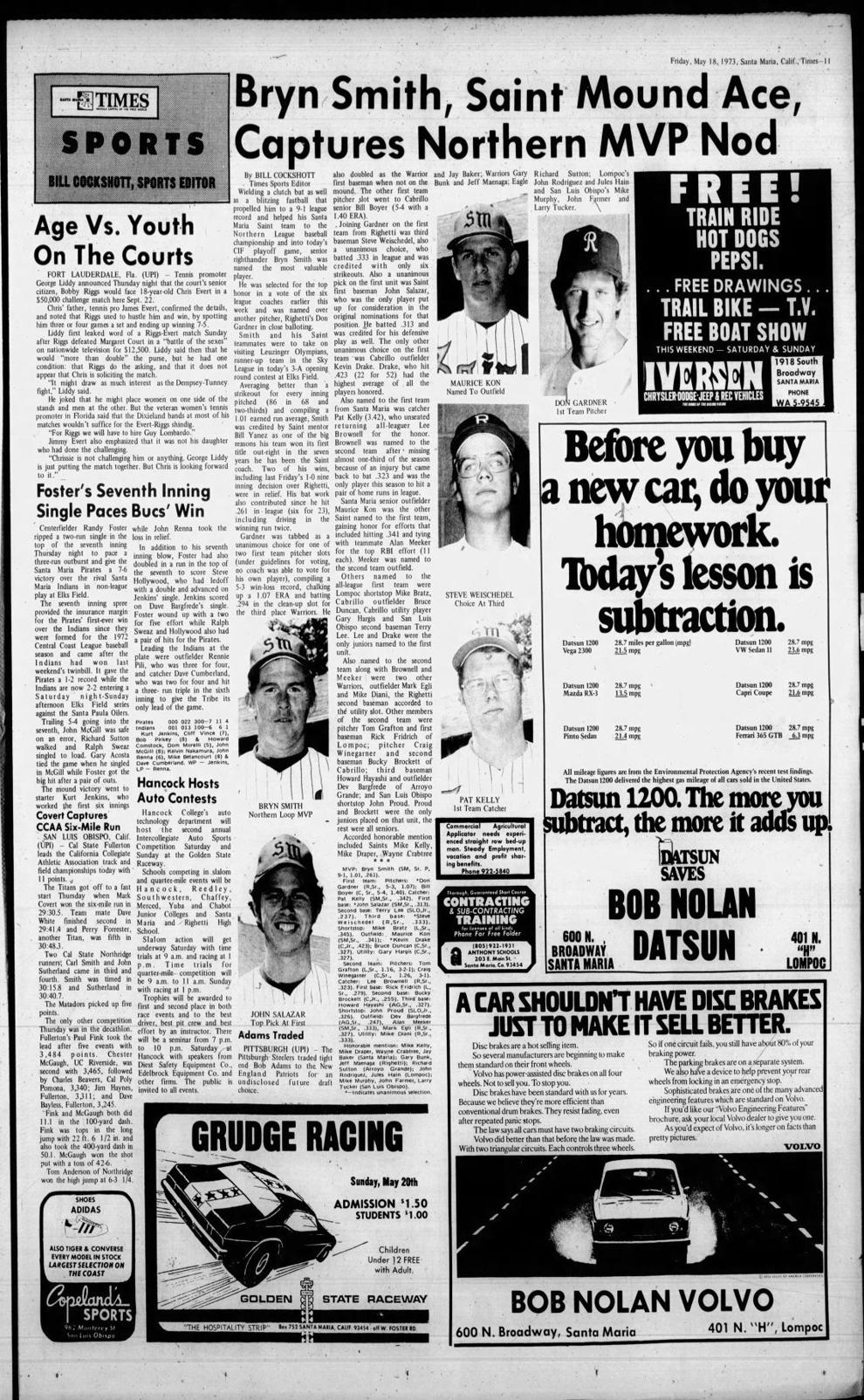 Santa_Maria_Times_Sat__May_19__1973_.jpg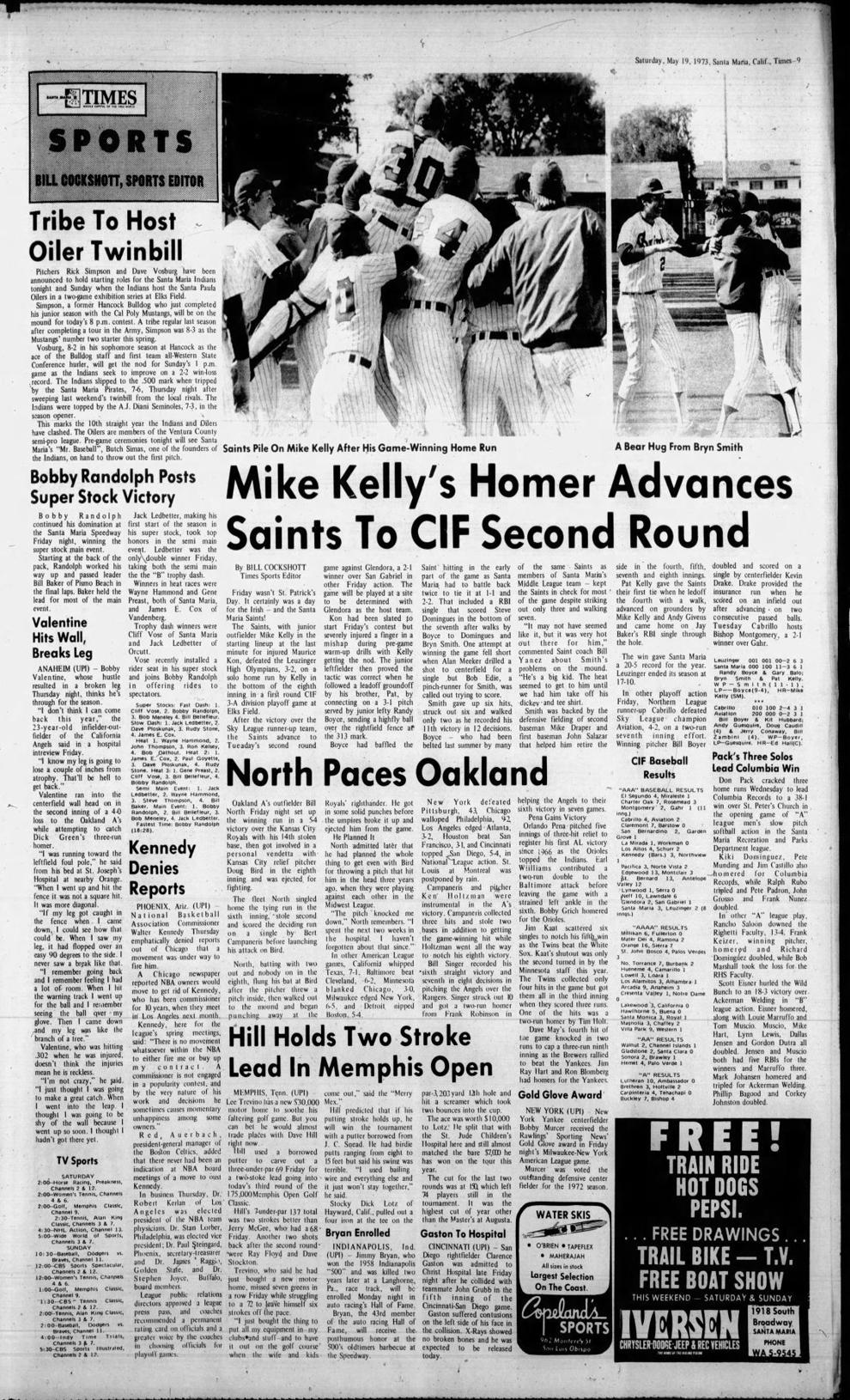 Santa_Maria_Times_Thu__Jun_21__1973_.jpg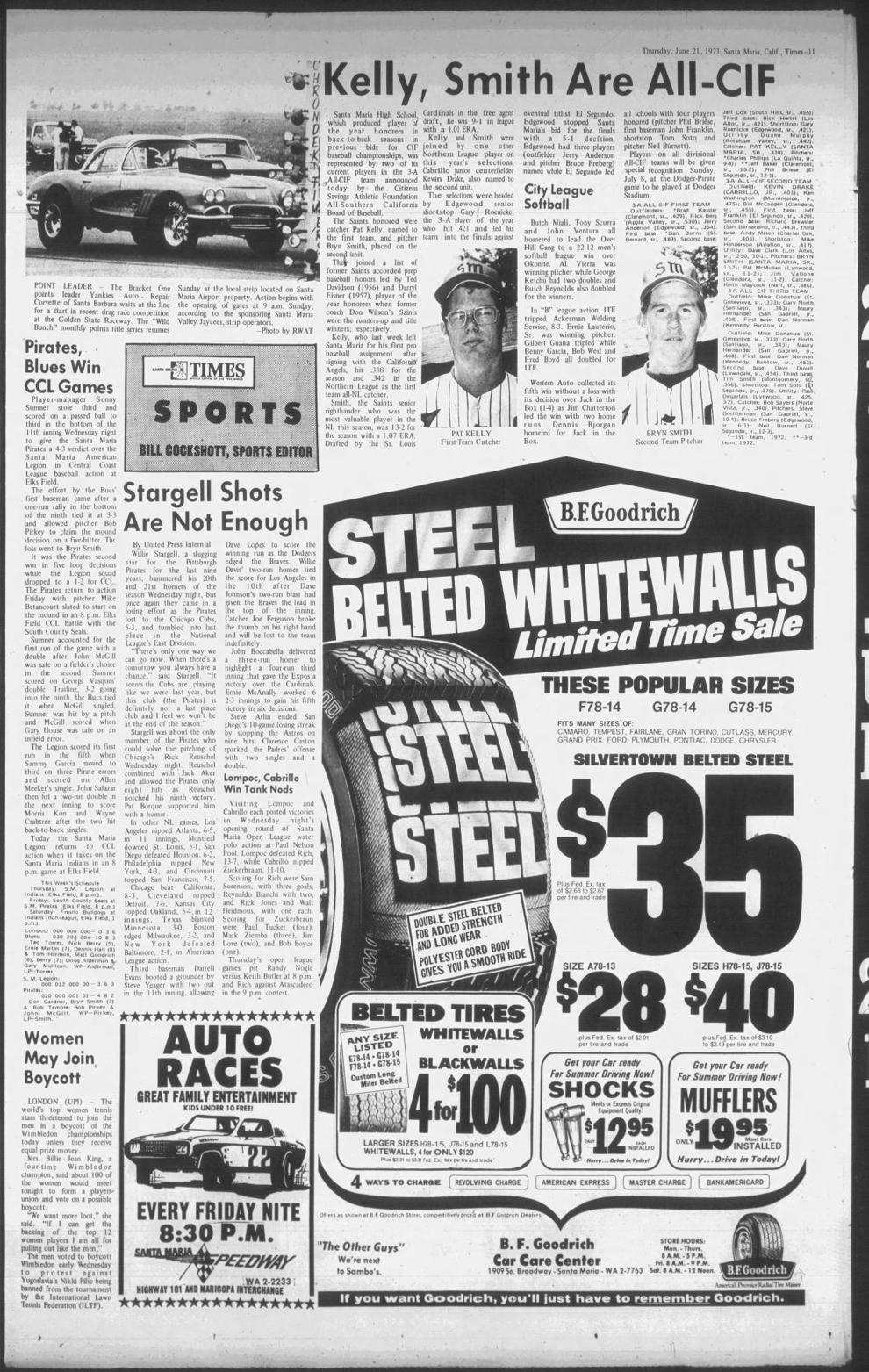 Santa_Maria_Times_Mon__Aug_6__1973_.jpg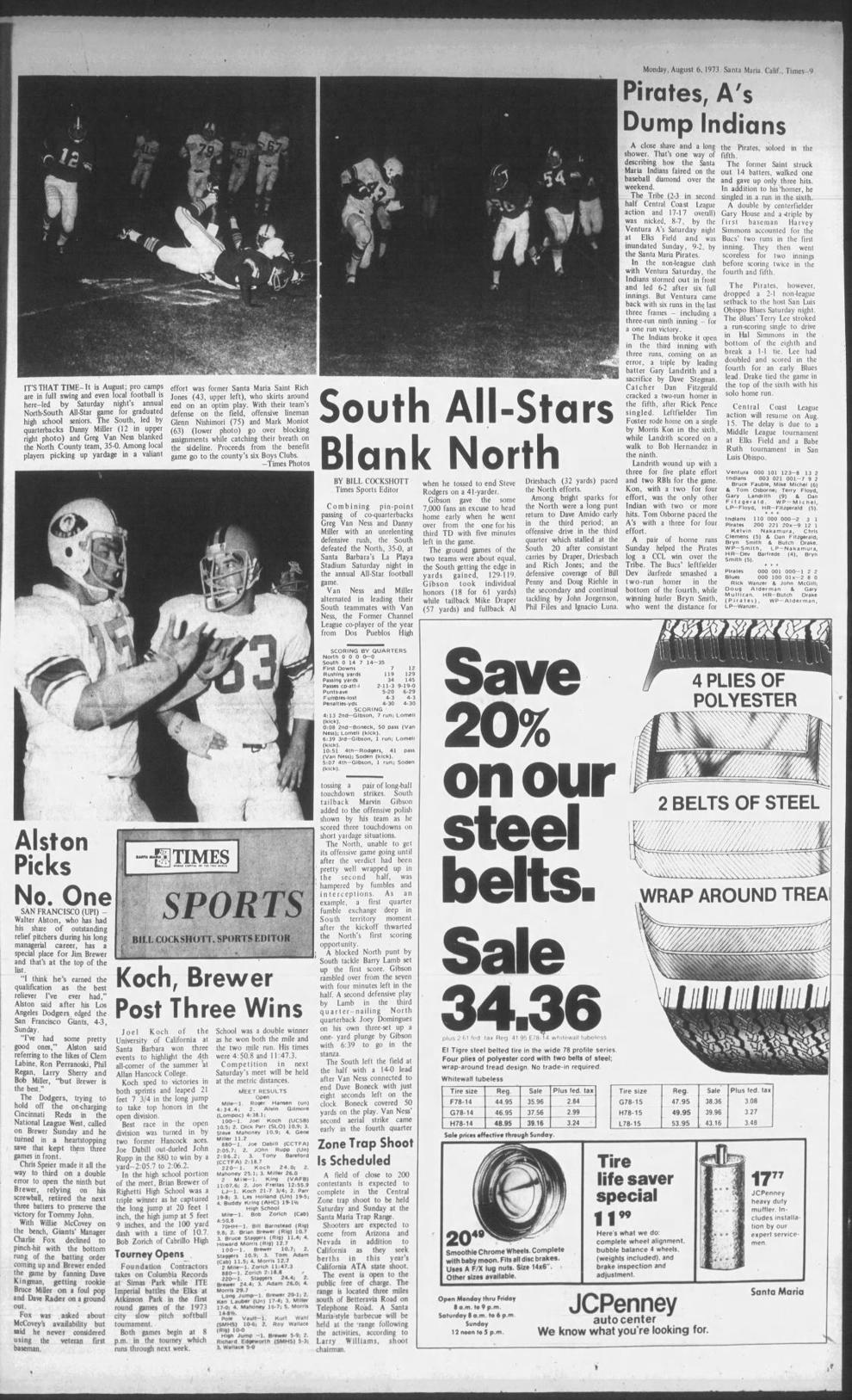 Santa_Maria_Times_Mon__Apr_15__1974_.jpg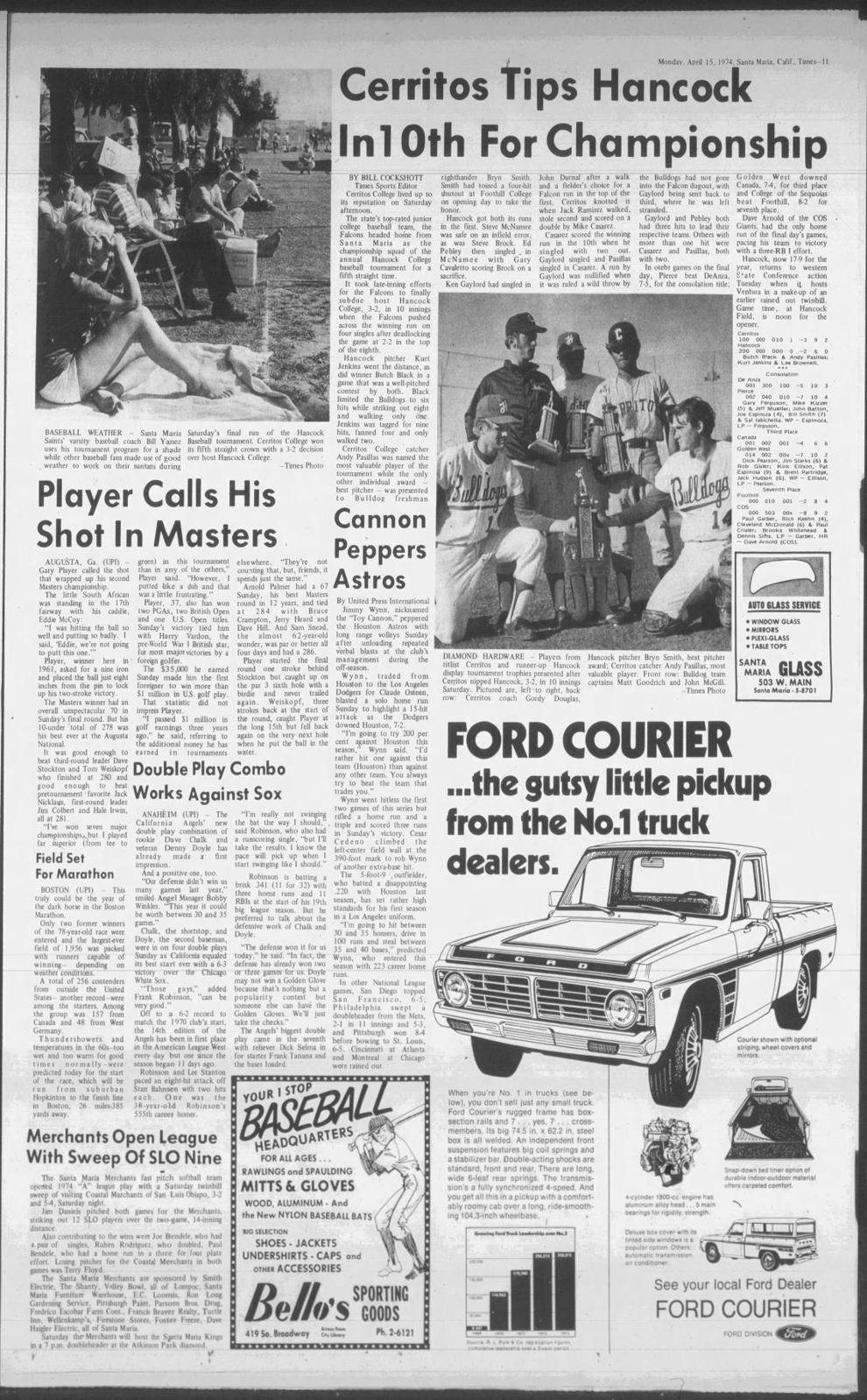 Santa_Maria_Times_Thu__Dec_19__1974_.jpg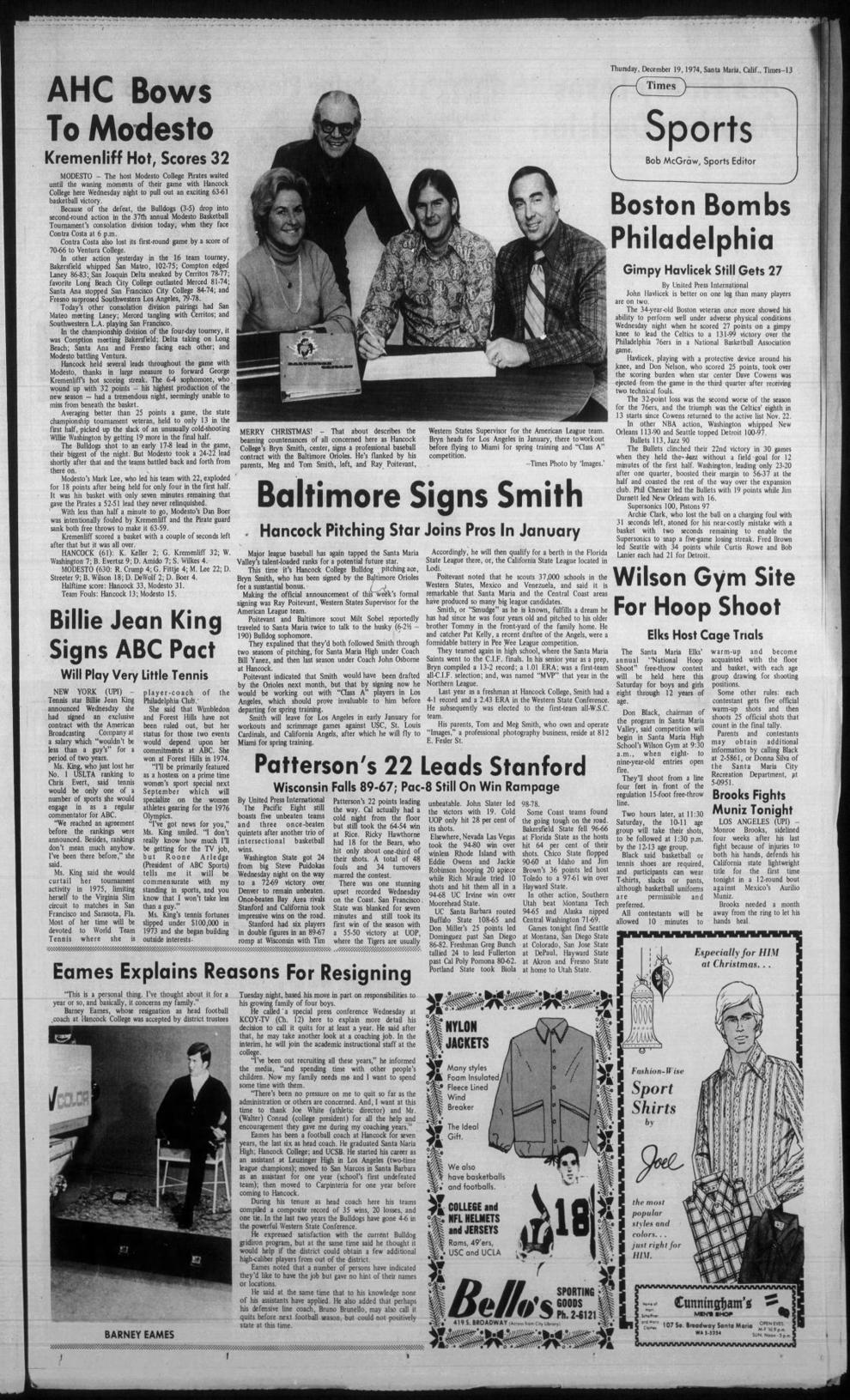 Santa_Maria_Times_Thu__Oct_9__1975_.jpg
Santa_Maria_Times_Sat__Jan_9__1982_.jpg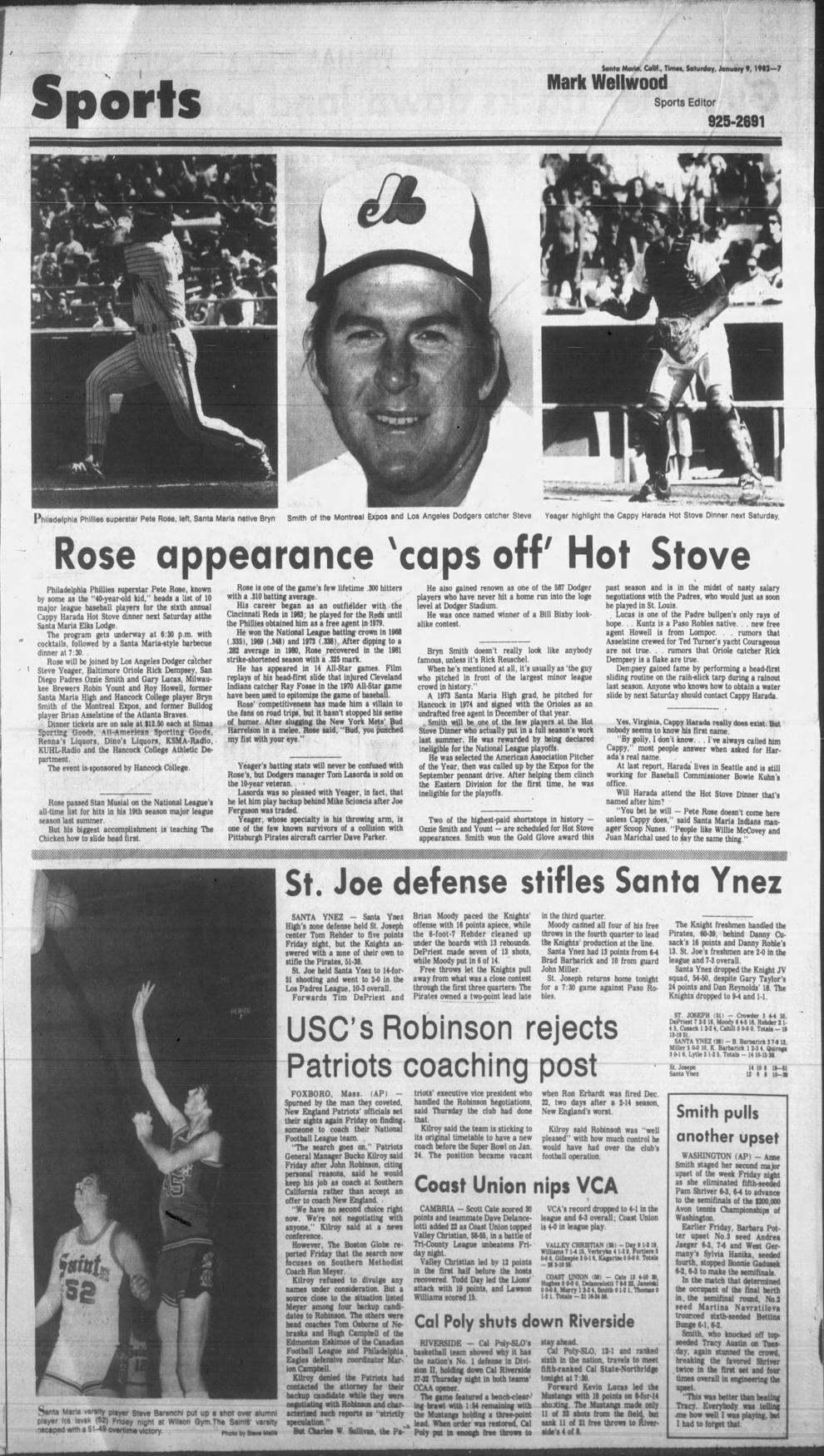 Santa_Maria_Times_Mon__Jan_17__1983_.jpg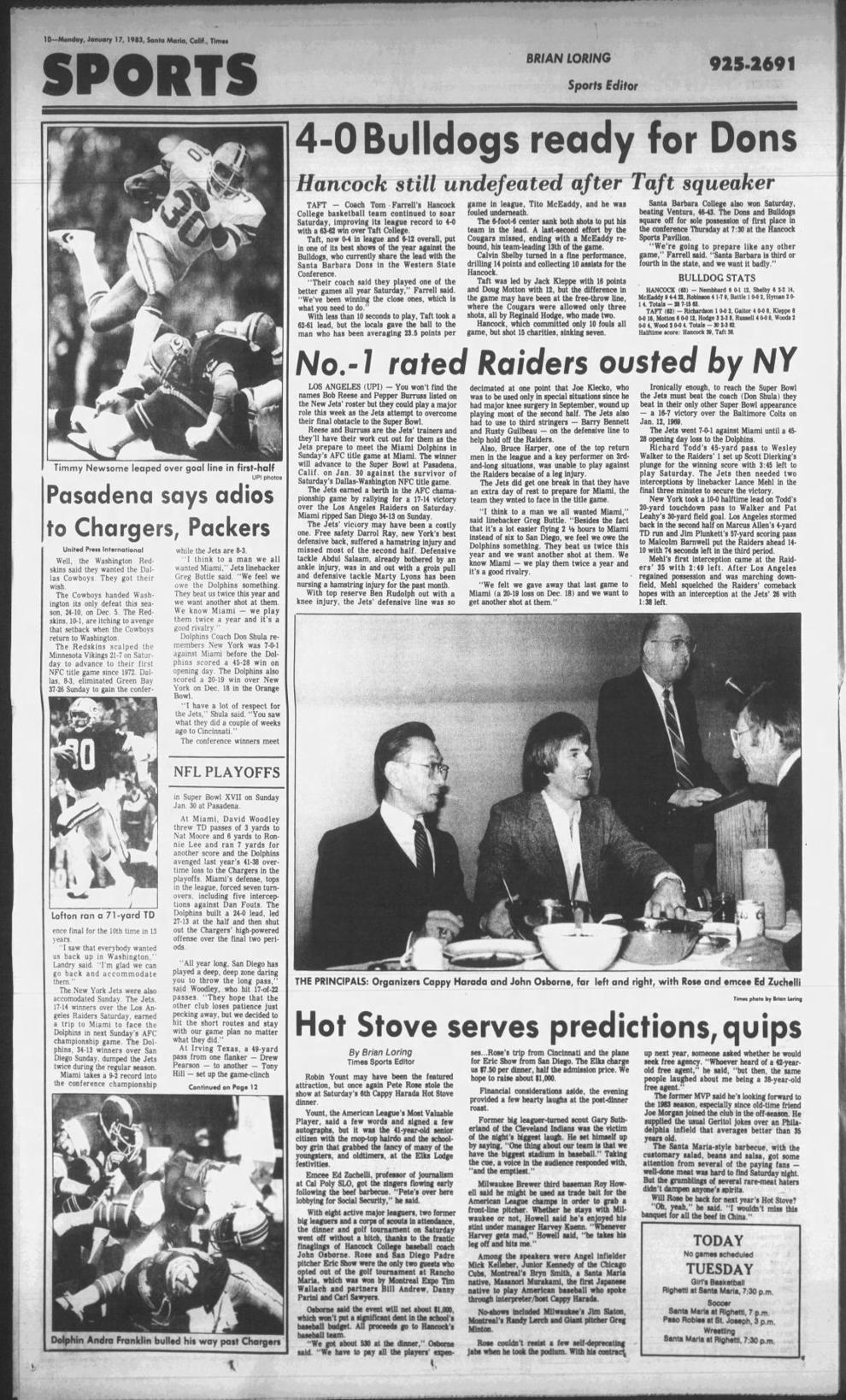 Santa_Maria_Times_Mon__May_21__1984_.jpg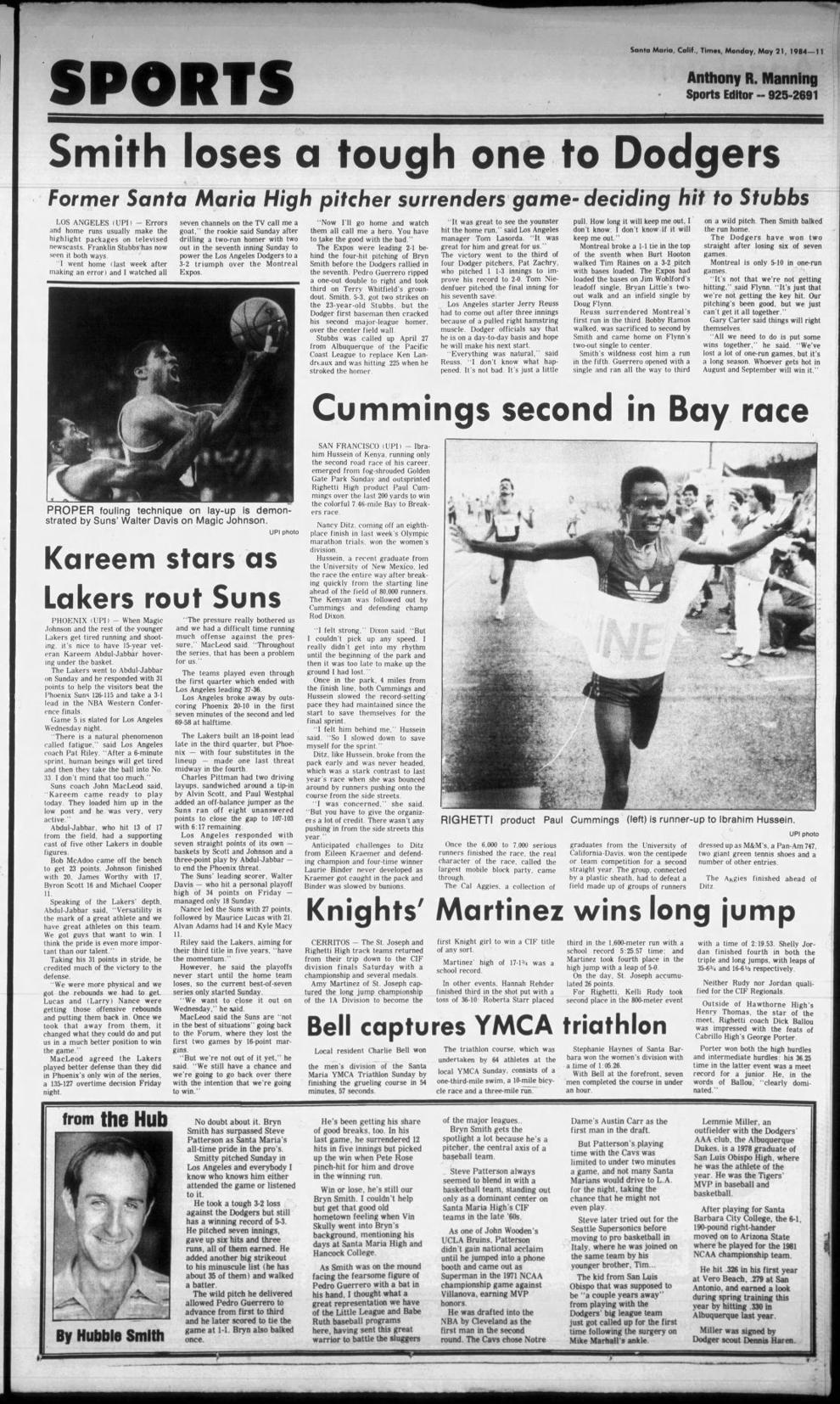 Santa_Maria_Times_Sun__Jan_13__1985_.jpg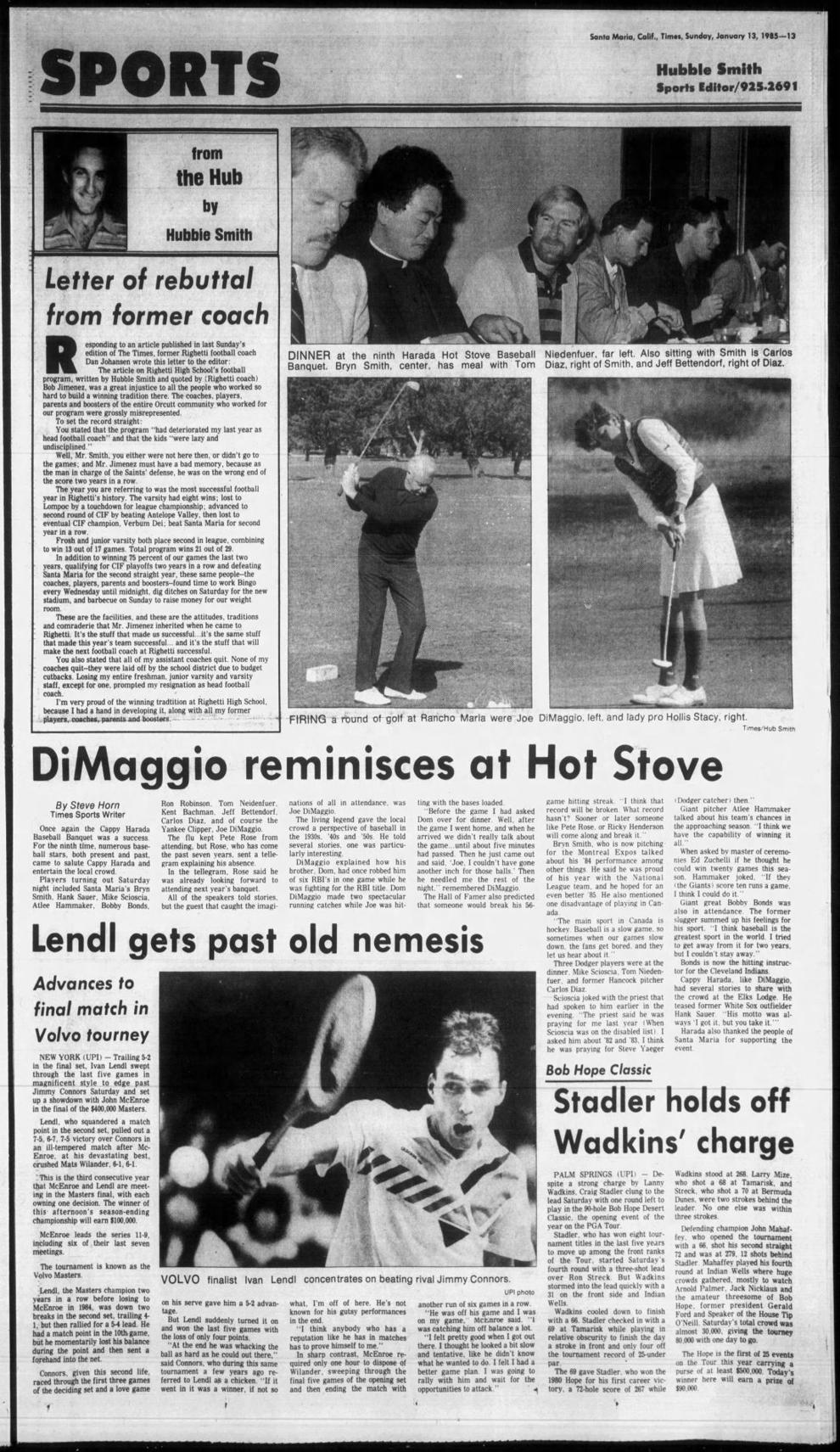 Santa_Maria_Times_Sun__Dec_7__1986_.jpg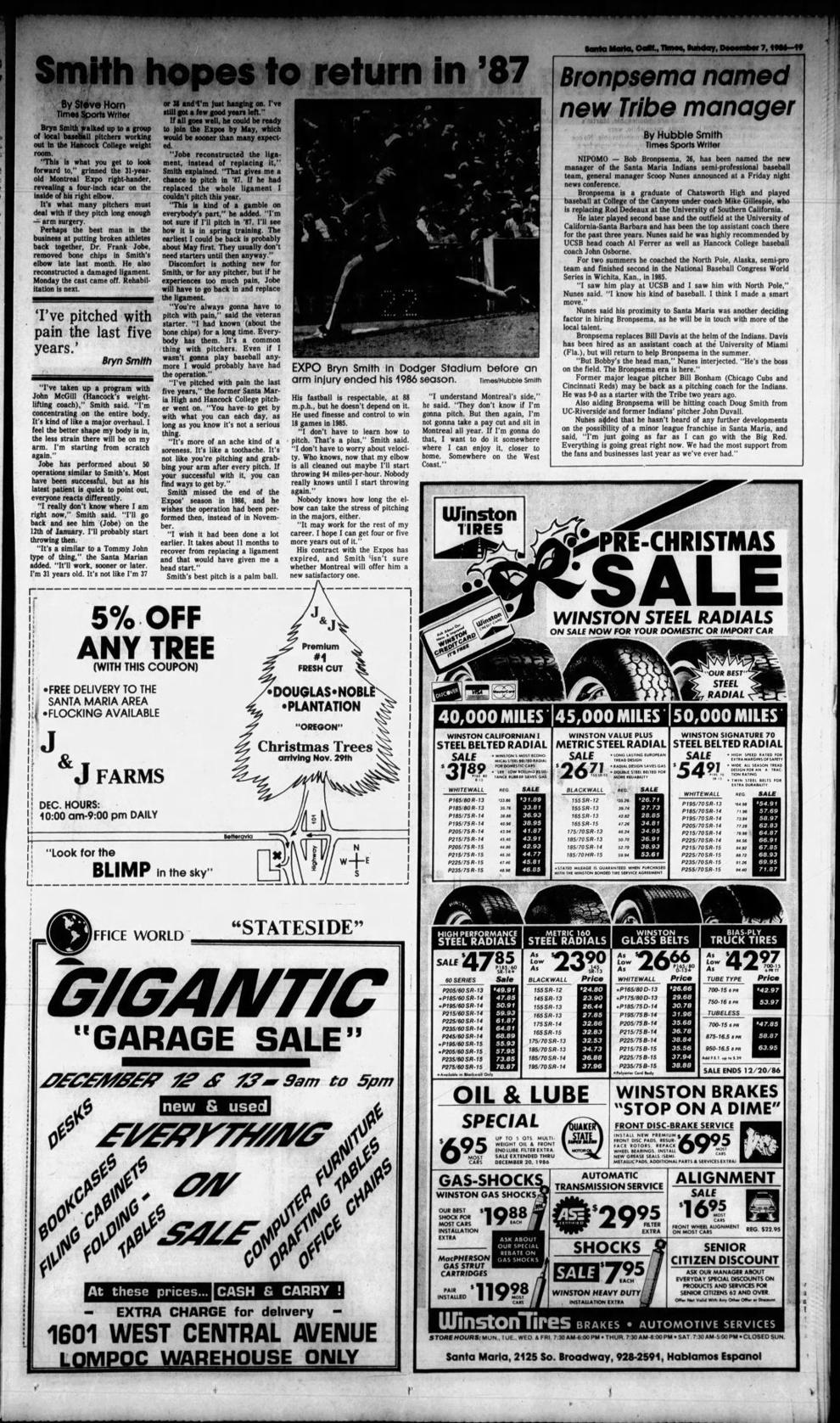 Santa_Maria_Times_Mon__Nov_16__1987_.jpg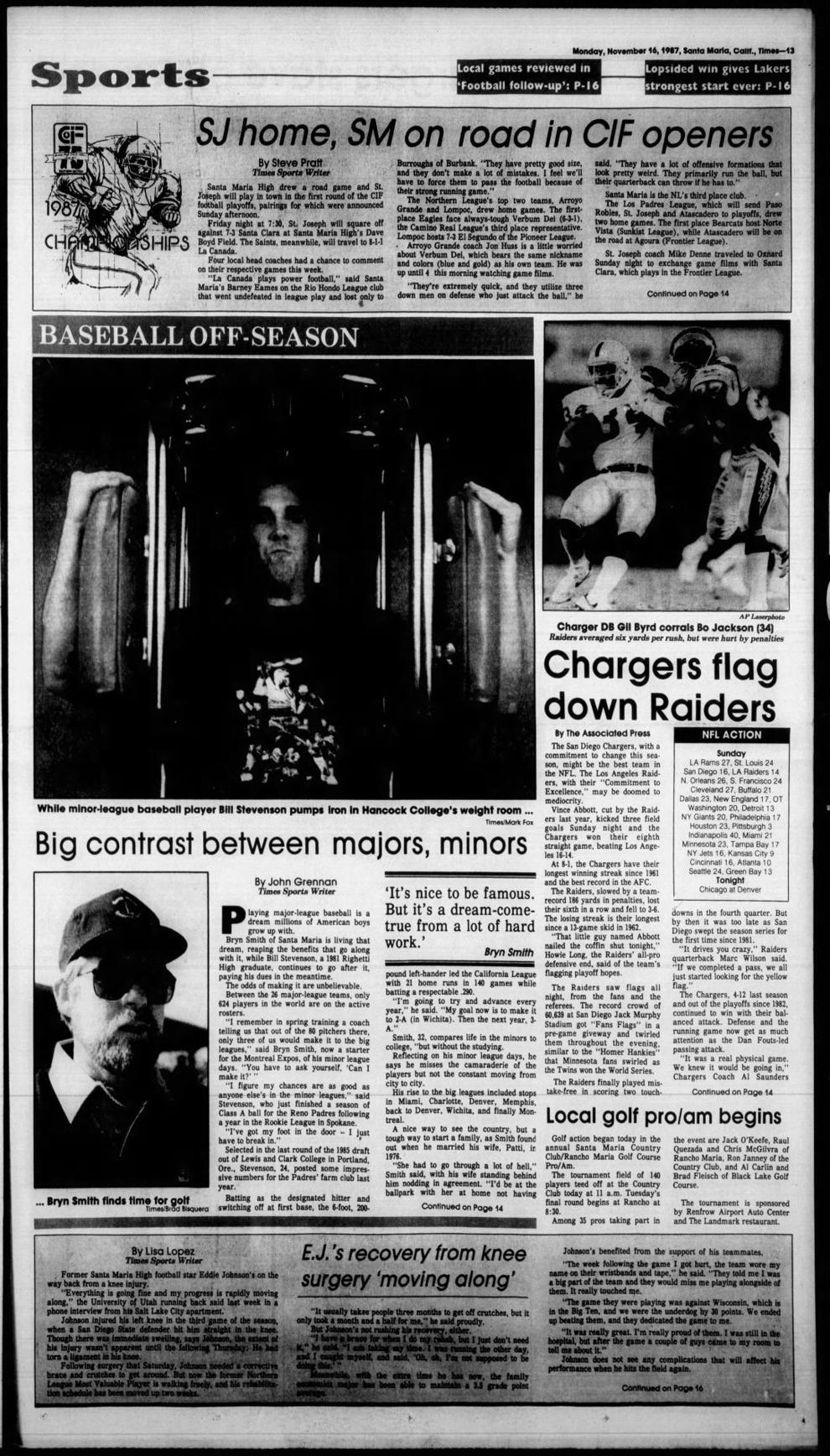 Santa_Maria_Times_Mon__Nov_16__1987_ (1).jpg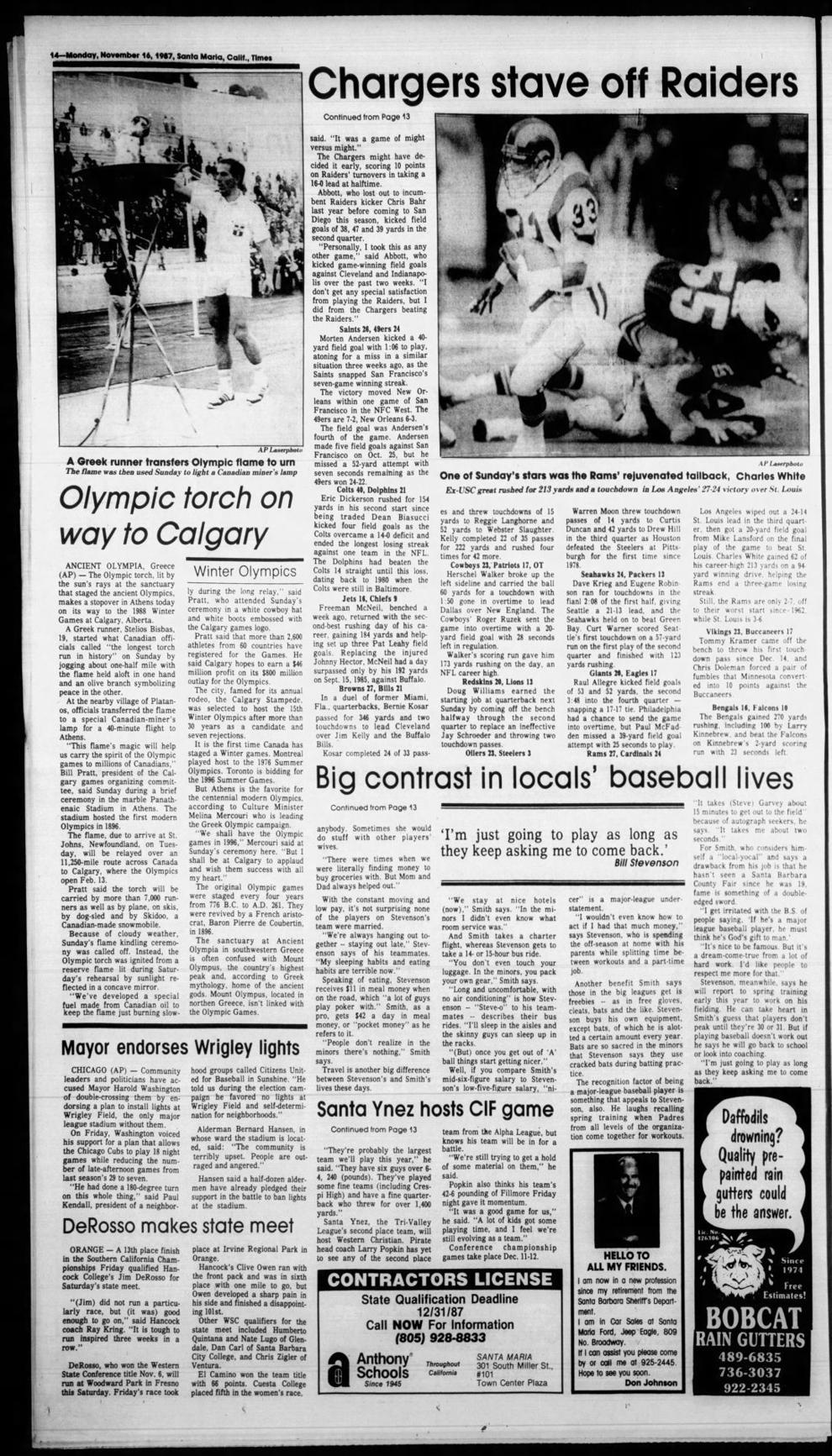 Santa_Maria_Times_Fri__Dec_7__1990_.jpg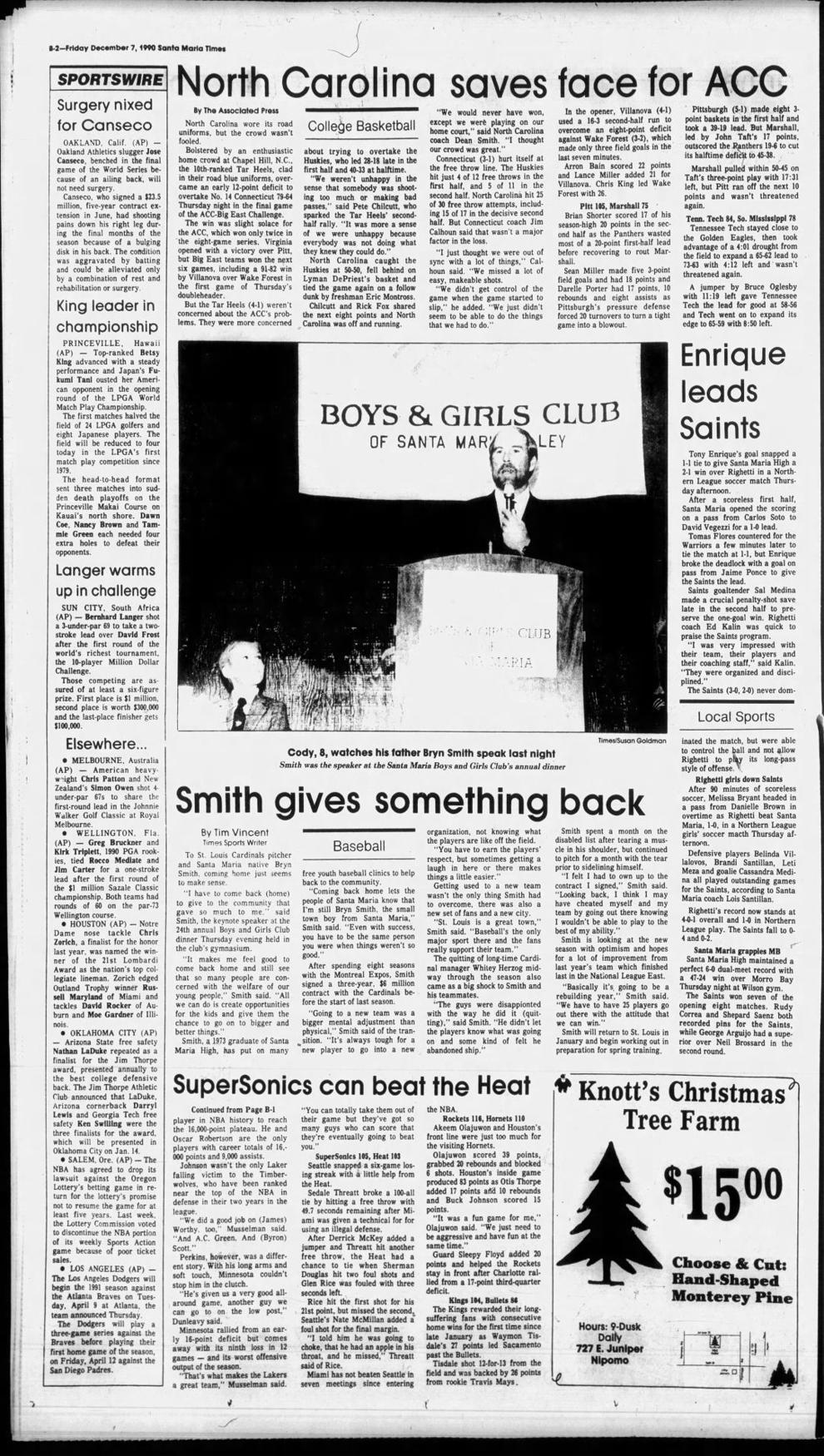 Get in the game with our Prep Sports Newsletter
Sent weekly directly to your inbox!