The first time Duane Solomon's name appeared in the print of his hometown newspaper, the Lompoc Record, it wasn't for anything involving his future career on the track.
Before Solomon would go on to win a state title at Cabrillo High, run for USC in college and finish fourth in the 800-meter Olympic final in 2012, Solomon was a standout basketball player in Lompoc's youth league at the Boys and Girls Club.
As an 11-year-old playing for the Gauchos in the summer of 1996, Solomon had a heck of a game in a loss to the Blue Demons. 
"Duane Solomon had a game-high 24 points for the Gauchos," a newspaper report of the game said. Solomon single-handedly powered the Gauchos, though they lost 31-28, scoring all but four of his team's points. 
Solomon would consistently lead his teams in scoring. There were games where he'd score 18 points in a 32-30 win. Or 20 in a 28-25 loss. 
By the year 2000, Solomon had barely begun to find his calling on the track. The first time his running exploits were featured in the paper was in April of that year when Solomon was running for the Cabrillo track and field team. Solomon won the 880 race at a Los Padres League meet in 2 minutes, 10.6 seconds.
"Solomon, a freshman pulled up from the junior varsity because of the absence of James Trettin, who was on a college trip to Colorado, recorded a decent 2:10.6," Alan Hunt wrote in his report from that meet. 
Hunt also spoke with Cabrillo coach Jesse Davis, who had this to say of Solomon: "He's one of the guys who doesn't know how good he can be," Davis told Hunt. "He's a pretty good hurdler, too. This year, it's a luxury to have him. Next year, with all our seniors graduated, we'll make some decisions on what to do with him."
Solomon still had an affinity for basketball, but it was becoming apparent that track was his future.
Solomon would run cross country later in 2000 at Cabrillo. By October of his sophomore XC season, Solomon was one of the top distance runners at the school. He'd finish in 14th place at the Los Padres League finals that year. 
During the 2001 track season, Solomon continued running and winning middle-distance races.
"Sophomore Duane Solomon broke out of a boxed-in-situation to win the boys 800 in a personal record 1:57.34, the best half mile in quite a few years from any prep athlete in the Lompoc Valley," Hunt's story read. "It broke a Cabrillo sophomore record of 1:58.5 set by Bob Tapia in 1975 and was the fifth-best 800 or 880 in Cabrillo history."
Solomon finished second at the state meet in the 800 his junior year. He was named the Lompoc Record's Athlete of the Year then.
"Solomon, a mild-mannered fellow who drums in the school band, pulls a 'Clark Kent becomes Superman' number when puts on his track uniform," Hunt wrote in 2002. "He emerged from well back in the Unknown Pack to become one of the nation's best prep half-milers."
By his senior season, Solomon would take his game to another level. And Hunt was there to document it.
"Cabrillo's Duane Solomon put an exclamation point on a great sports spring for the Conquistadores with a victory in the 800-meter run at the California state high school track and field finals at Cerritos College Saturday evening," Hunt wrote in the June 8, 2003 edition of the Record. Solomon ran a 1:49.79 for the win. 
"He just blew everybody away," Cabrillo coach Peter Anderson told Hunt. 
The middle-distance runner initially signed with Arizona State out of high school, but instead had to take classes at Hancock to get his transcripts in order to attend USC 18 months later. 
With the Trojans, Solomon had a solid career, finishing third at the NCAA championships in 2008. He raced at the U.S. Olympic Trials later that year and finished sixth there, just missing out on a spot in the Olympic team. 
In 2012, Solomon would not let an Olympic team spot slip from his grasp. He finished third in the 800 meters at the U.S. Trials, earning a trip to London for the Summer Games. 
At the Games, Solomon finished fourth in the greatest 800-meter race ever run, won by David Rudisha's world record time of 1:40.91. Solomon's time of 1:42.82 is the second-fastest ever by an American in the 800. He currently holds the 26th-fastest time ever recorded in the 800.
After the Olympics, Solomon received a hero's welcome from the Lompoc community. 
"Being home is awesome, it's kind of overwhelming," Solomon said then. "...I had so many people telling me that I was an inspiration to them and the younger generation coming up. It's definitely an honor to be a part of that."
Solomon continued to run professionally after the 2012 Olympics and had some success internationally. He narrowly missed out on a spot for the 2016 Olympics. 
As of this year, Solomon was training to become a law enforcement officer and had been hired as a correctional officer in Arizona. 
The_Lompoc_Record_Fri__May_17__2002_.jpg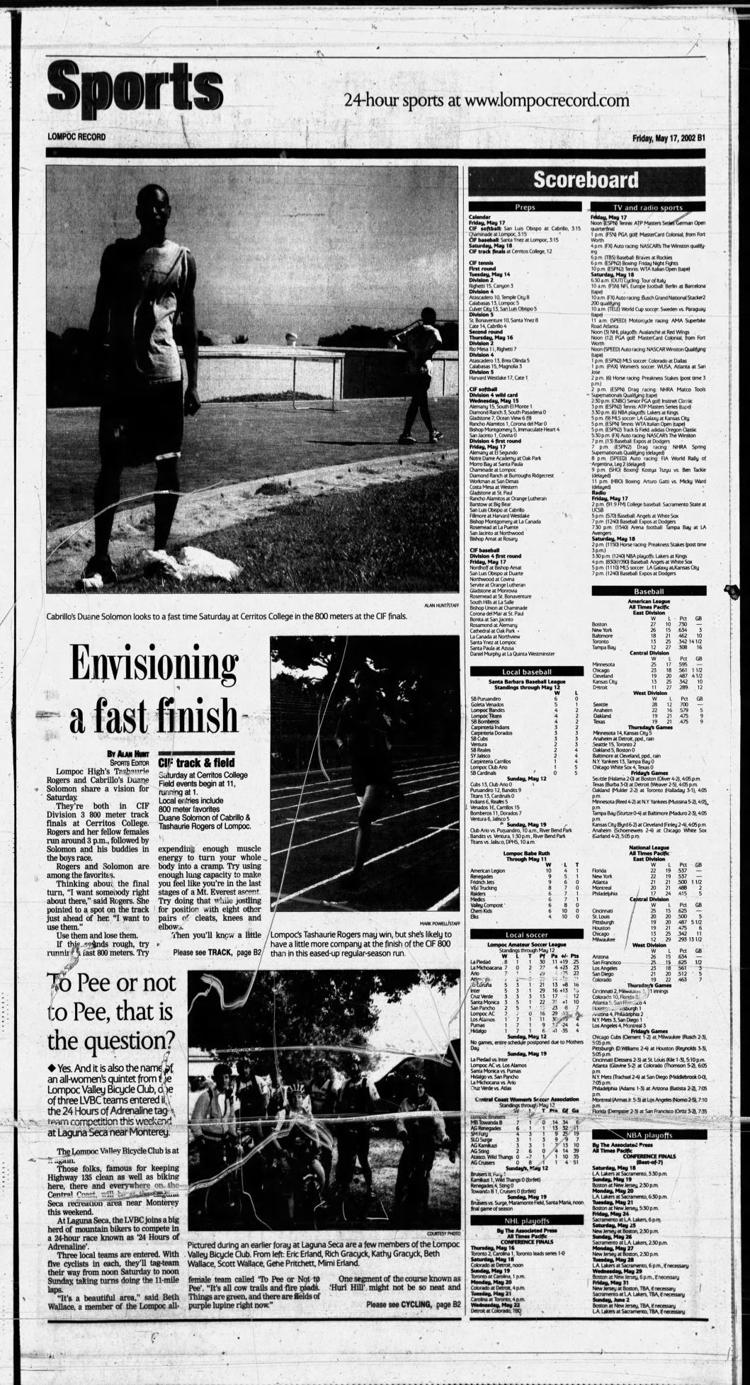 Santa_Maria_Times_Thu__May_15__2003_.jpg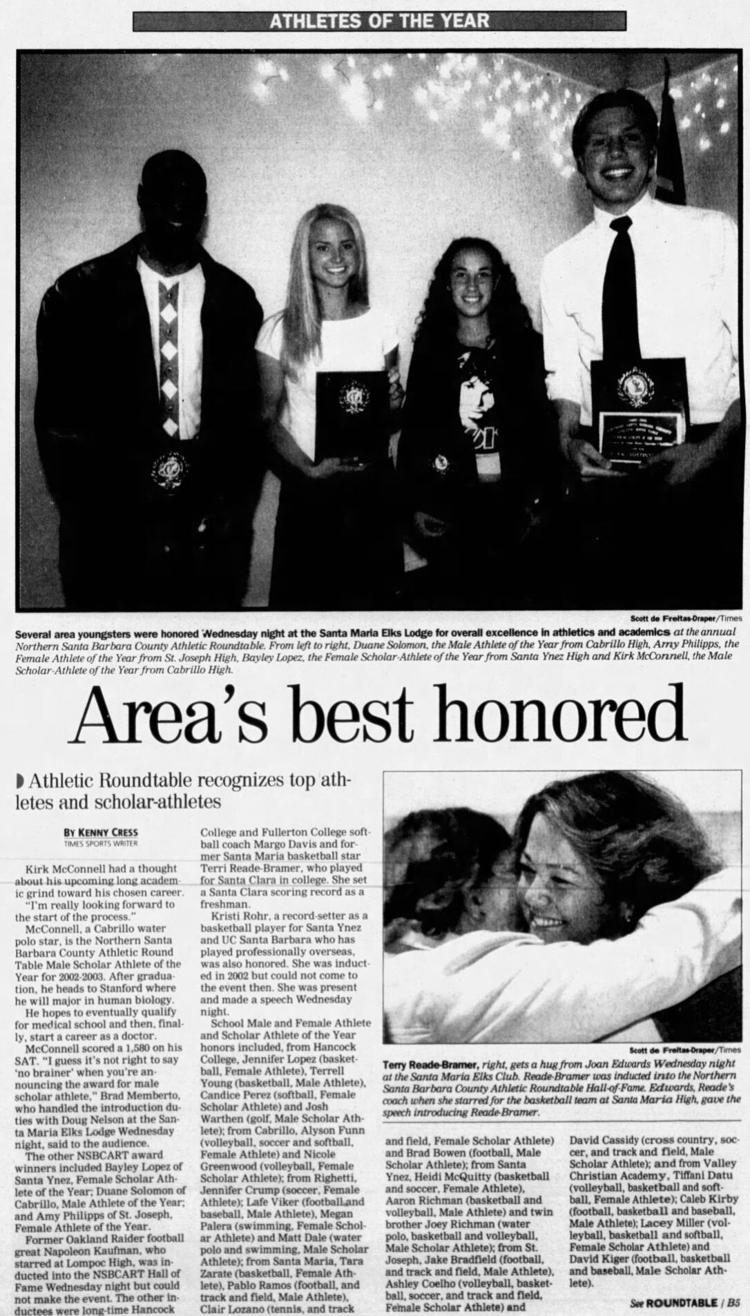 The_Lompoc_Record_Fri__Aug_2__1996_.jpg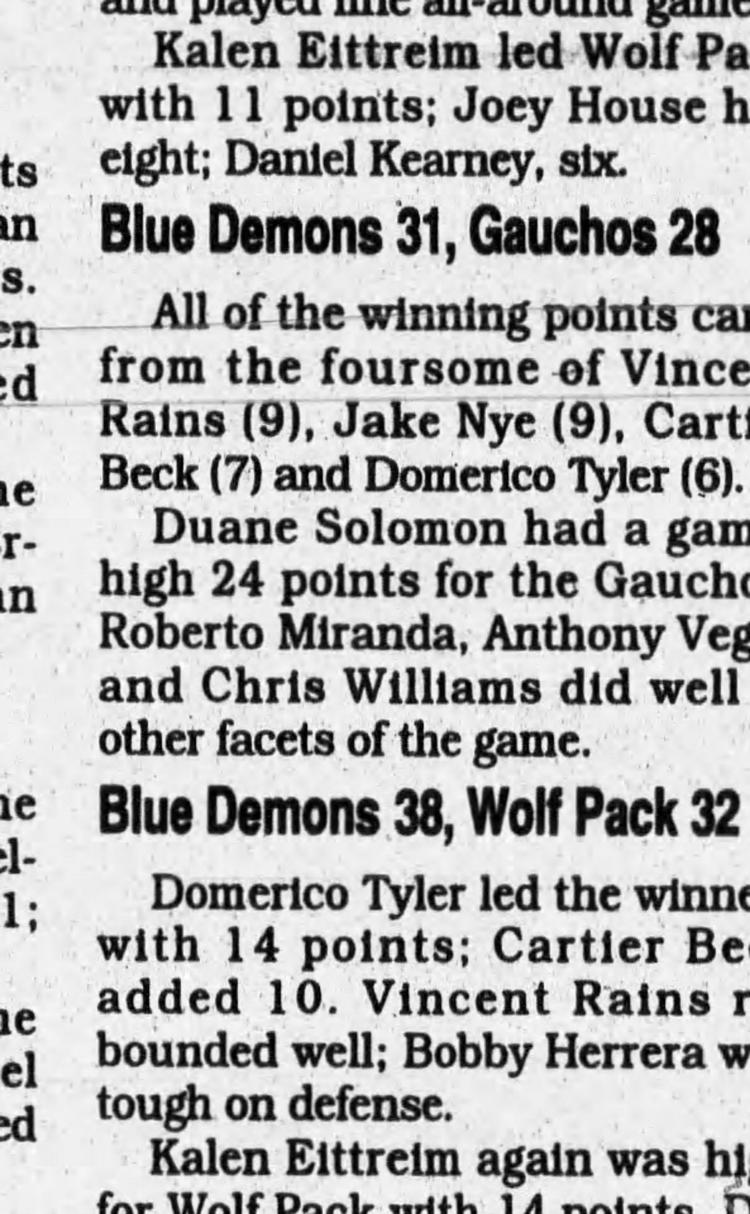 The_Lompoc_Record_Thu__Feb_15__1996_.jpg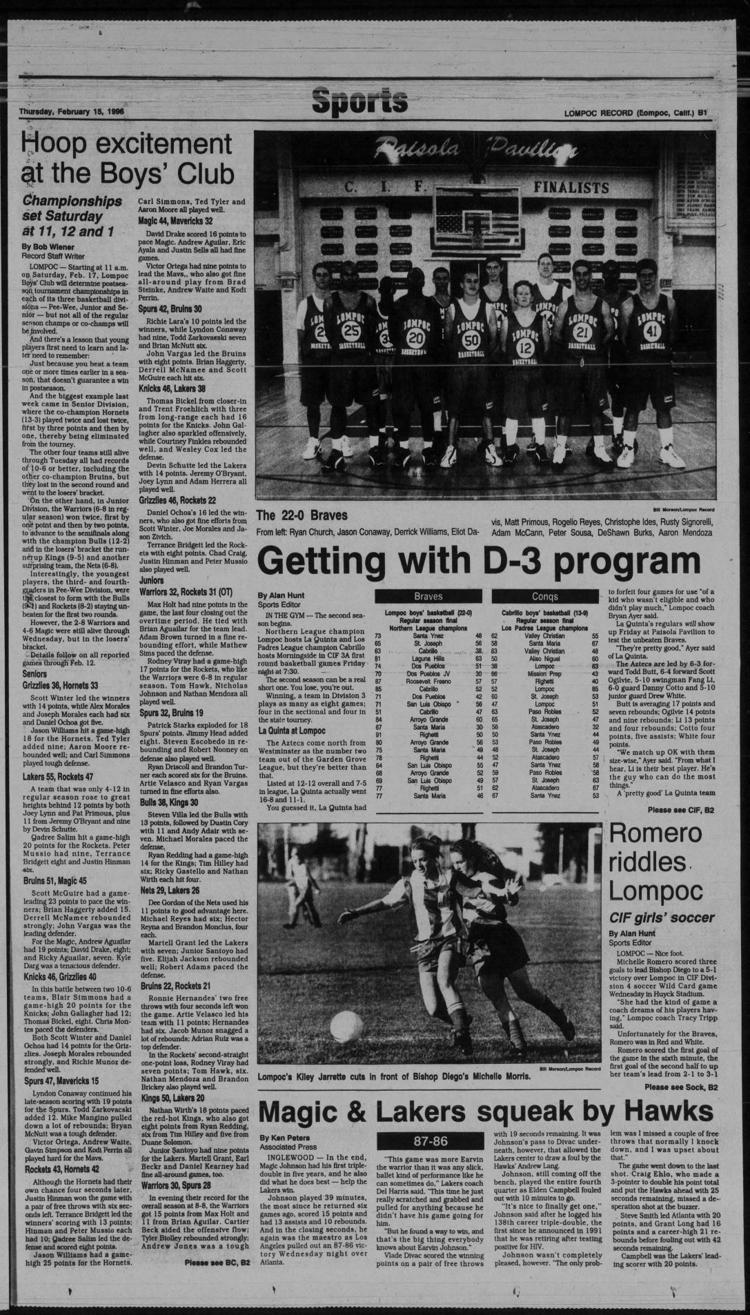 The_Lompoc_Record_Tue__Jul_16__1996_ (1).jpg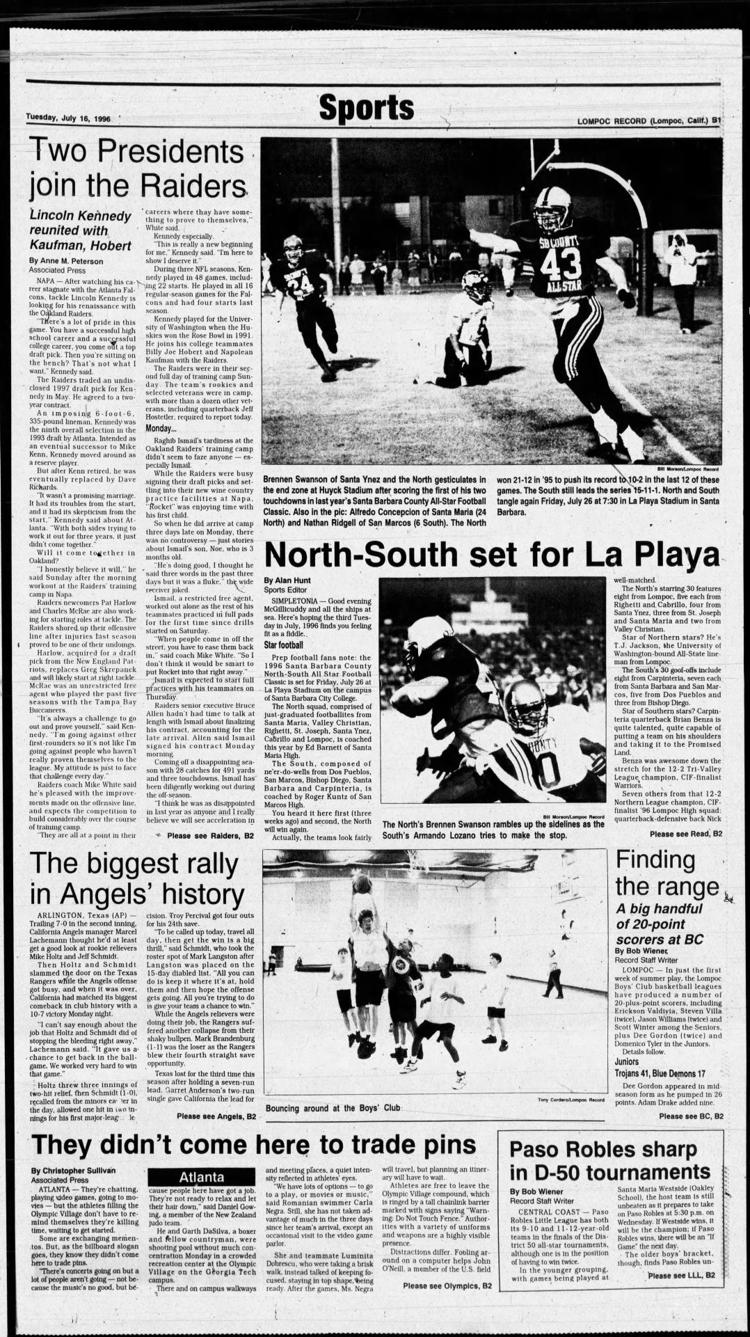 The_Lompoc_Record_Tue__Jul_16__1996_.jpg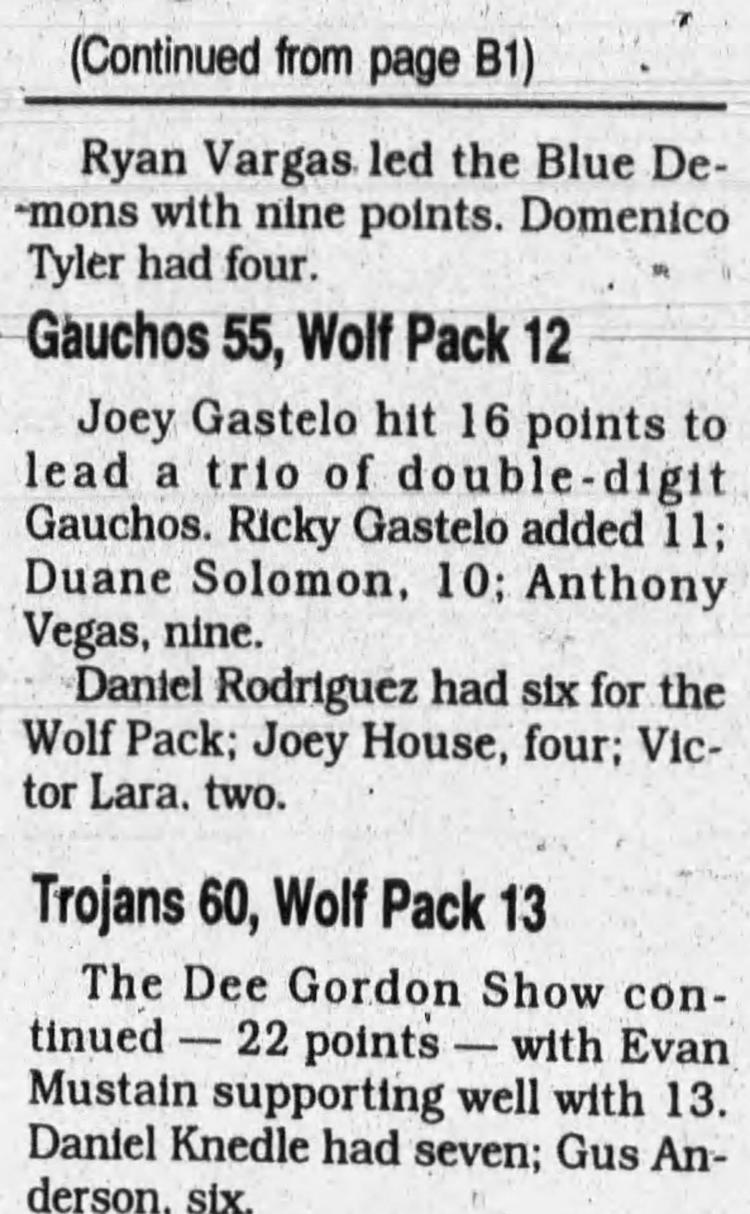 The_Lompoc_Record_Fri__Sep_8__2000_.jpg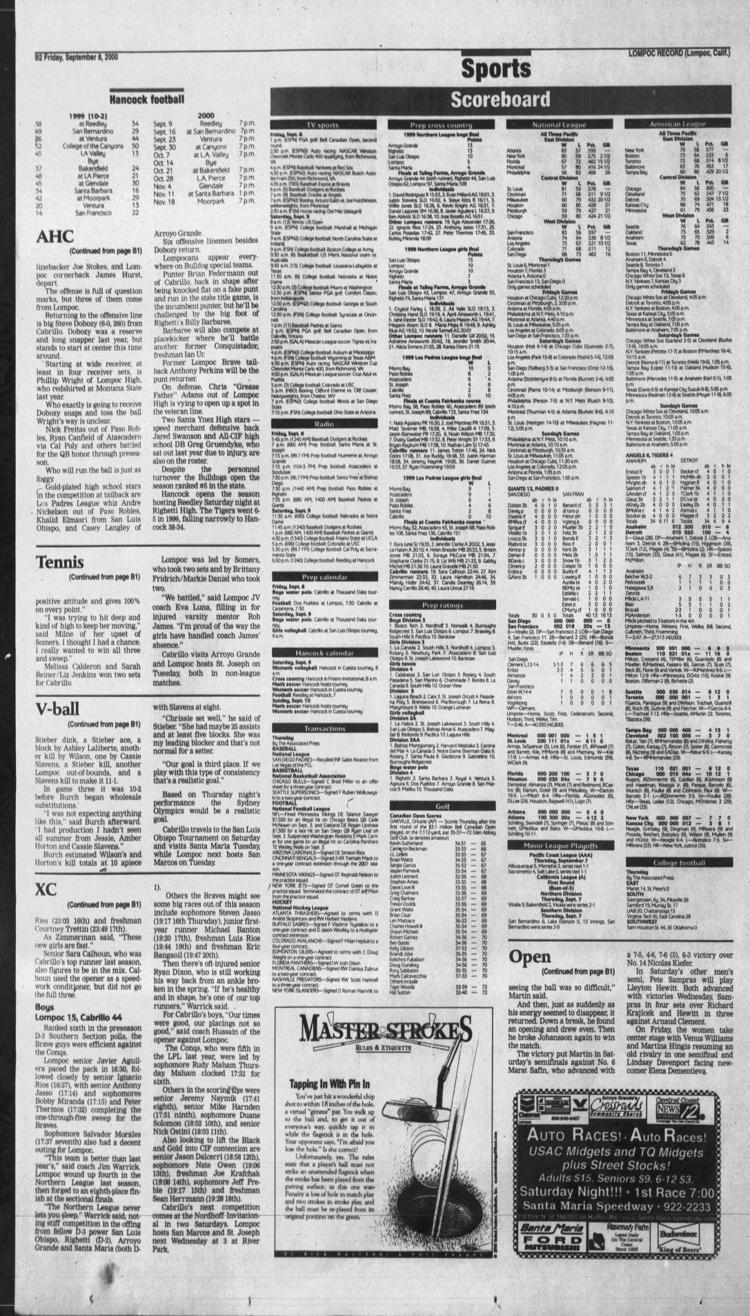 Santa_Maria_Times_Sun__Sep_17__2000_.jpg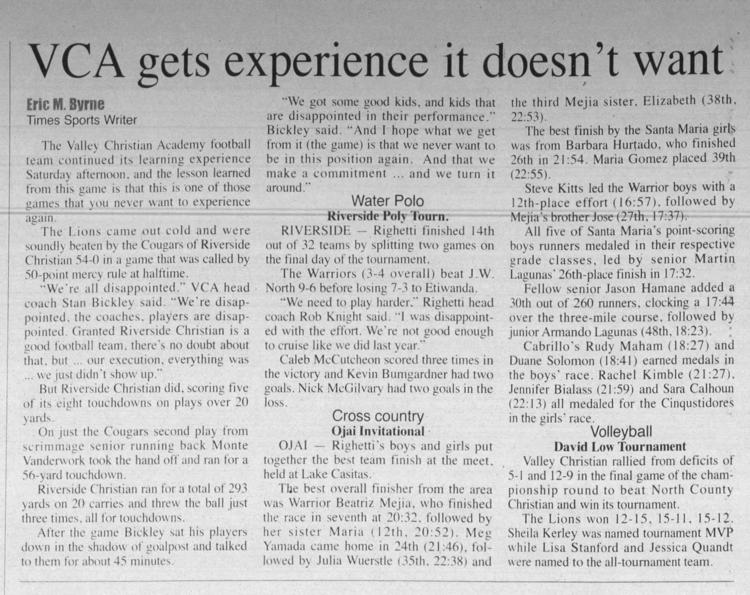 The_Lompoc_Record_Sun__Apr_1__2001_.jpg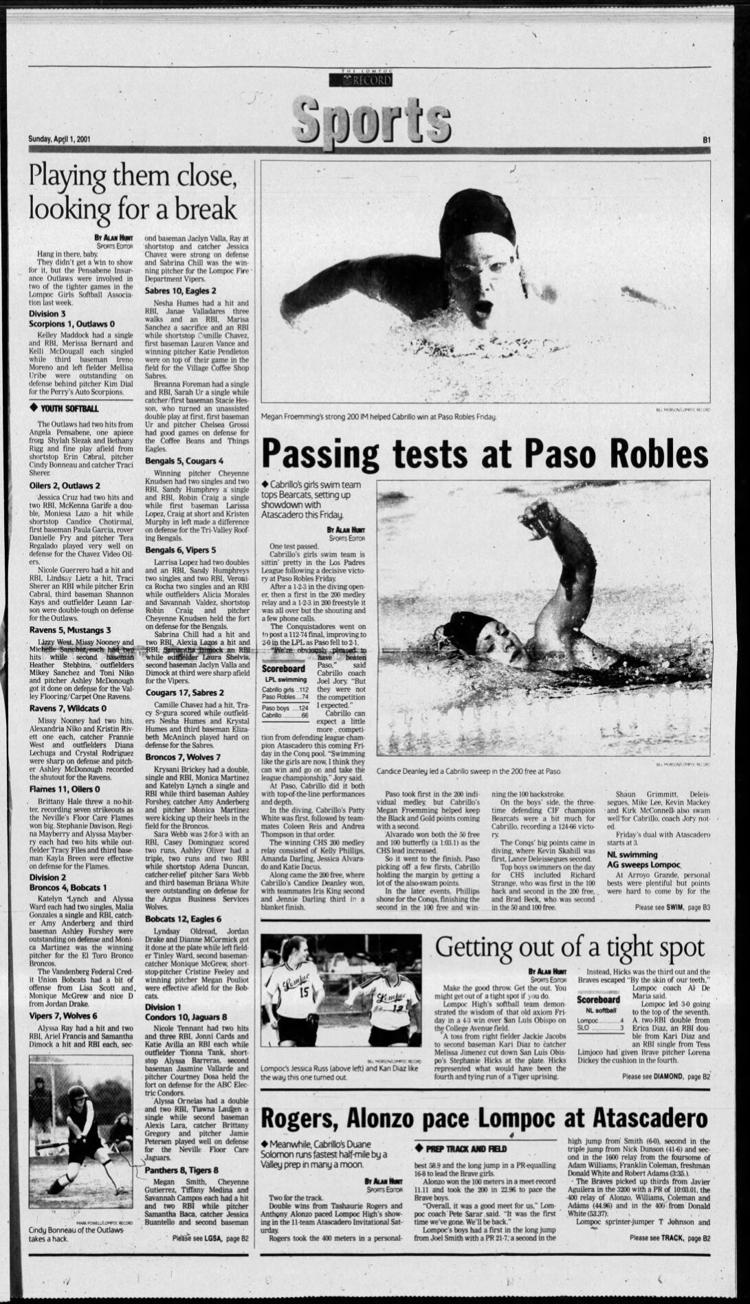 The_Lompoc_Record_Sun__May_26__2002_.jpg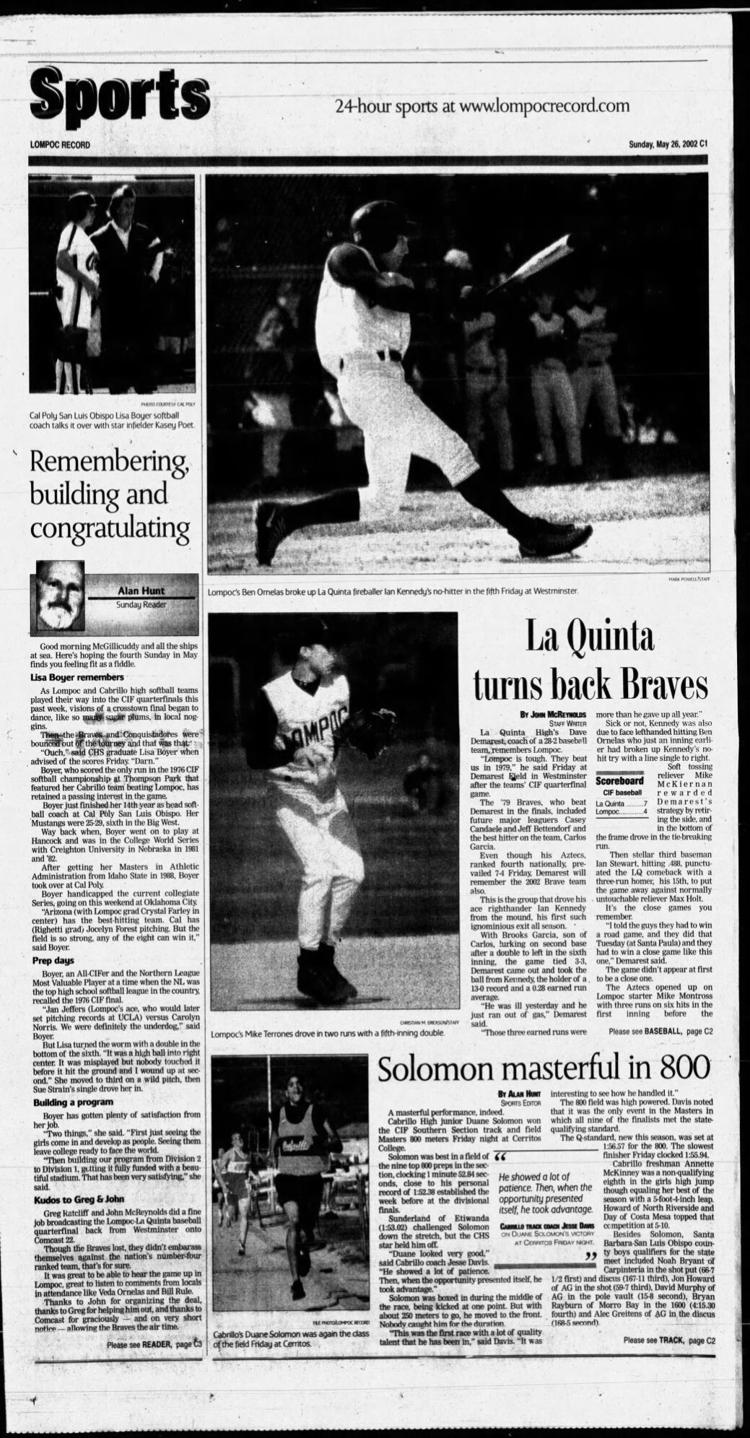 The_Lompoc_Record_Sun__Jun_2__2002_.jpg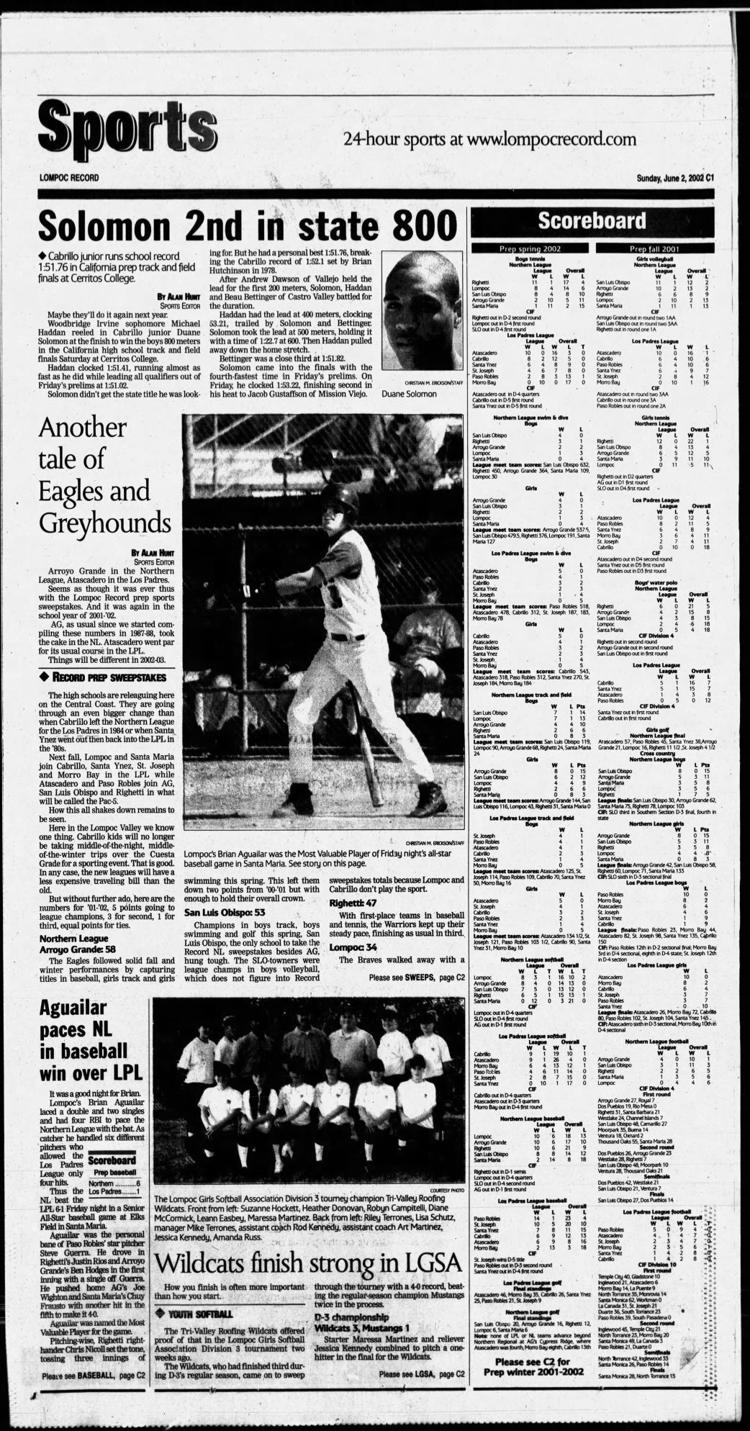 The_Lompoc_Record_Sun__Jun_1__2003_.jpg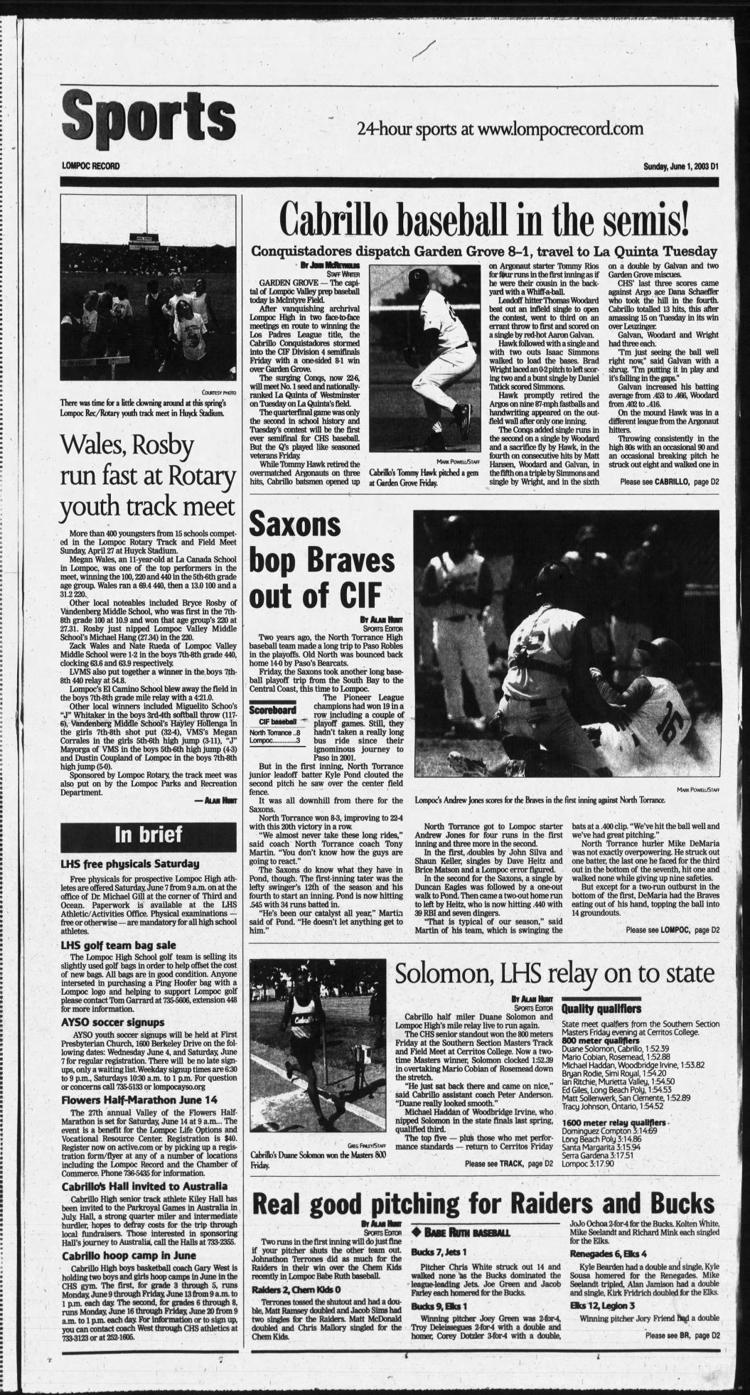 The_Lompoc_Record_Mon__Jun_16__2003_.jpg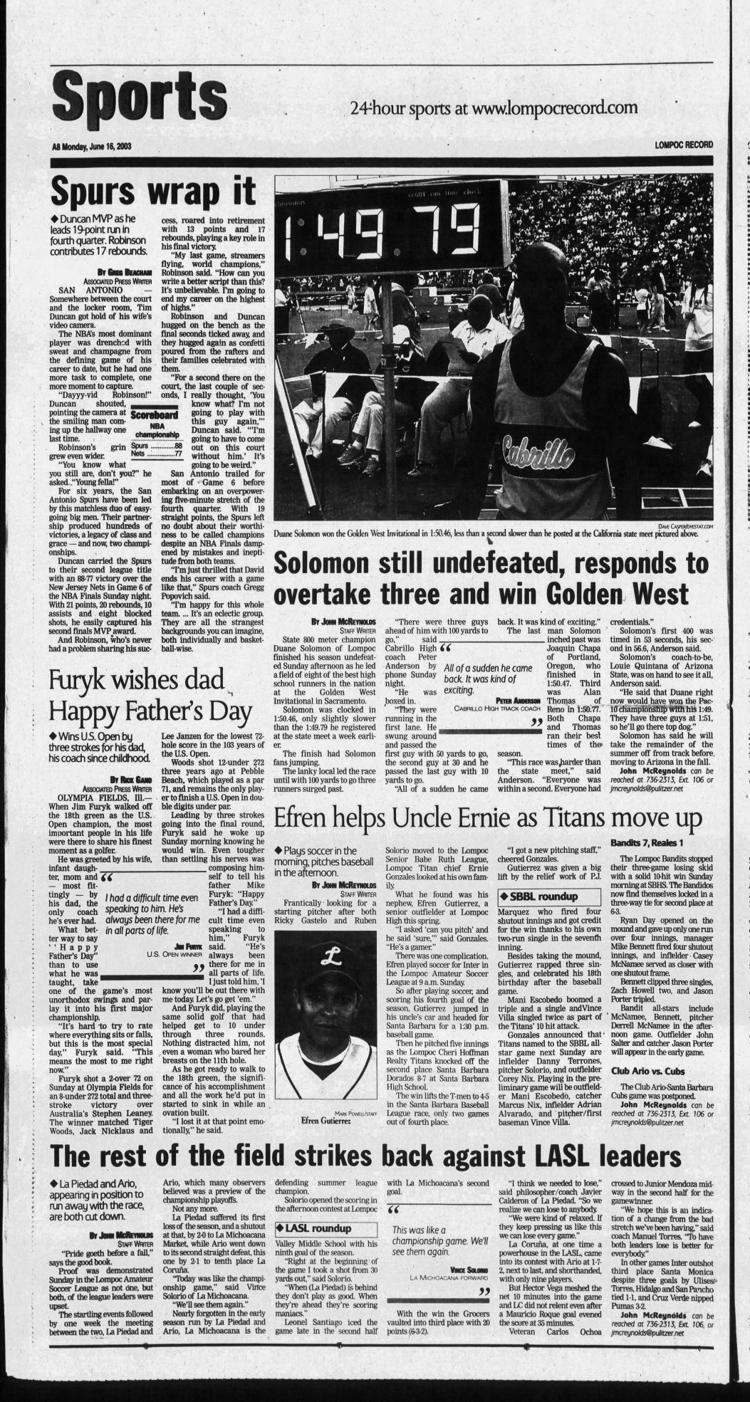 The_Lompoc_Record_Fri__May_2__2003_.jpg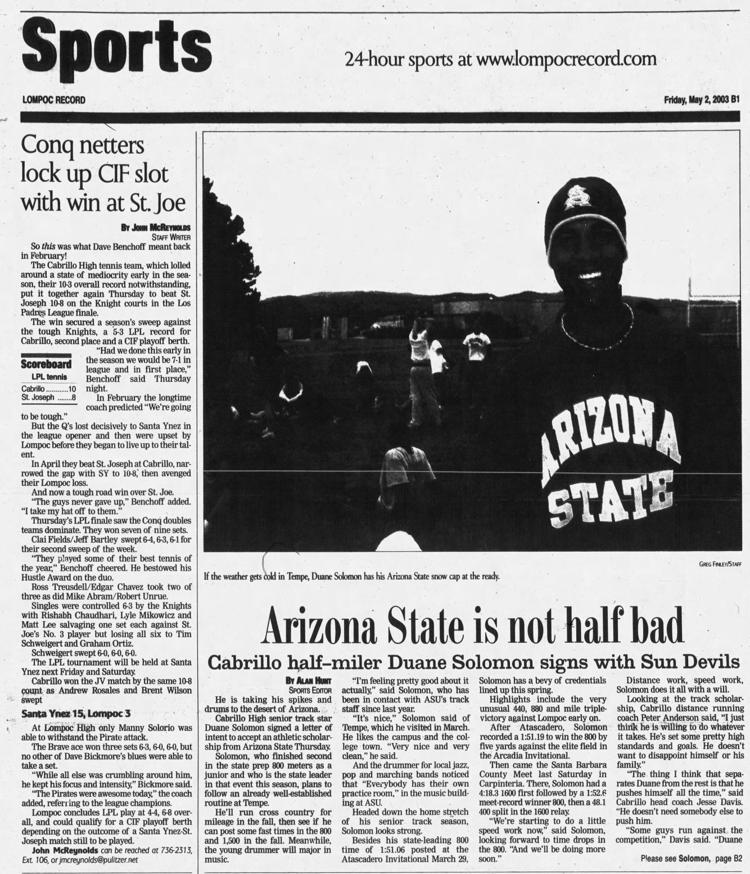 Santa_Maria_Times_Tue__May_13__2003_ (1).jpg

Santa_Maria_Times_Tue__May_13__2003_.jpg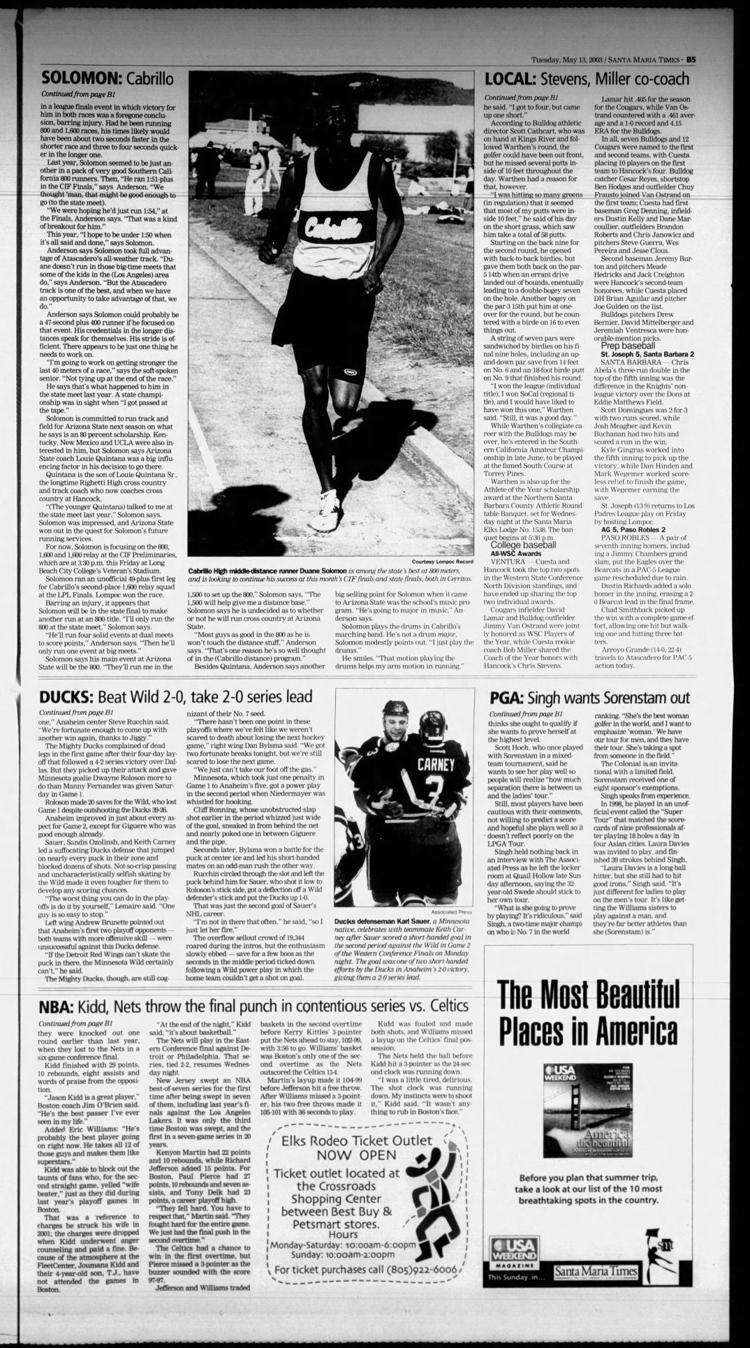 The_Lompoc_Record_Sun__Jun_8__2003_.jpg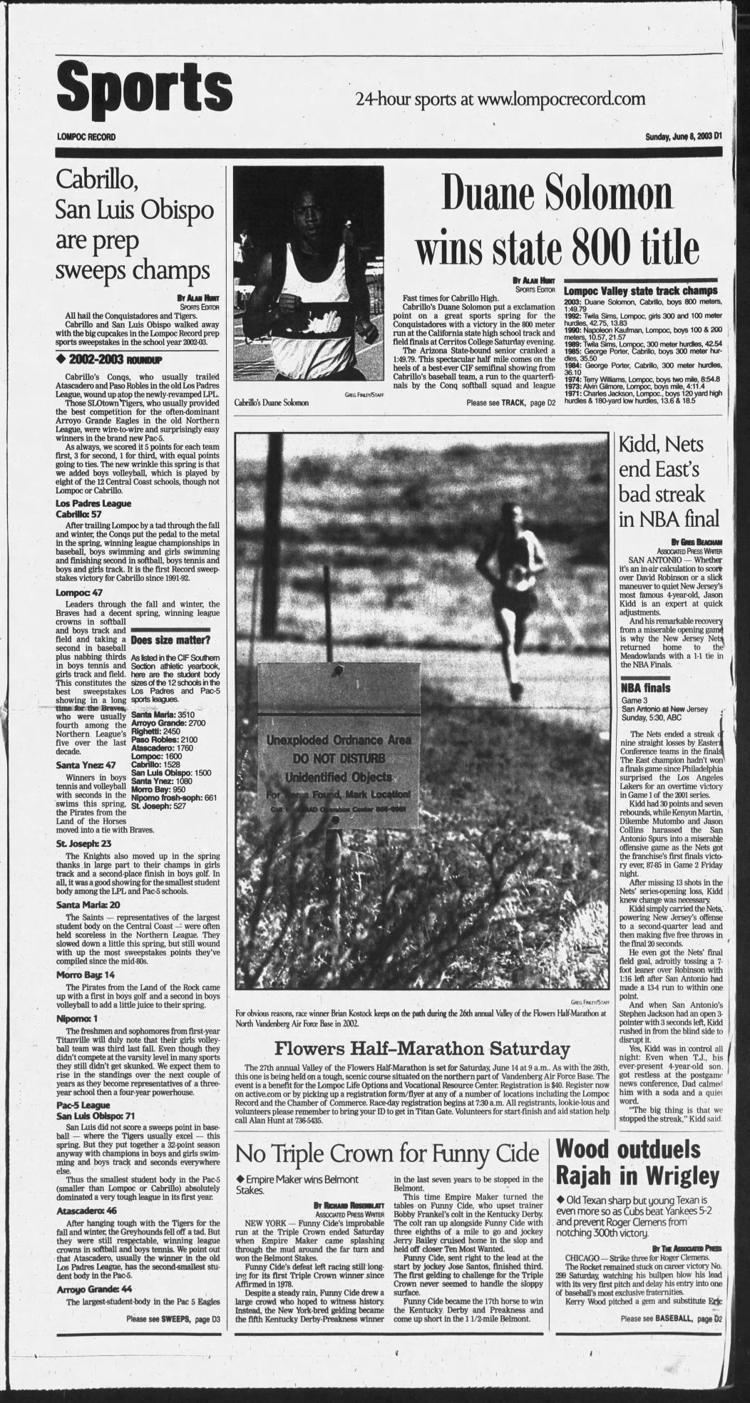 The_Lompoc_Record_Sun__Dec_26__2004_.jpg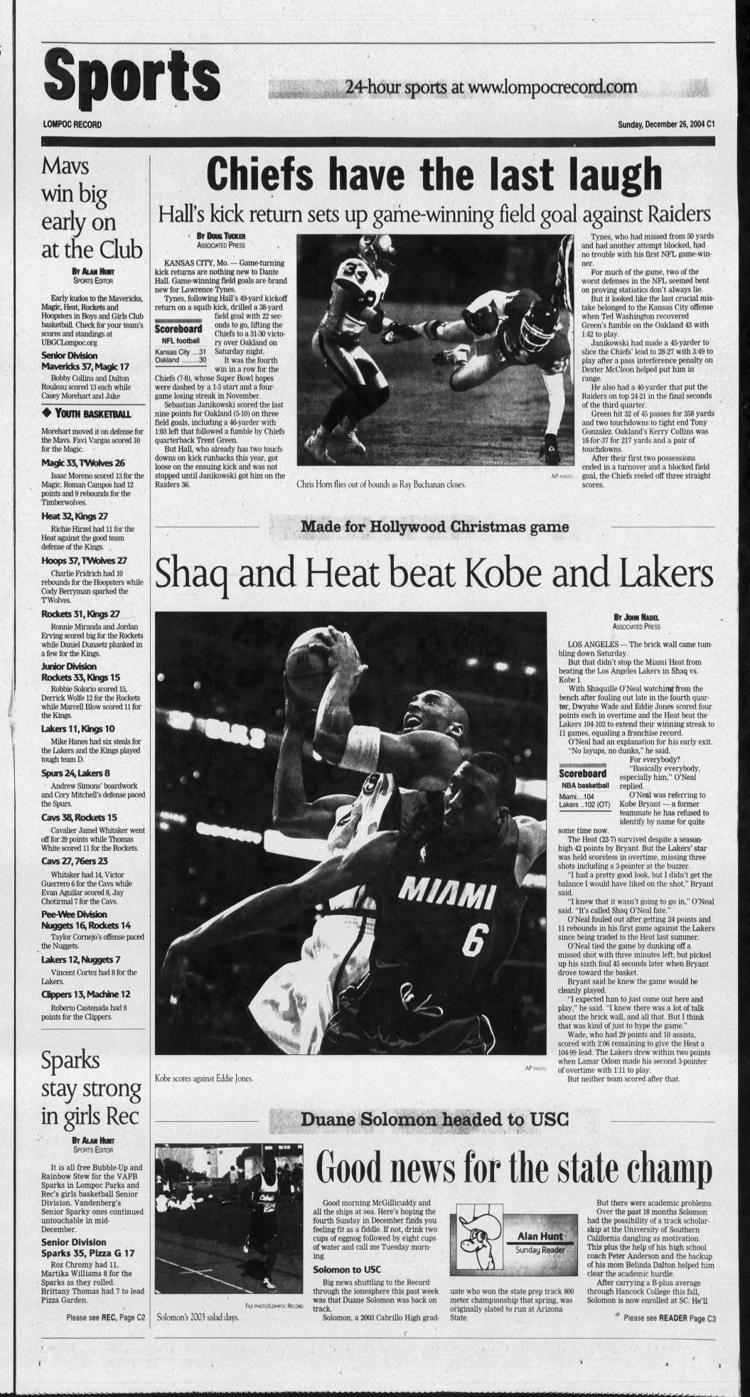 The_Lompoc_Record_Thu__May_23__2002_.jpg
The_Lompoc_Record_Thu__May_30__2002_.jpg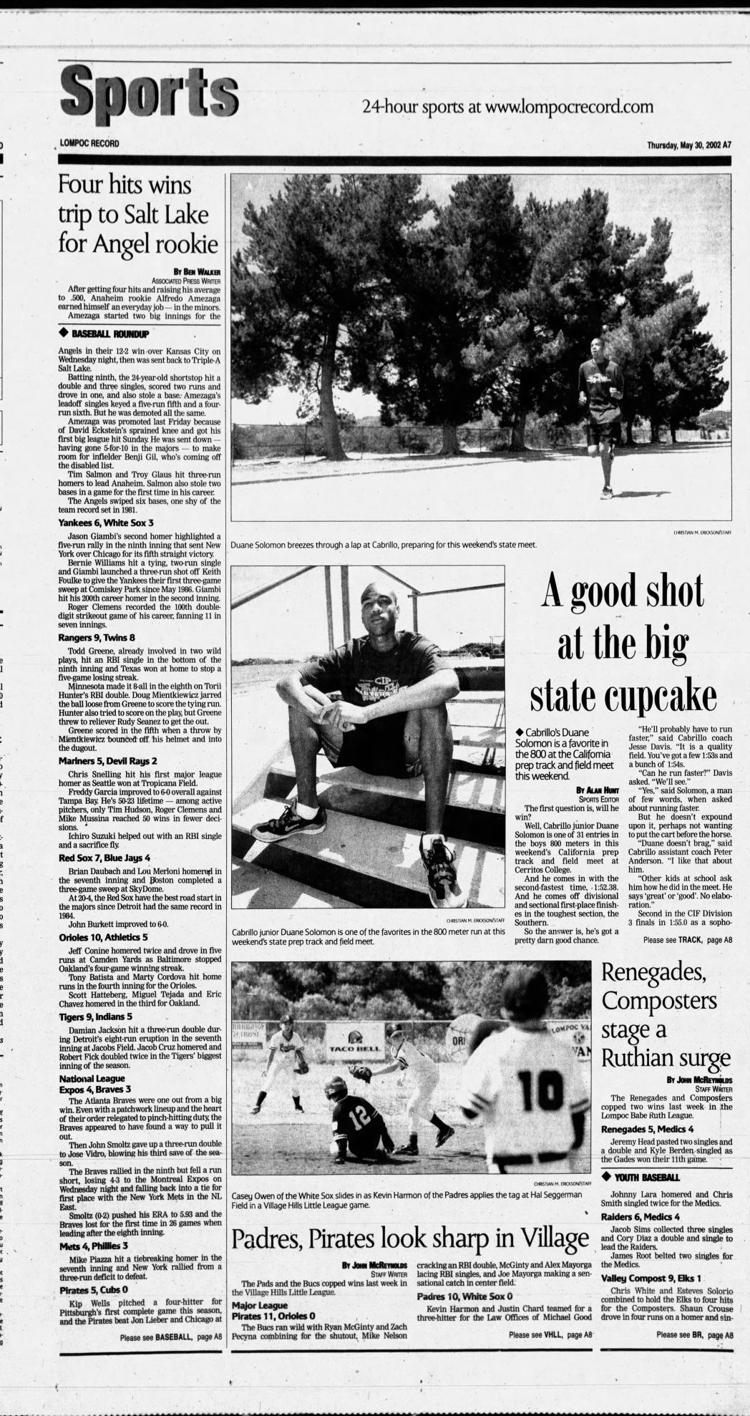 Santa_Maria_Times_Sat__Oct_6__2012_.jpg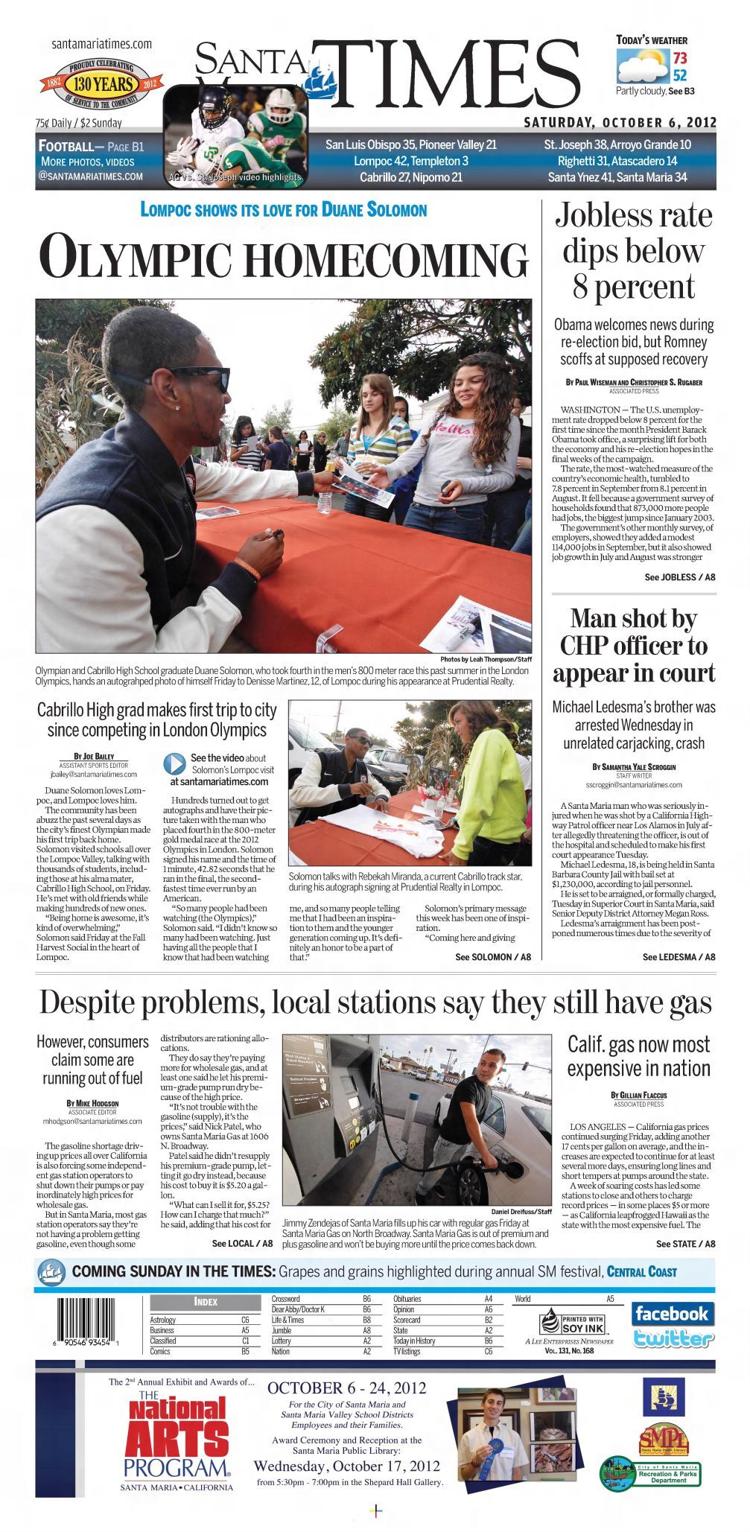 The_Lompoc_Record_Fri__Apr_7__2000_ (1).jpg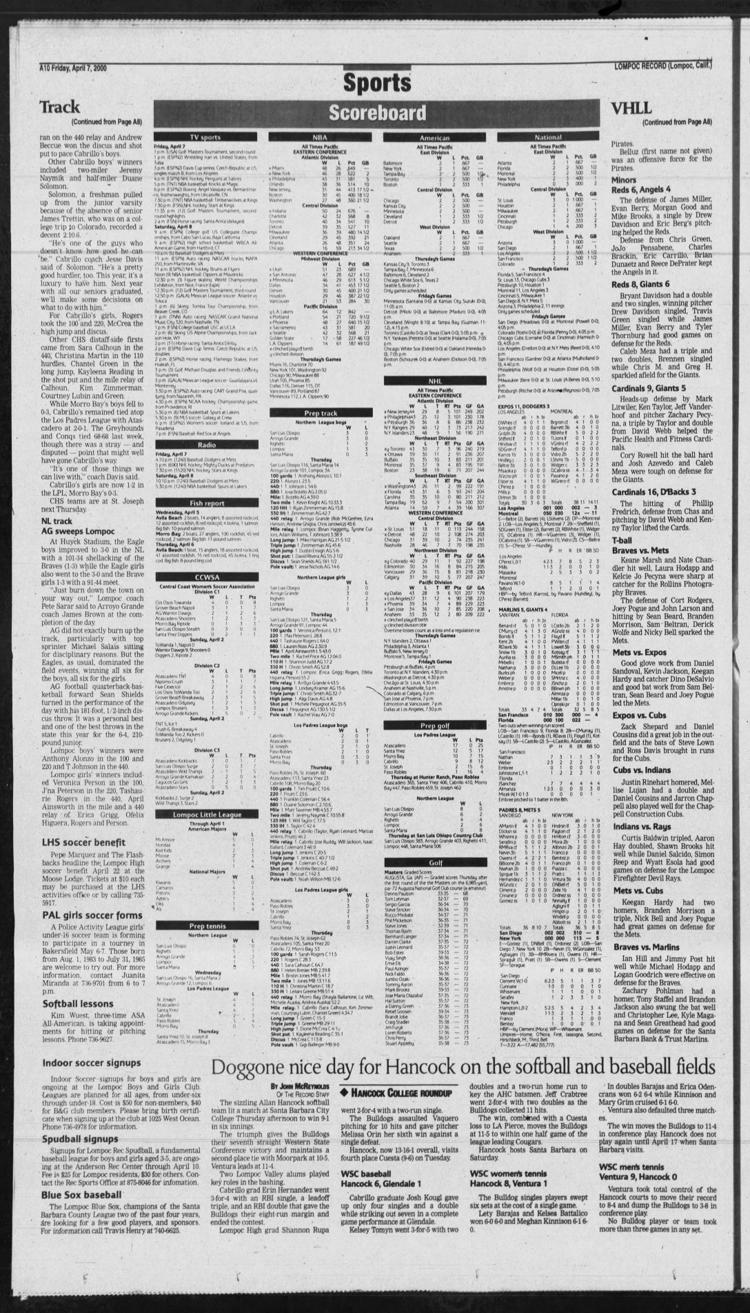 The_Lompoc_Record_Fri__Apr_7__2000_.jpg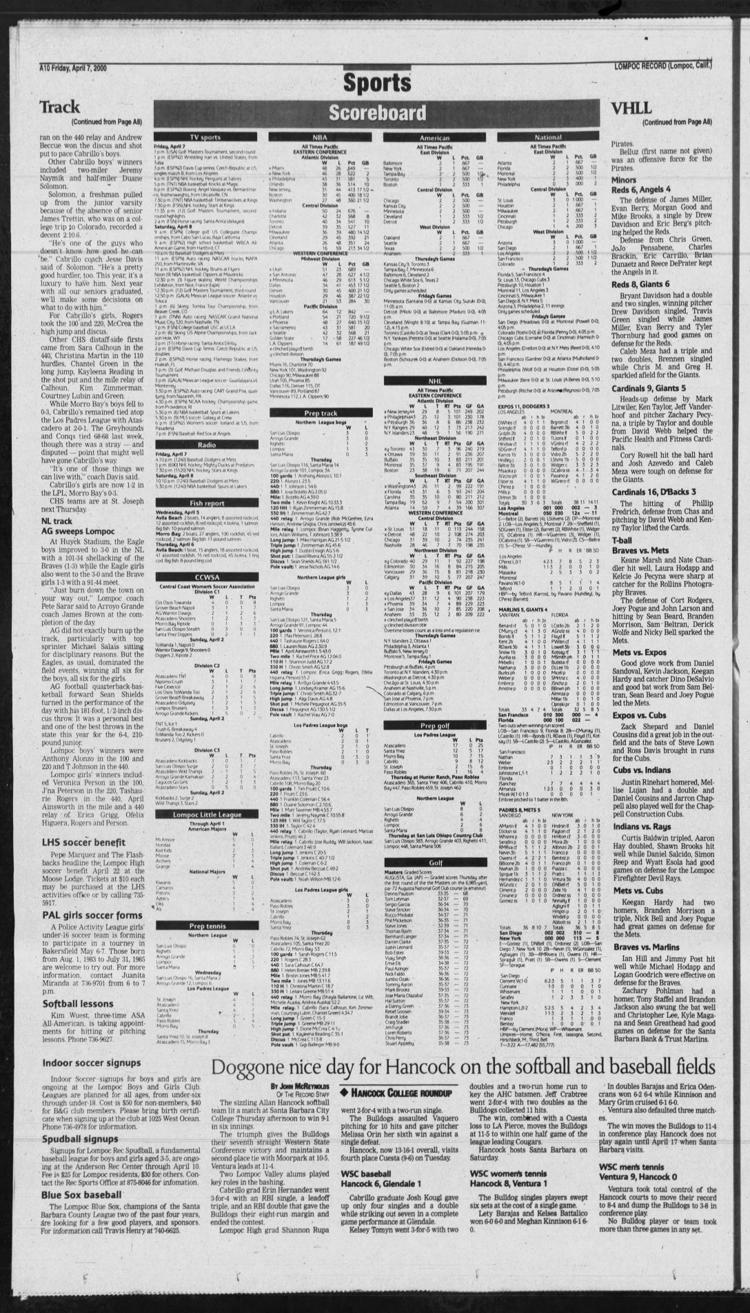 The_Lompoc_Record_Sun__Dec_29__2002_.jpg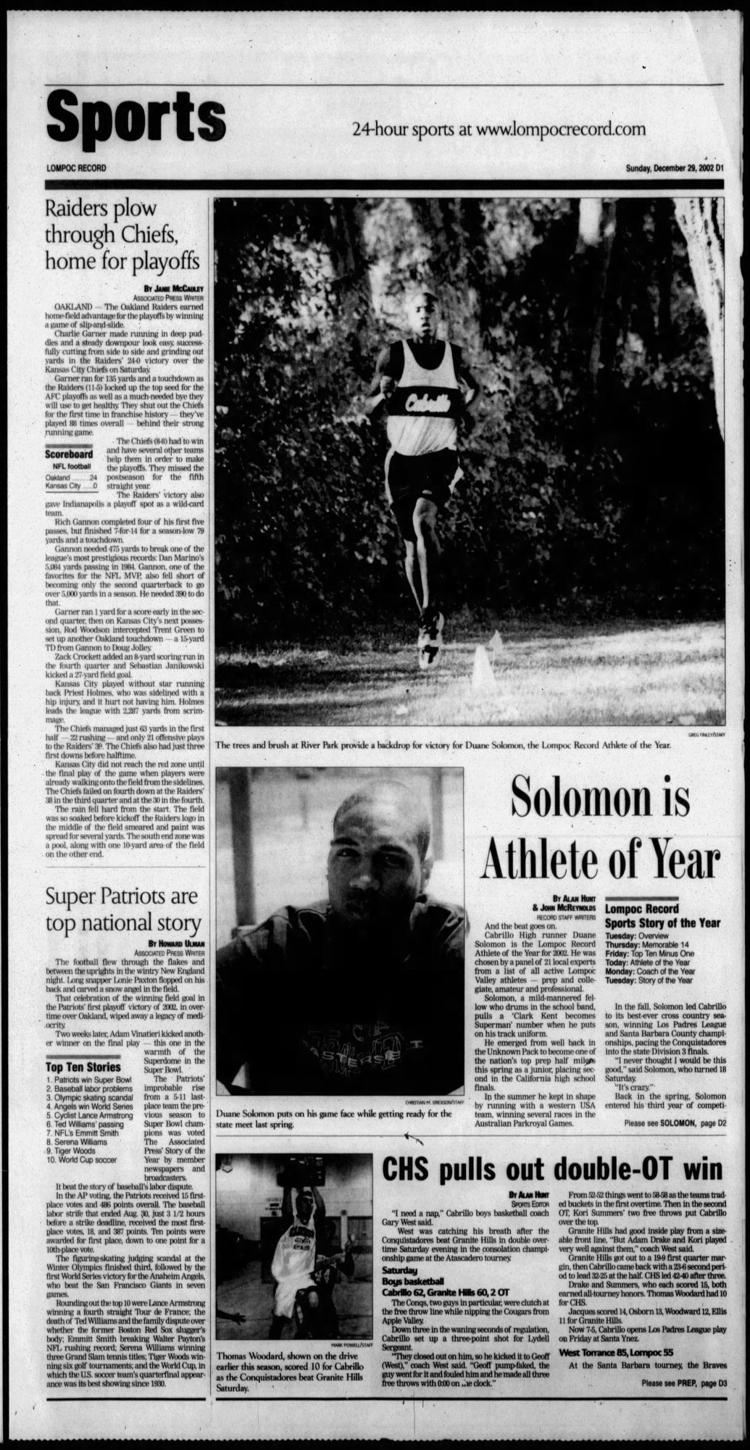 GBB: Player of the Decade Voting Week 1
No. 1 Aly Beebe vs. No. 16 Rylee Sager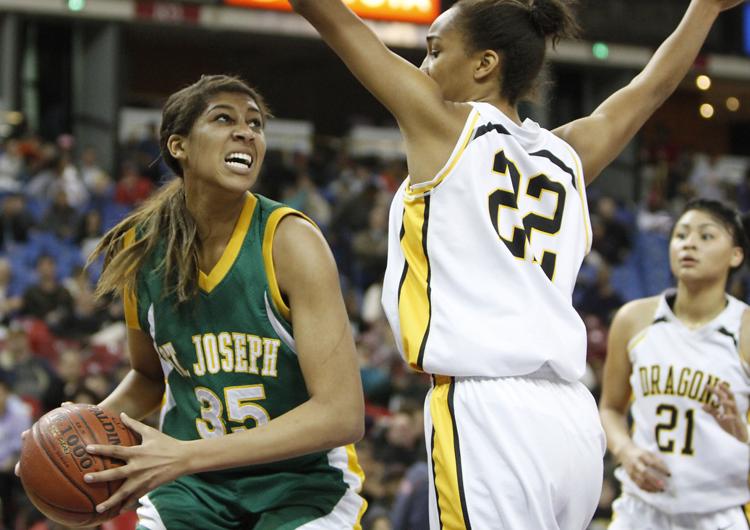 Former St. Joseph star Aly Beebe is the No. 1 seed.
Beebe, who helped the Knights win back-to-back CIF Southern Section titles during her freshman and sophomore seasons, won a CIF State title her junior season as she developed into one of the most dominant players in the entire state, if not the country.
Beebe signed with Stanford after graduating from St. Joseph in 2012, though never played for the Cardinal and eventually retired after numerous injuries to her knee.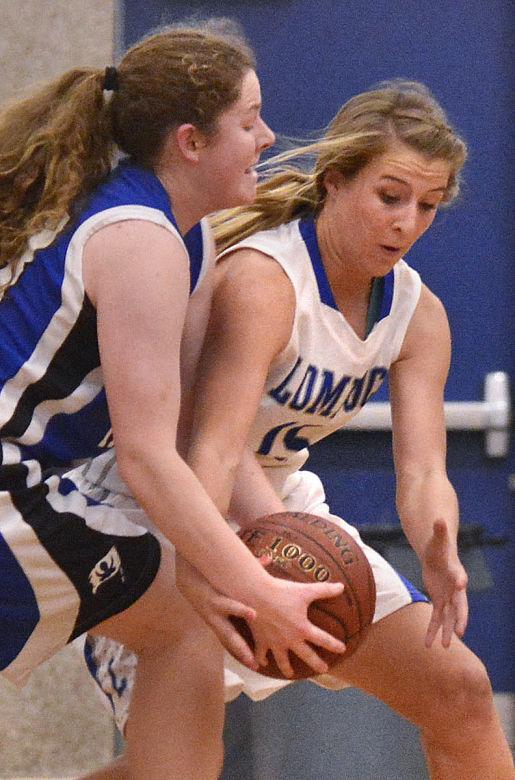 Beebe will square off against Lompoc's Rylee Sager, the No. 16 seed. Sager, a 5-foot-7 guard, played in 107 games in four years at Lompoc, scoring 1,104 points.
The former Brave averaged 14 points, 6.1 rebounds, 4.8 assists and 3.3 steals per game as a senior, leading Lompoc to a 22-7 overall record and 13-1 mark in the Los Padres League.
No. 2 Ashlyn Herlihy vs. No. 15 Ravynn Anielski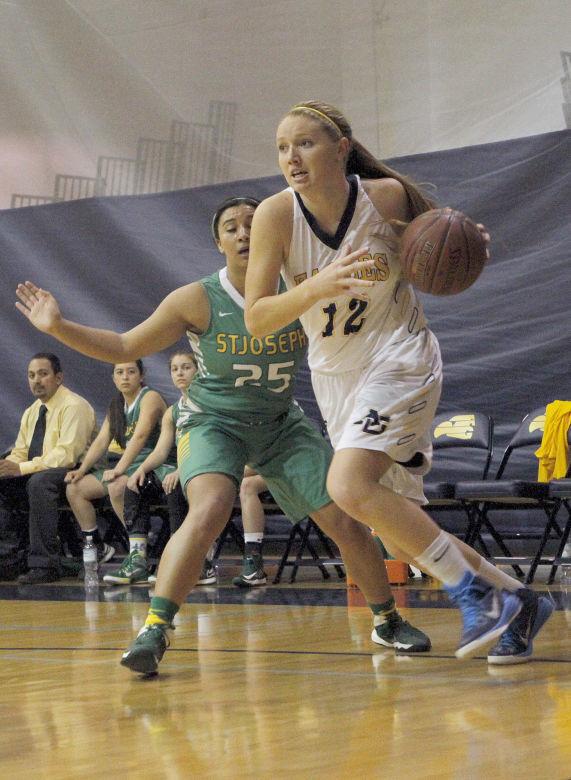 Arroyo Grande graduate Ashlyn Herlihy is the No. 2 seed. Herlihy averaged 22 points, 9.7 rebounds, 1.4 steals and 5.5 blocks per game as a senior at Arroyo Grande. She was named the Times' All-Area MVP as a junior.
Herlihy went on to play at Santa Clara. She redshirted there in 2016-17 and has grown into a starting role the last two seasons, averaging over 10 points and 7 rebounds a game.
Herlihy earned All-West Coast Conference honors the last two years. She's started 61 games the last two seasons.
Herlihy will face No. 15 seed Ravynn Anielski in the first round.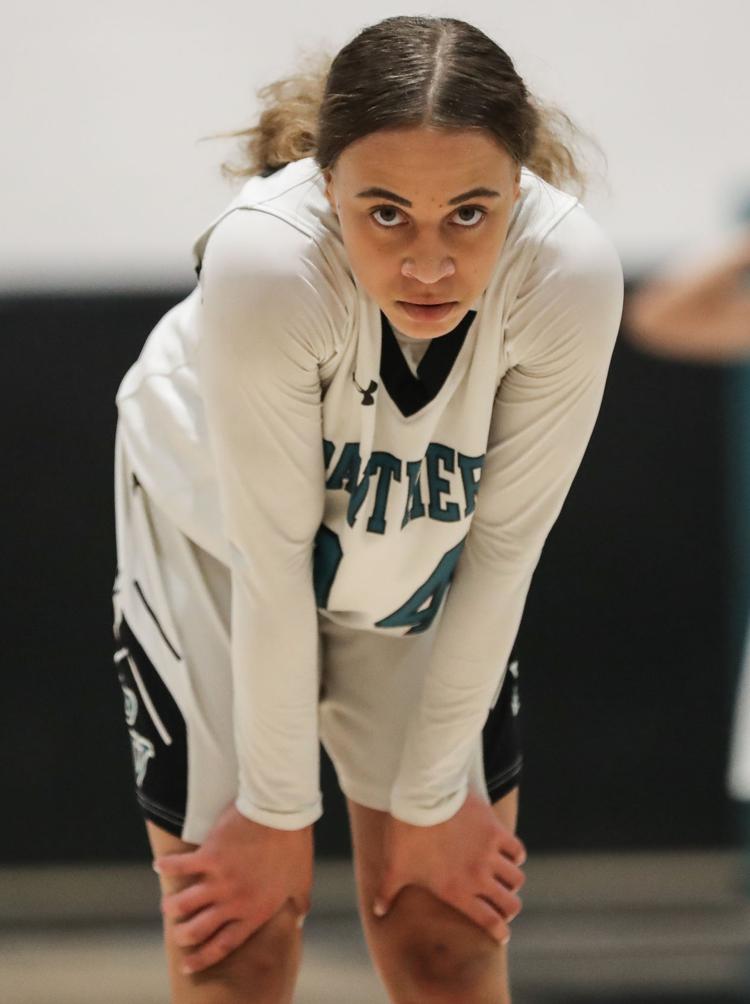 After finishing 19 games under .500 in Anielski's sophomore season, she led the Panthers to a 17-9 record (11-1 in league games) as a junior.
She scored 19.2 points a game that year, adding 4.4 rebounds, 1.5 assists and 3.2 steals.
Anielski was named the Times' All-Area MVP that year and she earned Ocean League MVP honors.
No. 3 Molly Schlemer vs. No. 14 Syenna Ramirez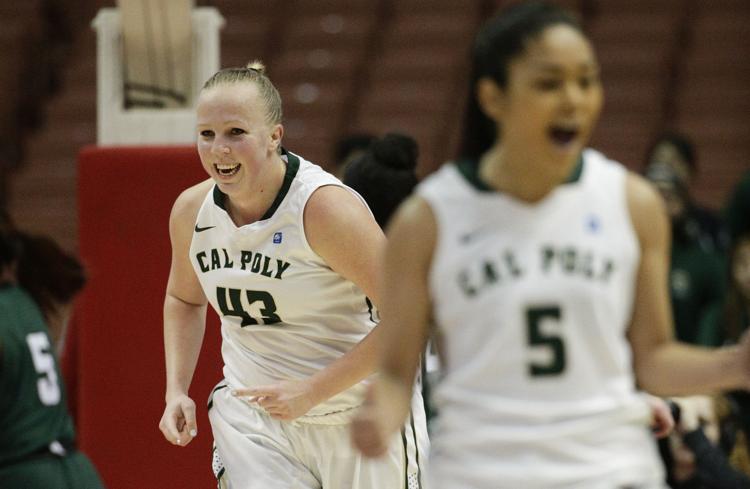 Former Righetti standout Molly Schlemer is the No. 3 seed. The 6-foot-5 post averaged 15 points and 8.3 rebounds a game in her final season with the Warriors. She also blocked 2.5 shots a game.
At Cal Poly, Schlemer started all 32 games for the Mustangs during the 2013-14 season, averaging 16.9 points and 10.1 rebounds a game, all in under 30 minutes a contest.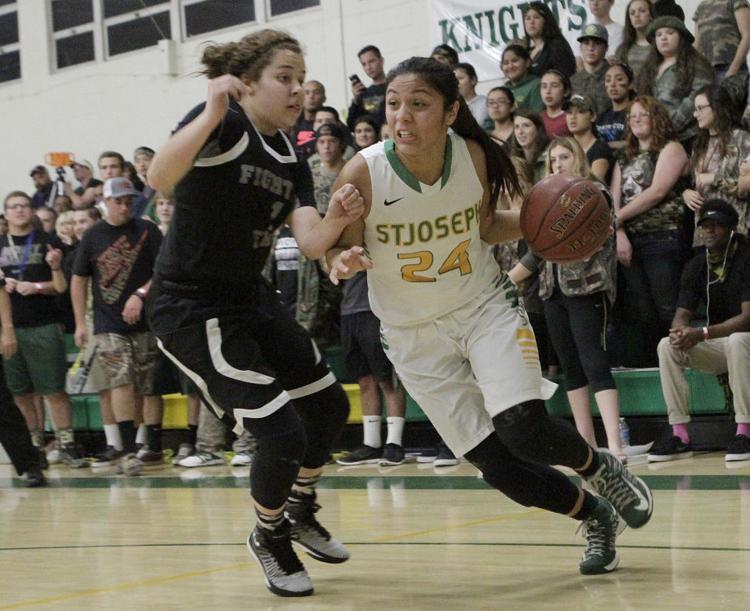 Schlemer will face No. 14 seed Syenna Ramirez. She averaged over 17 points a game as a senior at St. Joseph, going from role player to the best player on her team.
Ramirez culminated her St. Joseph career with a 427-point senior season. In addition to scoring 17 points, Ramirez added 2.2 assists, 4.3 rebounds and 3.3 steals per game that season.
No. 4 Mariah Cooks vs. No. 13 Simone Swain
Another former Righetti star, Mariah Cooks, is the No. 4 seed. Cooks was named the PAC 7 League MVP as she averaged 21.7 points per game and 12 rebounds in league play as a senior.
She led the Warriors to the quarterfinals of the playoffs averaging 22 points and 12.6 rebounds per game. She also earned All-CIF honors. Cooks went on to play four seasons at Washington State in the Pac-12.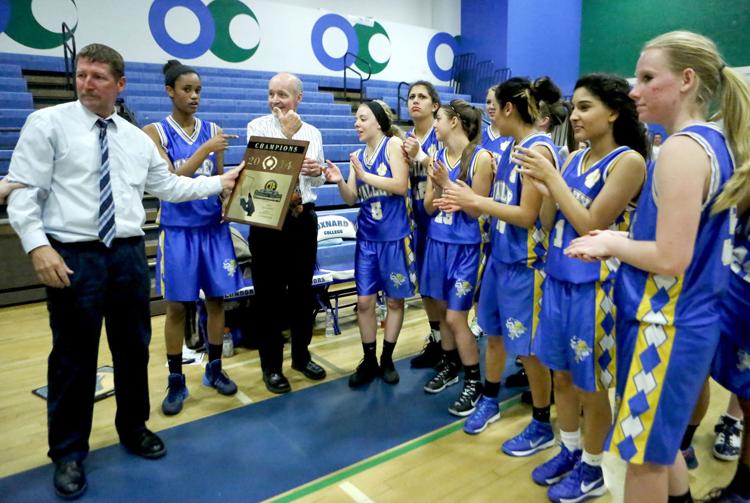 Cooks will face Simone Swain, the No. 13 seed, in the first round. Swain won a CIF-SS title at Valley Christian.
During that 2013-14 title-winning season, Swain averaged 18.1 points and 9.2 rebounds a game as she led the Lions to a 21-4 record and a 10-0 run through the CVL. She added 2.4 steals and 1.4 blocks per game that year.
No. 5 Tatiana Dunlap vs. No. 12 Hailey King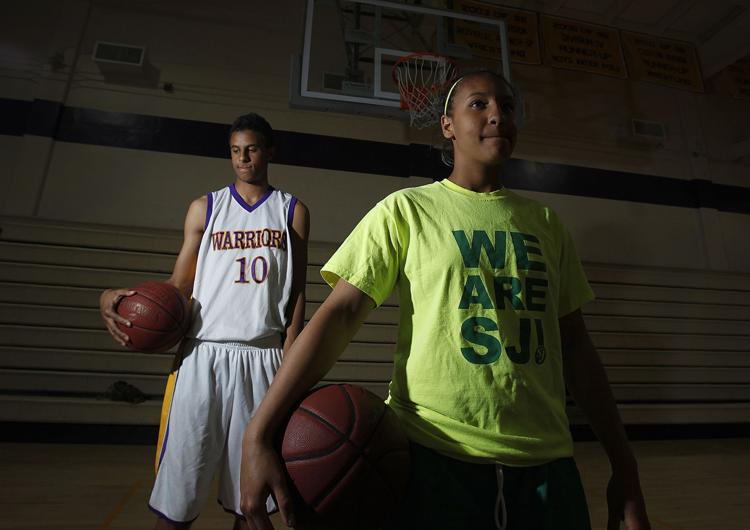 Tatiana Dunlap, another former St. Joseph standout, is the No. 5 seed. Dunlap, an all-time great defender, scored over 1,300 points in three seasons with the Knights.
During her senior season, the 5-foot-8 guard averaged 23.7 points, 3.0 assists, 9.2 rebounds and 2.6 steals per game as the Knights went 19-9. Dunlap played at Cal State San Bernardino and Cal Lutheran.
Santa Ynez grad Hailey King, the No. 12 seed, will face Dunlap in the first round.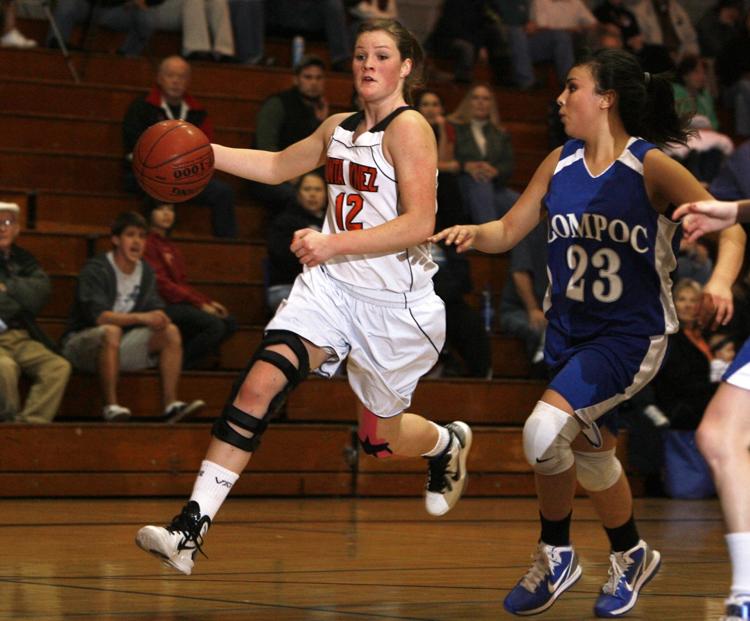 King, who suffered a torn ACL and missed nearly all of her junior season before she made it back to the Pirate lineup as a senior in 2010-11, scored 427 points in her final prep season, leading Santa Ynez to the Los Padres League title, the Pirates' most recent league championship in girls hoops. King played at Cal State Fullerton.
No. 6 Kaitlyn Flowers vs. No. 11 Danielle Morgan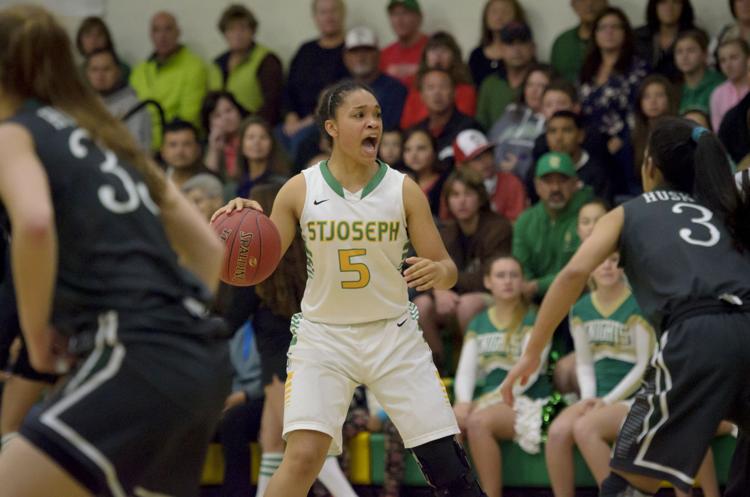 Kaitlyn Flowers is the No. 6 seed. As a senior in the 2013-14 season, Flowers averaged 17.9 points, 7.3 rebounds, 3.7 assists and 4.8 steals per game.
As a sophomore, she scored 18 points a game, adding 4.3 rebounds, 3.2 assists and 4.4 steals per game and 18.1 points, 4.5 rebounds, 4.9 assists and 4.7 steals per game as a junior.
Flowers meets former Lompoc High standout Danielle Morgan, the No. 11 seed who's currently at Hancock.
Morgan topped 1,000 career points with the Braves, finishing her prep career with 1,186 points.
Morgan averaged 17 points, 8.5 rebounds and 4.8 assists as a senior.
No. 7 Erin Jenkins vs. No. 10 Shnyia Tell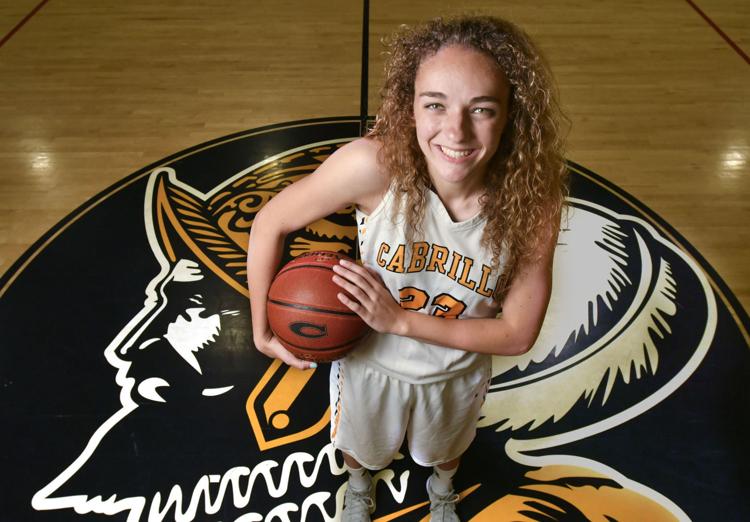 Erin Jenkins, the former Cabrillo standout, is the No. 7 seed. Jenkins and Beebe are the only back-to-back All-Area MVPs of this past decade.
Jenkins currently plays at Northwest Nazarene University. Jenkins averaged 20.3 points, 8.6 rebounds, 3.4 assists and 3.3 steals per game as a senior with the Conqs.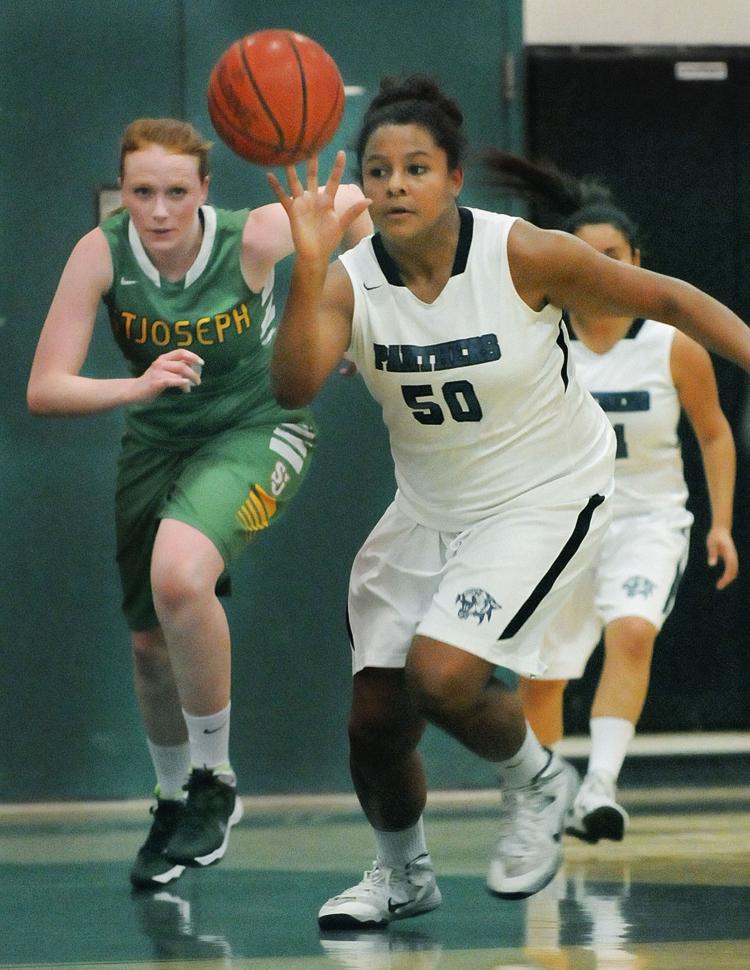 Jenkins meets the No. 10 seed, Shnyia Tell, in the first round. Tell earned one All-Area MVP honor during her time at Pioneer Valley.
At 5-foot-10, Tell averaged 10 rebounds a game for her entire four-year varsity career. She averaged a double-double in both her junior and senior seasons.
Tell averaged 16 points, 13.3 rebounds as a senior with 2.6 steals per game.
No. 8 Danita Estorga vs. No. 9 Heather Madrigal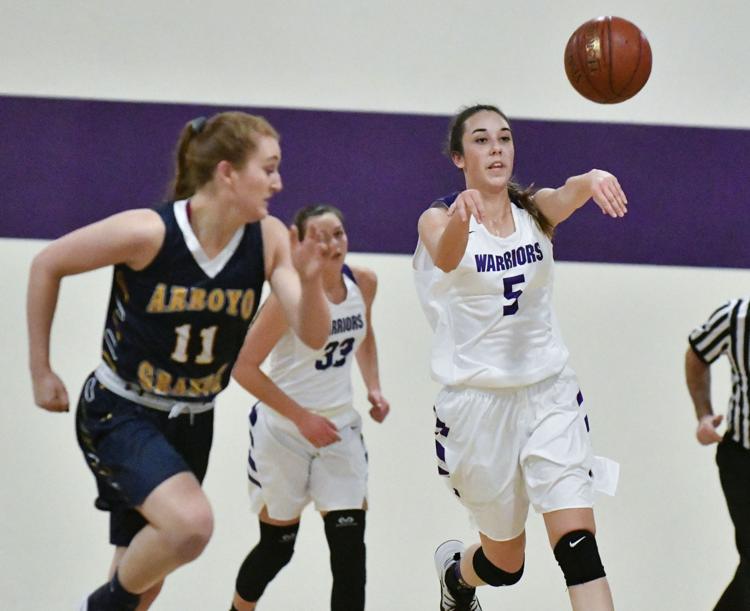 Danita Estorga, yet another former Righetti great, is the No. 8 seed. Estorga, currently playing at Biola University, averaged 15.6 points, 8.2 rebounds, 2.8 assists, 2.5 steals and 1.4 blocks per game over her final two seasons with the Warriors.
She helped Righetti go 47-10 in the final two years with the program. They went 26-2 in league those two seasons.
Estorga will meet Heather Madrigal, the No. 9 seed, in the first round. Madrigal won four CIF titles in four years in high school, winning either a CIF State championship or a CIF Southern Section crown every year.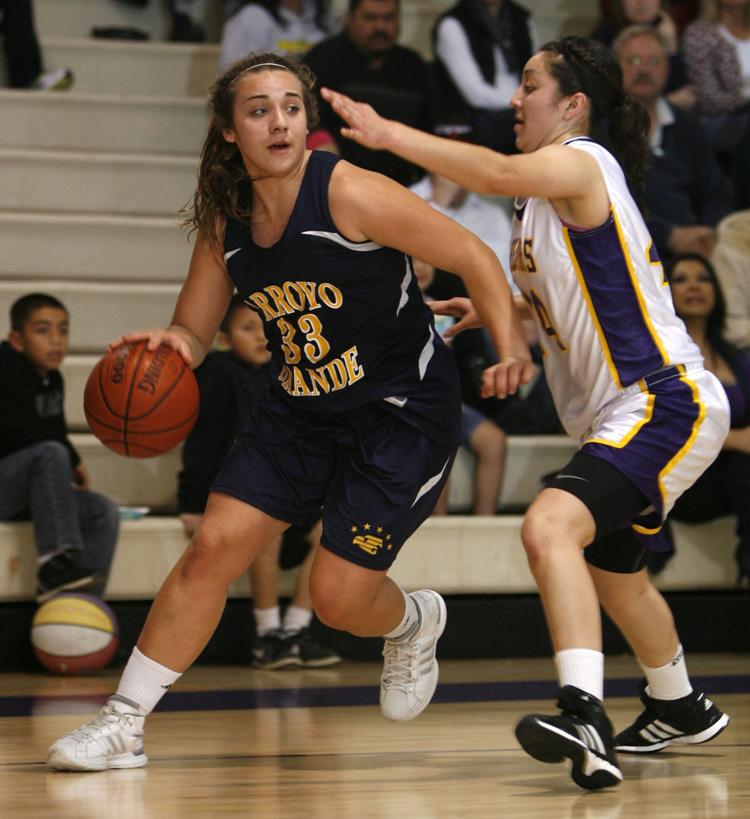 Madrigal went 48-0 in league in high school, spending the first three years at St. Joseph before transferring to Arroyo Grande.
Madrigal averaged 16.2 points, 8.7 rebounds, 2.8 assists and 1.5 steals per game in her one season with the Eagles . At St. Joseph she averaged 9.4 points, 4.5 rebounds, 2.4 assists and 1.8 steals per game.
Get in the game with our Prep Sports Newsletter
Sent weekly directly to your inbox!