The Lompoc Braves edged the Righetti Warriors 5-4 in a non-league girls tennis match Thursday afternoon at Righetti High School in Orcutt.
"The girls played a good match," said Lompoc coach Mike Montross. "There were a lot of good matchups. The girls grinded it out. A lot of girls stepped up today and we were able to pull it off."
"This was a big-time match today," said Righetti coach Drew Sveiven. "This is the closest match we've played this year. Three sets went to tie breaks."
It all came down to the doubles.
Playing in the CIF Central Section format, the teams played six best-of-three set singles matches followed by three doubles matches.
And the match was even, 3-3, after the singles.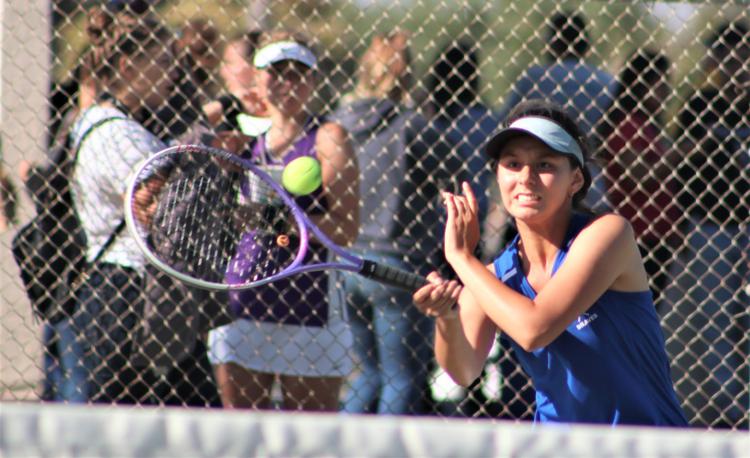 The first of the doubles matches to finish was between Lompoc's Sandi Fahle and Evelyn Lopez against Righetti's Miranda Angulo and Lianna Maksoudian at No. 3 doubles. Fahle and Lopez won 6-2, 6-3 to give Lompoc a 4-3 lead.
On the next court, the No. 2 teams went the distance with Lompoc's Rosa Flores and Diana Alcantara winning the first set 6-2 against Righetti's Lauren Lopez and Delaney Blount. Lopez and Blount won the second set 6-4, setting up a 10-point tiebreaker.
When Flores' backhand smash rocketed between the Righetti duo, Flores and Alcantara won the tiebreak 10-5 and gave the Braves an insurmountable 5-3 lead.
The No. 1 doubles also needed a tiebreak to determine the winner.
Righetti's Delanie Duran and Alex Valentine won the first set 6-4 but Lompoc's Jessie Elenes and Cheri Battle battled for a 6-2 win in the second.
The teams played a tight tiebreaker with no one being able to pull away. Duran and Valentine eventually closed out the match with an 11-9 win.
Duran got the day off on the right foot for the Warriors, topping Battle 6-3, 6-2 at No. 1 singles.
"I was pretty happy with the way I played today," said Duran. "That was a tough first match in singles. The doubles match was tough but we pulled it out. It was a long — very long — match but it was good. We never gave up."
"When we got to the tiebreak, I was pumped up. It made me concentrate more, bear down more — it's like 'Go-time'".
Lompoc's Elenes then evened the matched with a 6-4, 6-1 win over Valentine.
Lompoc pulled ahead with Karla Paniagua's 6-3, 6-2 win over Righetti's Kate Sutterfield.
Lompoc's Hailey Fernandez pulled out a 3-6, 6-4, 13-11 win over Righetti's Haley Sousa to help the Braves to a 5-4 victory Thursday at Righetti. pic.twitter.com/qNgTVZIbz0

— Elliott Stern (@SMTSidelines) August 30, 2019
"Karla came up big today," said Montross. "So did Jessie. She played really well in singles."
But the match was all even after Righetti's Daisy Cano topped Alcantara 6-2, 6-1.
Late in the last century, a Cincinnati Bengals running back named Ickey Woods did a dance called the "Ickey Shuffle," in the end zone after ea…
Righetti took the lead after Esther Kim beat Liset Villalobos 6-3, 6-4 but Lompoc squared the match when Hailey Fernandez pulled out a thrilling 3-6, 6-4, 13-11 win over Righetti's Haley Sousa, setting the stage for the doubles showdown.
"You just have to keep going. I was doubting myself in the first set. It was my first singles match since my freshman year and now I'm a senior and I won," said Fernandez. "I came back and won the second set but I was down 1-5 in the tiebreak. I stuck a good forehand to tie it at 9-9 and then we went to 10-10 and 11-11 before I pulled it out. I feel proud of myself. Coach should put me in next time for singles."
"All our girls played very well today," said Sveiven. "The match could have gone either way and our girls never gave up. Two of our doubles teams were down but they battled back. I',m sorry we didn't win but I'm pleased with the way they played."
Templeton 7, Orcutt Academy 2
The Eagles defeated the Spartans (0-5, 0-1) at Templeton in Orcutt Academy's Ocean League opener.
Kayla Pablo won 6-0, 6-0 at No. 1 singles and teamed with Genevieve Greco for an 8-2 win at No. 1 doubles for Orcutt. 
San Luis Obispo 16, Santa Ynez 2
San Luis Obispo rolled to victory in a non-league girls tennis match at Santa Ynez High.
Santa Ynez's Claire Collison and Camilla Curti were the only Pirates to pick up points, Collison winning a set at 6-1 and Curti at 6-4.
"It was a solid performance by SLO," said Santa Ynez coach Edwin Portillo. "I give a lot of credit to Claire and Camilla. Camilla has never played singles and she was able to win one of our sets. This is what we want in our preseason — to play tough teams so we can make adjustments in our lineup for future matches."
Girls golf
Righetti 249, Dos Pueblos 271
Righetti cruised past Dos Pueblos 249-271 in a non-league dual at Rancho Maria.
Claire Alford shot a 36 to earn medalist honors on the par-35 front nine. 
Kira Kase, a sophomore, shot a career-best score of 47. Grace Minetti, a freshman, shot 49. Cameron Reynoso shot 54 and Cassidy Claborn carded a 63.
For Dos Pueblos, Julia Schniepp scored a 48, Kathy Gijon shot 54 and Chelsi Ramirez (55), Maggie Tang (55) and Camille Robinson (59) rounded out the scoring for the Chargers.
"She played real well today," Righetti coach Brian Tomooka said of Alford. "It got a little windy toward the end but she's been playing well. It's kind of around where I think she'll be at this entire season."
The Warriors next play Tuesday against Santa Ynez at Alisal River in Solvang.
Paso Robles 286, Pioneer Valley 295
Pioneer Valley's Breanna Villalobos was the medalist with a 47, but the Bearcats beat the Panthers (0-1) in a non-league match at Paso Robles Golf Course.
Kaci Wagner led Paso Robles with a 52.
Pioneer Valley teammates behind Villalobos were were Julia Vargas (56), Clarissa Nevela (61), Meghan Contreras (65) and Natalie Angulo (66). 
Cabrillo 283, Orcutt Academy 286
The Conquistadores edged the Spartans in a cross-section match at Rancho Maria.
Medalist Alyssa Hess led Cabrillo to the win. Hess shot a 50.
Teammates following Hess were Kelsen Bruner (54), Ellie Mendibles (56), Thea Reagan I(60) and Evelyn Scarfe (53).
Karli Lundberg, the 2018 Ocean League champion, and Melissa Burns both shot a 51 for Orcutt. Teammates following were Grace Howard (59), Trinity Sahagun (62) and Lauren McClung (63).
Santa Ynez 258, St. Joseph 281
Morgan Blunt shot a 45 to earn medalist honors while leading the Pirates to a non-league win over St. Joseph at the Alisal River Course.
Marina Vengel (52), Ryann Melville (53), Bridget Callaghan (54) and Emily Ruiz 54 rounded out the Pirates' scoring.
Macie Taylor (50) was St. Joseph's low scorer, followed by  Lita Mahoney (59), Jacquelyn Mengal (55), Bella Aldredge (55) and Emma Cosma (62).
Atascadero 256, Nipomo 278
Nipomo (0-1) dropped its season-opener against Atasacadero (2-0) in a non-league match played at Chalk Mountain.
Nipomo was led by Kaitlyn Nunez (49) and Aaliyah Peinedo (49).
Medalist honors went to Atascadero's Katie Burson who shot a 42.
Boys water polo
Santa Ynez 16, Malibu 6
Henry Allen led the Pirates to a non-league victory over Malibu at the Santa Ynez High pool.
Allen scored seven times and Clayton Davidson five for the 5-1 Pirates.
In goal, Tristan Linder posted five saves in the first half and Drake Clark six in the second.
Santa Ynez begins plays Friday at 5:30 p.m. in the Santa Maria Tournament against the host Santa Maria Saints.
Girls volleyball
Righetti 3, Nipomo 0
The Righetti Warriors rolled past the Nipomo Titans 25-9, 25-20, 25-21 in a non-league girls volleyball match at Righetti High.
Jasmine Vongvone had five kills for Nipomo and Kaitlyn Vongvone added three kills.
Leah Miller had three aces for the Titans who next play at Paso Robles on Tuesday.
Get in the game with our Prep Sports Newsletter
Sent weekly directly to your inbox!