Bakersfield Christian has grown into the small-school powerhouse of the CIF Central Section.
The Eagles proved that again Friday night.
A year after beating St. Joseph, the proud Central Coast program that transitioned to the Central Section in 2018, in Bakersfield, the Eagles got the best of the Knights again.
St. Joseph hosted Bakersfield Christian in a non-league football game Friday night at Jay Will Stadium in Santa Maria.
This time playing in Santa Maria, Bakersfield Christian (3-0) scored a come-from-behind 37-28 win over the Knights (2-1) in a highly-anticipated Coast vs. Valley showdown.
St. Joseph led 21-10 midway through the second quarter and was up 21-17 at the break.
But Bakersfield Christian's athleticism and pure talent, particularly on offense, took over, scoring 20 straight points at one point.
David Stevenson, a senior running back, finished with 208 yards on 20 carries for Bakersfield Christian. His 81-yard touchdown run early in the fourth quarter came at a pivotal point in the game.
Ben Yurosek, a tight end committed to Stanford, caught eight passes for 122 yards and two touchdowns. BCHS quarterback Dominic Gamboni was nearly perfect, completing 16-of-21 passes for 218 yards and three touchdowns. 
His lone miscue was a pass intercepted by Devin Guggia near the end of the first half.
Early on, it appeared the Knights would be the ones running away from the Eagles.
St. Joseph junior Darien Langley struck the very first time a Knight touched the ball, taking the opening kickoff and racing past the Bakersfield Christian special teams unit for a 94-yard touchdown. 
Week Three was another great week of football, and we had a classic rivalry matchup to start it off. Lompoc headed to Arroyo Grande to take on the Eagles, plus Righetti and St. Joseph both took on a BCHS (St. Joe's in a tough game against Bakersfield Christian and the Warriors getting past Bakersfield Centennial) in Orcutt.  Scores, videos, and photo galleries from the games are right here, along with our full game stories recapping all of the action from this evening. 
But the Eagles answered right away and tied the game, capping a long march down the field with a 9-yard touchdown catch from Yurosek, who also plays defensive end.
The Eagles, who are coached by Oakland Raiders quarterback Derek Carr's older brother Darren, jumped out in front after the teams exchanged punts and Julius Salinas booted a 27-yard field goal late in the first quarter.
The Knights were the ones to respond after that, marching down the field and scoring on Devin Guggia's 9-yard touchdown run. Vincent Geronimo set up the score with a key 34-yard catch and quarterback Mark Crisp got the Knights into scoring position with a 20-yard scamper inside the 10.
The Knights then scored again, cashing in on a perfectly-executed tunnel screen to Langley, who caught the short pass, got a block from Max Stineman and raced past the BCHS secondary for a 50-yard touchdown. Brock Marcois' extra point gave St. Joseph a 21-10 lead with 6:29 left in the first half.
Yurosek then got the Eagles in scoring position with a pair of big-time receptions for 40 yards. He then caught his second touchdown from Gamboni on fourth-and-goal. Gamboni rolled to his right and fired a short pass to Yurosek near the goal line and the ball got past two St. Joseph defenders and into Yurosek's hands.
The Knights threatened to score before half, leading 21-17, but Crisp's pass to the end zone was intercepted by Ronnie Simril. 
Guggia then intercepted a Gamboni pass and returned it 30-plus yards to set up Marcois' 48-yard field goal try, which came up short. 
St. Joseph's offense stalled in the third quarter. In that quarter, a short St. Joseph punt set up BCHS at the Knights' 29. A few plays later Gamboni scored on a designed quarterback run to give the Eagles a 23-17 lead after a missed extra point.
The Knights recovered a BCHS fumble later in the third quarter but couldn't take advantage of it. Then, at the start of the fourth quarter, came Stevenson's long scoring run. Stevenson took the ball on an inside handoff and went left, then cut up the middle to wide-open space, he had one defender to beat and got past him with a swift move to the inside, racing past everyone else on the field for the 81-yard run.
St. Joseph was set to punt on its next possession, but got an offsides call to keep a drive alive. Crisp then scored on a strong 6-yard run with 8:30 left in the game, cutting the Eagles' lead to 30-28.
But Yurosek came up big again, gaining chunks of yards on two receptions to set up Chris Gutierrez's touchdown catch with 6:01 left. 
The Knights punted the ball away on their next possession and couldn't get BCHS off the field with enough time left in the two-score game. 
Bakersfield Christian, a Division 3 team, beat St. Joseph 39-31 last year. 
Crisp finished 8-of-17 passing for 125 yards. Guggia had 13 carries for 82 yards. St. Joseph travels to Bakersfield Centennial next week for a 7:30 p.m. game.
091319 BC SJ football 08.jpg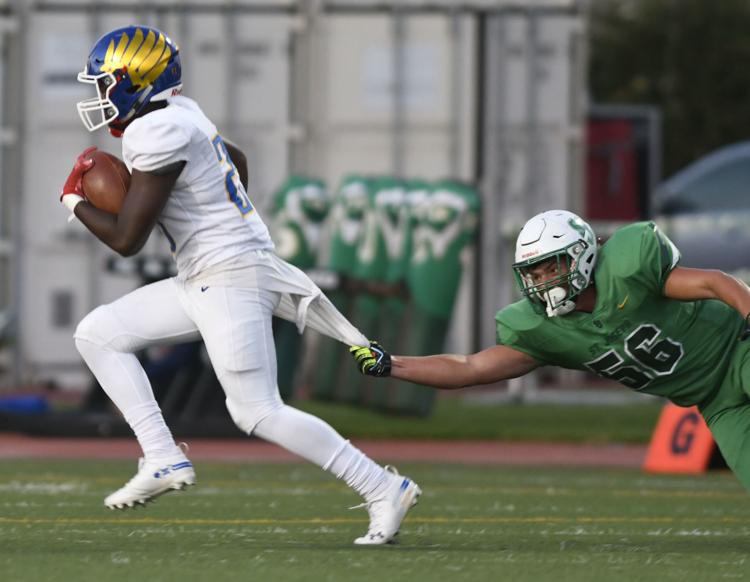 091319 BC SJ football 03.jpg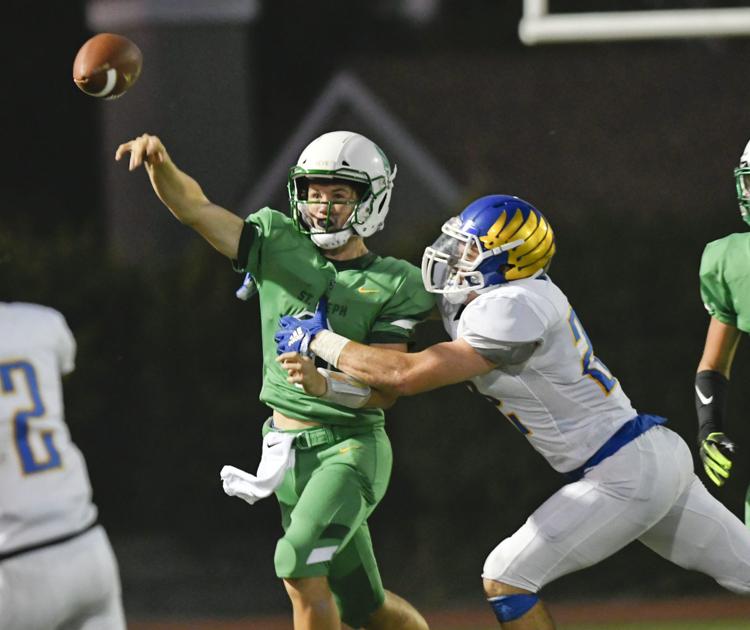 091319 BC SJ football 04.jpg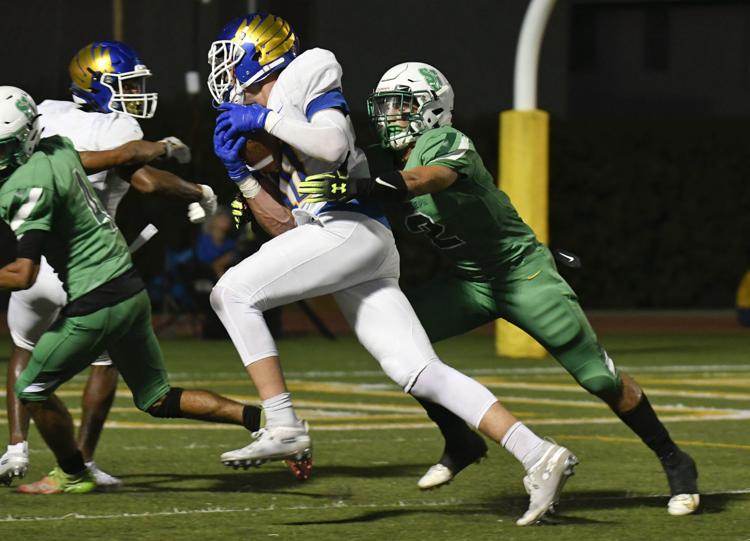 091319 BC SJ football 01.jpg
091319 BC SJ football 02.jpg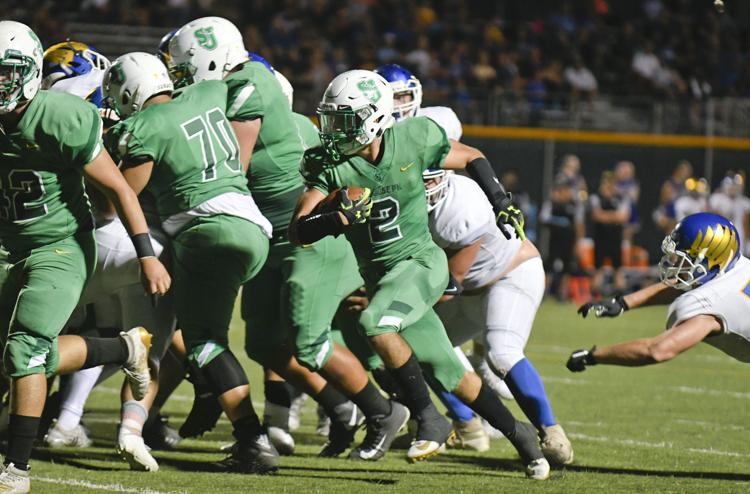 091319 BC SJ football 05.jpg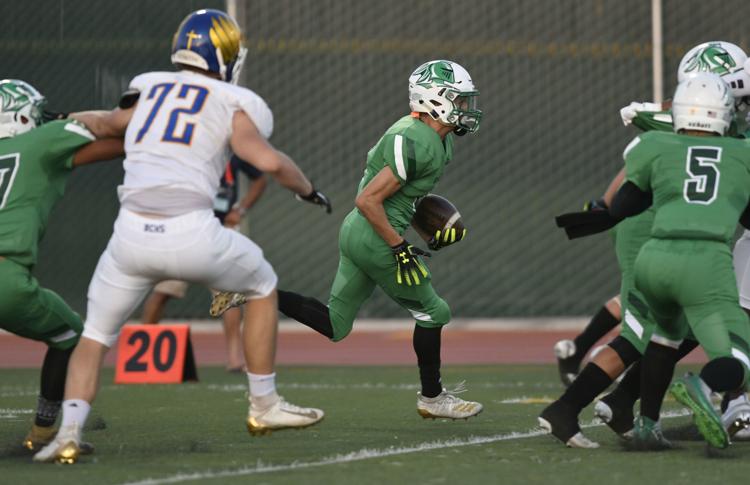 091319 BC SJ football 06.jpg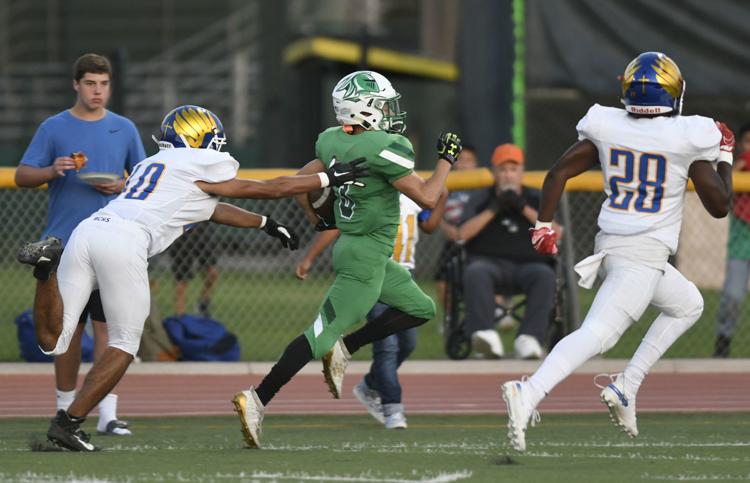 091319 BC SJ football 07.jpg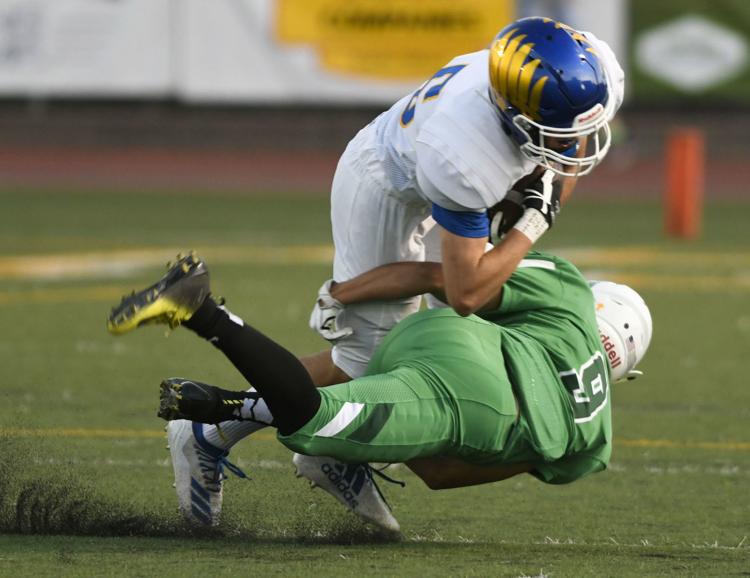 Jacob Medrano, Second Team DL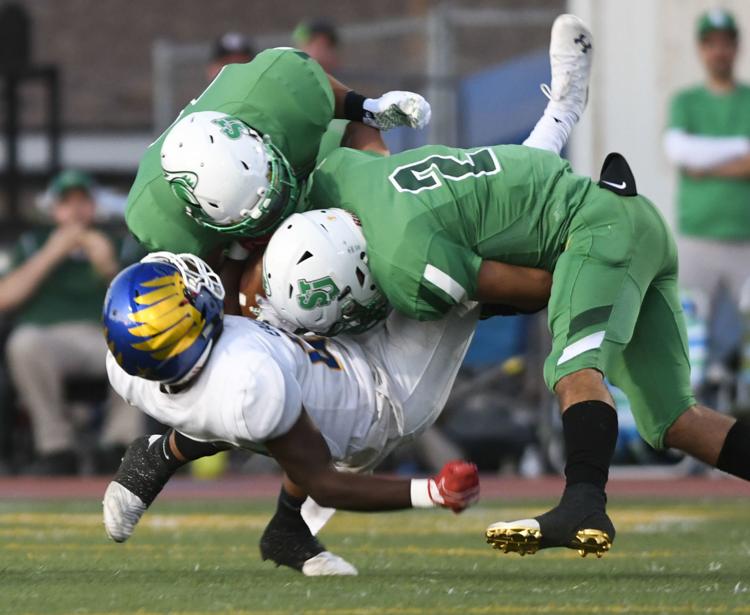 091319 BC SJ football 10.jpg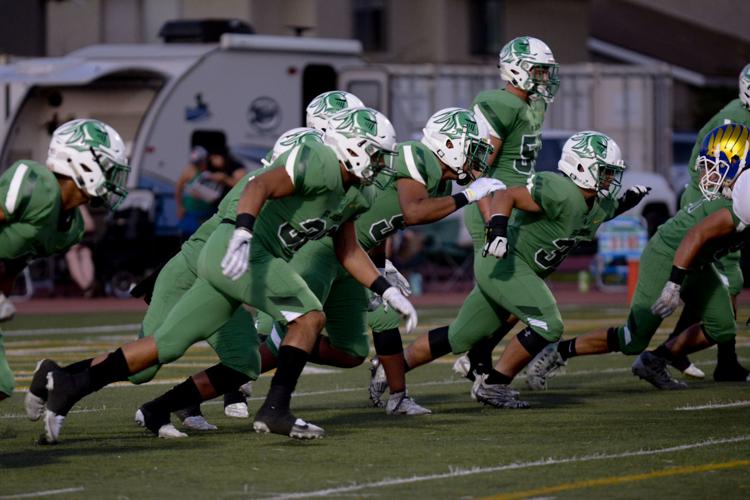 091319 BC SJ football 11.jpg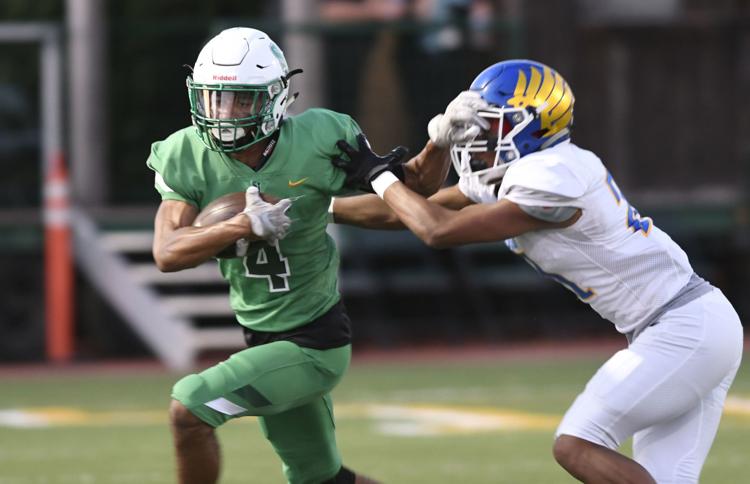 091319 BC SJ football 12.jpg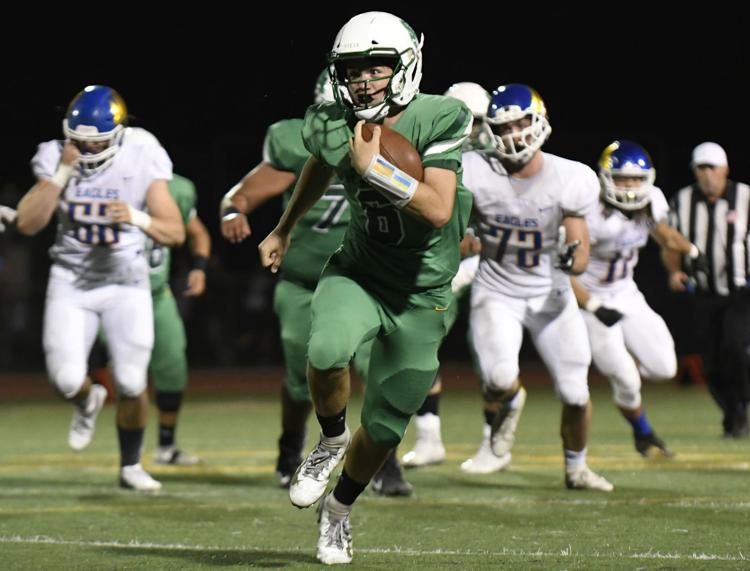 091319 BC SJ football 13.jpg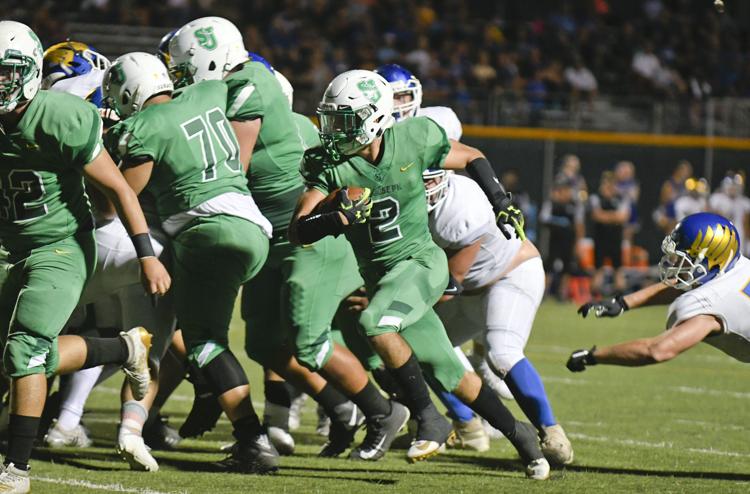 091319 BC SJ football 14.jpg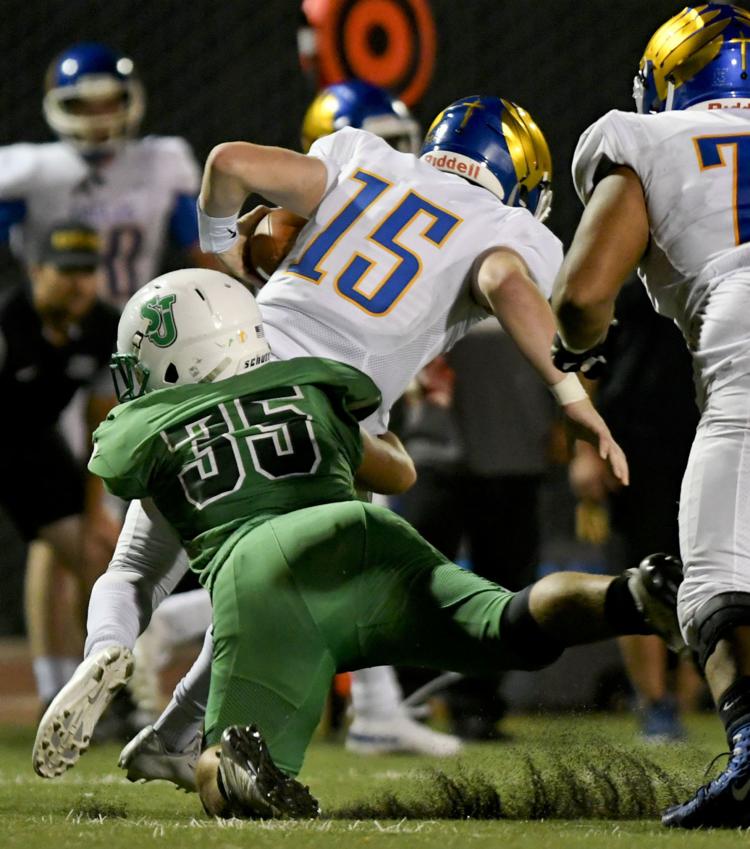 091319 BC SJ football 15.jpg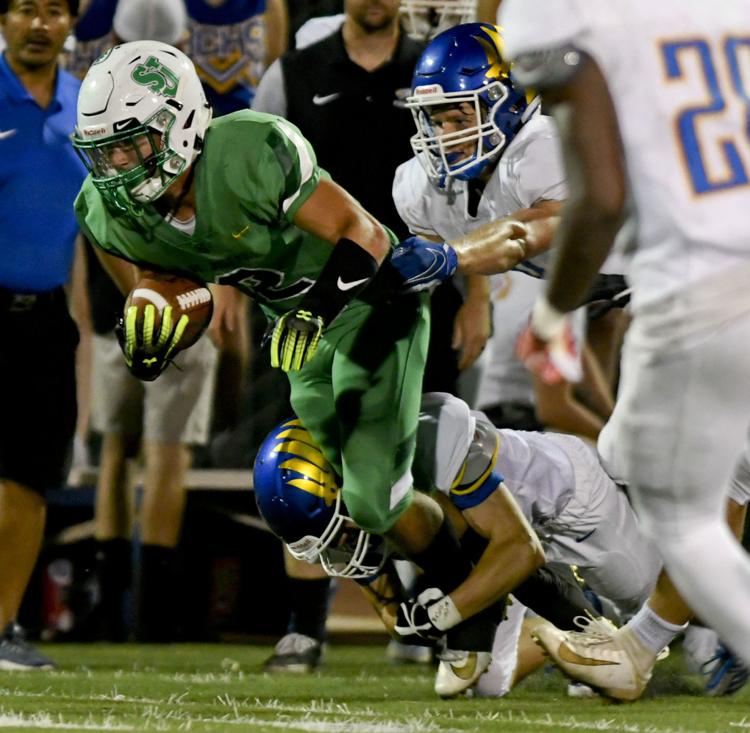 091319 BC SJ football 16.jpg
091319 BC SJ football 17.jpg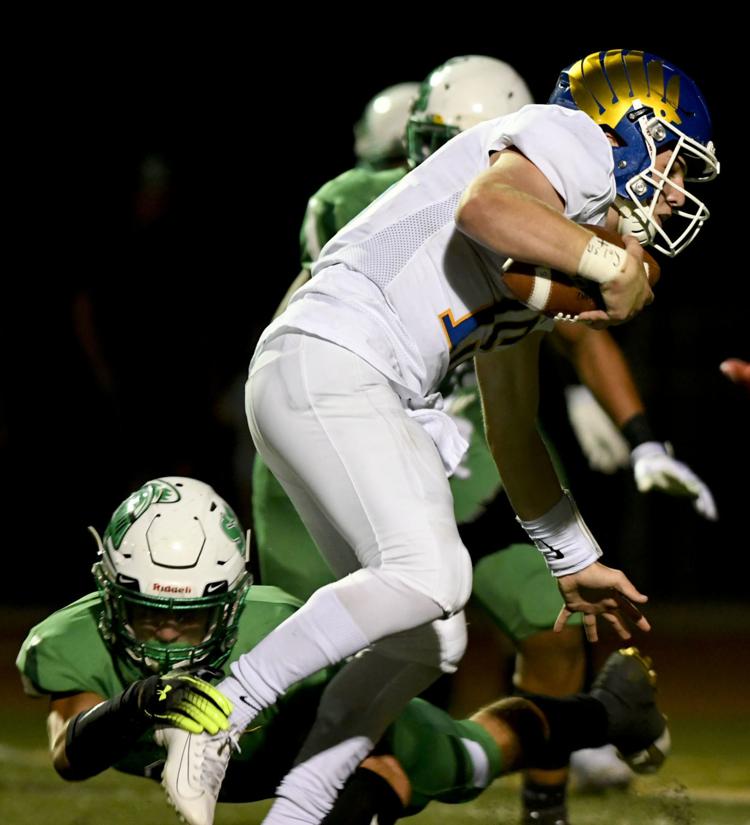 091319 BC SJ football 18.jpg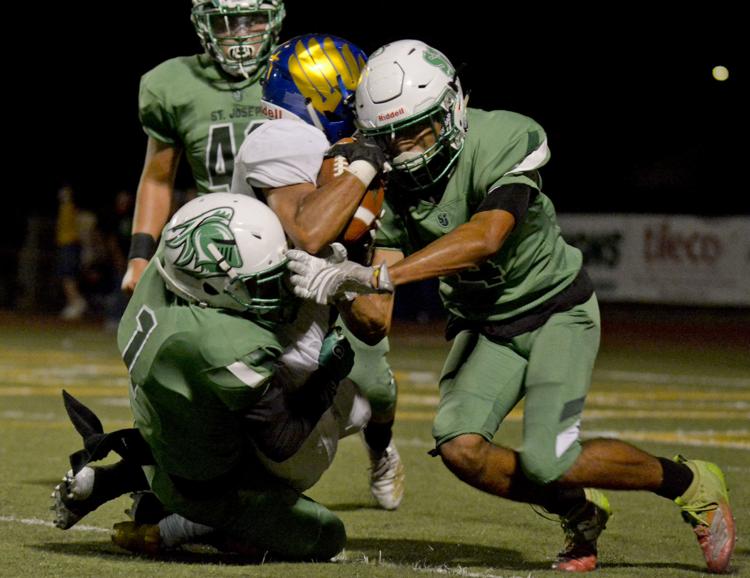 091319 BC SJ football 19.jpg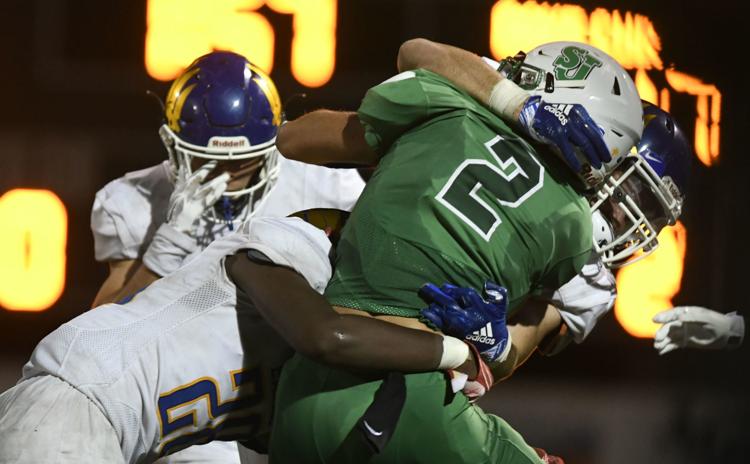 091319 BC SJ football 20.jpg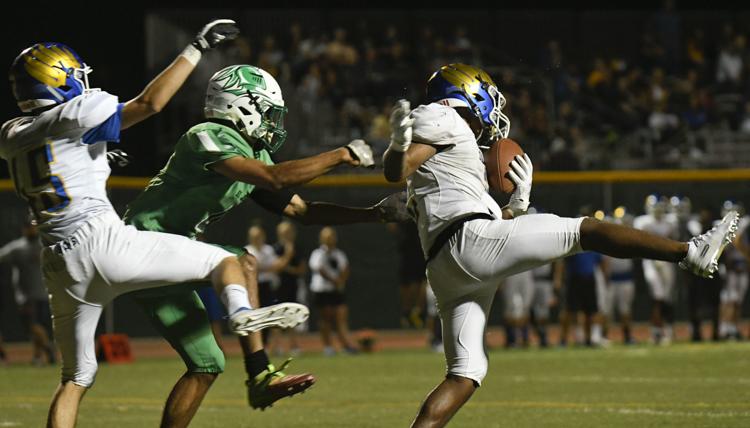 091319 BC SJ football 21.jpg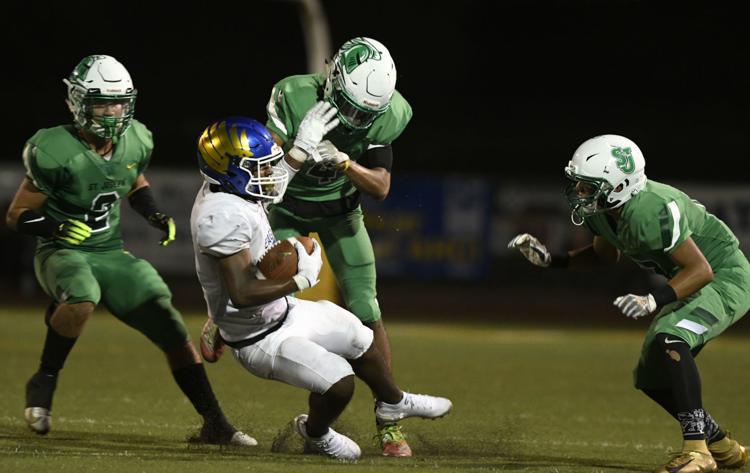 OK, it probably sounds trite to say Righetti made it look pretty easy against a pretty good football team Friday night. However, the Warriors really did make it look pretty easy against a pretty good Bakersfield Centennial football team at Righetti Friday night.
Get in the game with our Prep Sports Newsletter
Sent weekly directly to your inbox!