Neighboring high schools St. Joseph and Righetti sent representatives to the Northern Santa Barbara County Athletic Round Table nods at Giavanni's in Orcutt on Monday.
Knights track and field athlete Darien Langley earned the Male Athlete of the Week honor – by sprinting to first-place marks at Saturday's Atascadero Memorial Meet in the 100-meter run (time of 11.19 seconds), the 200 (22.39) and the 4x100 relay (43.88).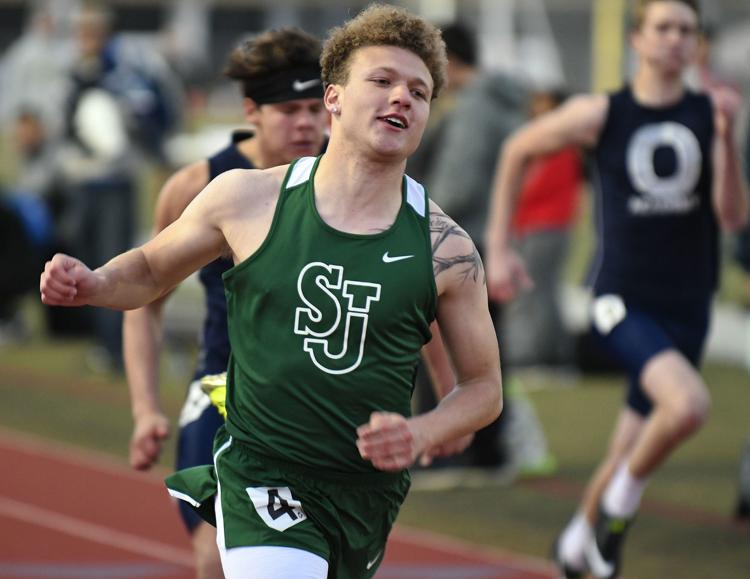 Langley, who also stars on the football field at St. Joseph, spoke about winning the three events while sharing the track against some of the best in the area.
"I'm kind of surprised (to win), but I'm glad," Langley said. "I knew there was going to be some fast people there, so I had to get into that mindset that I had to prepare myself for it."
The Warriors' Mackenzie Kestler took home the Female Athlete of the Week award after delivering key moments inside the softball circle during the Franklin Preseason Tournament. Kestler earned the win over Lowry High of Winnemucca, Nevada, 5-2 and then prevented Loomis Del Oro from getting on the scoreboard in a 0-0 tie, which was a game that got called off due to time limit. Away from the circle, Kestler smashed a home run, triple and double during five tournament games.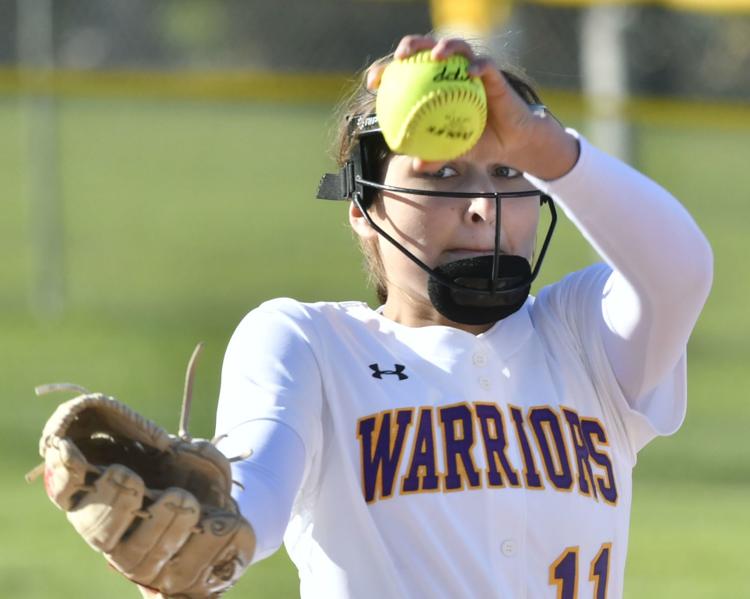 "We didn't know what we were getting into when we went up to this tournament. But we all played really hard and it was really good to have my defense with me. I knew my defense would back me up," Kestler said.
The Bulldogs filled their designated table with an all track and field contingent at the Round Table.
Assistant coach Kenna Wolter spoke on behalf of AHC, introducing athletes Kevin Lopez, Jose Cardenas and Michele Marceleno.
The Conquistadores arrived to the luncheon with a track and field, softball and boys volleyball lineup.
From there, athletic director Dan Troup took the stage to give updates on CHS softball and introduced athlete honorees Alexia Juarez-Wilhite and Alina Terrones. Troup also shined a light on two members of the boys volleyball program who have been with the CHS team since its inception four years ago: Chris Campos and Austin Martin.
Softball head coach John Valencia took the microphone first for the Spartans – detailing how it's been a struggle to get games in due to the consistent storm systems that have hovered above the region in recent weeks.
Still, Valencia said his group has had a hard working attitude and brought out athletes Naomi Rojo and Bailey Moskowitz.
Track and field head coach James Barr came next and had five athlete representatives sit at the OAHS table: Donovan Miller, Dylan McIntyre, Max Daniels, Jadin Daniels and Sarah Parkinson.
Dick Barrett, per usual, shared updates on the Lompoc Braves and also congratulated Cabrillo's Hernandez for joining Westmont and the CHS softball team for its performance in the thrilling nine-inning contest against rival Lompoc last Friday won by the Braves.
Barrett had two softball and two track athletes on hand: Haley Larsh (softball), Michelle Hill (softball), Greg Wuitschick (track and field) and Kylie Yanez (track and field).
Lions softball helped comprise the VCA side at the Monday luncheon.
Head coach Stephanie Cortner talked on behalf of VCA, and then shined a light on her athletes Katie Eiler and Maria Bullock who sat inside Giavanni's.
Softball head coach Brian Toomoka provided updates on the weekend Franklin Tournament that the Warriors took part in – going 1-3-1 overall against teams hailing from the Sacramento region and Nevada.
Along with Kestler, Toomoka brought out Cameron Reynoso and Bailey Kober.
Athletic director Jeff Monteiro was the primary speaker for Panthers athletics and had six total athletes representing PVHS.
From boys volleyball, Nickolas Equihua and Miguel Santos were not only introduced by Monteiro, but both also took the microphone to provide updates on the Panthers' season. Monterio additionally got Avery Francisco (track and field), Ramses Valencia (track and field), Anesia Dollinger (softball) and Alexia Rivas (softball) to stand and have a light shine on them for their performances during the spring.
In his tradition, softball head coach John Welch went up to the center of the luncheon with his player representatives standing alongside him.
This time, Welch had Gehssa Hope-Gorospe and Soleil Orca stand next to the second-year Knights softball coach.
Boys golf head coach Jim Fosdick came to the stage next, introducing his athlete honorees Jayce Gamble and Dylan Spiess.
Lastly for the Knights, track and field athlete Devin Guggia was chosen by his teammates to provide an update on the season – then introduced teammates Charlie Enos, Trevor Cole and Langley.
The Saints were the final team representative to be featured at the weekly luncheon.
Athletic director Brian Wallace had all track athletes with him: Fabian Montano, Micheal Velasquez and Jayson Downey.
Santa Ynez was the lone school that wasn't in attendance at the Round Table.