Sark's Barks: Assessing the move to Central Section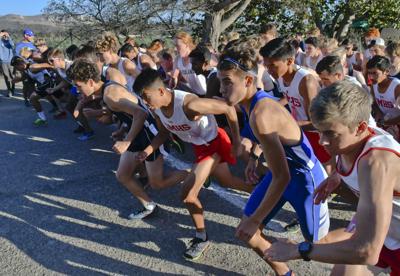 Joe Bailey suggested I write a column stating my take on the move of several Central Coast schools to the Central Section out of the Southern Section of CIF. I waited until the fall season was over as I wanted to see how things played out.
Initially, I was against the move.
It didn't make sense to me to sacrifice tradition by leaving the Southern Section. Whether you want to admit it or not, in virtually every interscholastic high school sport, the Southern Section has far and away the best athletes and the best competition.
Look at all the professional athletes and national record holders that come from there. No one anywhere in the nation can compare.
Colleagues and friends told me to give it a chance, that it would be better for our kids and help save some money come playoff time for our schools. So I kept an open mind.
But now after watching the post-season and the placement of our schools into the various divisions, I am sticking with my original assessment.
First of all, the placement in the Central Section divisions was a mystery to me. Why was Righetti High School, with a population of over 2,000 students, placed in D2, but St. Joseph High School, that has under 400 students, placed in D1 for football?
I am uncertain as to the water polo pairings, but with football I can probably question it to a certain degree.
Since I was a cross country coach for 30 years, I paid more attention to where local schools wound up in Central Section divisions. Some seemed appropriate. Others did not. Paso Robles was in D1 boys and actually won the championship.
San Luis Obispo girls, I think, were in D2 girls and won a title as well by over 80 points. But St. Joseph and Mission Prep were placed in D3, competing against the likes of Tulare Union and several other schools with school enrollment in the 2,000-student range.
Had either of these schools been placed in divisions based on enrollment, both teams would have finished in the top three and advanced to the state meet.
Now, the Southern Section has done many things over the years that have annoyed me and I have fired off quite a few letters expressing my displeasure at some of the decisions (Varvas), but when it comes to playoffs, especially in cross country and track, they do a great job by designating their divisions through enrollment.
And the state meet does exactly the same thing in cross country.
So why doesn't the Central Section championships do the same thing? I have an opinion (surprise, surprise).
These things are political. I honestly believe there is an unfair bias against private Christian or Catholic schools, in some instances. I long thought the Southern Section often made political decisions instead of putting the kids in the best position to have fun and success.
It seems the Central Section is no different. I have come to accept this but it leaves a bad taste in my mouth.
Now, back to how some of our schools have done in the playoffs.
While I am happy Righetti was in a championship game, I think it lacks luster. It isn't the Southern Section. And kudos to Paso Robles and San Luis Obispo, but it isn't the Southern Section.
Great news for water polo and tennis teams that reached championship rounds, but it isn't the Southern Section.
Our schools should want to compete against the very best and for the most part, they are in the Southern Section.
Santa Maria High School's boys cross country team proved it at the Santa Barbara County Meet when they won it over the likes of powerhouses such as San Marcos and Dos Pueblos.
In the Southern Section they would be in D1 but that was not the case in the Central Section.
Coach Brian Wallace has always taken a program of runners and made them champions. I believe he could make Santa Maria a D1 force in both the Southern Section and the state meet. And wouldn't that be far more impressive?
So, no, I do not embrace our schools' move to the Central Section.
The elite, the cream of the crop, is in the Southern Section of California and we should want to compete there.
It's darn hard to win, but when you do, it is all the more satisfying.
Greg Sarkisian has coached high school athletics on the Central Coast for more than three decades, spending 30 seasons as St. Joseph's head cross country coach and 35 seasons as the school's head track and field coach. At St. Joseph, Sarkisian's track and field athletes won 24 individual CIF championships under his tutelage. He also taught mathematics for 38 years at the high school level and for 27 years at Allan Hancock College.