Rob Golden wasn't around to coach the Righetti High School boys soccer team last season.
And he can't say where he was.
That's because Golden was deployed overseas as a member of the United States Air Force. 
Now, Golden is back on the sidelines at Righetti. 
"I was gone for eight months," Golden said after Friday's game against San Luis Obispo. 
Golden, a Texas native, is clearly pleased to be back on the Central Coast and coaching the Warriors.
"We built a program over the last four years, we had a team ready to go and, then, I had to leave," Golden said. "I only know about four boys on this team, so it's kind of like starting over again.
"But I'm home for at least another five years, so I shouldn't have to worry about it for awhile."
Golden's Warriors suffered a 2-1 defeat to San Luis Obispo, one of the better teams in the state, last Friday, though that result is an improvement for a team that has struggled against stiff competition in the rugged Mountain League. 
Golden says the mode of operation he's grown accustomed to in the Air Force has carried over to his coaching style, something he feels helps his team stay on track even with tough times on the pitch. 
'I don't allow cursing on my field," Golden said. "They know that if I tell them practice is at 4:30, practice is at 4:30. If you don't show up, we've got issues."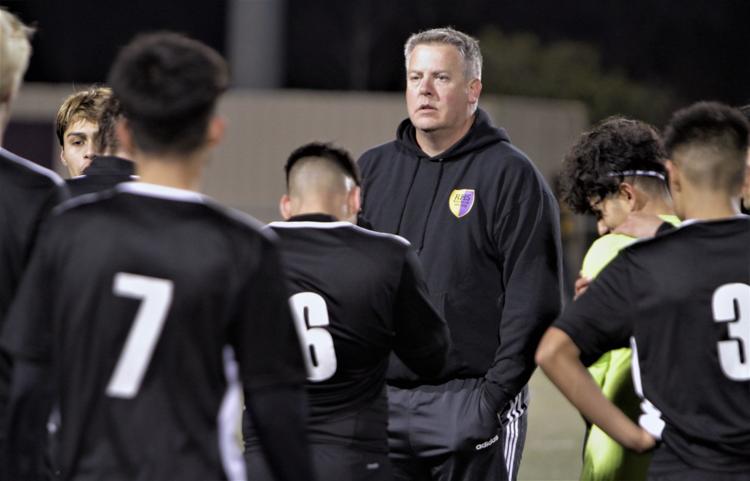 There are signs of that behavior when watching the Warriors play. They allowed San Luis Obispo to take a 1-0 lead on an own goal after failing to clear the ball from the penalty area. Goalkeeper Francisco Zamora implored the at-fault defenders to keep their heads up. Though the Warriors were trailing at half, their demeanor on the pitch wasn't fazed. 
"It's about putting the team before yourself," Golden added. "In the Air Force, we preach integrity first, service before self and excellence in all we do. That's what I do. I bring that here and try to mold these guys." 
The players Golden had worked with before missing last season are Sean Soltan, Pablo Pantoja, Raziel Hernandez, Kevin Miranda and Diego Ramirez, who are all starters on the team. Golden worked to get to know the rest of the squad.
"I met Sean and most of these guys when they were freshmen and they were juniors when I left," Golden said. "Now most of them are seniors."
Golden doesn't put all his emphasis on how the players perform on the pitch. He preaches accountability and effort, with an eye on the bigger picture, the coach says. 
"They're only going to do this for four years. The really good players might do it for another four years in college," Golden said. "But the percentages are low in that, right? So I want them to understand what the real world is like. Nobody is going to pick up the cones for you, make sure the balls are aired up, that your uniforms are ready to go and that you have everything you need.
"I'm just trying to prepare them for the culture shock that is coming once they get out of high school."
Though Golden aims to develop his players' skills off the pitch, seeing them thrive on it continues to draw him to coach.
"We don't do this for money, we do it because we love the sport and because we want to teach the boys how to do something," Golden says. "We work hard during the week at practice and then we let them display it on the field on match-day. As long as you're making progress and not getting worse every time you come out. That's the goal, that progress is being made."
Get in the game with our Prep Sports Newsletter
Sent weekly directly to your inbox!