There is the possibility that Cabrillo High School's season-opening swim meet on Thursday could also be the team's season-finale.
It was business as usual when the day began, but by the time Cabrillo met Santa Barbara in a Channel League meet at the Lompoc Aquatic Center, four of the six Channel League schools had called off all athletic competitions through the end of the month.
"We haven't been directed to call things off. Right now, it's status quo," said Cabrillo Athletic Director Gary West at the start of the swim meet. "Until we hear differently, we'll keep to the current schedule but things are changing by the hour."
The Santa Maria Joint Union High School District announced Thursday that it's canceling or postponing athletic events starting Friday through the end of the month. 
Before the next hour was up, four of Cabrillo's five Channel League opponents — Santa Barbara, Dos Pueblos, San Marcos and Santa Ynez — had suspended the rest of their scheduled March games in baseball, softball, boys golf, boys tennis, boys and girls track and field and boys and girls swimming and diving.
On Friday, Lompoc Unified announced it will suspend school and all athletic activities for at least the rest of the month.
Inundated with calls from concerned parents, coaches and reporters from news organizations from Santa Maria to Santa Barbara, Santa Ynez High Athletic Director Ashley Coelho sent out an email blast to connect with everyone at the same time.
"All athletic contests will be canceled for ALL SPORTS March 13-March 31. Channel League AD's will come up with a short term plan (if we can return to sports 4/1 or sooner, we will work on rescheduling league games) and a long-term plan (if we can return late April, then we will do some sort of tournament to determine CIF placements). 
Santa Barbara County officials on Thursday have limited public access to court and jail facilities in an effort to prevent the spread of COVID-19 as the national response to preventing spread of the disease intensifies.
"All non-league matches/games will be canceled for the rest of the season so it frees up space to reschedule for league competitions.
"For now, practices with your team are allowed. I will be updating everyone as I know more information. School is still staying open, but that could change at any moment. We will continue to be updated by the CDC, the Governor, the President, and WHO (World Health Organization). Thank you for your patience and understanding through all of this."
"Right now, our teams are practicing but that could change," said West. "We're following the directives of our district office so we can practice but other than that, we're in limbo. We don't have any opponents except maybe Lompoc High.
If the Central Coast experiences a COVID-19 outbreak, officials with Foodbank of Santa Barbara County expect the need for nutritional assistance will increase as self-quarantines, school closures and business disruptions reduce consumer activities, eliminate school lunches and leave workers without paychecks.
"Lompoc is in the same boat and we may get together with Athletic Director Claudia Terrones and see if we can play all our Cabrillo/Lompoc games in everything but track and then, when we get the okay, re-schedule everyone else but who knows what's going to happen. By tomorrow, everything could change again."
"I'm not at all concerned about coronavirus, at least not yet," said Cabrillo girls swimming coach and government teacher Scott Alvarez. "We'll go forward, business as usual, until our school or school district tells us not to do it anymore.
"We don't want to see anyone get sick but that's not something I can control so I'll just keep coaching and teaching until I'm told otherwise."
"At this point, I'm not worried. Of course, that could change," said Cabrillo boys coach and world history teacher Jeff Dacus. "This time of the year, there are always illnesses that go around so I'm concerned with anything that makes the kids sick."
"We don't want to jeopardize any kids in any way," said Santa Barbara boys and girls head coach and physical education teacher Mark Walsh. "I do have some kids whose parents pulled them out of competition but we're here, we're ready to compete. It's nice to be here and not think about coronavirus, at least for a little bit."
It's not just the school teams that are affected.
Swimming referee Charles Sommer heads up the Tsunami Swim Club.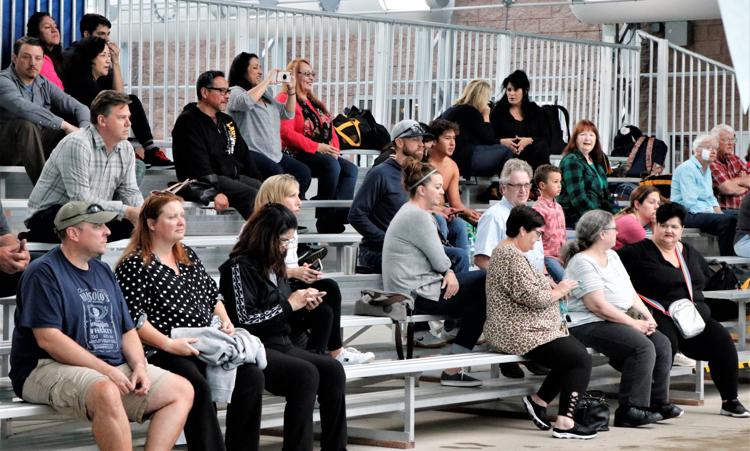 "USA swimming has canceled everything for at least the next 30 days," said Sommer. "So there won't be the age-group regionals in Fresno and regular meets in San Luis Obispo or Buena that we had coming up."
"It's a mess," said West. Not our mess — it's everybody's mess."
Concerned about COVID-19?
Sign up now to get the most recent coronavirus headlines and other important local and national news sent to your email inbox daily.