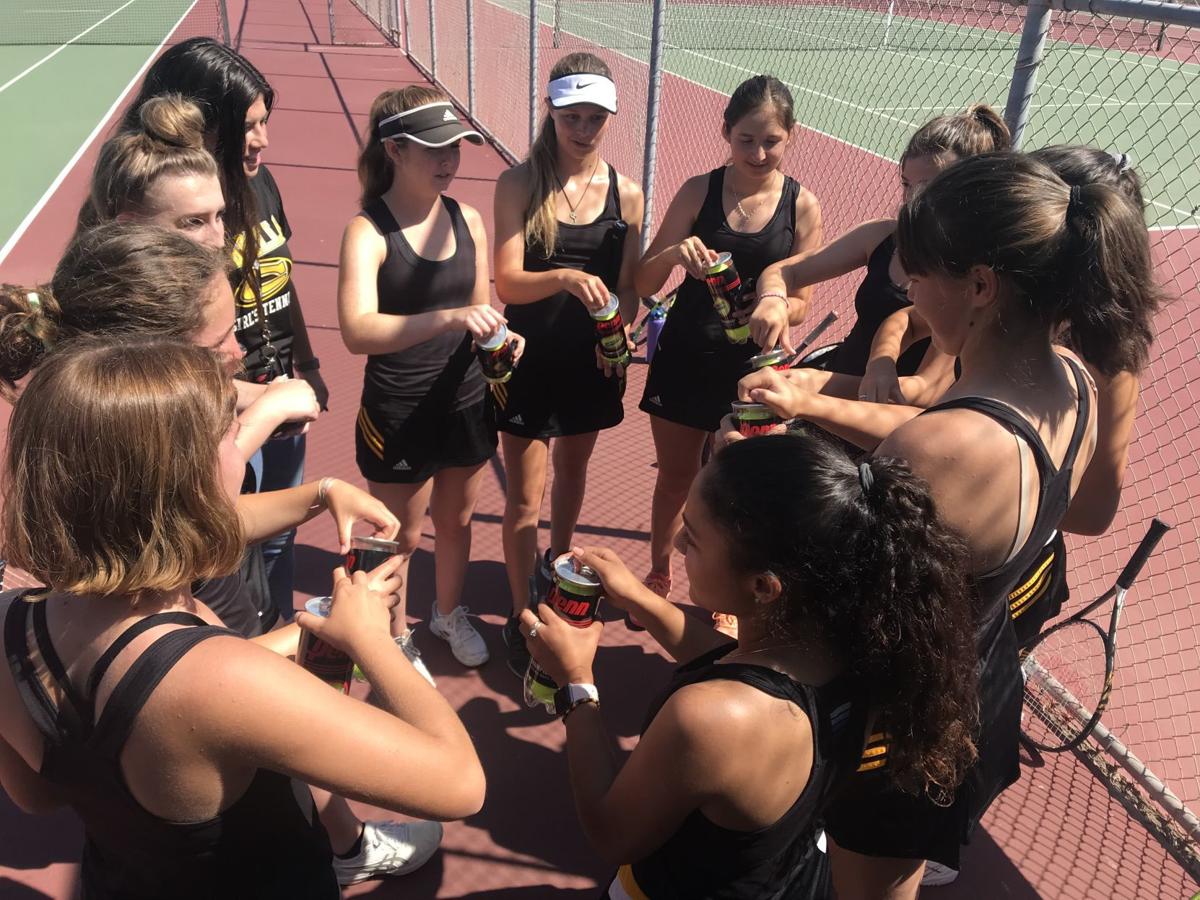 The Cabrillo girls tennis team beat Righetti 11-7 at home in a non-league match Tuesday.
The Conqs jumped out to a 5-1 lead as Kayla Kling won all three of her singles matches with 6-0 scores. The teams played in a CIF Southern Section format with nine singles matches and nine doubles matches. Cabrillo is a Channel League team in the Southern Section. Righetti, a member of the Mountain League, is in the Central Section.
Cabrillo's doubles teams of Rachel Carlos and Madison Sikes and Tori Gordon and Madelyn Barry won all three of their sets. 
Randy Hohimer, the first-year head coach of the Conquistadores, was excited to see the progress of Erin Marrs and Mia Crisione, a doubles tandem who won their first varsity match. 
Boys water polo
Cabrillo 16, St. Joseph 4
Cabrillo scored a non-league win over St. Joseph in Santa Maria on Tuesday.
No other details were available at press time.
Santa Barbara 218, Righetti 245, Cabrillo 278
Righetti's Claire Alford and Santa Barbara's Melia Haller tied for medalist honors, both shooting 38, in a three-way match that was played just ahead of the Orcutt Academy-Santa Ynez match on Rancho Maria's front nine.
"It was a great first match," said Santa Barbara coach Ryan Throop. "It was a great battle between Melia and Claire for first. I'm extremely proud of the way the girls played considering it was the first time we ever played this course. It was a good start to our season."
The host Righetti Warriors finished second with Cabrillo third.
Lizzie Gross shot a 43 for Santa Barbara's second best score. She was followed by, Aoife Braverman (45), Allie Womack (45) and Maddie Malmsten (47).
Kayla Minetti (42) was Righetti's second golfer followed by Kira Kase (53), Cameron Reynoso (55) and Grace Minetti (47).
Cabrillo's top five were Kelsey Bruner (53), Thea Reagan (53), Ellie Mendibles (57), Evelyn Scarfe (57) and Alyssa Hess (58).
Bishop Diego had nine series on offense Saturday night. The Cardinals scored all except the last one.
Cabrillo's defenders had problems with their pursuit nearly throughout, and the Cardinals ran away with a 51-6 win at Huyck Stadium in Lompoc in the season opener for both teams. The second half was played with a running clock.
Righetti's football team will visit Huyck Stadium Friday night. 
First-year Cabrillo girls tennis coach Randy Hohimer says there's a new culture being built into his program.
Get in the game with our Prep Sports Newsletter
Sent weekly directly to your inbox!