It has been said that it takes a village.
In this case, that would be Vandenberg Village, where Kayla Kling and her family now call home.
The well-traveled young woman, the ace of the Cabrillo High School girls tennis team, has lived in six states and the country of England in her short life.
The 15-year-old Cabrillo junior was born in Texas and later lived in South Carolina, England, Louisiana, Kansas and Nebraska before moving to the Lompoc Valley.
The family moved because of her father's job.
Clair "Static" Kling is an Air Force lifer, a Lieutenant Colonel who is now stationed at Vandenberg Air Force Base.
Being a lifer, it meant moving to where the Air Force needed him the most and that forced him to uproot his wife, Heather, daughter Kayla and 9-year-old son Keegan, a student at The Children's Montessori School, at regular intervals.
"This is our last move and I'm happy about that," said Kling during Tuesday's Channel League girls tennis match at Santa Ynez High. "My dad is going to retire next July so this was our last move. I'm tired of all the moving."
Local basketball fans got a glimpse of who will represent the Hancock College men's and women's basketball teams this coming season at Hancock…
With her father's final transfer last year, Kling is also happy that she can now put down some roots.
"I was a sophomore when we moved here and the girls on the team welcomed me right away," said Kling. "I've made what I know will be long-lasting friendships. I'm glad they welcomed me as that girl from Nebraska.
"I like that you can go out of the court and focus on yourself while being part of a team with friends who support you. My teammates really get me pumped up."
Kling is not only the ace of the Cabrillo Conquistadores' team, she's also one of the best players on the Central Coast.
She has won 35 of the 37 sets she's played this season, going 20-1 in Channel League play.
"Kayla is one of the top players in the county and she's still working to improve her game," said Cabrillo coach Randy Hohimer. "She's such a hard worker. You can see she's making adjustments and improving even in the middle of a match. As much as tennis is an individual sport, she loves being part of the team and she really spurs on her teammates.
"And something she won't tell you, behind the scenes, Kayla has a deep, funny sense of humor. She can make her teammates laugh at any time."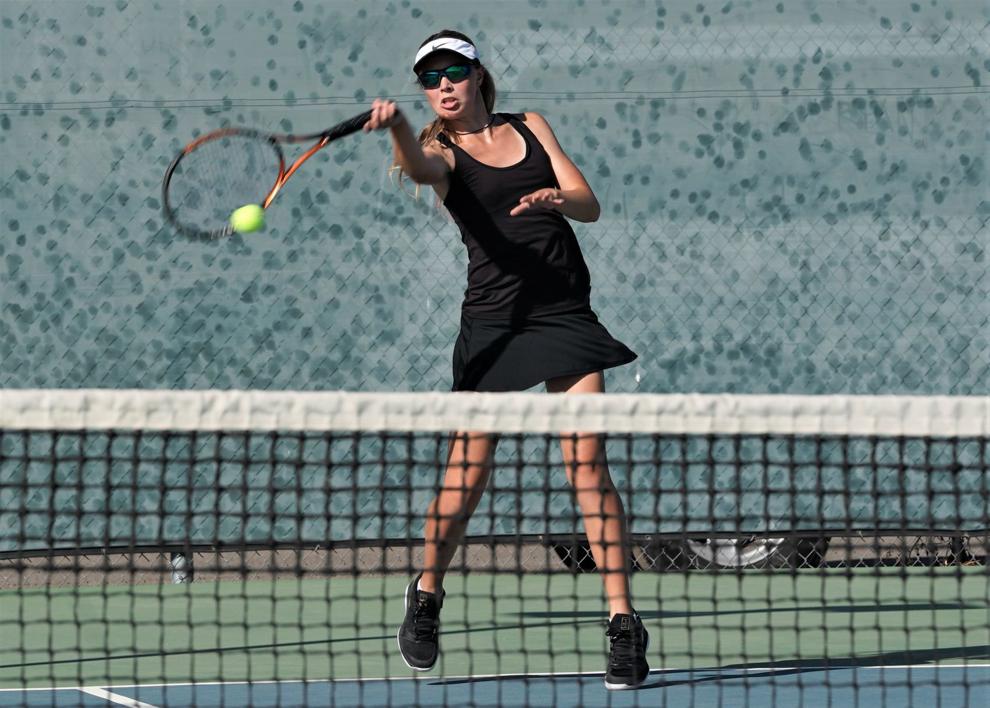 Kling fell in love with the sport early, as a 9-year-old.
"My mom saw there was a tennis complex near our home in Louisiana," said Kling. "I tried it, went to a couple tournaments and one thing led to another."
Everywhere she's lived since, Kling has been involved in the United States Tennis Association's (USTA) Junior Tour.
"I still travel a lot for tournaments," said Kling. "Each state has its own rankings and each time we've moved, I had to abandon my ranking and start over and over and over.
"And each new state got harder and harder. I was ranked No. 1 in the state in Nebraska. In California, I had to start again from scratch. I'm in the top 100 now. Tennis is a lot more competitive in California. Here everyone is tough. Some of the girls I play in the USTA have their own private courts and coaches."
The Santa Ynez Pirates Homecoming week got off to a fast start Tuesday. The Pirates began the day with a 14-4 Channel League tennis victory over the visiting Cabrillo Conquistadores.
"Kayla can compete with any of them," said Hohimer. "She has this internal drive to compete but she has such respect for her opponents. She can have a fierce battle and, win or lose, walk off the court and be friends."
"I know the competition can get quite intense but I'm really calm out there. I wasn't as calm when I was younger and it took a lot of training to be able to control my emotions," said Kling. "But my rule is to hold onto any disappointment for two seconds and then let it go. If you keep letting something get to you, it's going to mess up your game. If whatever happened isn't going to bother you in two years, then just let it go."
Kling is quick to credit her parents with her success.
"I couldn't do this without them. but they never put pressure on me," said Kling. "Mom keeps track of all my rivals and they've both had to drive me all over and, in some places, put up with 100-degree heat to watch me play."
While Kling is thrilled to be able to plant some roots in Vandenberg Village, she does see at least one more move in her future.
"I'm trying to get a tennis scholarship to UC Santa Cruz," said Kling.
Get in the game with our Prep Sports Newsletter
Sent weekly directly to your inbox!