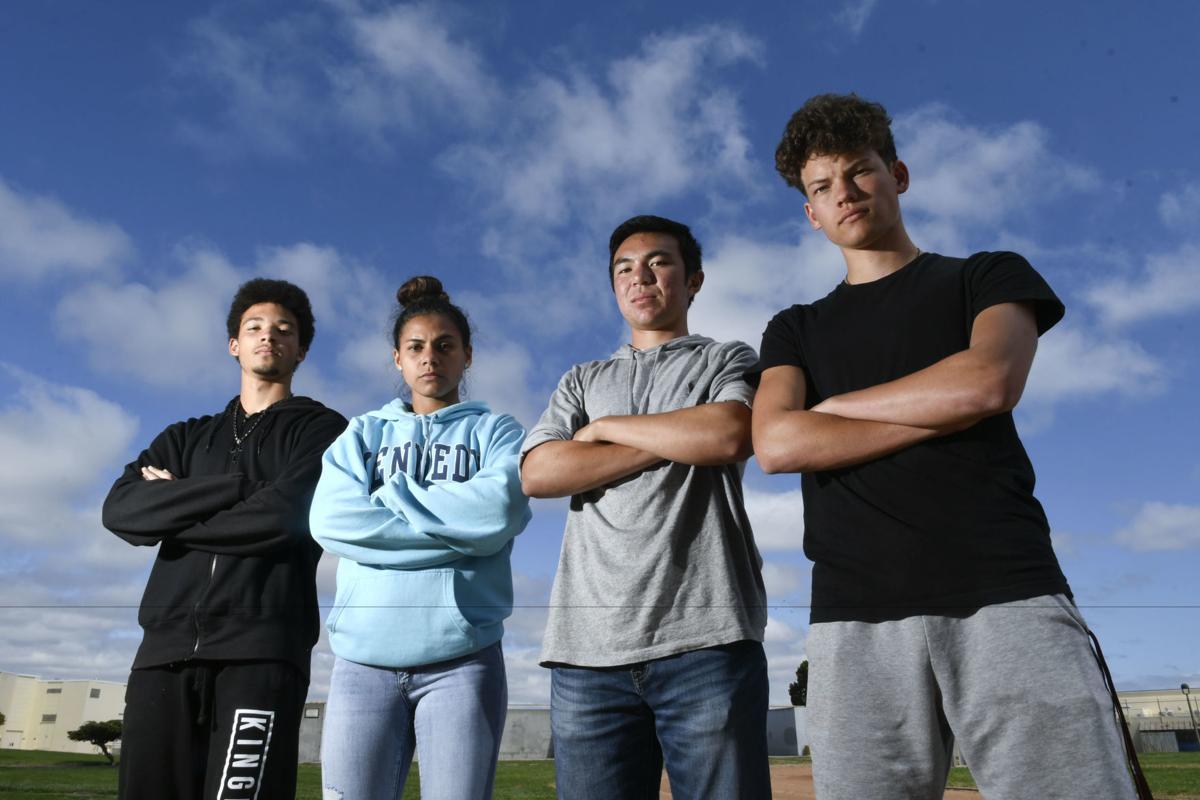 Cabrillo High track and field went on to produce three alternates and one CIF Southern Section qualifier on Saturday down at Estancia High.
Senior pole vaulter Stephanie Rodriguez was the qualifier for the Conquistadores, who will now head to the section finals this weekend after clearing 10 feet.
The trio of alternates: Ty Hernandez, Jackson Anderson and Ian Dziobaka – the latter a pole vaulter and the first two standout hurdlers and jumpers.
Most of the area sports teams endured their first set of struggles transitioning to the Channel League this season. Some missed the playoffs, …
Rodriguez is no stranger to making it this far – as she will be making her second straight appearance to El Camino College in Torrance.
"I'm really glad that I've got here," Rodriguez said on Monday. "I'm going out with a bang but I'm hoping this time that I make it to state to level up."
Rodriguez cleared the double-digit mark while competing with sophomores Nathalie Barnes (Santa Margarita) and Avery Page (San Marino).
And it was last year when Rodriguez saw fellow track and field teammate Kim Demming advance far for CHS. Rodriguez has set her goals high for when she arrives at El Camino College.
"It's pretty awesome. I'm really hoping this year I can qualify for state and break a school record, like she did," Rodriguez said.
Hernandez, the future Westmont College student-athlete, shattered a season-high for himself in the 110-meter hurdles on Saturday – accelerating to a time of 15.97, the first time this track season that he finished under 16 seconds. He turned in the 10th best time at Estancia in the 300-meter hurdles, dashing his way to a time of 41.11 seconds.
While he didn't reach first place, his 110 time was good enough to solidify his spot as an alternate for the finals.
Hernandez will now be on call if he gets the invite to the section finals.
"I'm an alternate, so I don't know if I'll go or not," Hernandez said. "But there were plenty of good races I ran in this track jersey. It's bittersweet. But I'm trying to end the season with a bang."
Anderson, who played quarterback the last two seasons for the Conqs football team, leaped his way to a marking of 5-11 in the high jump. Eight different athletes hit the top mark of 6-1, while Anderson joined five other athletes in hitting the next highest finish of 5-11.00.
Dziobaka, a sophomore, placed his name onto the alternate list by clearing 12-6. He joined four other athletes by netting the same mark, which ended up as the second highest mark in the boys pole vault.
Williams leaves CHS track with fond memories
Izaac Williams may not get to experience the CIF section finals like he did last year.
But that doesn't stop the senior and 2019 Channel League champion from looking back at his last tour in the CHS track uniform with vivid memories.
"Overall, I was a little disappointed because I didn't perform the way I wanted to (at Estancia), but it was a good senior season," Williams said on Monday.
Williams scaled 13 feet to win the league pole vaulting title on April 24. At the prelims meet, he ended up reaching 12 feet.  
"Heading in, I wanted to just qualify, but I came up short," Williams said.
But the senior remains content, saying "Yet, I have very fond memories."
College track and field is a possible option for Williams, with nearby Hancock College a possibility. In the end, Williams – who had never tried vaulting before until he got to CHS – looks back and is glad he saw improvement in his four years of prep track.
"There was always a little bit of discomfort. But you just had to will through it and become confident in yourself," Williams said.  
Meyers next top hurdler at CHS?
With Hernandez soon Montecito bound, Cabrillo will eventually have to find its next top hurdler.
Sophomore Josiah Meyers gives a valid reason for CHS to not look very far.
Meyers and Hernandez shared the best 110 meter hurdles time of 16.07 on April 24 for the league title. For Meyers, it was a personal record.
He went on to get his first taste of CIF prelims on Saturday, hoping it won't be the final time.
"It was actually pretty surprising because it was my first time running in CIF since I'm a sophomore. And I was looking at how far I've gotten for hurdles," Meyers said. "I asked a bunch of people 'How good is getting 16 seconds in the hurdles?' And they told me it's really good for a sophomore."
His head coach Russ French is already a strong believer in Meyers, saying on Monday he's got a bright future at the CHS track.
Get in the game with our Prep Sports Newsletter
Sent weekly directly to your inbox!