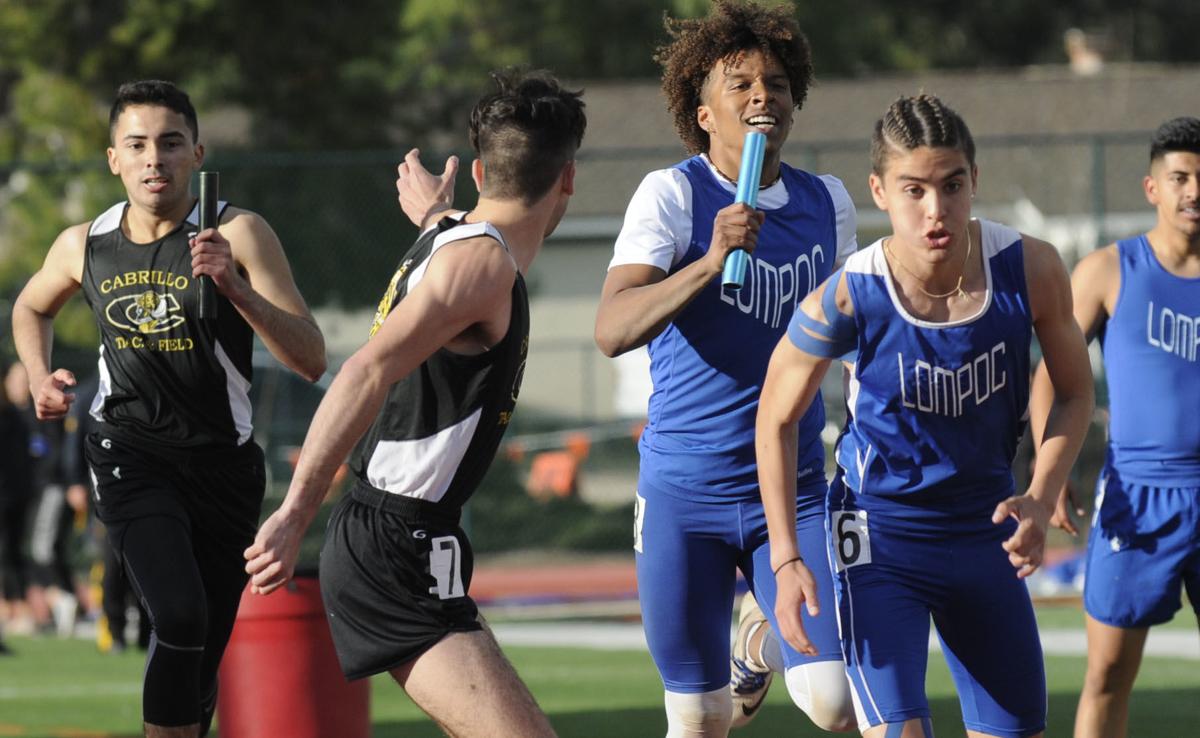 Hundreds of athletes had to contend with the weather as Lompoc, Cabrillo and Santa Barbara high schools visited Santa Ynez High Wednesday afternoon for four separate Channel League track and field meets.
A persistent, intermittent light rain didn't hold up the action as host Santa Ynez faced off against Lompoc in one meet, Santa Ynez battled Cabrillo in another, Lompoc and Cabrillo matched up in a third and Cabrillo and Santa Barbara met in the fourth meet.
"The weather is not ideal," said Cabrillo High's Ty Hernandez after winning the 300-meter high hurdles. "But your competition also has to run in the same weather so it's an even playing field."
Through the wonders of computer technology, the four meets were held simultaneously.
"Everyone competes at the same time, just like it's one big track meet," said Santa Ynez head coach Ashley Coelho. "We have a computer program that allows us to select which dual meets you want to set up and the computer sorts everything out. That way, you only have to compete once to gets times or distances for all the meets."
On the boys side, Lompoc defeated Santa Ynez 112-22, Cabrillo topped Santa Ynez 93-38, Lompoc edged Cabrillo 74-62 and Santa Barbara bested Cabrillo 73-72.
In girls action, Santa Ynez topped Lompoc 84-52 and Cabrillo 78-58, Cabrillo also won twice, defeating Lompoc 77-59 and Santa Barbara 72-64.
Boys
Hernandez had a busy day, winning the 100-yard dash ahead of Santa Ynez's Jasper Kadlec and Lompoc's Oscar Tenorio, and the 300 hurdles in front of Lompoc's Cameron Iribarren and Cabrillo's Josiah Myers, finishing second in the 110 hurdles and fourth in the high jump.
"Those were the hardest races of the year by far," said Hernandez, who will be running for Westmont College next year. "The weather didn't slow me down. It was a pretty solid day in mediocre conditions."
Lompoc had a field day in the field events, sweeping the shot put, discus and triple jump.
Lompoc's Juan DeLuna won the discus throw, followed by teammates Jovany Lucatero and Jacob Nunez.
Lucatero then came on strong to win the shot put, followed by DeLuna and Nunez.
Cailin Daniels led the Lompoc triple jump sweep, with Elijah Evans and Oscar Tenorio finishing second and third, respectively.
Daniels also finished third in the long jump.
Santa Barbara's Jake Knecht was also a three-time winner, racing to first place in the 200, 400 and as part of Santa Barbara's winning 4x100 relay team.
Kadlec was second in the 200 with Lompoc's Aris Manahan third.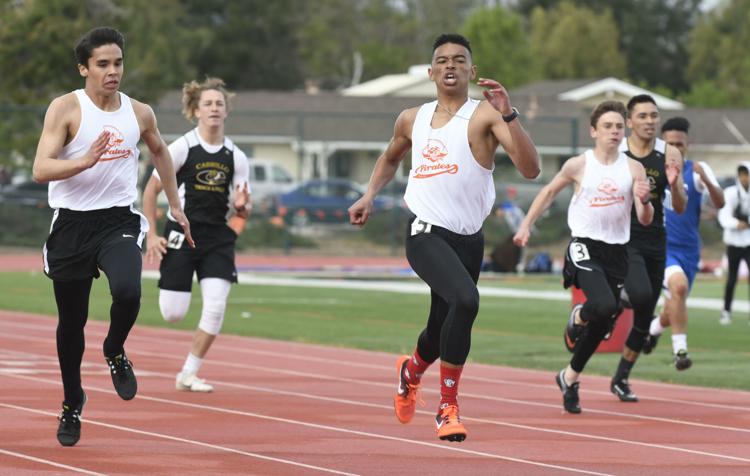 Other winners were:
Cabrillo's Osvaldo Espinoza in the 1600 with Lompoc's Greg Wuitschick second.
Santa Barbara's Jackson Ballantine ran away from the field, winning the 3200 by 22 seconds over Espinoza and Cabrillo's Jackson Brown.
Josiah Myers led a Cabrillo sweep in the 100 hurdles with Hernandez right behind and teammate Jackson Anderson in third.
Santa Barbara's AJ Reyes Delgado won the 800 with Cabrillo's Ricky Babb second and Wuitschick third.
Santa Barbara, Cabrillo and Lompoc went 1-2-3 in the 4x400 relay.
Lompoc's Ryan Morgan won the high jump ahead of teammate Alan Campfield and Cabrillo's Jackson Anderson.
Morgan finished second in the long jump, behind Santa Barbara's Moki Nacario and ahead of Daniels.
"Ryan is on the varsity baseball team. They had the day off so I asked him to come out to the track for the day and he did great," said Claudia Terrones, Lompoc's head coach, Athletic Director and Morgan's mother. "The whole team did really well today. I was really excited."
Cabrillo went 1-2 in the pole vault, Izaac Williams took first with Ian Dziobaka second and Lompoc's Nicholas Valencia third.
Girls
Lompoc's Kylie Yanez won both the hurdles races, the 100 and 300 and finished second on the triple jump.
Lompoc's Azyiah Simmons was also a double winner, claiming victory in the long and triple jumps.
Santa Barbara's Laila Goodman won the 200 and 400.
In the 400, Santa Barbara's Goodman edged Chirgwin and Cabrillo's Maiya McIntyre and, in the 200, Goodman finished ahead of Cabrillo's Katie Gomez and McIntyre.
Santa Barbara's Elena Everest won both distance races, the 1600 and 3200, followed both times by Santa Ynez's Kiely West.
Santa Ynez's Hanni Richter could have been named the 'Iron Man' winner, competing in four grueling races.
She finished fourth in the 1600, fourth in the 800, third in the 3200 before going right back on the track to anchor Santa Ynez's second place 4x400 team — the equivalent of running nearly four miles.
"I am surprised at how well I did but after the 3200, there was no time to rest and recover. And there was a lot of pressure in the relay. My coaches told me that if we won the relays, we'd beat Cabrillo in the meet," said Richter. "There was so much stress. I didn't know I was going to be in the two-mile until this morning. I didn't find out I was going to run in the 4x400 until a minute before that race."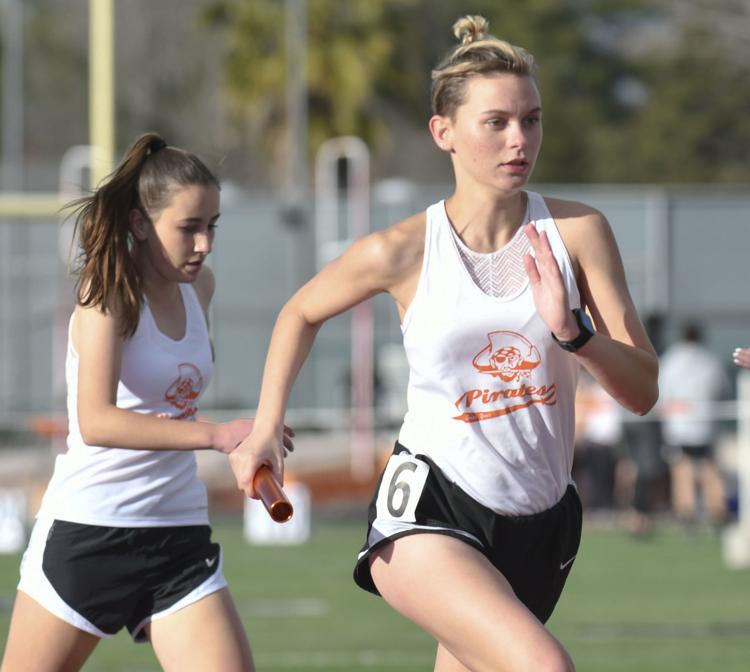 "Hanni Richter deserves athlete of the track meet today," said Coehlo. "She helped us beat Cabrillo 6-3 and Lompoc 8-1 in the 1600, she picked up 3 points against Cabrillo and helped us beat Lompoc 6-1 in the 800, and helped us beat Cabrillo and Lompoc 8-1 in the 3200. She did not stop there. She knew it was a close meet and offered to help run the 4x400 relay which follows (immediately after) the 3200 and she finished the race with us beating both Lompoc and Cabrillo 5-0. She scored 12 points against Cabrillo and 14 against Lompoc. Hanni is a team captain and it really showed today with her efforts on the track!"
Santa Ynez's Quincy Valle won the shot put while Lompoc's Julie Sheperd won the discus.
Santa Ynez's Alana Garza finished second in both the discus and shot put.
Santa Ynez opened the meet with a win in the 4x100 relay with Amelia Villa, Neta Ofiaeli, Claire Chirgwin and Emmy Withrow running. Cabrillo finished second.
Ofiaeli, Simmons and Villa went 1-2-3 in the 100.
Santa Barbara's Clara Aviana won the 800 and Santa Barbara won the 4x400 relay ahead of Santa Ynez and Cabrillo.
Santa Ynez's Madison Holbrook won the high jump, followed by teammate Christiana Heron.
Cabrillo's Stephanie Rodriguez won the pole vault with Cabrillo's Avenlea McGraw finishing second and Valle third.
Get in the game with our Prep Sports Newsletter
Sent weekly directly to your inbox!