Pioneer Valley High School's boys volleyball head coach Ralph Quintana has his hands full this weekend.
Not only did his Panthers play three matches on Friday, but Pioneer Valley and Quintana are also the hosts of the inaugural Battle of the Coast tournament.
"We have 11 teams entered. Most are from around here but we have two — Reedley and Fresno Hoover — who came over from the Central Valley," said Quintana. "This is our first time doing this and we wanted to aim high. We've got a lot of great teams, we've got a great turnout and we're looking to make it even better in the future."
Two Santa Maria Valley schools made the short ride over to from the Bradley/Foster Road intersection — Righetti and St. Joseph. Santa Ynez and Cabrillo are also in town along with San Luis Obispo County's Mission Prep, Morro Bay, Templeton and Arroyo Grande's Coastal Christian.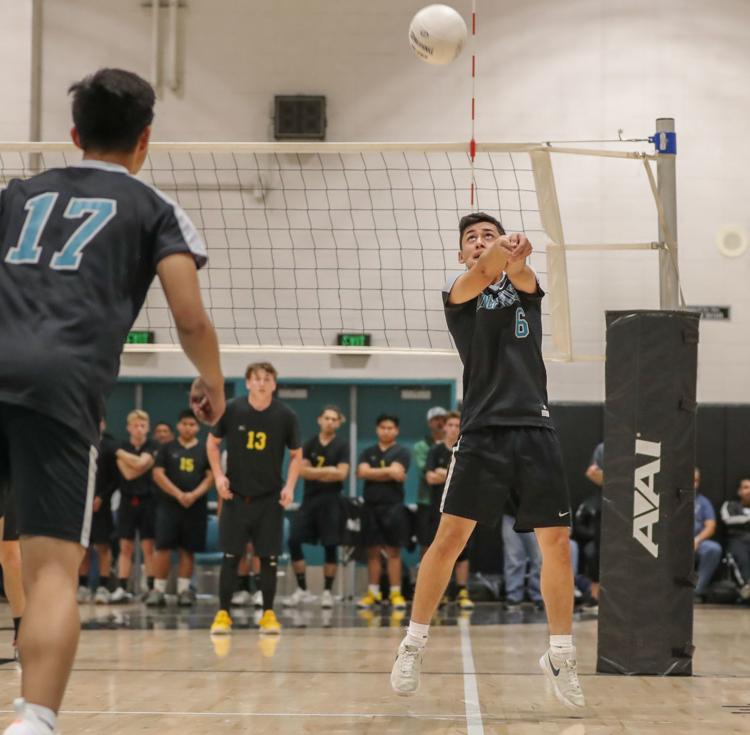 Friday was a day for round robin pool play with teams hoping to advance to Saturday's championship rounds.
With four teams in both Pool A and B, the teams had to play three matches, each best of three sets.
The teams in the three-team Pool C each played twice, in the traditional best-of-five set format.
And all three pools played simultaneously with games going on side-by-side-by-side.
"It can be a bit of a distraction," said Cabrillo head coach Aaron Batula. "I noticed our kids looking over at the other courts between points or during time outs. It's something you can't control but it's the same for everybody."
After welcoming all the teams and making sure everyone knew their court assignments, Quintana had to put on his coach's hat.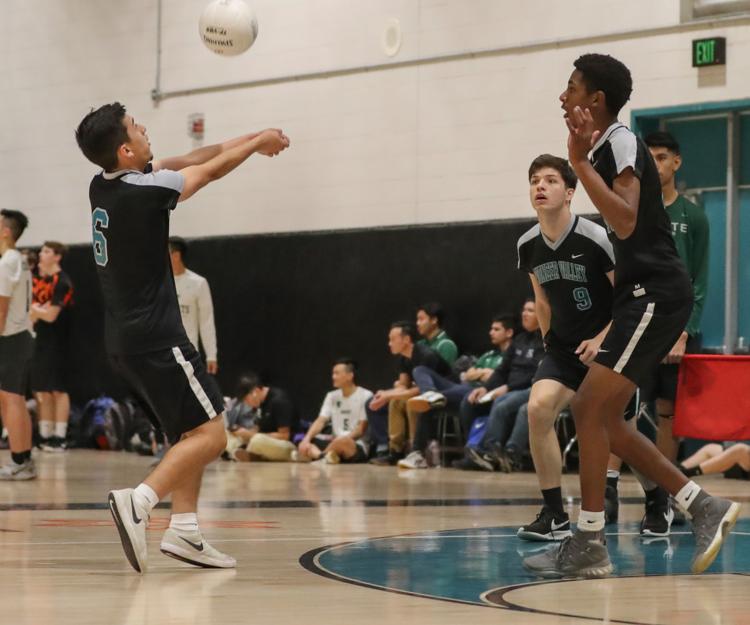 His Panthers opened the tournament in Pool B against Batula's Conquistadores.
"We've been practicing for this for quite a while," said Quintana. "The kids know what's at stake."
The Panthers won in straight sets, 25-19 and 25-14, but the Conqs didn't go quietly.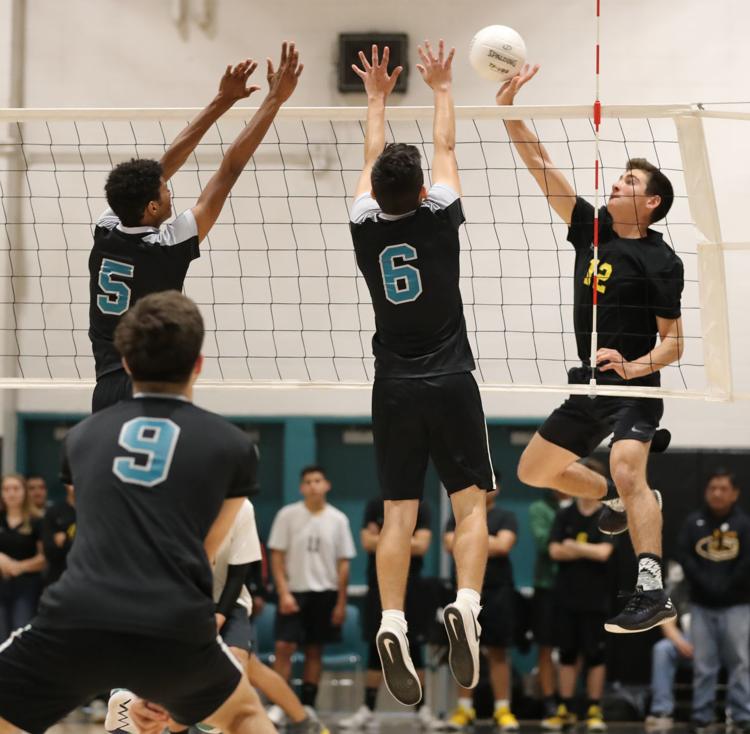 The teams traded points early in the first set before Pioneer Valley made its decisive run.
Trailing 10-11, the Panthers reeled off seven straight points to go up 17-11.
After a Cabrillo time out, the Conqs responded with a 4-0 run of their own to get back in the game.
"A lot of times, it's about momentum," said Batula. "Taking a time out can be effective if you break their momentum but, to their credit, they figured it out and closed the match out at the end."
You have free articles remaining.
The Panthers stopped the run and scored two points for every one the Conqs scored and ran out the set when a Cabrillo serve sailed long.
The Panthers were cruising in the second set, going up 3-1 early, and eventually stretching the lead to 11-2 and later 15-4.
But Cabrillo found some rhythm, again after a time out, scoring six straight points to get back in the game.
The Panthers grabbed the momentum back, closing out the set and match by scoring seven of the final eight points.
"I have a very talented group of guys," said Quintana. "Everybody contributed to this win."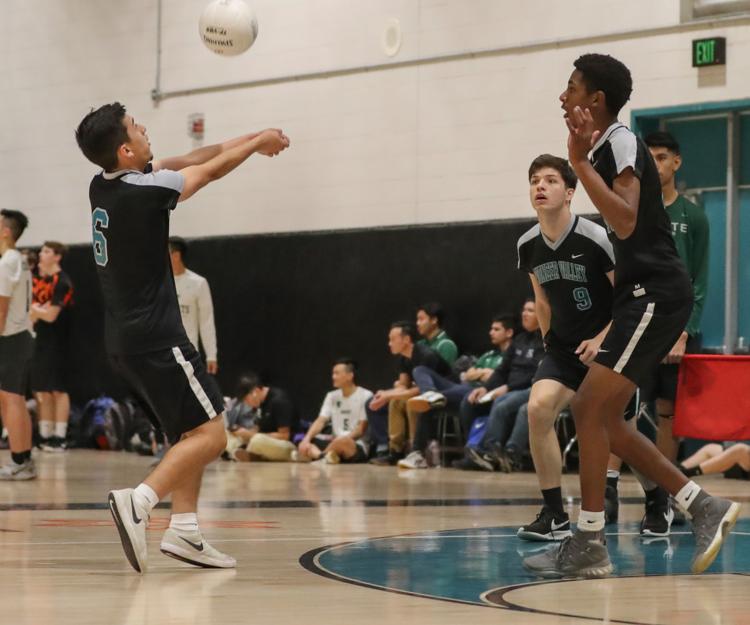 Cabrillo then had a break before facing Coast Union and later Reedley.
"The thing about this tournament is that you get to play a lot," said Batula. "Win or lose, this is great experience."
Pioneer Valley was right back on the court to face Reedley before ending their day against Coast Union.
The Reedley match went the distance, with Pioneer Valley falling in three sets, 25-23, 14-25, 11-15.
In the first set, the Panthers almost led a huge lead slip away before they held off the hard-charging Reedley Pirates.
Everything fell apart for the tournament hosts in the second set who quickly fell behind 13-1 and then 17-2.
Pioneer Valley tried to get back into the set with two late five-point runs but the Reedley lead was too much to overcome.
"In the second set, they got into our heads," said Quintana. "We got in a rut and just couldn't get out of it. We just kept digging ourselves a deeper and deeper hole."
That sent the match to a winner-take-all 15-point third set.
The teams were tied 11-all before the Pirates ran off the final four points to close out the match.
Earlier, Reedley beat Coast Union in straight sets, 25-9 and 25-13.
In Pool A, Hoover won its opener 2-0 (25-16, 25-10) over Templeton; Santa Ynez won the final two sets to edge St. Joseph 22-25, 25-19, 15-11; Hoover then defeated St. Joseph 25-21, 25-10.
In pool C, Morro Bay topped Mission Prep in four sets (25-19, 14-25, 25-19, 25-7).
With pool play completed late Friday night, the teams completed the seeding for Saturday's championship tournament.
In Saturday's first round, Cabrillo will face Mission Prep with the winner facing Hoover; Santa Ynez meets Templeton with the winner advancing to play Morro Bay; St. Joseph faces Coast Union with the winner playing Reedley; and Pioneer Valley and Righetti get a bye into the second round where they'll square off.