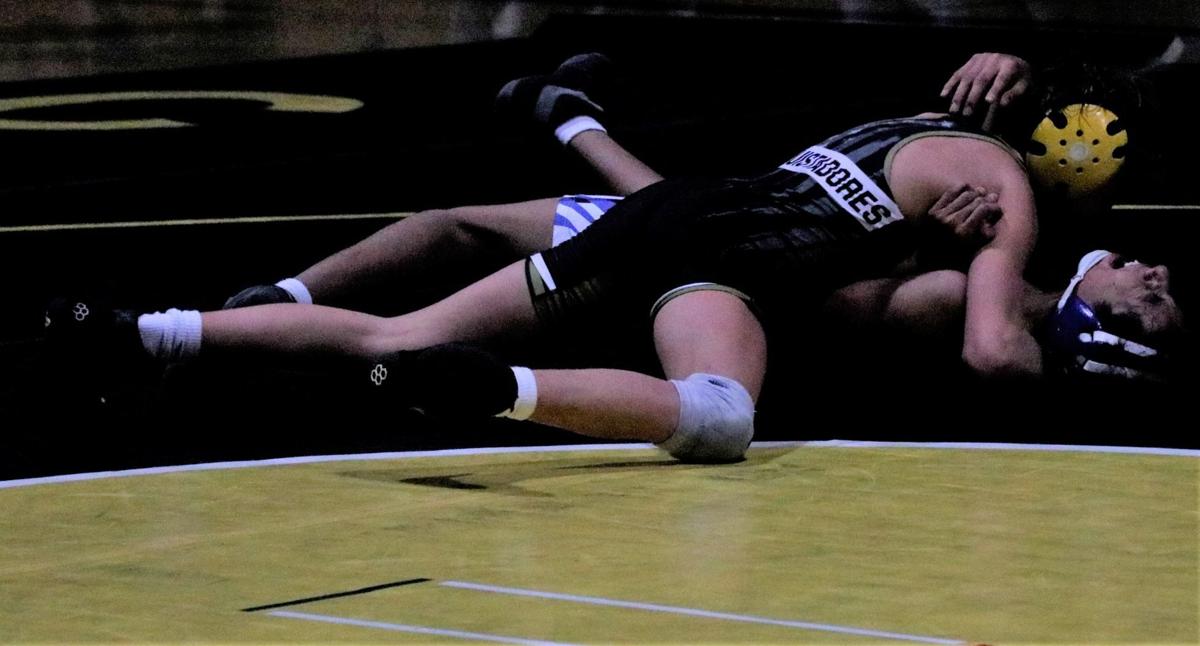 It wasn't exactly The Big Game but you could call it The Big Match.
A large crowd filled Cabrillo High School's gymnasium Wednesday night to see the Lompoc Braves battle the Cabrillo Conquistadores in both boys and girls wrestling matches.
The raucous crowd gave the building a playoff atmosphere for this Lompoc Valley rivalry Channel League event.
"It was a big crowd, a good crowd," said Cabrillo High School athletic director Gary West. "We had to pull out the visiting side of the bleachers to accommodate the crowd. It was a great atmosphere surrounding the kids. It's a big rivalry and both teams and their fans showed a lot of class."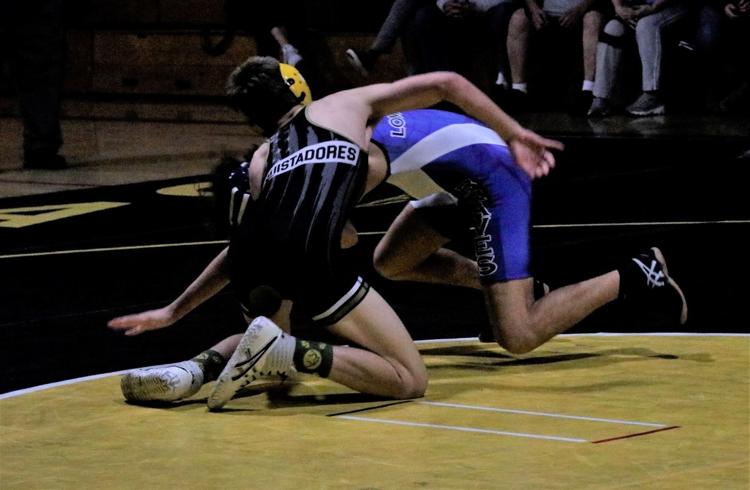 The Conquistadores swept the two matches; the boys winning 48-30 and the girls coming out with a 48-18 victory.
"I've got a bunch of seniors who have been wrestling varsity for me all four years and they wrestled for my club (the Valley Wrestling Club) before that," said Cabrillo boys head coach Mike Wallace. "I can't be more happy that our seniors and some of our younger wrestlers got some wins tonight."
"We've got a lot of young kids and two seniors who have never wrestled before," said Lompoc head coach Dustin Davis. "Cabrillo has some excellent wrestlers and I don't want to take anything away from them but we're super young. But they fought hard, battled all night and I can't ask for anything more."
The boys had 10 of a possible 14 bouts with each team forfeiting two matches.
That gave each school 12 points, which cancelled each other out, before the first boys took to the mat.
None of the 10 contested matches went the distance with Cabrillo winning seven by pins and Lompoc winning the other three by pins.
The only match that didn't end in a first round pin was the opening match of the night.
Wrestling at 106 pounds, Lompoc's Ruben Manzanarez and Cabrillo's Aidan Bumanglag traded the lead throughout their three round match. Bumanglag took a 13-12 lead into the third round but Manzanarez matched him point for point with regulation ending tied 19-all.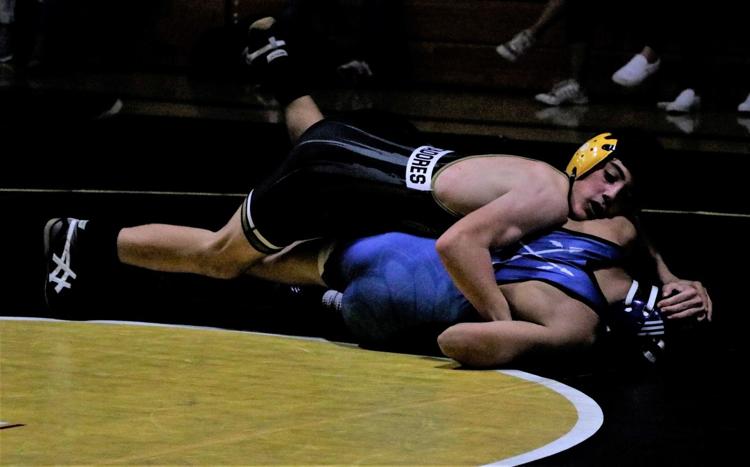 They were still tied with 39.3 seconds left in overtime when Bumanglag suffered an injury and took an injury time out.
"He scraped his knee. It wasn't a big deal but it hurt so he was given a time out to recover," Wallace said. "But he came right back and got the win. I'm glad he was able to win in the end."
You have free articles remaining.
Bumanglag was on fire after the timeout, pinning Manzanarez just seven seconds later to give Cabrillo the quick lead.
Lompoc's Eric Aguirre won by forfeit at 113 pounds but Cabrillo's Abel Lorca got those six points right back with a walkover at 120.
Cabrillo then went on a roll, winning the next three bouts.
At 126 pounds, Ryley Daltorio pinned Eduardo Mendez late in the first round, Alex Davidson pinned Anthony Lopez with 18.6 seconds left in the first round of their 132-pound match and Blake Rehder pinned Frank Villalobos with 49.6 seconds left in the first round of their 138-pound battle.
At 145 pounds, Lompoc's Gracen Hayes stopped the Cabrillo run, pinning Cabrillo's Raymond Guerra with 13.9 seconds left in the first. His brother, Corbin Hayes later pinned Igon Zienke with 6.6 second left in the first in the 220-pound match.
Cabrillo's Trey Robinson won by pinning Eduardo Carbajal with 1:21 left in the first round of the 152-pound match.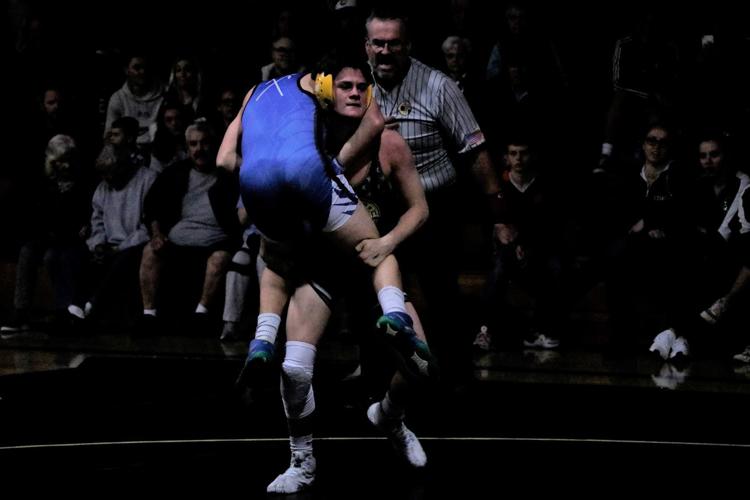 Lompoc's Aaron Nunez won by pin over Kaeshon Gilbert, overcoming Gilbert's 4-2 lead, with 50.8 seconds left in the first round of their 160-pound bout.
Cabrillo's Patrick Dunham, at 170 pounds, pinned Christopher Landeros with 1:32 left in the first.
The Conqs' Angel Martinez, at 182 pounds, pinned Garrett Kirkland with 38.3 seconds left in the first.
At 185, Cabrillo's Ruben Deleon won on a walkover and did Lompoc's Cesar Corona at 285.
Both teams are now 1-2 in Channel League matches and they'll both be in action Friday and Saturday at the Santa Ynez Tournament. 
Only three matches were actually held as one team or the other failed to field a representative in eight of the 11 weight classes.
While Cabrillo won the night, Lompoc actually went 2-1 in the matches that were contested.
Lompoc's Chloe Gabriana pinned Cabrillo's Layla Powell in the first round of a 121 pound. Her teammate Yoana Escuivel pinned Cabrillo's Hunter Landvogt with 19 seconds left in the first round of their 170-pound match.
Cabrillo's Julia Esparza won on a first round pin of Lompoc's Jasmine Hernandez.