Sometimes you have to travel halfway around the world to chase your dream.
Sometimes you can find it in your own backyard.
Jamie Howlett has traveled all the way from his home in Australia to pursue his dream of a professional rodeo championship.
Jess Williams began his quest for a pro rodeo title in nearby Paso Robles.
Both had the best rides in their respective events Friday night on the second night of the 76th annual Santa Maria Elks Rodeo at the Elks Unocal Event Center.
Howlett, who now lives in Rapid City, South Dakota, took the Flying U Rodeo's Lil Red Hawk for an 84.5-point ride to move into the bareback riding lead.
Williams, a former High School District 7 competitor, scored 77.5 points aboard Flying U's Rusty Nail to move into second place in saddle bronc rider behind Thursday night's best — Joe Harper's 79-point ride.
"That ride felt pretty good. I was pretty strong so I feel pretty good about it," said Howlett.
Bareback riders lay out atop their broncs. It looks like they're lying down but they are actually just sitting way far back.
"You lay back a little bit so you can help the horse," said Howlett. "You try to get into a rhythm so you can help the horse. That picks him up, helps him buck so you can both score more points."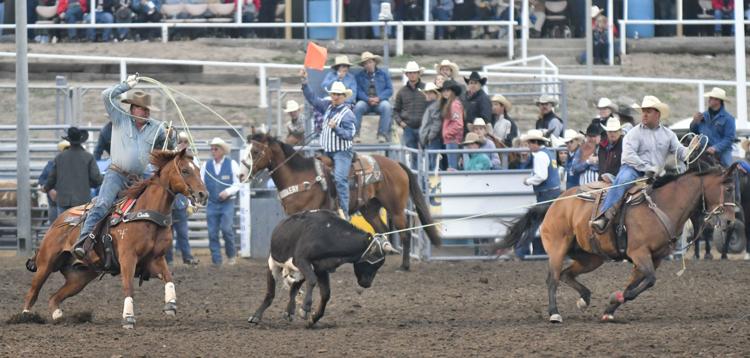 In the rough stock events, both the rider and the bucking bronc or bull are scored, with a maximum 50 points going to each.
"So we got a good number — we got that 84.5 together," said Howlett. "I hope it holds up for the rest of the weekend."
Williams has been riding bucking broncs professionally for 21 years after competing in high school in District 7.
"I graduated Paso Robles High in 1997 and I was on the same team as (Los Alamos') Luke Branquinho," said Williams. "Overall, I was happy with tonight's ride. I definitely finished stronger than I started. Some days you're a diamond, some days you're coal — and some days, you're second place."
Like most of the rough stock riders whose results hinge on just one ride, Williams won't be around for Championship Sunday.
Luke Branquinho is having a happy homecoming.
"Nah, I'm off tonight for a rodeo in Kingman, Arizona, and I'll find out Sunday night if I made any money," said Williams. "Just came here to do my job and then head off to the next one."
The Agin Brothers of Santa Ynez couldn't pull off a second straight win in Xtreme Bronc Riding but the XBR men kept it in the family.
The Agin's cousin, Josh Lair, heads up Team MR+, the team that crossed the finish line of the Xtreme Bronc race first.
"We're called Medical Rejects Plus, that's what that + sign is for," said Lair, the team's shank man. "(Team mugger) Paden Wilson have both been injured — in my case, a lot — so we're the rejects. Our rider, Jalen Kreming, has never been injured — yet — so he's the 'plus.'"
Lair broke his leg two years ago at the Santa Maria Elks Rodeo when the horse he was riding flipped over and crashed down on his leg.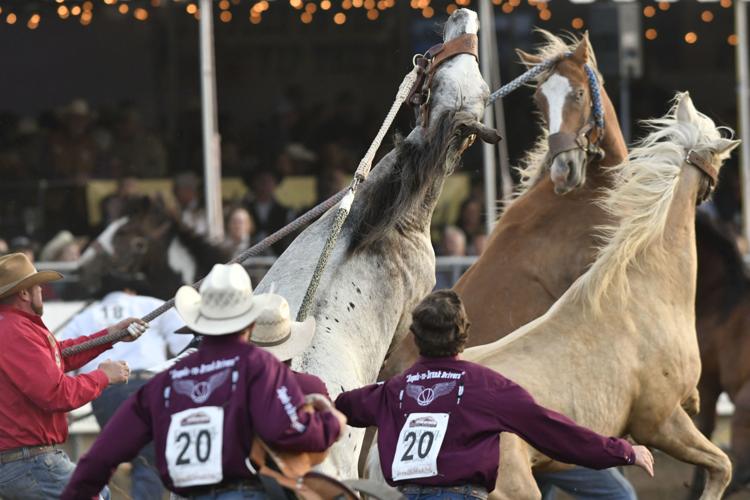 "That was my 27th broken bone and I still won the race," said Lair. "I'm not riding any more so now I'm mugging (the man who holds the horse so the ride can saddle up). But mugging isn't any safer. I got kicked in the mouth last year — not in Santa Maria — and broke my jaw. I've been hurt a million times."
While Team MR+ posted a quick, clean and safe win, several of the other team's shank men ended up being dragged through the arena dirt.
In other events:
Blake Knowles had the quickest steer wrestling run at 6.3 seconds. During Friday morning's slack, Knowles went 5.3 seconds to take over the first round lead from Los Alamos cowboy Luke Branquinho.
Knowles two-go total of 11.6 seconds is now the time to beat.
Dustin Noblitt and Tom Minetti had the best run of the local Santa Maria Elks team roping. Noblitt and Minetti roped their steer in 7.9 seconds ahead of the 10.0-second rides of Cheyenne Torres and Tim Righetti and the team of Sophia and John Patino.
The Elks leaders won special Cactus Ropes. Noblitt is, coincidentally, the local Cactus Ropes representative.
In the PRCA professional team roping, Corey and Adam Fitzke won the night with a 7.1-second run.
Creston's Taylor Santos went 9.7-seconds in tie down roping for the best run of the night ahead of two 10.0 runs by Wyatt Hansen and Jake Pratt.
Righetti High's Regan Fowler had a blazing 3.6-second ride in breakaway roping to edge Lompoc's Jessica Crofoot (4.8) and Santa Maria's Sage Pearce (5.4).
Megan Champion rode like a champion with the fastest barrel racing time of 17.59 seconds, edging the 17.60-second ride by Lexie Goss.
And bull riding has a leader, not a new leader since no one made a successful ride Thursday night.
But on Friday, Boudreaux Campbell upheld the cowboys' honor with an 84.5-point ride aboard Black Kat.
And Connor McClure also made the eight-second run- his was good for 82-points aboard Custer.
The action continues Saturday with Day 3 of the Elks Rodeo. The program kicks off at 6 p.m.
Be the first to know
Get local news delivered to your inbox!