Emeka Ndoh's football career over the last three years has been a roller coaster of emotions and setbacks. He went from thinking he was never going to play football again after suffering an injury and denial of his previous school filing a medical waiver for him, to transferring to a school where the same problem arose, to finally being successful only to have the season be cancelled.
But with less than one week to go before the start of the football season, Ndoh, a former Hanford High and Immanuel High standout,  will finally lace up his cleats and strap on his shoulder pads for the final chapter of his college career. Ndoh will take the field for the Cal Poly Mustangs football team — an opportunity he is grateful for.
"This was really important to me because my senior year at Fresno State, I felt like I was about to have a really big year. I was really mentally focused, the game was slowing down a lot for me and I was making a lot of plays in practice," Ndoh said. "I really feel it is important to get this last year of eligibility that I fought so hard for. It was really important for me to get this opportunity."
It was Oct. 13, 2018 when Ndoh, at that time a senior and member of the Fresno State football team, recorded two tackles against the University of Wyoming in the sixth game of the season. In that contest, Ndoh suffered an injury that ended his season. Since then, it has been a battle for Ndoh to get back on a football field.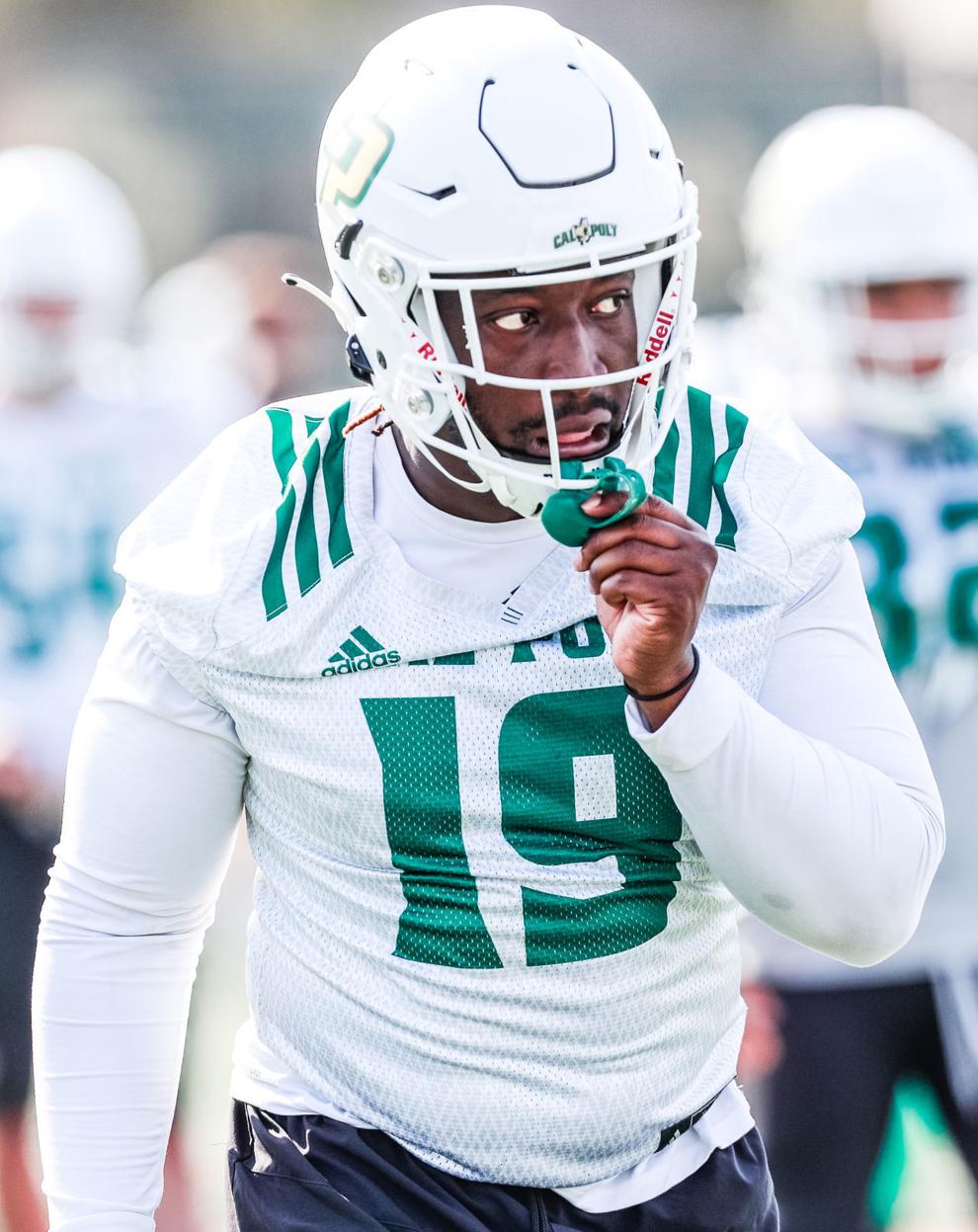 The journey to get back on the field was a difficult one for Ndoh. After he was injured while playing for the Bulldogs, he asked Fresno State to submit paperwork for a medical waiver so he could get another year of eligibility. They declined. Then, Ndoh was going to play at Richmond College, but again, the University and conference were unable to file an injury waiver.
"When I got hurt at Fresno State, I was trying to have the university file a medical waiver for me. Some higher-ups — it had nothing to do with the coaching staff or anybody like that — in Fresno State athletics representatives didn't want to file my waiver to the NCAA because it would never be approved by the NCAA," Ndoh said. "When I had another school file it though it ended up getting approved. I was going to transfer to Richmond University, and they were going to file the waiver for me. Something happened with the conference and some complications happened that didn't let them file the waiver either. I eventually was going to go to this Division II college, and they filed the waiver and it got accepted. However, there season got cancelled. Then I went back into transfer portal, and Now I am at Cal Poly. It was a two-to-three-year fight to get that year back. To find a school to file the waiver for me in the first place was crazy."
From there, Ndoh was going to play for a division II college, where he was finally able to submit his medical waiver and received his senior year of eligibility back. But their season was cancelled due to the pandemic. Ndoh recalls feeling like his career may be over but credits his great support system with giving him hope.
"The point I thought it would never be possible again is when Fresno State told me that they wouldn't file the waiver for me. I reached out to so many schools to ask if they could file the waiver for me, I really exhausted all the contacts trying to get the waiver filed," Ndoh said. "I had so many people picking me up, just telling me to stay the course. My parents, my friends, my girlfriend. Everybody was just telling me to pick my head up when it seemed impossible at time. I couldn't be here without my support system. That has been everything to me these past couple years."
The Mustangs open the season on Sept. 4 with a game against UC San Diego. Ndoh is currently listed as the backup defensive end for the Mustangs when the first depth chart was releases on Aug. 31.
"I am looking forward to throwing my hand in the pile and just being part of a system that has a common goal," Ndoh said. "Football is the ultimate team sport and when you got 11 guys throwing their hand in the pile aiming for one goal there is nothing better than that."
They travel to take on the Bulldogs on Saturday, Sept. 11 at Bulldog Stadium. It is a game that Ndoh said he will have mixed emotions about.
"It is hard to tell. I don't know how I will feel playing in Fresno. I know I want to go out there and put my best foot forward," Ndoh said. "That is a place I played for and got so many memories with a lot of the guys that are still there. I am excited."
No matter how the season turns out for the athlete who calls Hanford home, he knows that his perseverance had paid off and would tell anyone in a similar position to stick it out, to persevere.
"Nobody sees your vision like you see it. I know there is a lot of people that were telling me that I am fighting a battle that will never happen and I should stop playing," Ndoh said. "There was just a lot of nay-sayers. I would tell anybody Just stay focused on your vision and nobody sees it like you do."