For the first time, women's professional breakaway roping is being added to the lineup.
As the finishing touches are put on preparations for the 76th annual Santa Maria Elks Rodeo & Parade (May 30-June 2), Elks Recreation Chief Operations Officer Tina Tonascia has revealed the Elks Rodeo will be one of the first to offer breakaway roping as an officially sanctioned Women's Professional Rodeo Association (WPRA) event.
"The WPRA has sanctioned breakaway roping for about 35 rodeos and we're thrilled to be one of them," said Tonascia. "Right now, we have 42 women entered and the WPRA sent us an email that says 'it's the most entries we've had so far this year for WPRA sanctioned ladies' breakaway roping so Santa Maria is definitely making history.'"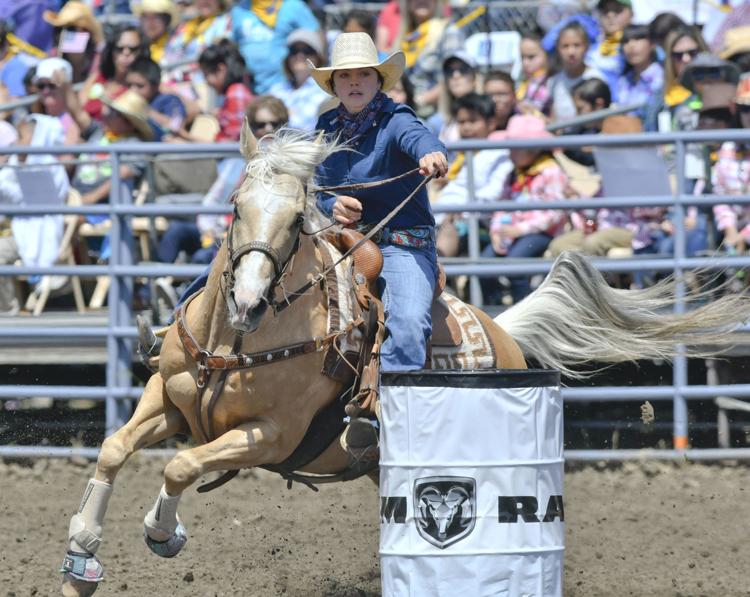 While the competition is drawing some of the top competition from across the country, it will also have a decidedly local flair.
"We have a lot of young women that people may already know from our Minetti Mini Rodeo or local junior high and high school rodeo," said Tonascia.
Among those already entered are locals Regan Fowler, Sage Pearce, Josie Pereira, Gracie Lopez, Sutton Mang and Haliegh Grant.
"About half of the field is made up of local riders," said Tonascia.
There are still some opportunities for other local people to get into the arena at the Unocal Event Center.
"There are still a few spots for the younger children to enter the stick horse racing," said Tonascia. "They can sign up at the Santa Maria Pediatric Dental Group (570 East Betteravia) and there a just a few spots left in the businessman's barrel race."
That's the event that pits representatives from local companies in a barrel race aboard bouncy horses.
For the $200 entry fee ("that's about the same as any pro rodeo event" said Tonascia), business people (men and/or women) can bounce around the barrels for bragging rights. To enter the race, contact to the Elks Rodeo office, 113 South College Drive, call them at 805-925-4125 or go to the Elks Rec website at www.elksrec.com.
Opening night, Thursday, May 30, is Family Night with up-and-coming country music star Stephanie Quayle performing in the pre-rodeo concert.
"That's at 5:30 p.m. and it's free to everyone with a paid admission," said Tonascia. "And of course, all the fans favorites are coming back. In addition to some of the best rodeo cowboys and cowgirls — including Los Alamos' own five-time world steer wrestling champion Luke Branquinho — we've got the legendary Rosser family — Cotton (the "King of the Cowboys" who will turn 91-years-old in August), Karin, Reno and Cindy and, of course, Juan Carlos the bullfighting sombrero — and their Flying U Rodeo bucking bulls and broncos and the Flying Cowboys motorcycle team."
The Santa Maria Elks Rodeo and Parade season is officially underway, and while it's still February, Elks Recreation, the committee that overse…
Justin Rumford, who has won the PRCA Clown of the Year award the last seven years, will be back in the arena after suffering a knee injury and undergoing surgery early this year.
"At Denver, I was doing a new clown act with a miniature fighting bull," Rumford said to prorodeo.com's Tracy Renck. " I jumped him, and I was fighting him, and I was making some rounds. I went to throw a back fake and when I did I stepped in a hole (in the arena dirt at the Denver Coliseum). When I stepped in the hole, I hurt my knee."
Pre-sale tickets are still available at several Albertsons and Vons Supermarket locations, Carr's Boots and Western Wear, Boot Barn, Farm Supply and Miramar Western Wear and Feed. Tickets can also be purchased online at the Elks Rec website.
While the excitement of seeing the rodeo live is hard to beat, for those who can't get to Unocal, Wrangler will once again livestream the Saturday and Sunday performances at wranglernetwork.com.
"We'll have more vendors and an enhanced Camp Buckaroo for the kids," said Tonascia. "There's plenty for everyone. People should get their tickets early. It's going to be another great rodeo."