A few weeks into the young season, veteran Cabrillo boys water polo coach Jeff Dacus likes where his team is at.
"We're actually ahead (developmentally) of where I thought we'd be at this time," Dacus said Thursday after San Luis Obispo edged his squad 7-6 in a cross-section game at the Lompoc Aquatic Center.
"I've been very pleased with what we've been able to do the last couple of weeks," Cabrillo's veteran coach said. The Conquistadores are sitting at 5-2 and will not start Channel League play for about three weeks.
Dacus said, "We lost some (2018) seniors, but the juniors and sophomores from that team have stepped up as seniors and juniors this year."
Cabrillo fell to San Luis Obispo 7-6 in a non-league water polo game on Thursday.
For starters, "Chase Fitchner has been a very good asset at goalie," said Dacus.
Dacus said the Tigers earned all of their seven goals they scored against Fitchner Thursday.
"None of those were weak shots," said Dacus. "They were either from outside, or they hit the corners," of the net.
The match was a seesaw one. The Tigers scored the first two goals. The Conquistadores answered with five unanswered tallies of their own.
San Luis Obispo struck for five unanswered goals in the second half, and that was too much for Cabrillo to overcome. Two-meter player Luke Benchek brought the Conquistadores within 7-6 with a goal at the 2:31 mark of the fourth quarter, but Cabrillo could not score again.
"The lob shot they scored on was big for them, and they hit some good outside shots," said Dacus.
"It was a one-goal game, so every one of those goals was big."
The lob shot Dacus spoke of was a high archer that knotted the score at 5-all at the 6:04 mark of the fourth quarter. Joe Simard put the Tigers ahead for good, at 6-5, when he beat tight defense by Sage Brady and got the ball past Fitchner with 4:28 left.
Andrew May, with an assist from Austin Bitler, scored the eventual winning goal at the 4:05 mark of the fourth quarter. Brady scored a game-high four goals, but that wasn't quite enough for the Conquistadores Thursday.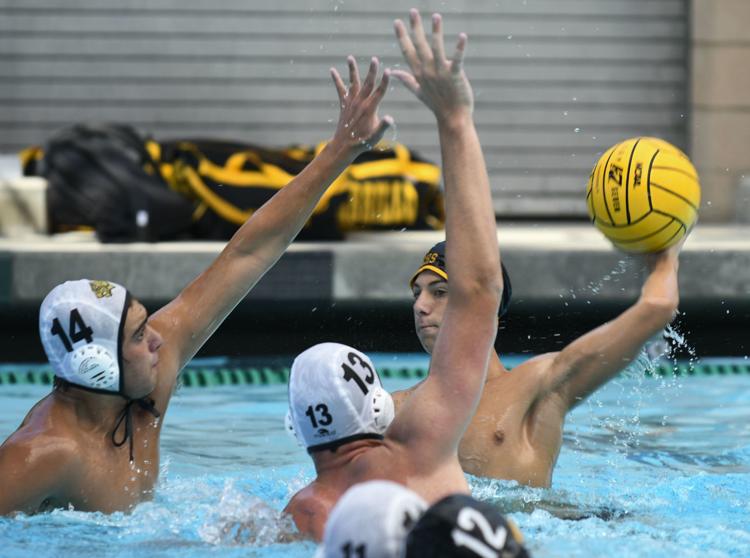 "Sage has been our leading scorer this year," said Dacus.
"Luke is our two-meter player. He's a big, strong kid and (opposing defenses) have to (double or triple team) him. That creates more opportunities for our guys on the outside."       
With the breakup of the old Los Padres League thanks to the move of half the former league members to the CIF Central Section in 2018 (Cabrillo, Lompoc and Santa Ynez stayed in the Southern Section) Cabrillo joined the revamped Channel League that year.
"That was tough," said Dacus. "The Santa Barbara-area teams have very good aquatic teams."
One of those Santa Barbara-area teams, Dos Pueblos, won the 2018 Channel League title. Cabrillo, which had habitually finished among the Los Padres League's top three, finished fourth.
However, the Conquistadores finished 20-12 overall and earned another playoff berth.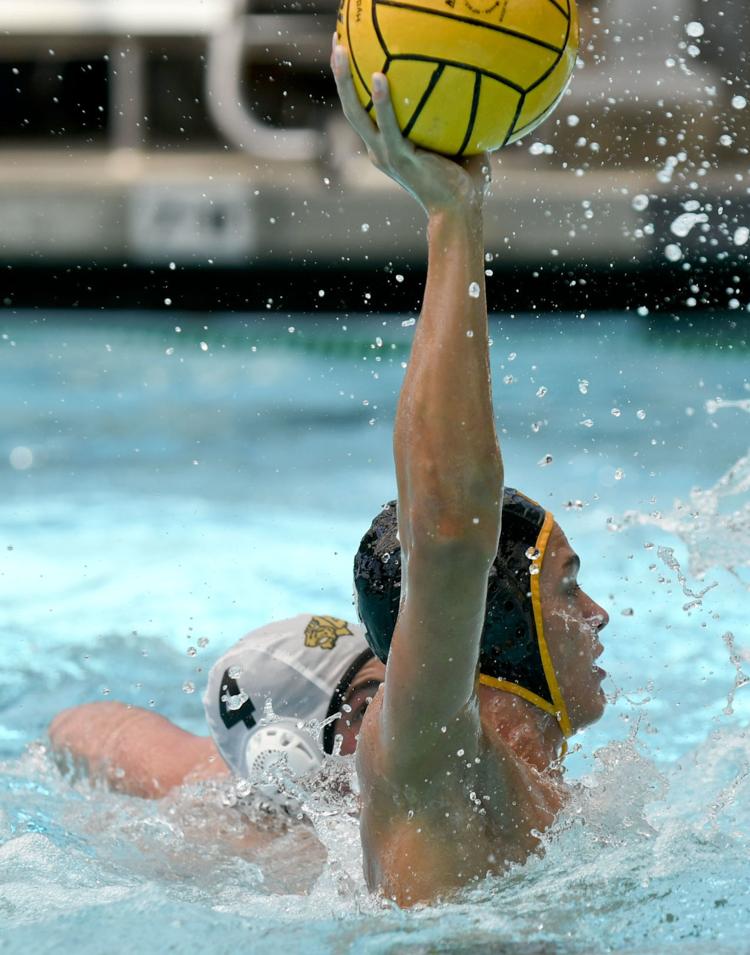 Cabrillo lost to Los Angeles Brentwood in the second round of the Division 5 playoffs. Whittier California edged Brentwood 10-9 in the sectional championship game. 
Dacus said the Conquistadores have been moved up to Division 4 this season.
Girls golf
Cabrillo 271, St. Joseph 272
Medalist Thea Reagan shot a 44, and that was good enough for the Conquistadores to edge the Knights (0-4) in a nine-hole cross-section match at The Mission Club in Lompoc.
Teammates following Reagan were Kahie Heath (52), Ellie Mendibles (54), Kelsey Bruner (57) and Evelyn Scarfe (63).
Bella Aldridge and Sophia Cordova led St. Joseph. They both shot a 52. Teammates following were Macie Taylor (55), Mackinzie Taylor (56) and Lita Mahoney (56).
The Knights will begin Ocean League play next week.
Morro Bay 8, Orcutt Academy 1
The Pirates breezed past the Spartans (1-6, 1-2) in an Ocean League match at Morro Bay.
Shivani Panchel, with a 2-6, 6-4 (10-5) win at No. 6 singles, earned the lone Orcutt Academy point.
You have free articles remaining.
Santa Maria 5, Coast Union 4
The Saints edged the Broncos in a non-league match at Coast Union for Santa Maria's first win of the year.
Santa Maria players scored two come from behind wins. Samantha Gonzalez and Nadia Sierra rallied for a 4-6, 6-4 (10-8) win at No. 1 doubles. Chency Lopez won 3-6, 6-2 (10-3) at No. 3 singles.
Gonzales (6-4, 7-5 at No. 1) and Sierra (6-3, 6-4 at No. 2) scored straight sets singles wins. Lopez teamed with Jenny Aquino for a 6-3, 6-2 win at No. 2 doubles.
Nipomo 5, Pioneer Valley 4
The Titans edged the Panthers in an Ocean League match at Nipomo.
"The girls played their most competitive match of the year," Pioneer Valley coach Rick Faulk said in a text. "I'm very proud of them." 
The teams split three-set matches. Morgan Mirau won 6-1, 2-6 (10-7) at No. 2 singles for Nipomo. Selena Salazar and Gizelle Melero won 6-2, 4-6 (10-7) at No. 3 doubles for Pioneer Valley.
Nipomo won two of the three doubles matches. Mirau teamed with Avery Edwards for a 6-1, 6-2 win at No. 2 doubles. Taylor Kaiser and Glecy Umali won 6-2, 6-4 at No. 1.
The teams split six singles matches. Kaiser won 6-1, 6-1 at No. 1 singles, and Ella Chew won at 6-1, 6-4 at No. 6.
The Panthers won at singles spots three-through-five. Estefani Chavez prevailed 6-4, 6-3 at No. 3, Blanca Antonio won 6-2, 6-2 at No. 4 and Daisy Cisneros earned a 6-4, 6-1 win at No. 5.       
Girls golf
Pioneer Valley 272, Morro Bay 273
The Panthers (1-2, 1-1) edged the Pirates by a stroke at Blacklake Golf Resort in Nipomo and earned their first win of the year.
Golfers played nine holes on the Canyons course.
Pioneer Valley's Breanna Villalobos was the medalist with a 53. Teammates following were Julia Vargas (57), Clarissa Novela (57), Grace Ruiz (60) and Madison Hernandez (65).
Abbie Burns led the Pirates with a 55.
Arroyo Grande 228, Santa Ynez 246
The Eagles defeated the Pirates in a cross-section match at the Alisal River course in Solvang.
Arroyo Grande's Bella Gunasayan was the medalist. She broke 40 over the nine-hole course with a 39.
Teammates following were Emily Webb (44), Claire Marshall (47), Sora Park (48) and Sidney Pruett (50).
Morgan Blunt led the Pirates with a 50. Teammates following were Bridget Callaghen (58), Marina Vengel (49), Caelyn Cinane (52) and Emily Ruiz (52).
Nipomo 270, Orcutt Academy 272
The Titans edged the Spartans (0-4, 0-2) in an Ocean League match at Monarch Dunes in Nipomo.
"They beat us by three last time and by two this time," said Orcutt coach Jim McManus.
"I thought both teams handled the course well. It was really busy there, and they put us on the back nine. All of our girls had only played the front nine there, and all but two of their girls had never played the back nine before."
Nipomo's Kaitlyn Nunez was the medalist with a 46. Orcutt's Karli Lundberg, the 2018 Ocean League champ, was a stroke behind.
Teammates following Nunez were Alexa Burdick (48), Alliya Peneido (54), Lilly Brummitt (60) and Leah Cooreale (62).
Orcutt teammates following Lundberg were Melissa Burns (59), Luna Sahagun (56), Lauren McClung (59) and Vivian Meyer (59). 
Girls volleyball
Nipomo 3, Templeton 2
The Titans (2-4) edged the Eagles 25-21, 24-26, 25-15, 20-25, 15-11 in a non-league match at Nipomo.
Kat Anderson racked up eight kills, four aces, five blocks and 17 digs for the Titans. Jasmine Vongvone amassed 12 kills, 15 digs and two aces.
Kaitlyn Vongvone had 18 digs and five aces for Nipomo.. Leah Miller had six kills and three aces. 
090519 SLO Cabrillo water polo 02.jpg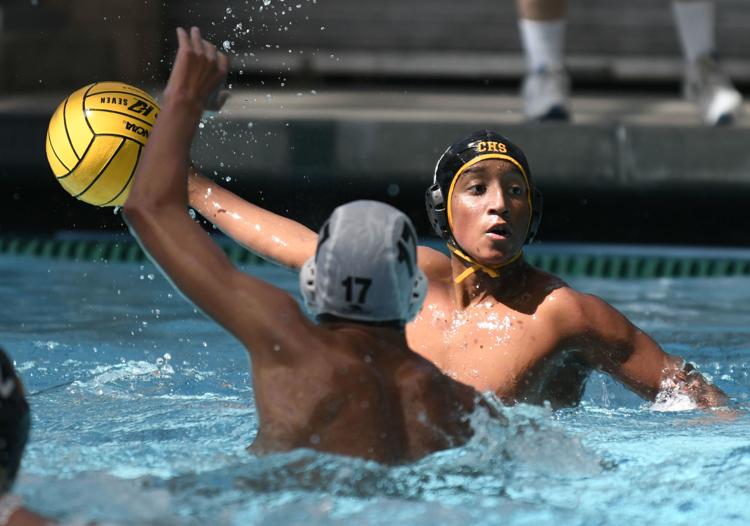 090519 SLO Cabrillo water polo 01.jpg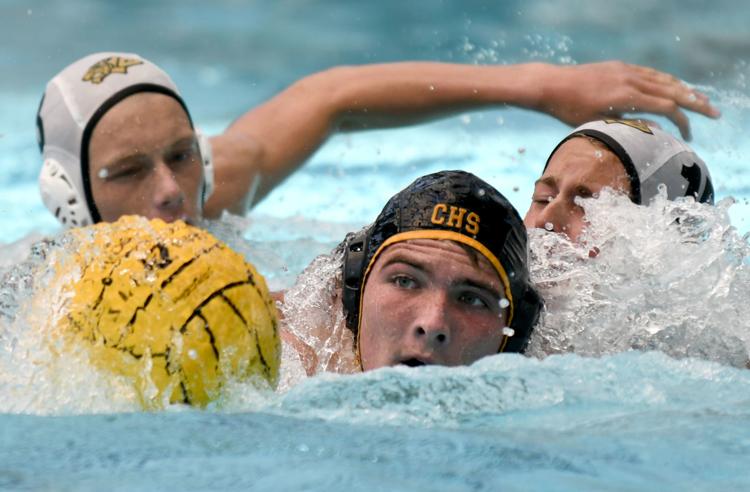 090519 SLO Cabrillo water polo 03.jpg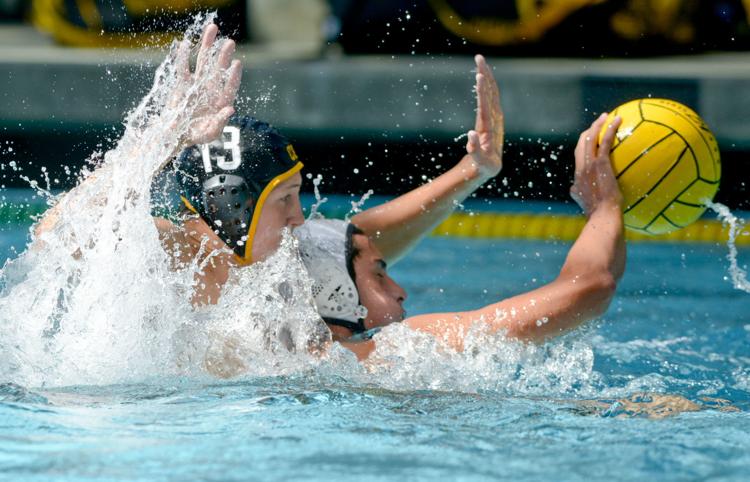 090519 SLO Cabrillo water polo 04.jpg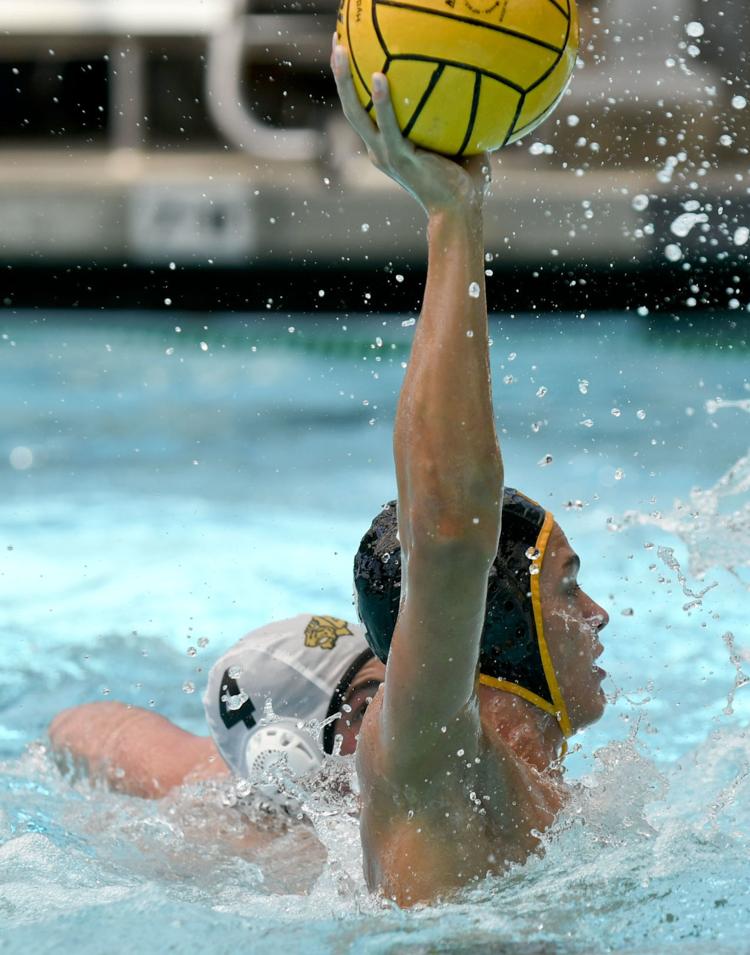 090519 SLO Cabrillo water polo 05.jpg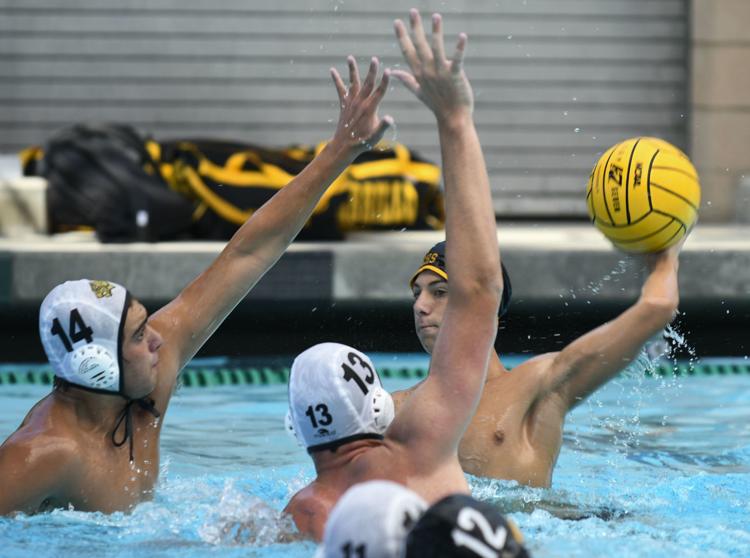 090519 SLO Cabrillo water polo 06.jpg
090519 SLO Cabrillo water polo 07.jpg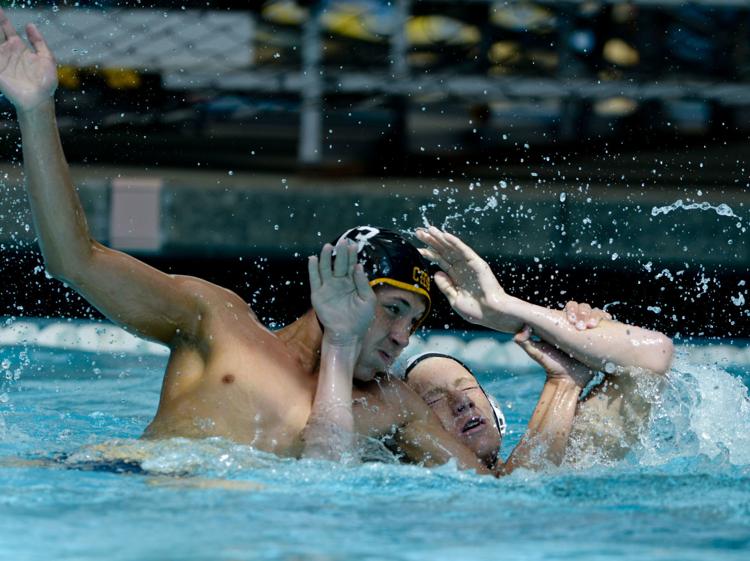 090519 SLO Cabrillo water polo 08.jpg