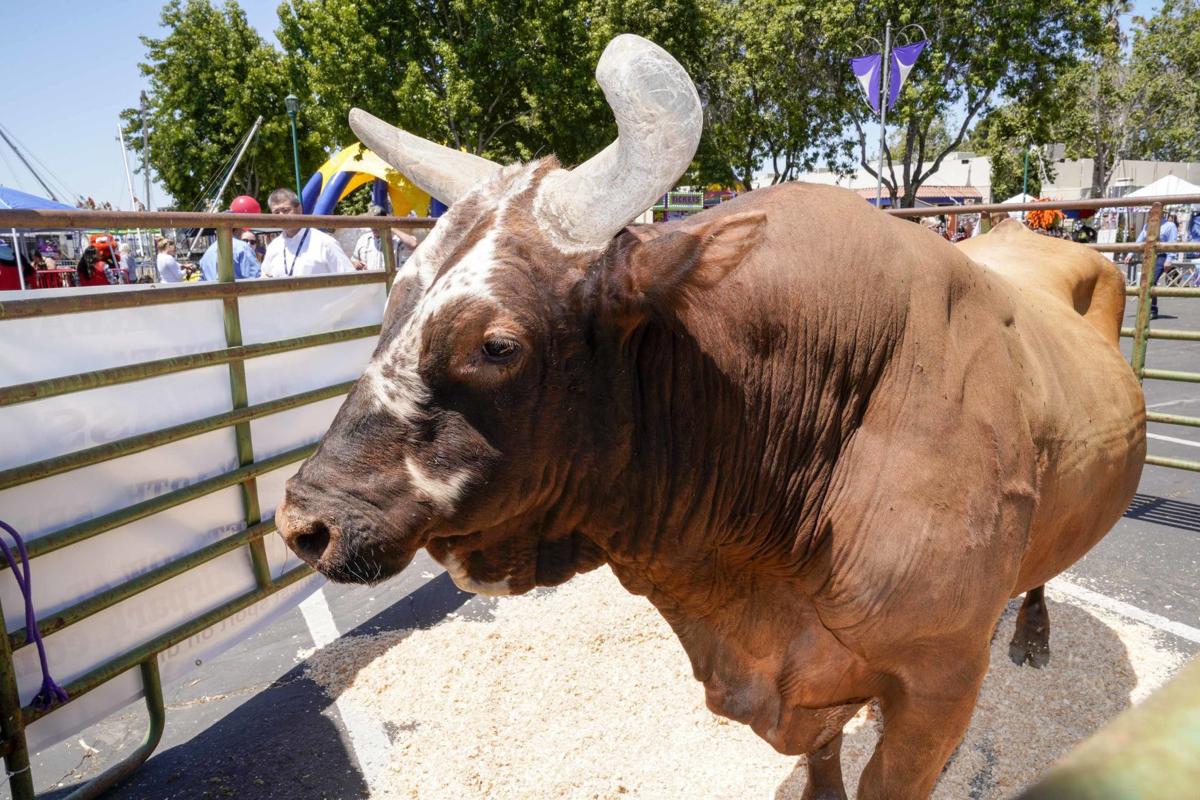 Bushwacker is living the life of a retired sports superstar.
He's earned it.
Over the course of his professional career, Bushwacker was one of the toughest, meanest and most difficult bulls to ride in the history of Professional Bull Riding (PBR) and the Professional Rodeo Cowboys Association's (PRCA) tours.
But now, having turned 13 on June 1, Bushwacker is enjoying his life as a celebrity, living in his own special barn in Oakdale and traveling in his own special trailer to make appearances at rodeos and bull riding events throughout the west.
And he's visiting Santa Maria this week to help promote Saturday's PBR competition at the annual Santa Barbara County Fair at the Santa Maria Fairpark.
Bushwacker could be found early Wednesday in his own special pen just inside the main gate of the fair, just hanging out, enjoying the attention and constant selfies taken by adoring fans.
Bushwacker is a bull of few words but his owner, Julio Moreno, is more than happy to recount his Hall of Fame bull's exploits.
"He used to talk to me all the time when he was younger," said Moreno, a well-known breeder of bucking bulls, 11-time team roping qualifier to the National Finals Rodeo (NFR) and longtime (24 years) NFR arena pick-up man. "I'd say 'talk' and he'd go 'moo' but he's pretty quiet these days.
"Bushwacker was 97-3 over the course of his career. We got him started as a 2-year-old (in 2008) and he didn't do that well. He was a little better as a 3-year-old but he really came into his own when he was four when he won the American Bucking Bull, Inc., Bull of the Year."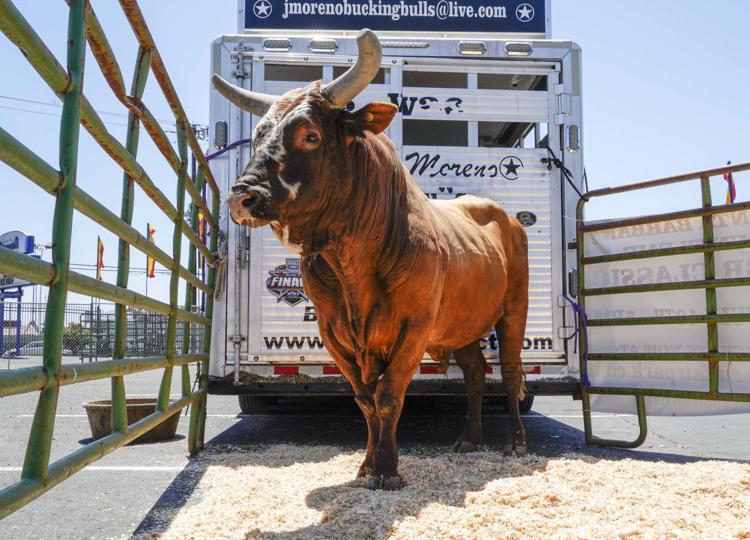 In October of 2009, when Bushwacker was three, Markos Mariluch and Thiago Paguioto both completed successful eight-second rides at separate rodeos in Las Vegas.
He wouldn't be ridden successfully again until JB Mauney accomplished the feat in August of 2013 — with Bushwacker dumping 56 straight riders, 42 in PBR and the rest in PRCA, in the dirt.
After Mauney's ride, no one ever accomplished the feat again.
Bushwacker won the PBR world championship three times — in 2011, 2013 and 2014, before being retired after winning his 2014 world title.
In 2016, Bushwacker was awarded the PBR Heroes & Legends Celebration: Brand of Honor.
"Now he's just enjoying life. He has his own pen, his own barn and his own trailer for these trips," said Moreno. "You can see how calm he is. He's just enjoying seeing all the people. He's used to all this noise but he's happiest when he stays close to the trailer. He knows this is his home away from home.
"He knows my voice and he can tell I'm coming because he knows the way I walk and he's happy when I'm around. We travel a bit to promote the PBR. He's been to the Santa Barbara Fiesta Rodeo, been down to the Staples Center and goes to the NFR."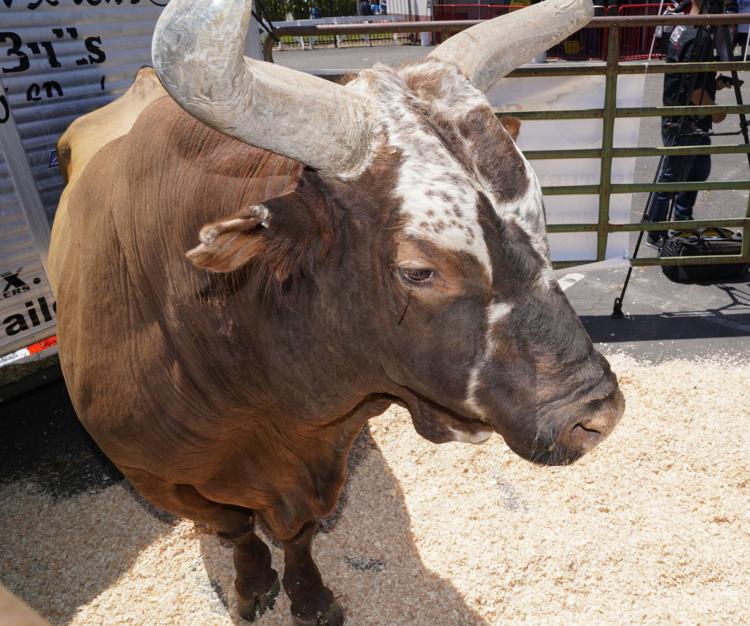 Moreno and Bushwacker didn't come alone to Santa Maria.
"I have 25 bulls here for the PBR and there are about 25 more that are coming in from other stock contractors," said Moreno. "He'll be out front here at the fair in the morning and then head over to the Minetti Arena in the afternoon. He'll spend the night at Tim Righetti's ranch outside Orcutt and then stop by the Far Western Tavern every morning before coming back here. He's just here for the fans to enjoy and you can see he's on his best behavior."
"Bushwacker will be at the Far Western between 8 a.m. and 10 a.m. Thursday and Friday," said Righetti. "It's another chance for people to get to see him and people will even get the chance to win tickets to the fair or the bull riding competition."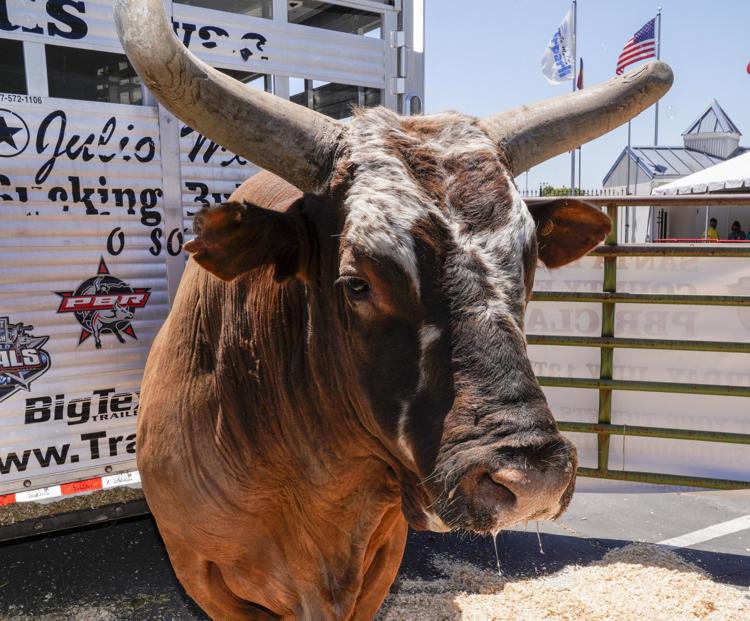 While Bushwacker will only be watching to competition, he isn't the only champion bull in town for the PBR.
"Julio brought Spotted Demon down. He's the 2018 PRCA championship bull," said Righetti.
And there are 35 cowboys entered. After all 35 ride once, the top 10 — based on points or on how long their (non-scoring) rides lasted will come back for the short go.
"During the intermission, we'll have three bullfighters fighting Mexican Fighting Bulls. It's a freestyle type of bull fight with each bullfighter in the ring for about a minute trying to jump over or around some very mean bulls who just love to go out and hook somebody. The crowd in the Minetti Arena will be close to the action. There are about 2,300 or 2,400 seats in the arena so it's a nice crowd event. They will be so close that it will be some good watching."
The PBR gets underway Saturday at 5 p.m.
Tickets are still available at the Fairpark Box Office.
Elks has sports display scheduled for Sunday
The Santa Maria Valley Sports History club and the Guadalupe Sports Hall of Fame has put together and all-sports memorabilia display scheduled for Sunday, July 14 from 11 a.m. to 3 p.m. at the Santa Maria Elks Lodge, at 1309 North Bradley.
"Come on down, meet some of the athletes and enjoy an array of sports memorabilia featuring some of Santa Maria Valley's great sports figures of the past," Elks member Eddie Navarro said.
There will be pictures and items from football, baseball, basketball, boxing and other sports on display at the event. Those interested in bringing sports items to share and display for the day are welcome.
Contact Eddie Navarro at (805) 720-3581 for more information or to answer any questions.
Be the first to know
Get local news delivered to your inbox!